The ultimate guide to sustainable travel.
We're traveling more than ever, but as the climate crisis intensifies, how can we make our trips more sustainable?
Traveling, exploring the world, visiting amazing places, searching for adventure, and experiencing unique things. Who doesn't dream of that? Traveling is something we all enjoy doing, but it comes with a price: a bigger carbon footprint.
While the term sustainable travel becomes bigger and bigger, the number 2 biggest polluter in the environment is active 24/7 and 365 days a year: Flying. This might leave you to wonder if sustainability and travel can actually be combined and how you can have a positive impact on the environment.
The good news is that you can. You can lessen your carbon footprints and positively impact the environment in different ways which can be combined with several amazing destinations.
Here we offer some easy and practical tips on how to be a green traveler and how we make our tours operate in a more environmentally friendly and responsible manner.
1- Reusable water bottle
Did you know humans buy a million plastic bottles every minute worldwide? Only 23% of plastic bottles are being recycled in the U.S. This means that only 1 in 5 bottles are recycled, and the other 4 will end up in a landfill where it takes 430 years for a plastic bottle to decompose. Due to its huge scale and the fact that single-use plastic takes a lifetime to decompose, it is a huge threat to the environment. Luckily, there are ways to reduce your single-use plastic during your travels.
A very efficient and effective method is to buy a reusable water bottle. It is getting more common for hotels to place water stations at their properties. In this way, water is easily accessible to guests. Another advantage is that your water stays cool. With a plastic bottled water tends to heat up pretty quickly and the plastic water bottle creates waste. A reusable water bottle keeps the water cool, is easy to bring along everywhere and can last for a long time. In this way, you can avoid buying a plastic bottle every time you are in need of water, reduce your carbon footprint, and use less single-use plastic.
2- Say no to plastic straws
Half a million straws are used in the world every day. Scientists estimate that there are 437 million to 8.3 billion straws on shorelines around the world. This is why it is of crucial importance to reduce our plastic straw use. An efficient replacement for plastic straws is the paper/bamboo/metal straws. Since more businesses and companies started to replace plastic straws with sustainable straws it has become a huge trend.
Sustainable straws are becoming more and more common in our society and in the tourism branch. This is an enormous improvement since it takes 200 years to decompose plastic straws while it takes 4-6 months for a bamboo straw to decompose. As a tourist, you can lessen your plastic straw use simply by refusing to take a straw or buy your own sustainable straw which you can take everywhere.
3- Carbon offsetting
8% of the world's carbon emission is caused by tourism. Flying, cabs, hotels, or waste are all examples of inevitable emissions during your travels. No matter how sustainable your travel habits are, you will be responsible for some carbon emissions. To be able to reduce these emissions there is something called carbon offsetting. This means you will reduce greenhouse gas emissions to be able to compensate for the produced carbon during your trip. It works as followed:
You can purchase offset credits that equal the total amount of emission you are responsible for. The credits will be invested in certified projects who aim to reduce carbon. These projects are capturing/storing existing Co2 or prevent new emissions from happening. This can be accomplished by building a new wind park or planting threes. Not only is this good for the environment and for the reduction of your carbon footprint, but it also provides benefits for nature and people since it can stimulate biodiversity or an increase in health
4- Help local communities
Not only is it important to minimize the negative consequences tourism has, but it also crucial to create a long-lasting and sustainable impact. This can be done by protecting the environment and animals, stimulate biodiversity, educating foreigners, and supporting local communities.
This means making conscious choices about where you will spend your money. Choosing local guides, hotels, and restaurants will have a huge positive impact on the community. The money you spend on the local community will mostly be used locally and will help the people to create a better society, tourism experience, and a better environment for them and their children. that the money you spend locally will be used locally and benefit society.
"Spend a few days in Perth and enjoy the stunning beaches" Real Aussie Adventures
How to travel sustainably in Thailand
If you are interested in experiencing beautiful Thailand combined with sustainability, then you came to the right place!
On our Thailand tours, there is a variety of things you can do to leave the biggest possible positive impact on the community.
Firstly, we see the importance of reducing single-use plastic. Thus, you will be provided with a cool reusable water bottle in exchange for a small amount of money. There is a water station at every accommodation we stay in, so water will be easily accessible during the whole trip.
Secondly, it is quite important for us to help the local community, that is why we offer beach clean-ups during the tour. In this way, we help to tackle the never-ending plastic and non-biodegradable waste which ends on the stunning beaches you will visit.
Also, old clothes, toiletries and leftover coins from the guests that they no longer need will be collected. These will be distributed to the Charlie's Children Charity. This charity works with disadvantaged and mentally handicapped children to supply clothes, toiletries, food, and medical equipment. The charity also organizes fun stuff for the children to attend to. We also support a local Farm Stay during our trip. This farm is created by a local guide there and promotes sustainable/ ecological living. It runs on solar power, the food is self-produced, and all the money he receives will help to contribute to his amazing farm and family.
Here are the tours where we ensure we have implemented these strategies:
BOOK YOUR 9 DAY THAI INTRO TOUR NOW
BOOK YOUR 13 DAY THAI EXPERIENCE NOW
BOOK YOUR 18 DAY THAI INTRO TOUR NOW
BOOK YOUR 29 DAY THAILAND AND VIETNAM TOUR NOW
BOOK YOUR 38 DAY THAILAND, VIETNAM AND CAMBODIA TOUR NOW
How to travel sustainably in Bali.
If you are planning to visit Bali and you are interested in sustainable activities during your travels, then we have the perfect tours for you.
While you explore amazing Bali we will help you to create a bigger impact on environment protection. A reusable water bottle will be provided in exchange for a small amount of money. This will help to reduce single-use plastic and reduce your carbon footprint. Not only is water easily accessible by the means of water stations during your trip, but it is also a great souvenir and reminder to make conscious decisions in regards to single-use plastic.
Next to that, we find it important to help out local communities. Thus, beach clean-ups are organized which you can join. This helps with the issue of plastic and non-degradable waste ending up on the stunning beaches we will visit during the trip.
Another way to help the local community is by visiting a local farm and coffee plantation. Here you will meet the lovely Gede and his family. They will provide you the most delicious lunch you will taste during the entire trip. He will give us a short tour and explanation of how he makes his money, and you will get first-hand experience in basket weaving.
Here are our awesome Bali trips where you can travel more sustainably:
BOOK YOUR 9 DAY BALI GROUP TOUR NOW
BOOK YOUR 12 DAY BALI GROUP TOUR NOW
BOOK YOUR 12 DAY BALI EXPERIENCE TOUR NOW
BOOK YOUR 15 DAY BALI EXPERIENCE TOUR NOW
How to travel sustainably in Philippines.
Are you ready to explore the breath-taking Philippines, while making a positive impact as a tourist?
Then you should definitely check our tours out. Single-use plastic is a huge issue in our environment today. Thus, it is of high importance to lower our plastic use. This is why the tour to the Philippines is plastic-free! Yes, you heard that right! This is done by placing water refill stations on all the accommodations and activities. This way, you won't have to buy a plastic bottle anymore. If you forgot a reusable water bottle? Then it is possible to purchase at the start of the trip.
Next to the beach clean-ups, it is also important to stimulate local communities. School and community projects are of huge importance during the trip and can change lives for people who live in the community. And not only visiting but also funding for different school projects through donations is done.
Check out our plastic free tour:
BOOK YOUR 10 DAY PHILIPPINES TOUR NOW
How to travel sustainably when swimming with the Great White Shark.
Port Lincoln is home to some unique and most thrill-seeking experiences I have ever participated in. Although the town is small, it is visited by tourists from all over the world to experience Shark Cage Diving and the Sea Lion swim. Not only can you enjoy these amazing experiences, but you could also make a positive impact while you are participating in these activities.
There are three main suppliers for Shark Cage Diving, but here at Real Aussie Adventures we only work with the one who uses a special technique to attract the sharks. While the other two suppliers work with bate, we use music. They built two speakers on the bottom of the boat and play music which causes vibrations in the water. These vibrations attract curious sharks that you can spot from the cage or underwater submarine. This technique makes sure the tour leaves almost no impact on the environment and marine life. And guess what the favorite shark song is. Kiss!
Another way to help out the marine-life is to spread the word about your experience in a positive way. Sharks are seriously feared in our community due to films like Jaw and not enough people know that sharks don't have to be dangerous animals for human beings. Did you know for example that more people die every year from participating in Black Friday than die from shark attacks? Sharks need our help now more than ever, so spread the word!
The Sea Lions can also positively stimulated by spreading a positive word and experience about them. These amazing, cute, and lovely animals are endangered species and would highly profit if people had more knowledge about them.
BOOK YOUR SHARK CAGE DIVING EXPERIENCE NOW
BOOK YOUR SEA LION SWIM NOW
How to travel sustainable in Fiji.
Fiji, who doesn't want to visit this paradise on earth?
Known for its amazing white-sand beaches, crystal clear water, delicious food, fun activities, and interesting culture is the place to visit. But did you know that next to exploring this lovely country, you can also participate with a quite crucial activity for our coral reefs and marine life? 75% of the Earth's tropical reefs experienced bleaching between 2014-2017, and almost 30% of the reefs reached mortality level, this is mostly due to climate change. However, there is another threat that we need to control in order to reserve tour precious reefs and that is the Crown of Thorn Starfish.
Crown of Thorns starfish (COTS) is a spiky and spineless marine creature that normally occurs in the Indo-Pacific region. They feed on coral, and if not controlled they can have devastating effects on the hard coral communities. When COTS occur in normal numbers and on healthy coral, they play an important role in the ecosystem. They tend to eat the fast-growing coral, and this gives the slower-growing species also a chance to develop and catch up. This boost diversity in the reefs. However, COTS can reach plague numbers. With the right conditions, they can lay 50 million eggs in a single breeding season. The survival chance of this larvae increases dramatically when early-season monsoonal and cyclones occur, also overfishing stimulates outbreaks. Normally Coral Reefs restore themselves within 10-20 years, which was just enough time to fully regrow before another COTS plaque would rise up. However, our coral reefs are weaker than ever and won't regrow that fast anymore. This makes the COTS plaques a huge issue.
During your trip, you will have the opportunity to meet with a marine biologist. After a short explanation, you will enter the water and assist him during the snorkel trip to help with the COTS Survey. This exists out of identifying and counting the amounts of COTS which can be removed from the coral reef. All proceeds which are contributed by you in your Real Fijian Adventures tour price for this activity will directly go to further conservation projects on the reefs of Fiji.
How to travel sustainable in the Great Barrier Reef.
The Great Barrier Reef is internationally famous for its amazing marine life and coral reefs. This stunning location is known for its beautiful diving and snorkel spots. But the Great Barrier Reef is facing some serious threats. Not only did we loose 50% of the coral reefs since 1980, but we also lost 29% of the shallow water corals. These alarming numbers are being caused by pollution, plastic waste, and climate change. Thus, it is of high importance that tourism impacts the environment as less as possible.
As a tourist, the most important way to help this amazing reef is by choosing the company you want to do a tour with. A company that is granted an eco-certification is successfully combining tourism with sustainability, which leads to a positive impact on the environment of the reef. Next to that education is important. So spreading the word about how other tourists can make a positive impact and how crucial it is, helps.
BOOK YOUR 1 DAY SEA QUEST REEF CRUISE TODAY
BOOK YOUR 2 DAY GREAT BARRIER REEF DIVE/SNORKEL TRIP
BOOK YOUR 3 DAY GREAT BARRIER REEF DIVE/SNORKEL TRIP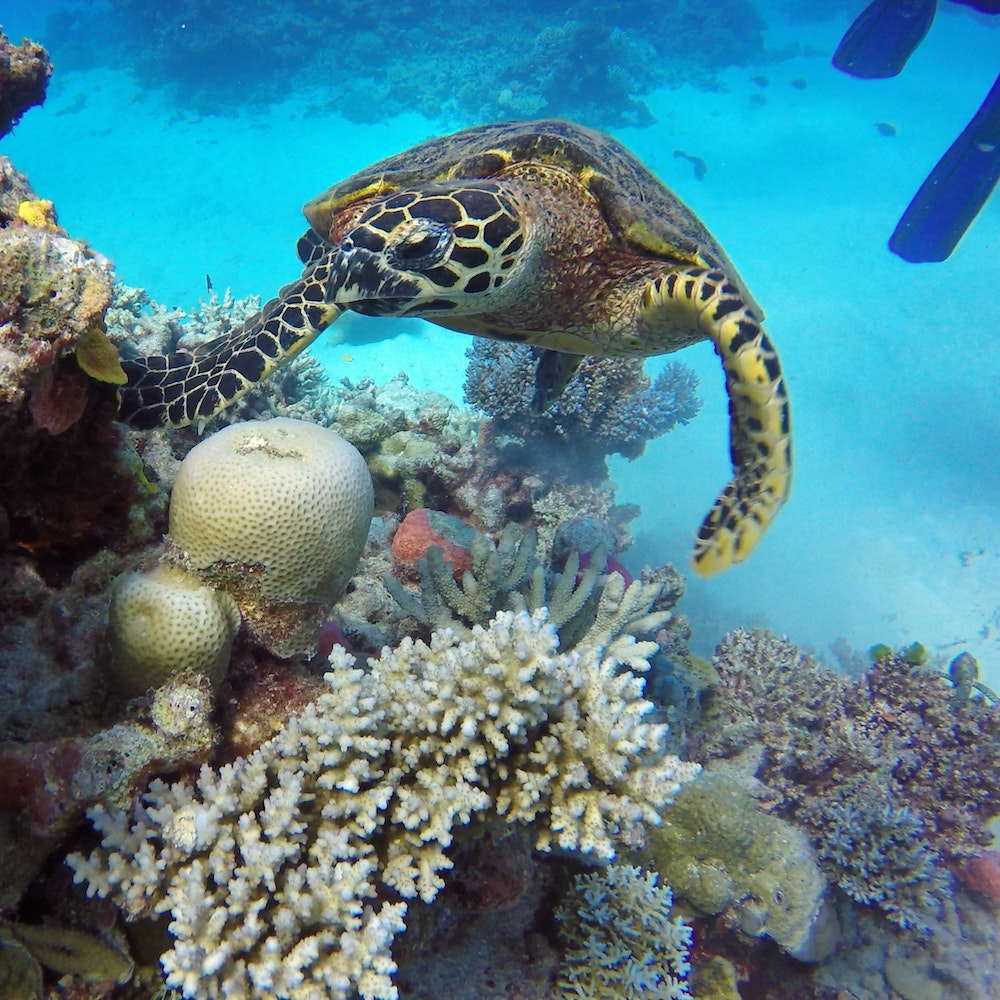 At Real Aussie Adventures we understand the importance of helping out local communities, lessen your plastic use, help the environment, lessen your impact as a tourist and join the carbon offsetting trend. That is why we work with the best possible tour operators to ensure you have an amazing time in different popular destinations combined with unique sustainable activities.