HERE WE LET YOU KNOW THE TOP THINGS TO DO ON A VISIT TO KANGAROO ISLAND, SOUTH AUSTRALIA
If you are in Adelaide then a must-do is to visit Kangaroo Island. Full of amazing native Australian wildlife and beautiful scenery.
Visiting Kangaroo Island can be done on a 2 day 1-night Kangaroo Island tour or even a day trip from Adelaide. You will be a million miles away from civilization when you take the ferry over from Adelaide onto the island.
There are not just Kangaroo's on Kangaroo Island, there is plenty of other native Australian wildlife to spot, plus the most beautiful scenic views to marvel at. Most abundant are Koalas and Seals. The rare hidden gem would be to spot an Echidna.
The drive from Adelaide to the Ferry Terminal at Cape Jervis will take around 1.5 hours through the picturesque Fleurieu Peninsula. The ferry ride from Cape Jervis to Kangaroo Island is 45 minutes.
Here we let you know the best things to do in Kangaroo Island!
Is Kangaroo Island worth going to?
Yes, Kangaroo Island has amazing beaches, 
unspoiled luscious landscapes,
authentic food and drink experiences, and of course abundant native wildlife.
What is the best time to go to Kangaroo Island?
The best time to visit Kangaroo Island would be during the spring season between September and November. . To avoid the crowds, June, July, and August are also excellent and peaceful to visit Kangaroo Island. Year-round nature is at its finest on the island with plenty of wildlife to spot and unspoiled beaches.
How many nights should you stay on Kangaroo Island?
A one-day trip is possible if you are short on time. However,  two days on Kangaroo Island to see and do everything is best. 
See below for the best things to see and do on Kangaroo Island.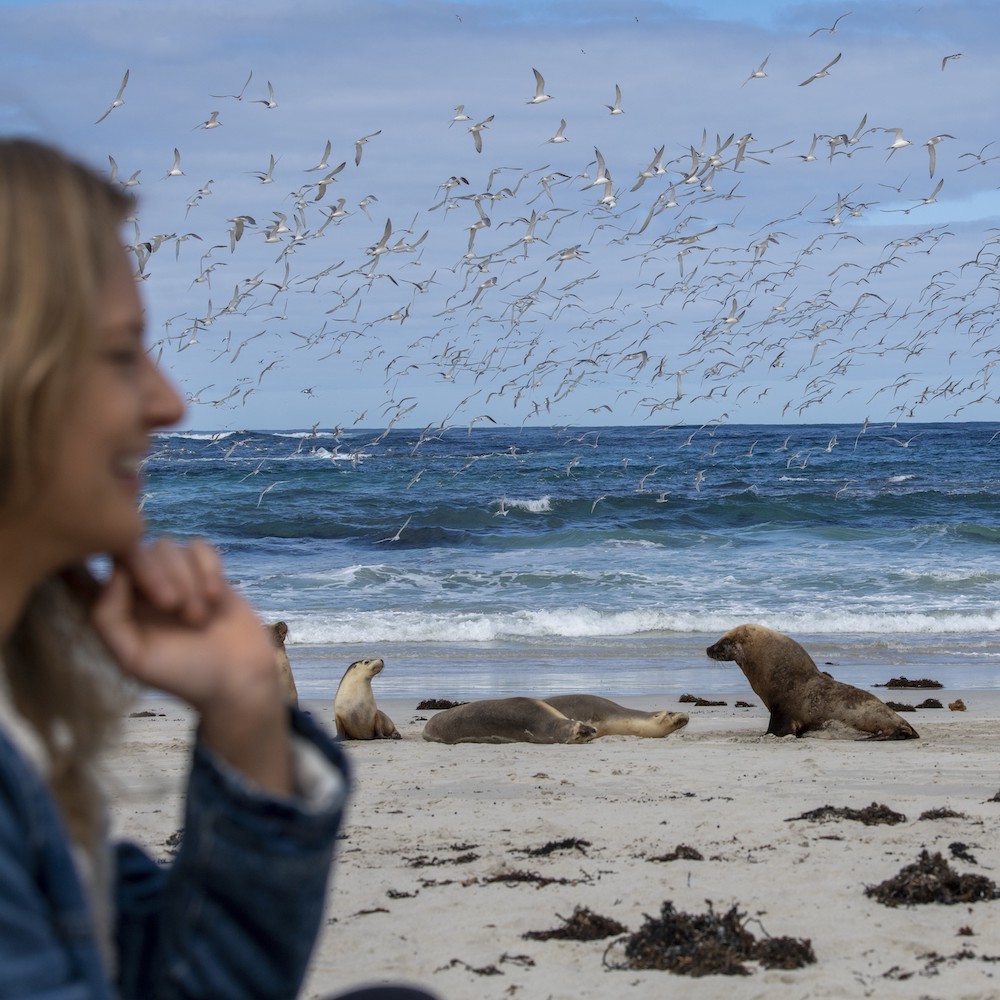 Top things to do on Kangaroo Island
The Remarkable Rocks
Located in Flinders Chase National Park the Remarkable rocks are balanced on top of an epic granite out crop. The shadows these rocks cast at sunset are something to see.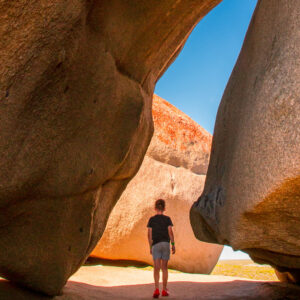 Seal Bay Conservation Park
This area of the beach is protected as the Sea Lion colony resides here. You are only allowed here wiht a guide, however you can get up quite close and personal with these wonderful creatures.
Echidna Spotting
We think the Echidna is one of the cutest Australian Native animals. Look at that little face! They are one of only 4 species of living mammal that lay eggs.
Sandboarding at Little Sahara
Try your luck at sandboarding on Kangaroo Island on our two day trips. Grab the board and off you go, climb to the top of the hill…and you are ready to go. Race your mates to the bottom.
So there we have a breakdown of the best things to do in Kangaroo Island! I hope that gives you some inspo to come for a visit on the island next time you are in South Australia.
Real Aussie Recommendations
Check out our tours from Adelaide that take you to Kangaroo Island to experience for yourself the native wildlife and natural rugged beauty. 
Spend a night on Kangaroo Island with our 2 day 1 night tours