5 Day Red Centre Camping Tour (Yulara to Alice Springs)
Spend 5 days exploring the Red Centre. Enjoy the freedom of camping in outback Australia and being in the great outdoors. Just you, your small group, and a well-versed local leader exploring the Red Centre over 5 days on this small-group adventure tour.
Get to all the big-name attractions on this 5 day Uluru tour camping adventure. Uluru/Kata Tjuta, Kings Canyon, the Western MacDonnell Ranges. Plus visit lesser-known sites like Trephina Gorge, Owen Springs, Ruby Gap and the Eastern MacDonnell Ranges. A great introduction to Central Australian Outback.
Witnessing an Uluru sunset is a once-in-a-lifetime experience on this 5 day Red Centre Tour.  Other highlights include the MacDonnell Ranges, both East and West: Ormiston Gorge, Ellery Creek, Simpsons Gap and Rainbow Valley. Plus of course the iconic attractions Kata Tjuta and Kings Canyon.
With a knowledgeable local leader, this 5 day Uluru tour itinerary allows you to discover the Red Centre without rushing. You will sleep in permanently fixed tents at our campsites each night on tour. With one night at a bush camp in a true Aussie Swag (bedroll)
Our guide will provide you ample insight into the First Nations' culture, history and relationship to the land. Gain insight into the ancient rock painting near the Mutitjulu Waterhole by Uluru and learn about the Arrernte people's caterpillar Dreamtime story at Emily Gap.
Admire the breathtaking formations of Kata Tjuta, which are believed to be about 500 million years old. You will spend the evenings camping in stunning outback Australia.
Prepare for an adventure on this 5 Day outback camping tour while seeing the highlights and hidden gems of the Red Centre.
Book Now
1. How many are travelling?
2. Select a date
3. Looks awesome!!! Book it!
Outback Camping Adventure (Alice Springs to Alice Springs)
We can't confirm real time availability on this tour. Please enquire about this trip and we will get immediately back to you!
Our travellers often combine this trip with some of these trips:
Itinerary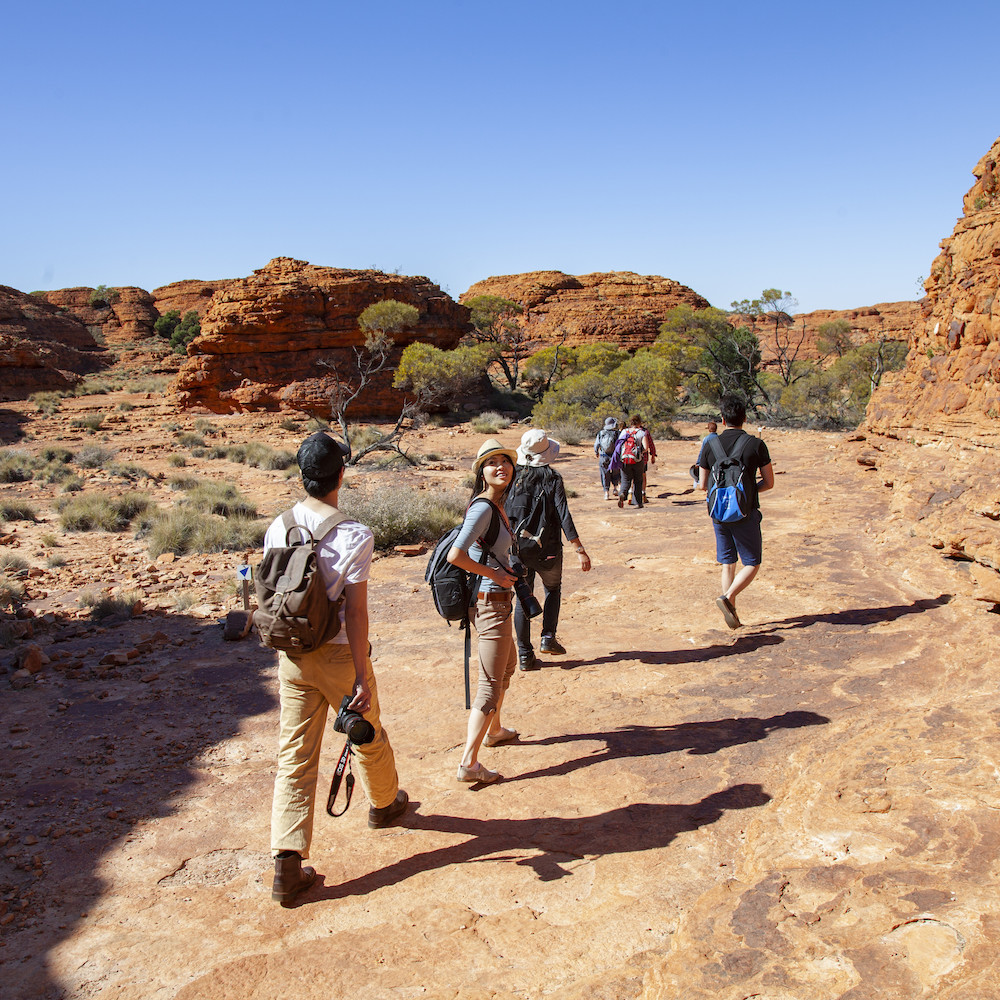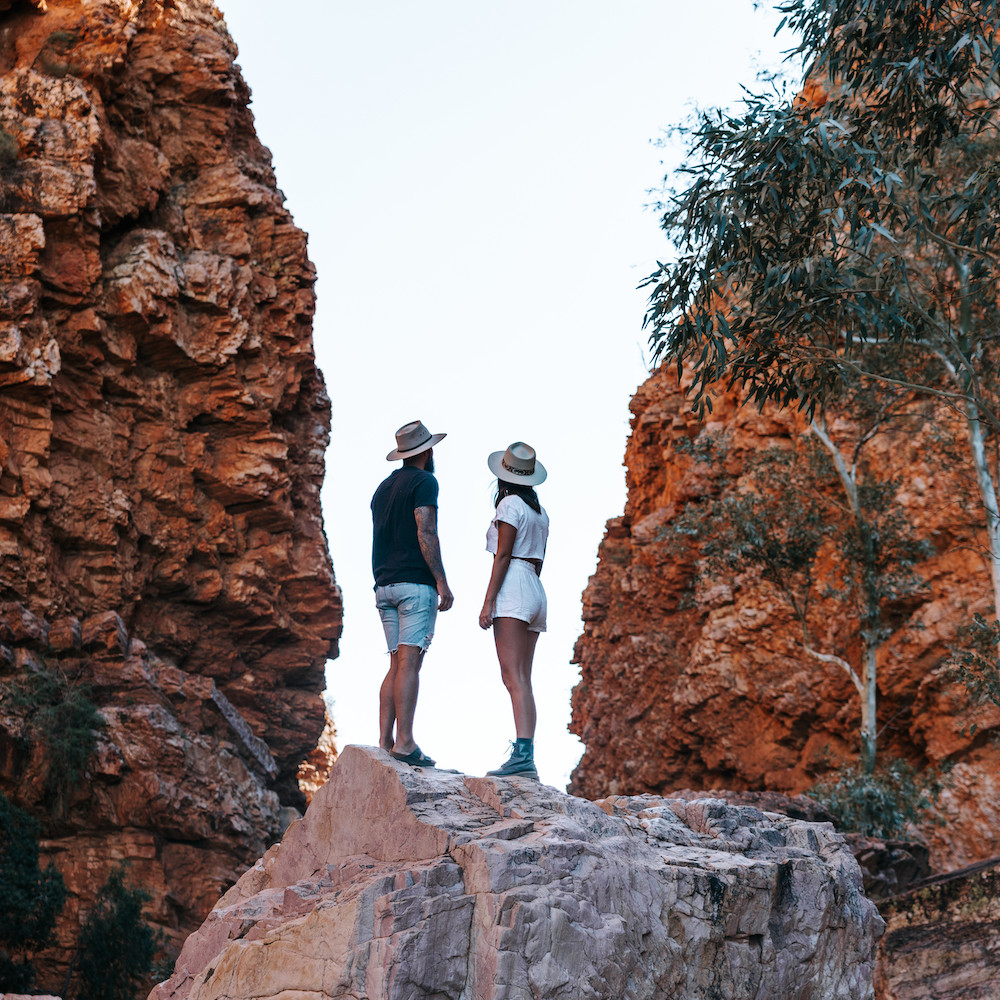 Uluru Cultural Centre
Maruku Arts cultural experience
Kings Canyon Rim Walk
The Macdonnell Ranges
A mixture of lightweight clothing and layers.
Long shirts and pants are useful to protect against the harsh Australian sun.
Clothes should be easy to wash and dry.
Comfortable closed-in shoes, hat, sunscreen, sunglasses.
Water bottle at least a 1.5litre capacity
Headlamp or torch is recommended for around your accommodation at night
Beach/swimming towel.
This trip requires a sleeping bag – can be purchased for AUD$75.00 or supply your own
Whilst we aim to be back in Alice Springs around 6pm, due to the distances covered onward flights from Alice Springs must be booked for the day after the tour.
Itineraries are updated regularly throughout the year to reflect the current situation in each destination. Contributing factors such as, weather, local conditions, transport schedules, public holidays, or other factors may lead to the order and timing of included activities to vary, this will ensure the best possible experience for all travellers.
Tour is not suitable for children under 8 years of age.
Due to limited space on the vehicle please restrict luggage to one day pack and one soft overnight bag/backpack, with a maximum of 15kg.
Travel Insurance and flexible flight tickets are highly recommended.
5% Off sale rates are applicable for new bookings only confirmed between 1 NOV 2023- 31 DEC 2023 for travel anytime. Not valid in conjunction with any other discount or promotion.
What will the weather be like at Uluru?
The Red Centre can be very hot during the summertime and in the winter, below freezing at night. Ensure you have prepared for the weather.
Where will I sleep on tour?
All four nights are camping, and one may be bush camping depending on what the group feels like and how we are tracking.
Permanent tented camp (with shared facilities) (2 nights), Swag Camping (2 nights) Sleeping Bag hire $75 per person or bring your own.
Does this tour start at Alice Springs or Ayers Rock?
Kick off your Australian Outback adventure in Yulara.