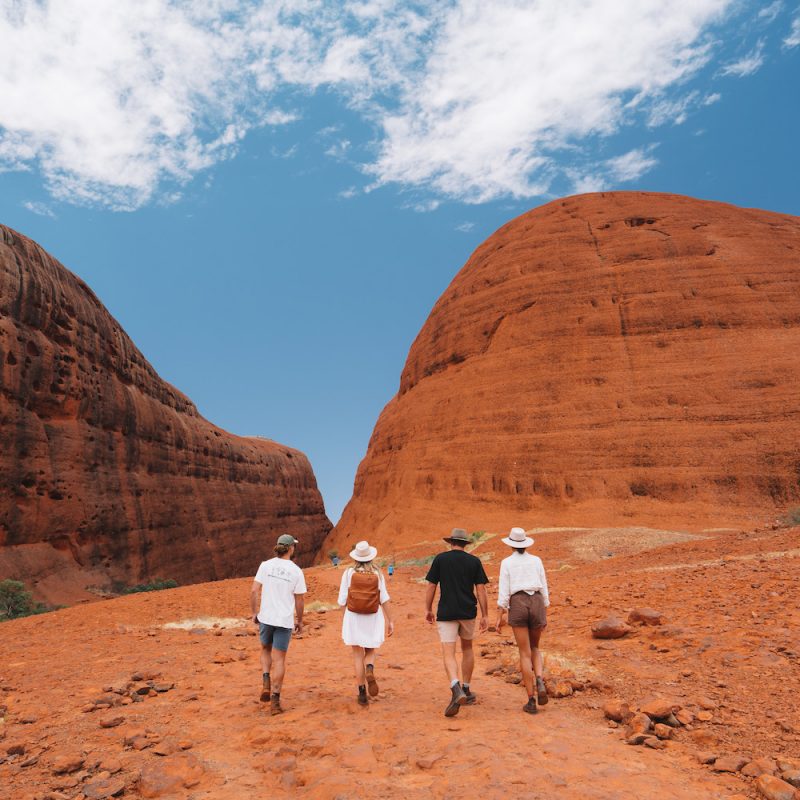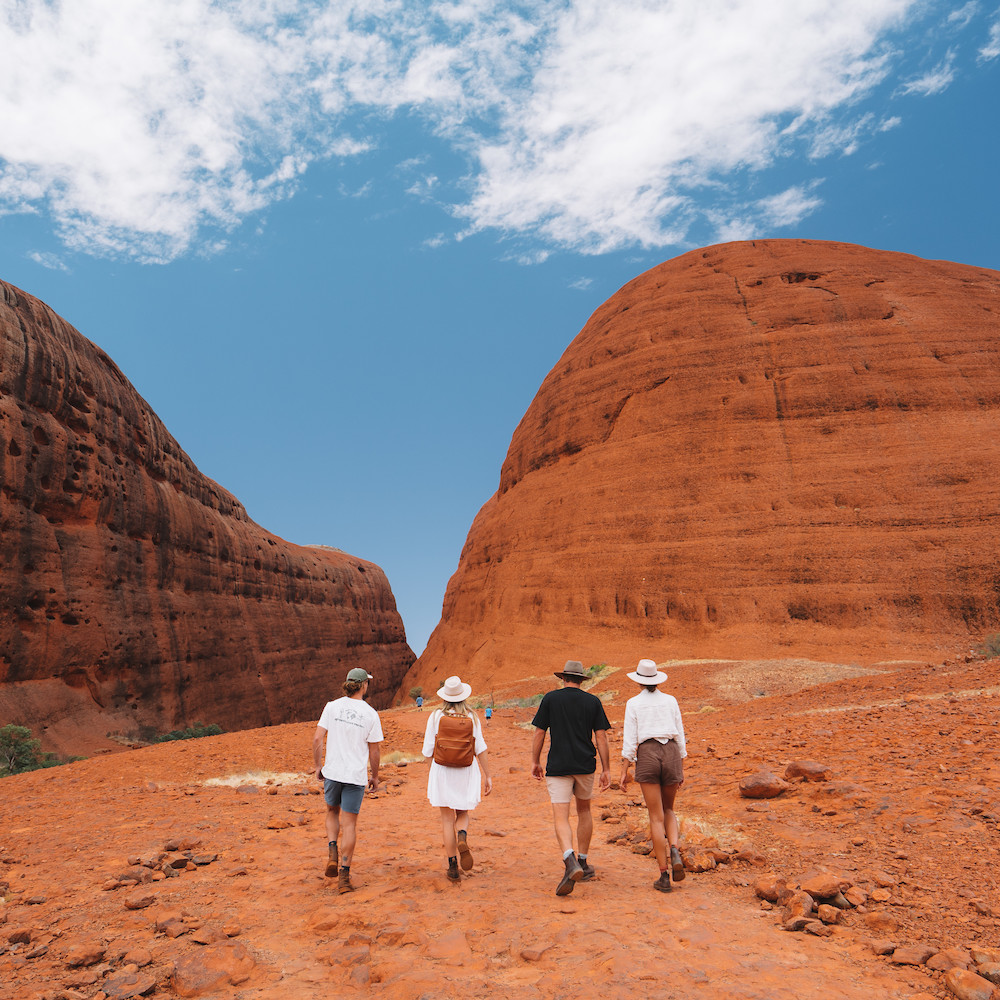 Real Aussie Says
This 3-day tour ensures an unforgettable odyssey through the Red Centre's most iconic treasures, leaving you with a profound appreciation for its natural beauty and cultural significance.
3 day Uluru Tour from Ayers Rock Airport
Embark on a 3-day adventure to Uluru from Yulara/Ayers Rock Airport. Explore the rugged beauty of Kings Canyon, witness the enchanting sunset over Uluru, and immerse yourself in the rich Aboriginal culture at the Uluru-Kata Tjuta cultural center.
Discover the heart of the Australian outback with our 3-day tour to Uluru from Yulara/Ayers Rock Airport.
Immerse yourself in the breathtaking landscapes of the Red Centre while exploring iconic locations, including Uluru, Kings Canyon, and Kata Tjuta. This small group adventure is designed for a wide range of travelers, from families with older children to active young adults and couples, ensuring an enriching experience for all.
Our tour encapsulates the essence of the Red Centre, allowing you to explore three iconic destinations in just three days. Your journey begins at Ayers Rock Airport, making this adventure convenient and accessible for all.
Uluru-Kata Tjuta National Park, a UNESCO World Heritage site, boasts stunning geological formations, rare flora and fauna, and unparalleled natural beauty. Our expert local guide will unveil the remarkable secrets of the Red Centre, providing guided commentary, stories, and hidden gems that breathe life into this ancient landscape.
As for accommodations, we offer two options to suit your preferences. For the adventurous souls, experience the traditional "swag" camping style, where you'll sleep under the stars in a canvas-covered bed roll. Alternatively, if you seek a more comfortable and private camping experience, you can choose our permanent safari tents with cozy mattresses.
Experience the rugged grandeur of Kings Canyon Watarrka National Park, where ancient rock formations and stunning landscapes will leave you in awe. Witness the awe-inspiring transformation of Uluru (Ayers Rock) as it bathes in the warm hues of a mesmerizing sunset, creating a moment of pure magic. At the Uluru-Kata Tjuta cultural center, delve into the rich cultural tapestry of the region, gaining insights into indigenous heritage and traditions. Explore the Aboriginal Sacred Rock Art Site, where ancient stories come to life through intricate rock art. Discover the spiritual essence of the land at Mutitjulu Waterhole, Kuniya Piti, and Kantju Gorge, each place carrying its unique significance in Aboriginal culture. Immerse yourself in the vast expanse of Uluru-Kata Tjuta National Park, where history and spirituality merge. Choose to hike through the awe-inspiring Valley of the Winds or the enchanting Walpa Gorge, and be rewarded with panoramic vistas etched in your memory. Marvel at the sheer wonder of the Olgas-Kata Tjuta, where massive domed rocks stand sentinel over the ancient landscape, inviting you to explore their enigmatic allure.
Embark on a 3-day journey that will leave you in awe of the Red Centre's natural beauty and cultural significance. Join us for an unforgettable adventure through this remarkable region.
Book Now
1. How many are travelling?
2. Select a date
3. Looks awesome!!! Book it!
3 Day Uluru Kata Tjuta Kings Canyon Tour - Bush Swag [from Ayers Rock]
We can't confirm real time availability on this tour. Please enquire about this trip and we will get immediately back to you!
Our travellers often combine this trip with some of these trips:
Itinerary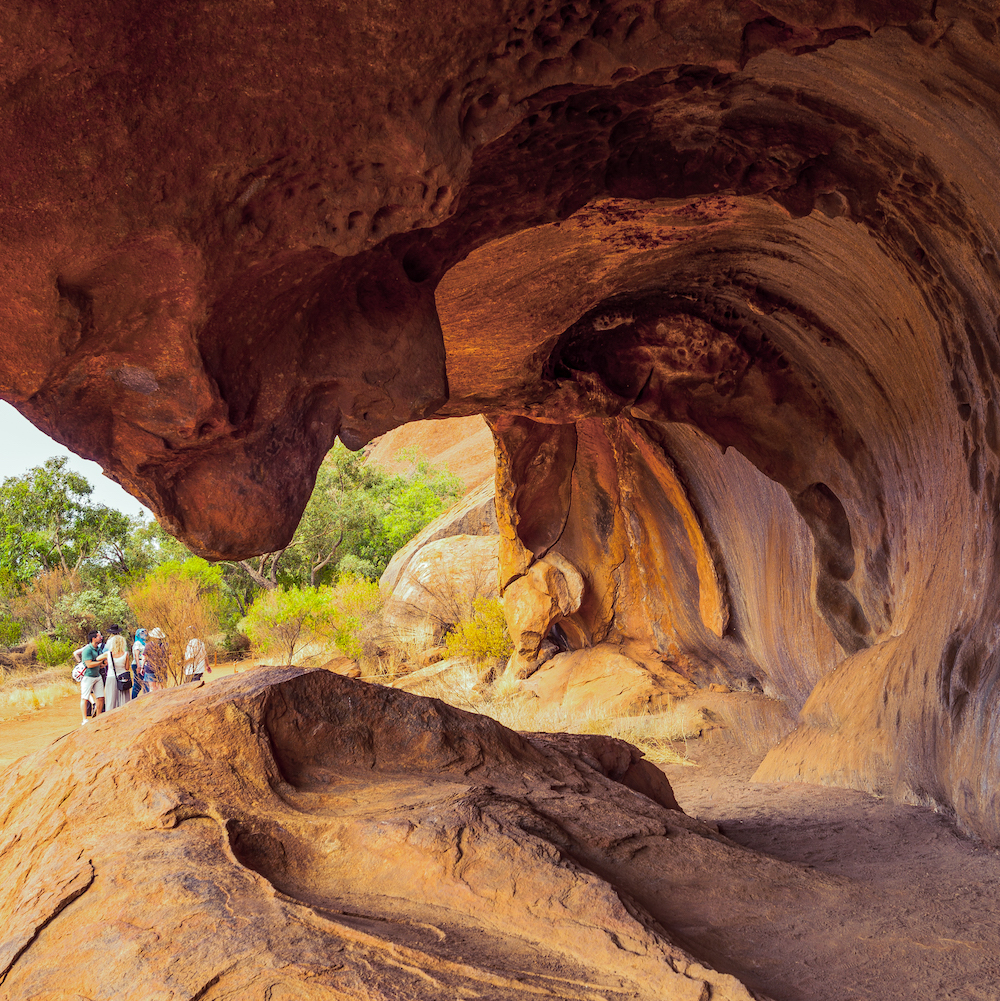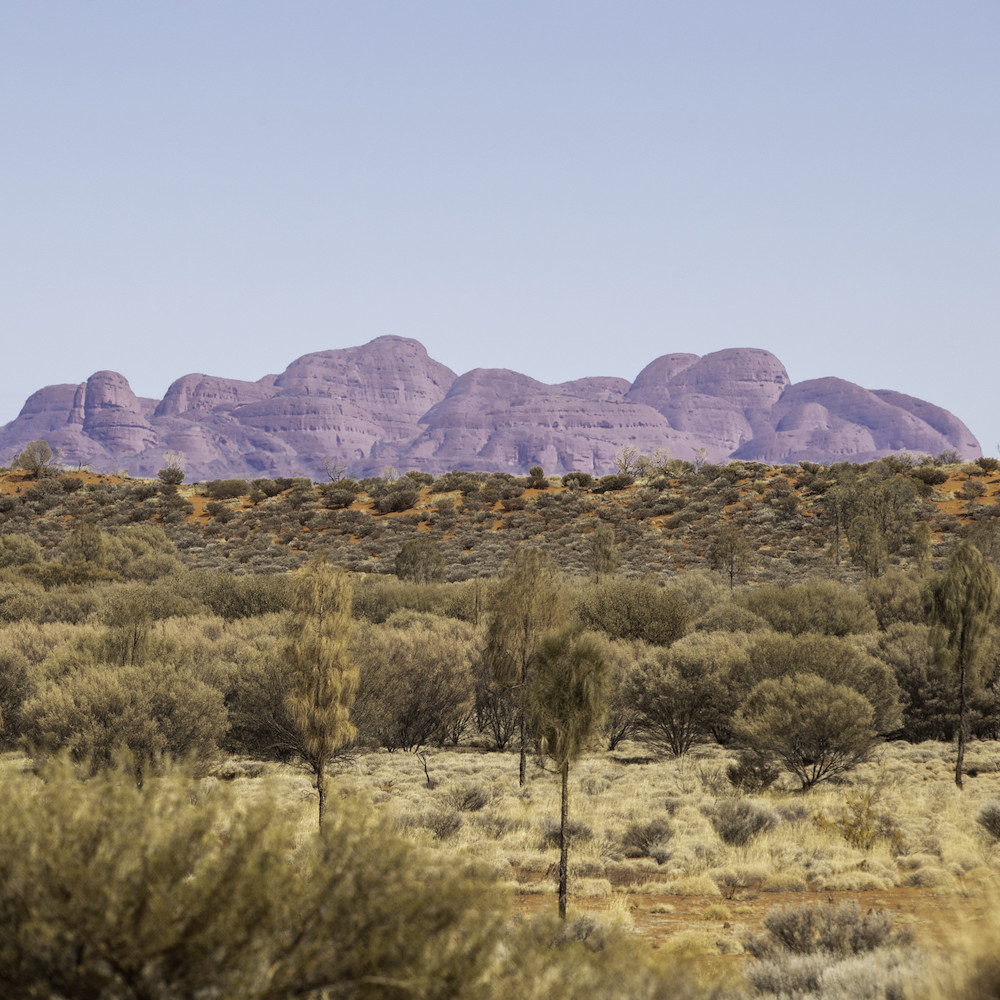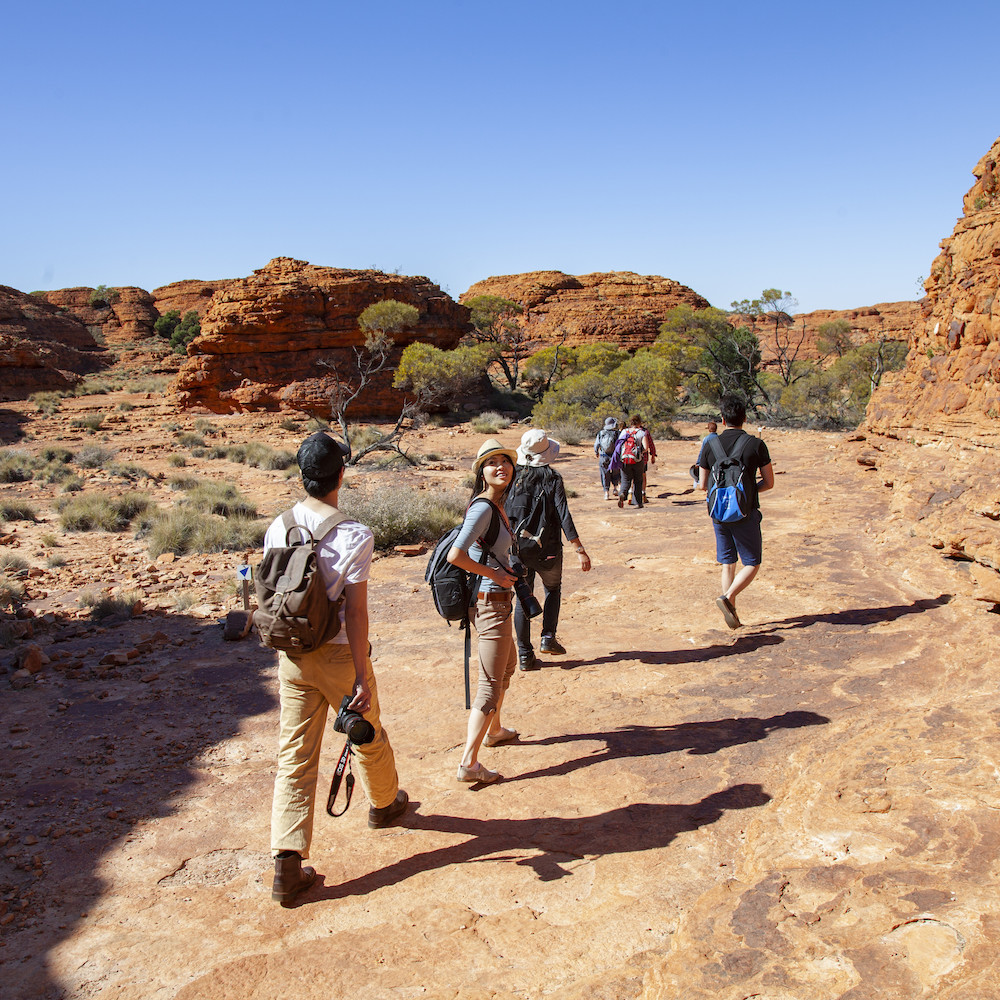 Witness the mesmerizing sunset over Uluru, creating a magical moment you'll never forget.
Explore the ancient rock art and sacred sites, delving into the rich Aboriginal culture of the region.
Hike through breathtaking landscapes, from the rugged beauty of Kings Canyon to the awe-inspiring Valley of the Winds.
Marvel at the enigmatic allure of the Olgas-Kata Tjuta, where massive domed rocks guard an ancient landscape.
3L Refillable water bottle
Wide brimmed hat, sunglasses & sunscreen
Swimwear, beach towel & toiletries
Comfortable sturdy hiking shoes (tread closed toe shoes)
All-weather clothing (extreme conditions inc wind, heat, cold, day/night)
15kg soft bag & small day pack
Tropical strength insect repellent
Mosquito or fly net (summer months)
We will try to cater for most dietary needs and/or food allergies – passengers MUST notify the tour operator of any special dietary requirements, or medical conditions at the time of booking.
A minimum moderate to advanced level of fitness is required to complete the walks. Length of walks will be between 2km to 6km each day, often over steep rocky sections and in direct sunlight and high humidity. An approximate 9-11km walk is included in this tour. Embarking on walks will be at the guide's discretion to ensure the safety of guests. Therefore, a medium/high level of fitness is required, and doctor's certificate is required for people over 70 years (30-days prior to travel).
Children aged between 8 to 17 years old, must be always accompanied by an adult or legal guardian and must stay in private twin rooms. Not suitable for infants or children 7 years and under.
Limited storage space on our vehicle, baggage kept to 1 x 15kg travel bag, 1 x 5kg day bag.
This tour is not suitable for mobility-impaired travelers, wheelchairs, walkers, or strollers.
Itineraries may vary to adapt to seasonal changes and occasionally sites in the parks close or do not allow swimming. As safety is our top priority, we plan accordingly to ensure our guests have the most fun and best experience possible while on tour.
Guests are asked to participate in the preparation of meals, clean up and vehicle unpack/loading, so everyone can relax together after a long day of touring. It's also a great way to get to know and connect with your fellow travelers.
Sleeping bags can be hired from us onboard for $40 AUD, this includes cleaning costs. You are more than welcome to bring your own.
If you join the tour in Ayers Rock you will not have lunch on day 1.
Tour linked for live booking on this tour page starts in Uluru/ Ayers Rock airport and in our basic swag option. For travel on this tour from Alice Springs contact us to get booked in or book live here: 3 Day Uluru, Kings Canyon and Kata Tjuta Tour from Alice Springs.
If you prefer the upgrade to the Permanent Safari tent contact us to get booked in.
Where will I sleep on tour?
For the more adventurous traveller, we have the traditional outback camping experience. Guests will enjoy sleeping under the stars in a canvas-covered bedroll, known as a "Australian Swag". Please bring a sleeping bag for this option or you can rent one for $40 on tour.
OR
If you're after a little more comfort, you can book our "Twin Share" safari style. These are permanent Safari Tents with mattress and linen. Get in touch directly to book the safari tent upgrade.
How fit do I need to be?
The physical level is moderate to extreme. Guided bush walks of up to 9km in total. 2-4km per day.
This tour starts in Ayers Rock Airport/ Yulara. If starting in Alice Springs pick up is 6.30am and 7am.
You can start this tour in Ayers Rock/ Uluru or Alice Springs. Click here to live book your tour starting from Ayers Rock airport.
If starting in Uluru. You will be picked up from the airport in Ayers Rock/ Uluru around 13.30 pm. You will miss lunch on day 1 so please eat at the airport or your resort before joining the tour. If arriving at Ayers Rock airport after 1.50 pm you cannot join the tour on the same day.
You can finish your tour in Ayers Rock or Alice Springs. If you finish in Ayers Rock/ Uluru this will be at 4 pm. Ayers Rock Resort / Yulara (Our shuttle service to Ayers Rock is complimentary. Guests must book a night's accommodation since this will not meet flights departing on day 3.)
The tour will end around 6 pm in Alice Springs.
The tour linked for live booking on this tour page is from Ayers Rock Airport/ Yulara. For travel on this tour from Alice Springs contact us to get booked in or book here: 3 Day Uluru, Kings Canyon and Kata Tjuta Tour