Real Aussie Says
Perfect if you are not keen on camping and want some comfort and air-con overnight but still love an adventure. Stay in resorts and motels in Kakadu National Park on tour.
4 day Kakadu National Park Tour
Explore the floodplains of Ubirr, Twin and of Jim Jim Waterfalls, and Butterfly Gorge on our fully accommodated comfort adventure tour.
Join our 4 day Kakadu Tour from Darwin to journey into Kakadu National Park and Nitmiluk National Park. Experience the wonders of Australia's Top End on this tour. Our small group Kakadu Tours over four days are designed for you to really experience the diversity of this stunning World Heritage-listed region.
You will stay in our comfortable Lodge Accommodation. No camping on this tour! This fully accommodated tour has you relaxing indoors in comfort each night after action-packed days of exploration, culture, and unmatched vistas. Stay at the famous Anbinik Kakadu Resort for two nights on tour.
Take a journey into the wonders of Kakadu National Park, the land that time forgot for hiking, bird spotting at Billabongs, and waterfall swimming. Visit Nitmiluk National Park (Katherine Gorge) and hike Edith Falls or Butterfly Gorge. Discover some of the oldest and best-preserved Aboriginal rock art in the world. Keep a lookout for some of our prehistoric friends (crocodiles) as we cruise the ancient wetlands by boat. Visit spectacular waterfalls and cool off in some of the most beautiful natural plunge pools imaginable. We'll be exploring some truly spectacular countryside, amongst pockets of rainforest packed with endemic species of flora and fauna.
On this 4 day Kakadu Tour from Darwin, you will take in the landscape and waterfalls of Kakadu National Park and Edith Falls in Nitmiluk National Park. Our 4 day Kakadu tour from Darwin is the adventure of a lifetime, showcasing the very best Kakadu has to offer.
Book Now
1. How many are travelling?
2. Select a date
3. Looks awesome!!! Book it!
4 Day Kakadu and Katherine Gorge Experience - Shared Accommodation
We can't confirm real time availability on this tour. Please enquire about this trip and we will get immediately back to you!
Our travellers often combine this trip with some of these trips:
Itinerary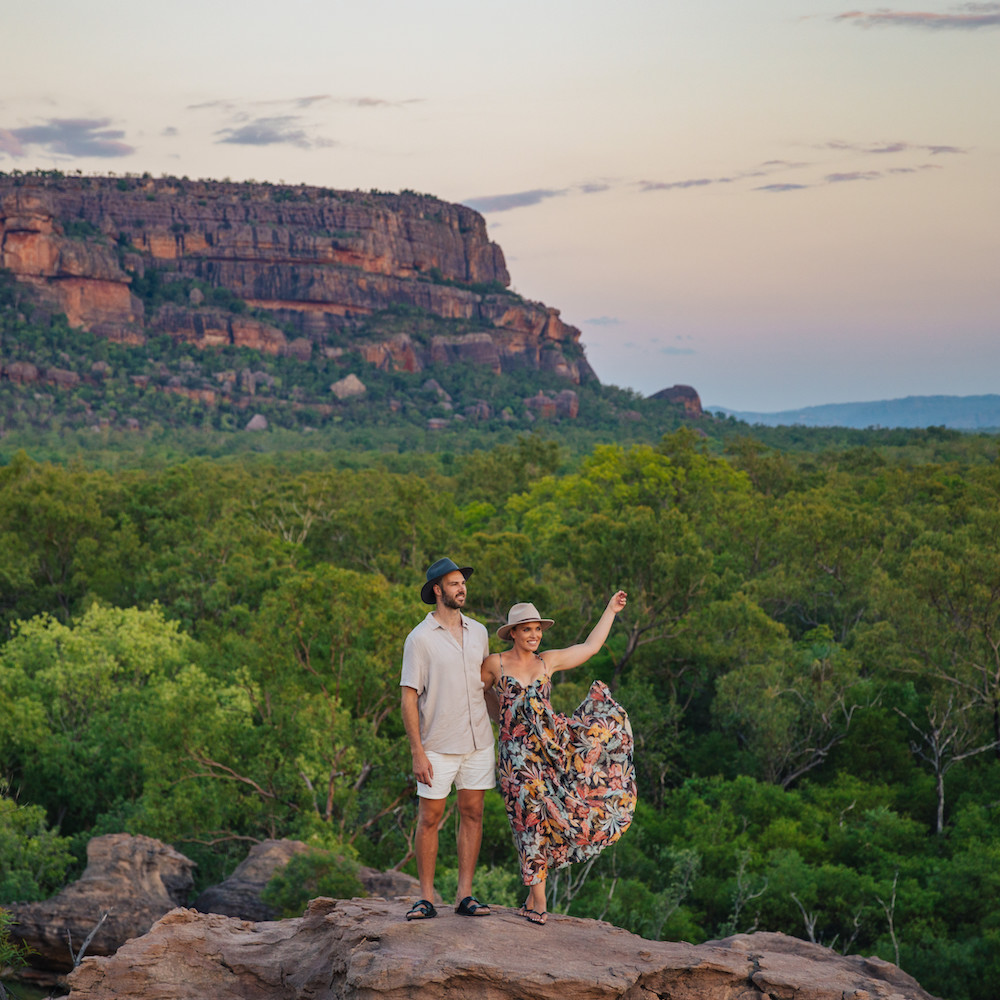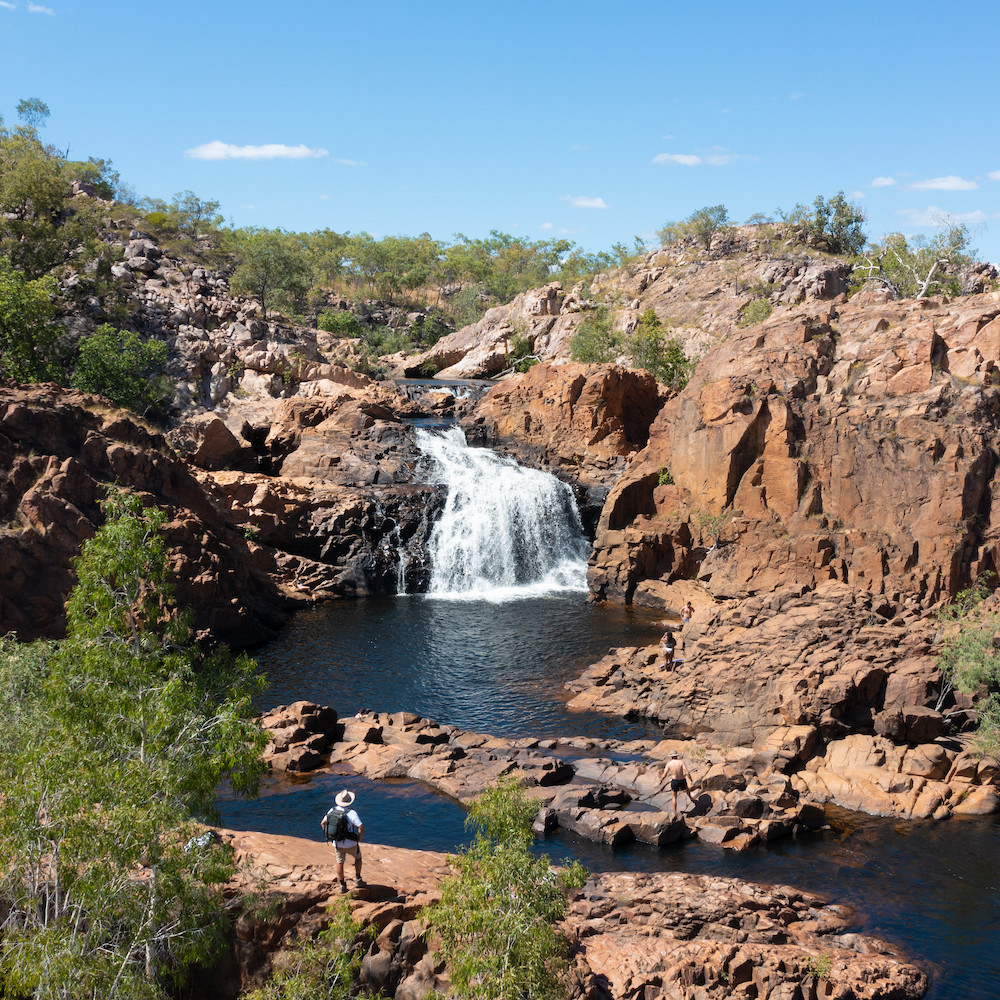 Visit world heritage listed Kakadu National Park
See an apex predator up close, on a billabong cruise
Explore both Bowali and Warradjan cultural centers
Internationally Protected Mamukala Wetlands
Watch for Crocs and Barramundi at Cahills Crossing
Breathtaking sunset view over the Nadab Floodplain
Be guided through two world-class Aboriginal rock art sites (Burrunkguy and Ubirr)
Join an intimate Aboriginal cultural experience
Adventure to Jim Jim or Twin Falls
Relax at Maguk's serene plunge pool
Enjoy the hospitality of a classic gold mining township
Discover the spectacular Edith Falls or Butterfly Gorge
2-3L Refillable water bottle
15kg overnight bag & small day pack
hat, sunglasses & sunscreen
comfortable hiking shoes
towel & swimwear
all-weather clothing as days are hot and the evenings are cold
tropical strength insect repellent
spending money and camera to capture the scenic views.
This Twin fare price is Per Person for Adults or Children. Children aged between 12 to 17 years old, must be accompanied by an adult or legal guardian at all times. Solo passengers who book this fare option will be paired in a room with another traveler, where possible with the same gender but not guaranteed.
If you want to book a Ensuite or camping option please contact us and we can quote subject to availability.
Not suitable for infants or children 12 years and under, due to safety requirements and the level of fitness required to complete the walks.
This itinerary is subject to change due to seasonal access permitting us from entering certain areas pre and post the dry season. Please note the falls are rarely open before late June. Highlights are a guideline only, Kakadu's diverse landscape and weather conditions mean a high amount of change and flexibility in the itinerary is expected. Your expert guides will ensure the most amazing adventure is had by all!
Whats the weather going to be?
The weather in the Northern Territory can fluctuate and be extreme. It is not unheard of for temperatures to reach over 50+ degrees Celsius in the dry season and in the evening the temperature drops dramatically. Please ensure you have checked the average temperatures for the time of year you are traveling and have packed adequate clothing. In the event of rain or inclement weather, your experience will still go ahead, unless contacted by the provider.
Please note the falls are rarely open before late June
How fit do I need to be on tour?
A moderate to advanced level of fitness is required to complete the walks. Walks can be up to 6km in length, often over steep and rocky sections and in direct sunlight. Length of walks may vary and will be at the guide's discretion. This terrain is not suitable for mobility-impaired travelers, wheelchairs, walkers, or strollers.
Where will I sleep on tour?
2 nights in a Resort Twin Share Room – with shared bathroom facilities
1 nights in a Motel Twin Share Room – with ensuite facilities
BASIC TWIN SHARE ROOM $1,950 Adult 18+
Or you can upgrade to Twin/ Double Ensuite. Please contact us for the upgrade.
2 Nights' Resort Twin Share Room – with ensuite facilities (Kakadu x2)
1 Nights' Motel Twin Share Room – with ensuite facilities (Pine Creek)
STANDARD DOUBLE/TWIN ENSUITE $2,150 *Adult / Child
PRIVATE SINGLE ENSUITE $2,550 Adult 18+
Or Permanent Twin Share Safari Tents. Please contact us to book the camping option.
All accommodation upgrades are subject to availability and on request.