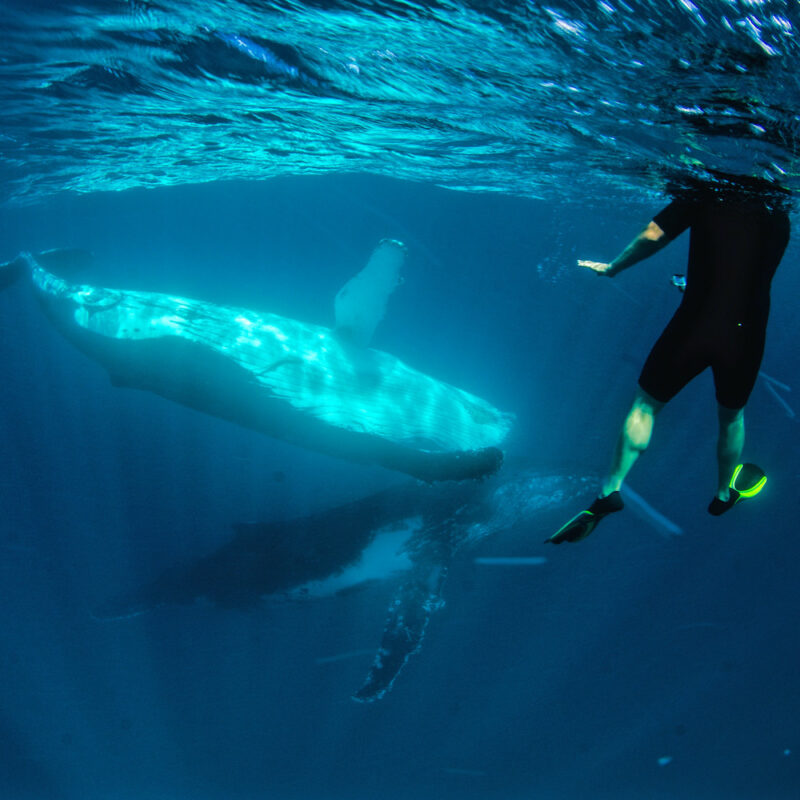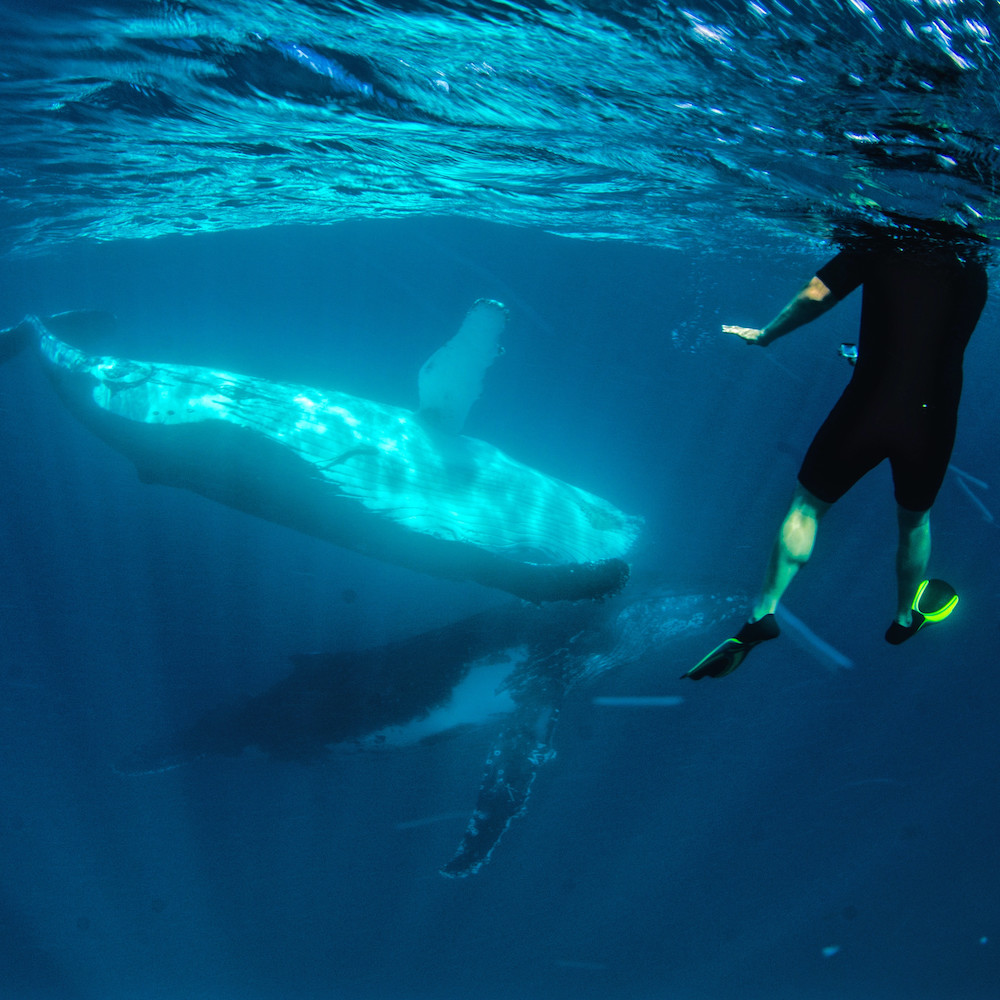 Real Aussie Says
Swimming with a Humpback Whale in their natural environment is an extraordinary life-changing experience, one not to be taken for granted, and as such is conducted with the utmost respect to the whales.
1 Day Humpback Whale Swim Sailing Catamaran Tour
Join us and the amazing Humpback Whales on the beautiful World Heritage listed Ningaloo Reef, just off Exmouth.
Join us on our once-in-a-lifetime Humpback Whale swim from Exmouth.
Your Exmouth Humpback Whale experience will be onboard a very stable, spacious 58ft sailing catamaran, which provides a 360-degree viewing platform and the opportunity to lounge and relax on the comfortable day beds, bow nets, and various seating spots while soaking up and enjoying the beauty of the Ningaloo Marine Park and all the amazing wildlife we may encounter. With the use of our very own spotter plane, our pilot will direct us to pods of whales and any other marine life spotted from above.
A Humpback Whale swim from Exmouth in Western Australia is a unique experience, and some whales are more interactive than others. Humpback Whales are very inquisitive creatures and it is quite possible they will seek interaction with humans and swim close to us.
Humpback Whale season Exmouth is from June to the end of October. As the Hunpback Whales make their migratory journey north from the Antarctic for mating and calving, and return south for the summer feeding grounds.
Our crew are super experienced in reading the humpback whales' behavior and interaction viability. Your small group of 5 and your guide will slide into the water and aim to swim with a majestic Humpback Whale, this is truly a once-in-a-lifetime experience.
You will experience warm friendly staff, fun activities, delicious food and memories to last a lifetime from the minute we pick you up to the moment we say goodbye. Our priority is making your day the best we possibly can on our Humpback Whale swim Exmouth.
Book Now
We can't confirm real time availability on this tour. Please enquire about this trip and we will get immediately back to you!
Our travellers often combine this trip with some of these trips:
Itinerary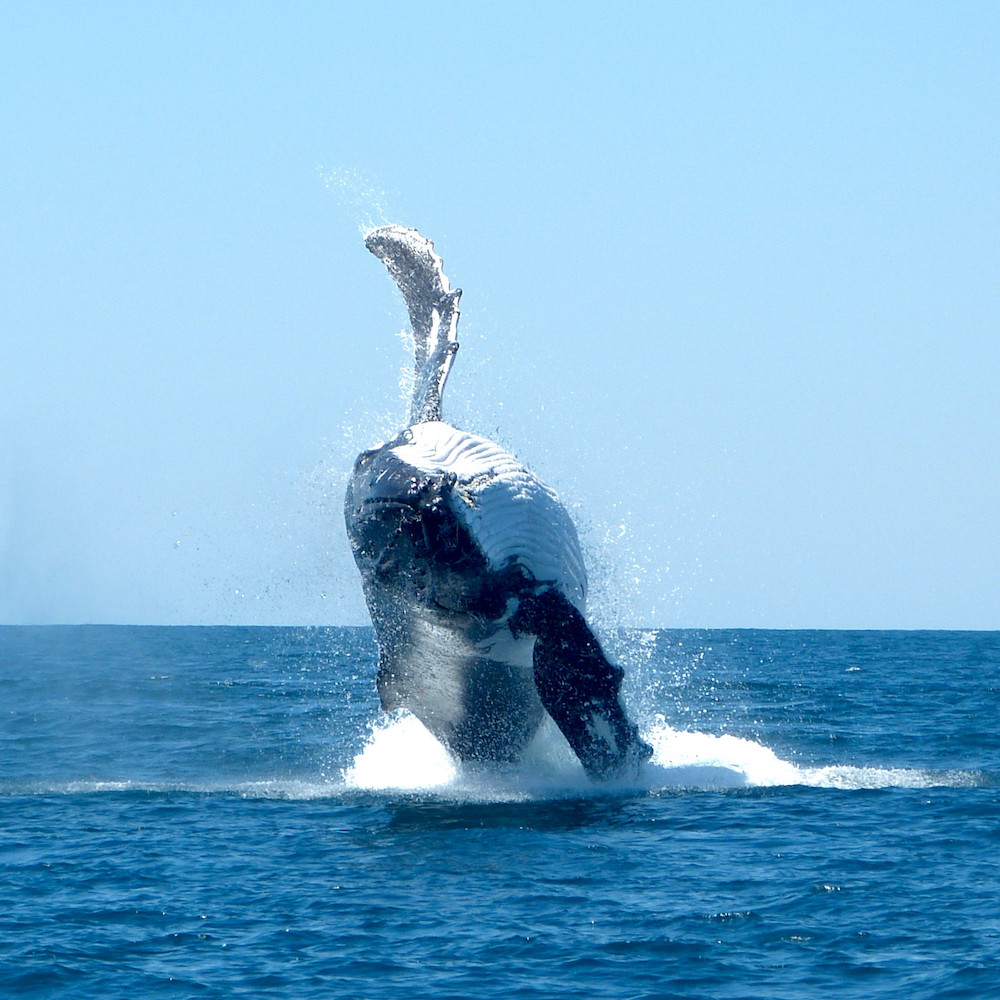 Humpback Whale Swim
Experienced, professional award winning crew on board and supporting you in the water as much as you need. Interesting informative spiels about the area and the marine life will keep you entertained too.
Spotter aircraft to ensure best possible opportunity of sighting and swimming with Humpback Whales
Snorkelling on the Ningaloo Reef
Opportunity to assist with hoisting the sails or relaxing on the bow nets, daybeds or bean bags
Marine specialists onboard to answer all your questions and guide you
Hat
Towel
Swimming clothes
Warm clothes for after snorkelling
Please note, to participate in swimming with the humpback whales, you need to be a strong and confident swimmer in the open ocean. If our skipper determines on the day that you do not have the level of swimming ability to participate they may ask you to stay out of the water for your safety – please note we cannot offer a refund in this event.
What time of year can I swim with Humpback Whales in Exmouth?
Humpback Whales migrate up and down the west coast in the winter months with the best time for interactions being August through till October.
What is the policy if I don't swim with a Humpback Whale?
While Ningaloo Discovery will do anything and everything in their power to provide you with an in water experience, we cannot guarantee the whales will be viable to swim with on the day. If you don't get to see a Humpback Whale from the water while snorkelling we will provide you with a 50% off voucher that can be used on another Humpback Whale Swim Tour valid for the remainder of the current season.
Do I need to be a good swimmer/snorkeller?
Please note you must be a strong and confident swimmer to participate in the Humpback Whale swims.  If our skipper determines on the day that you do not have the level of swimming ability to participate they may ask you to stay out of the water for your safety – please note we cannot offer a refund in this event.
We provide floatation aids and an opportunity to practice snorkelling before your interaction. Needs some tips? Just ask your guides; they are there to help!
Can I bring my own snorkelling equipment?
Most definitely! We encourage you to bring any equipment of your own if you prefer. We do provide quality mask, fins and wetsuits but if you are more comfortable wearing your own gear then bring it along.