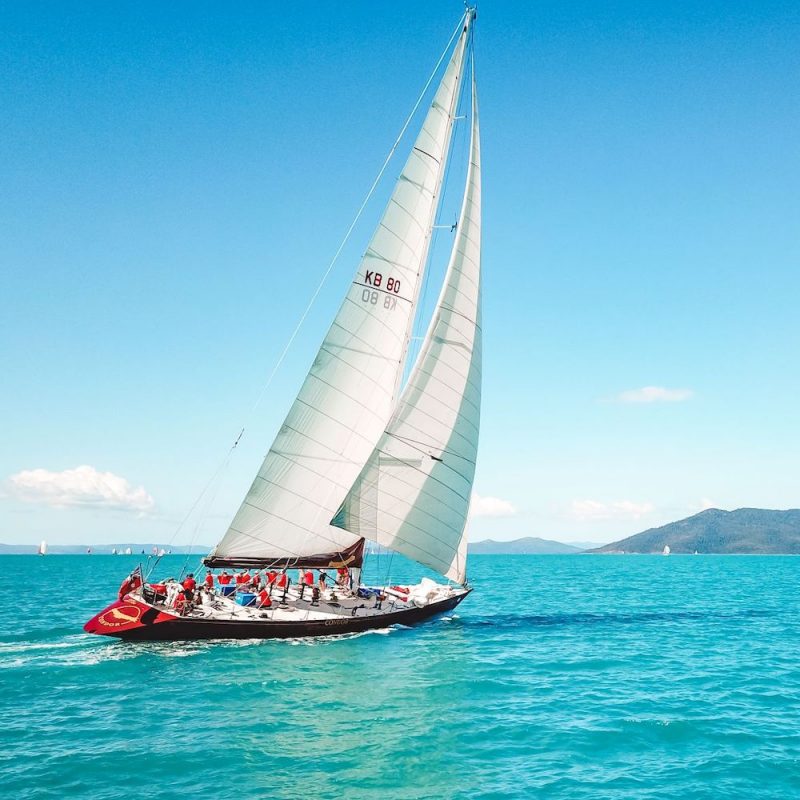 Real Aussie Says
Condor Whitsundays is a sailing tour ideal for the adventurous traveller wanting to experience a genuine overnight sailing trip around the Whitsunday Islands and Great Barrier Reef Marine Park. Condor caters for the adventurous traveller who is seeking an exhilarating sailing experience on a real famous ocean racing winner. Great meals included with the experienced and friendly crew!
4 day / 3 night Maxi Sailing on Condor
If you want to sail on the perhaps the most famous maxi yacht in history, then Condor is the yacht for you. Having won all major races twice, Condor is steeped in history and is now kitted out for charters.
Experience our awesome 4 day 3 night Maxi Whitsunday Sailing Adventure perfect for you if your 18 to 45 or young at heart.
This maxi sailing adventure offers you a social experience with a group of like-minded travellers. On this boat tour you will explore the amazing Whitehaven Beach and go snorkelling at two locations on the fringing coral reefs, plus go on guided bushwalks on the islands.
Yachts are 22 to 24 metres long and offer plenty of space to relax on the deck or below. Large shade awnings roll out when at anchor. Huge deck space which is bigger than two London buses and safe as this yacht was built to race around the world, so sailing the Whitsundays is easy. Fast sailing so you will go further and see more of the islands,
When we stop, we roll out a huge deck shade awning, Plenty of space downstairs with hot showers! Bonus when you travel on Condor major bragging rights about sailing on a world-famous Ocean Racing Maxi Yacht and twice Sydney to Hobart Yacht Race Winner!
This sailing tour can also include, if the weather allows, a visit to the Outer Great Barrier Reef where you can snorkel amongst untouched reef and marine life in some of the clearest and pristine water in the world.
We will show you the beauty of the underwater world and some seriously fast fun.
Book Now
1. How many are travelling?
2. Select a date
3. Looks awesome!!! Book it!