Real Aussie Says
Condor Whitsundays is a sailing tour ideal for the adventurous traveller wanting to experience a genuine overnight sailing trip around the Whitsunday Islands and Great Barrier Reef Marine Park. Condor caters for the adventurous traveller who is seeking an exhilarating sailing experience on a real famous ocean racing winner. Great meals included with the experienced and friendly crew!
3 Day/ 2 Night Condor Whitsundays Sailing Adventure
If you want to sail on the perhaps the most famous maxi yacht in history, then Condor is the yacht for you. Having won all major races twice, Condor is steeped in history and is now kitted out for charters.
Experience our awesome 3 day 2 night Maxi Whitsunday Sailing Adventure perfect for you if your 18 to 45 or young at heart.
This maxi sailing adventure offers you a social experience with a group of like-minded travellers. On this boat tour you will explore the amazing Whitehaven Beach and go snorkelling at four locations on the fringing coral reefs, plus go on guided bushwalks on the islands.
Yachts are 22 to 24 metres long and offer plenty of space to relax on the deck or below. Large shade awnings roll out when at anchor. Huge deck space which is bigger than two London buses and safe as this yacht was built to race around the world, so sailing the Whitsundays is easy. Fast sailing so you will go further and see more of the islands,
When we stop, we roll out a huge deck shade awning, Plenty of space downstairs with hot showers! Bonus when you travel on Condor major bragging rights about sailing on a world-famous Ocean Racing Maxi Yacht and twice Sydney to Hobart Yacht Race Winner!
We will show you the beauty of the underwater world and some seriously fast fun.
Book Now
1. How many are travelling?
2. Select a date
3. Looks awesome!!! Book it!
'Condor' Whitsundays Maxi Sailing Adventure
We can't confirm real time availability on this tour. Please enquire about this trip and we will get immediately back to you!
Our travellers often combine this trip with some of these trips:
Itinerary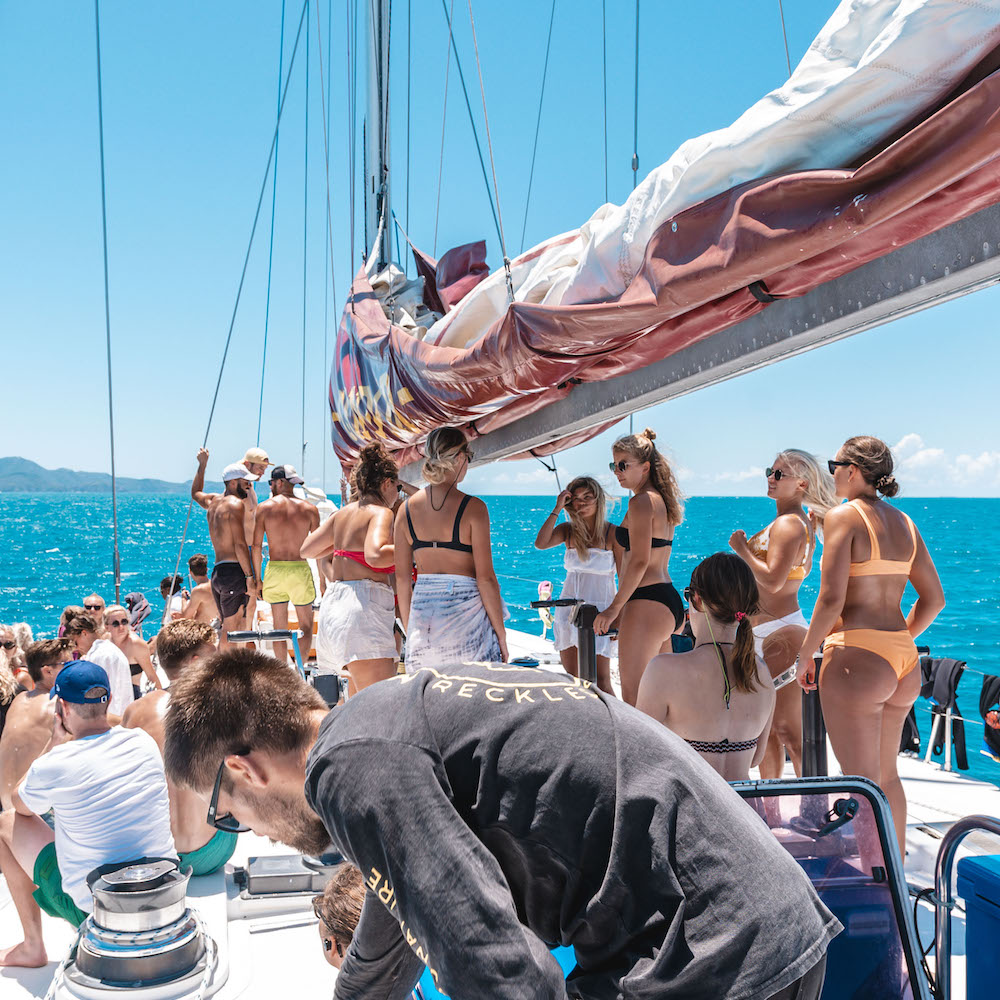 Sail and race with other Whitsunday boats for an authentic adventure.
Spend 5 hrs at Whitehaven Beach and visit Hill Inlet Lookout.
Snorkel at 4 locations on the fringing reef.
Go on bushwalks for stunning views.
Enjoy delicious meals and extra comforts.
Eco-friendly exploration of Whitsunday Islands.
Bathers/towel
Hat & sunscreen
Motion sickness tablets
Water bottle
Towel
Toiletries
Warm clothing
Waterproof jacket
Insect repellent
Camera
These tours are perfect for adventurous singles, couples and groups normally aged between 18-45. We have no age limit, however you must be 'young at heart', fit and able to move about a boat unassisted and understand the adventurous and social nature of our tours. Some under 18's may be accepted on board by request
Accommodation is made up of single and double beds in dormitory style cabins/sections below deck. During peak season (October-March) capacity can reach up to 30 guests onboard (with sharing of double beds). From April-September capacity is normally 19 guests ensuring all guests have their own bed (unless they would like to share a double)
Departs Coral Sea Marina, Airlie Beach at 10 am. Returns to the same location on the fourth day at approximately 3:30 pm
If Condor's departure dates are not desirable, check out Hammer and Broomstick's availability as these boats run the exact same tour.
Can I BYO on the boat?
Condor is a BYO vessel, which means you are able to bring your own alcohol onto the tour (no glass please). Filtered drinking water is included throughout your tour, you are welcome to bring a bottle and fill it as much as you like, however for your convenience soft drinks are available for purchase on board. The crew will keep a tab and you can pay at the end of your tour.
Do I have to be a good Swimmer?
Don't worry, we supply swimming noodles and additional floatation as required. We will do a risk assessment on every guest before entering the water. While in the water the small tender will be relatively close by. We also have staff on look-out duty. In the Whitsundays, the reefs we visit are off the beaches, so it is pretty easy to make way to the beach.