Real Aussie Says
Ocean rafting are the yellow boats that whizz past other sailing boats in Airlie Beach leaving them in a cloud of frothy waves..get to the best bits faster on this boat!
1 Day Ocean Rafting Whitsunday Islands
Ride, beach, snorkel and bushwalk…all in one day! Ocean Rafting's Southern Lights tour offers the perfect Whitehaven Beach tour, visiting both ends of the world famous beach and enjoying approximately two hours relaxing at the southern end of the 7km stretch of Whitehaven Beach.
If you only have one day to see the Whitsunday Islands and Whitehaven beach this is the day tour for you – Ocean Rafting, Whitsunday Islands.
Visit three top destinations whilst having the ride of your life! Each Ocean Rafting day includes an exhilarating ride to world famous Whitehaven Beach, Hill Inlet Beach and Lookout, pristine snorkeling reefs and guided Whitsunday Island National Parks walks, all in one day! Our semi-rigid inflatable vessel is super fast allowing you to experience a fun ride, adventure, and education amongst the natural beauty of the Whitsundays.
Ocean Rafting's Whitehaven Beach tours visit the "Wild Side" of the Whitsunday Islands, the uninhabited islands with beautiful natural scenery brimming with marine, bird and animal life. We have direct access to the stunning and iconic Hill Inlet beach on our Whitehaven Beach tours and special snorkel sites at Hook Island and Border Island ensure a memorable underwater experience.
Do pristine white sandy beaches surrounded by crystal clear lagoons and a sense of adventure sound like you?
Book Now
1. How many are travelling?
2. Select a date
3. Looks awesome!!! Book it!
Southern Lights Tour
We can't confirm real time availability on this tour. Please enquire about this trip and we will get immediately back to you!
Our travellers often combine this trip with some of these trips:
Itinerary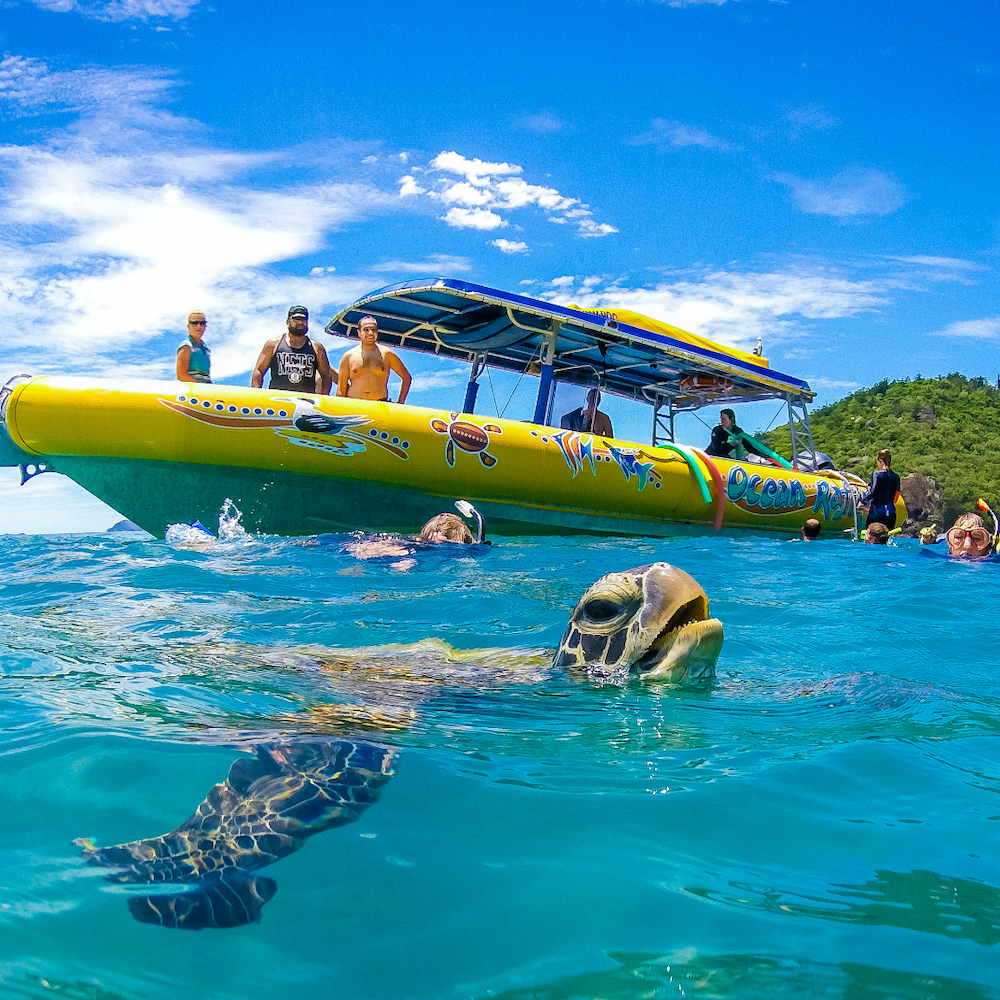 Ride, beach, snorkel and bushwalk…all in one day!
Hop on the fastest day boat in the Whitsundays
Swimmers
A beach bag including a towel, hat and shoes.
A jacket during winter to protect you from wind and for warmth after snorkelling.
Cameras in a waterproof case or Tupperware.
Cash for water, soft drinks, beer, fruit juices and chocolates for sale on board.
If you have chosen not to have our buffet style lunch, please ensure that you bring your own as we do not visit any resorts during the day.
A sense of humour is always welcome!
The tour itinerary is a guideline only and is subject to change depending on tide, wind and other weather conditions.
Is Ocean Rafting suitable for all ages?
Our boats are suitable for most ages from 6 months upwards (weather permitting). If you are concerned about the weather conditions for the date that you are travelling, or wish to speak to one of our friendly office team about young passengers travelling.
How long will I spend on the boat?
The longest part of the journey is just over an hour, which is the ride out to the Whitsunday Islands and the return journey back to the mainland. Between the other stops the journey will be anywhere from 10 – 20 minutes, depending on where the skipper chooses next, given conditions on the day.
How long do you spend snorkelling?
The Southern Lights tour visits just one snorkelling location around either Border Island or Dumbell Island for approximately 1 hour.