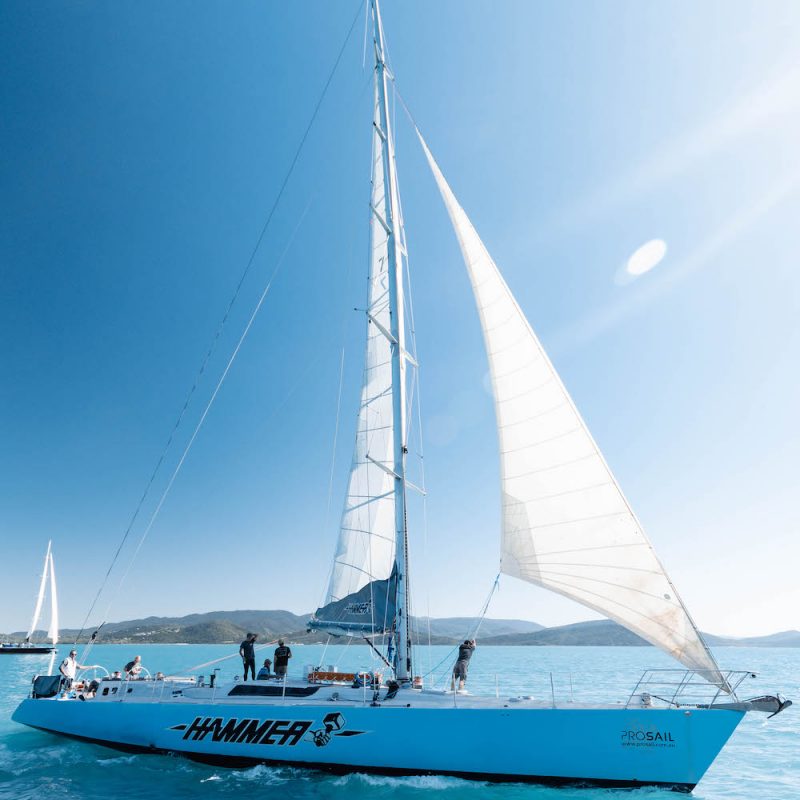 Real Aussie Says
The Hammer adventure on the Whitsundays is our most popular 3 day 2 night boat trip here at Real Aussie Adventures. We get booked well in advance so get in quick to secure your spot.
3 day / 2 night Sailing on Hammer
Sail on a yacht that has been a successful racing yacht on the Queensland coast. This yacht is a little different in that it has a lot more twin and double accommodation. perfect for couples or people travelling together.
Looking for a thrilling sailing experience in the Whitsunday Islands? Look no further than the Maxi yacht Hammer, a successful racing yacht on the Queensland coast that has been redesigned for an unforgettable liveaboard Whitsunday experience.
This 3-day, 2-night sailing tour is designed for young at heart travelers aged 18-45, combining the size and power of a Maxi yacht with the thrill of speed. Experience the stunning surroundings of the Whitsunday Islands as you sail on this impressive yacht, taking in the beautiful coral reefs and crystal-clear waters.
The Hammer is a true gem of a yacht, originally built in 1939 and later re-designed in 1989 for racing. Today, it offers a unique and exciting liveaboard experience, with spacious decks and plenty of room to relax and get to know your fellow travelers. The yacht is equipped with all the necessary amenities, including a large galley, saloon, and accommodation for up to 21 passengers.
On this 3-day, 2-night sailing tour, you'll have the opportunity to explore the Whitsunday Islands and all the natural beauty they have to offer. Visit the world-famous Whitehaven Beach and feel the silky sand between your toes, or go snorkeling on the fringing coral reefs that extend right from the edge of the islands. Whether you're a seasoned sailor or a first-time visitor, this tour offers an unforgettable experience that you won't want to miss.
But it's not just about the sailing – the Hammer crew will also provide expert commentary throughout your journey, sharing their knowledge of the unique flora and fauna, abundant wildlife, and interesting history of the region. And when you're not sailing, you can relax in the spacious saloon or on the deck, taking in the stunning views and enjoying the company of your fellow travelers.
Whether you're looking for a thrilling adventure, a chance to explore the natural beauty of the Whitsunday Islands, or simply a unique and unforgettable sailing experience, the Maxi yacht Hammer and its 3 day, 2 night liveaboard Whitsundays tour is the perfect choice for you.
So don't miss out – book your spot today and get ready for the adventure of a lifetime.
Book Now
1. How many are travelling?
2. Select a date
3. Looks awesome!!! Book it!
'Hammer' Whitsunday Maxi Sailing Adventure
We can't confirm real time availability on this tour. Please enquire about this trip and we will get immediately back to you!
Our travellers often combine this trip with some of these trips:
Itinerary
Experience real adventure sailing
Spend up to 5 hours at Whitehaven Beach & visit Hill Inlet Lookout
Visit up to 4 snorkelling locations to check out the magnificent fringing reef around the Islands (all part of the Great Barrier Reef Marine Park)
Enjoy bush-walks and hikes (with lookouts and stunning views)
Enjoy standout delicious meals made by the crew who are fun, experienced and welcome you into the Prosail family.
Extra comforts like rain & sun shades, hot showers, USB charging stations, thicker snorkel/swimming suits in the cooler months
One of the most sustainable and environmentally friendly ways to explore the Whitsunday Islands!
Bathers/towel
Hat & sunscreen
Motion sickness tablets
Water bottle
Towel
Toiletries
Warm clothing
Waterproof jacket
Insect repellent
Camera
These tours are perfect for adventurous singles, couples and groups normally aged between 18-45. We have no age limit, however you must be 'young at heart', fit and able to move about a boat unassisted and understand the adventurous and social nature of our tours. Some under 18's may be accepted on board by request
Accommodation is made up of single and double beds in dormitory style cabins/sections below deck.
Departs Coral Sea Marina, Airlie Beach at 10 am. Returns to the same location on the third day at approximately 3:30 pm
Can I BYO on the boat?
This is a BYO vessel, this means you are able to bring your own alcohol onto the tour (no glass please). Filtered drinking water is included throughout your tour, you are welcome to bring a bottle and fill it as much as you like, however for your convenience soft drinks are available for purchase on board. The crew will keep a tab and you can pay at the end of your tour.
Do I have to be a good Swimmer?
Don't worry, we supply swimming noodles and additional floatation as required. We will do a risk assessment on every guest before entering the water. While in the water the small tender will be relatively close by. We also have staff on look-out duty. In the Whitsundays, the reefs we visit are off the beaches, so it is pretty easy to make way to the beach.