Best places to stop on the East Coast of Australia
The East Coast of Australia stretches from Melbourne in the south up to Cairns in the tropical north, a vast piece of coastline with so many hot spots to see.
Here we give you a rundown on the top destinations and places to visit. With our list of 'Best places to stop on the East Coast of Australia'
The Australian East Coast is a beaten down track, travelled by many and loved by all. Australia is home to some of the best beaches in the world where you can ride waves on the epic surf, take a walk on the pristine silica or dive into the scintillating underwater world.
There's a lot to see, so to make sure you don't miss out on anything, here's the hotspots and Must Sees of the East Coast of Australia.
Must See Cities on the East Coast of Australia
Melbourne
Melbourne is a city that encapsulates the creative arts and allows each person to express their individuality. From graffiti-tagged laneways to Australia's best coffee, get lost in the midst of quirky coffee shops, beautiful gardens, and colorful beach huts! It's been voted the most live-able city in the world so try not to get stuck here before you've seen what the rest of the Coast has to offer
From Melbourne, we have plenty of day tours for you to explore the region.
Check out our 1 Day Great Ocean Road tour, the most popular day trip from Melbourne.
Sydney
Officially the beginning of the East Coast, this city is brimming with iconic landmarks and breathtaking Instagrammable moments. Make sure to spend time walking along the coast from Bondi to Coogee to breathe in the fresh salty air and spot the surfers doing their thing. If it's an adventure you're after, travel an hour out of Sydney to the Blue Mountains where there are hiking trails suited to different experience levels and views to make your eyes pop!
Best places to stop on the East Coast of Australia New South Wales
Byron Bay
The authentic hippy town of Byron Bay immediately allows you to live life in slow motion. Nurture your love for the Earth as well as your love for surf.
If like me, you're a total sunrise lover, then set your alarm for the early hours and hike to the top of the lighthouse. The sunrise floods in beautifully on the most Easterly point of Australia for that perfect postcard moment.
Spend the rest of your day shopping for handcrafted trinkets, visiting fortune tellers, practicing your yoga or chilling on the beach!
If you want a bit of a Byron Bay buzz…then jump out of a plane at 14,000 feet with a Skydive.
Best places to stop on the East Coast of Australia in Central Queensland
Noosa National Park
This stunning coastal city is a haven for surfers and boutique holidaymakers. Whilst Noosa is a little more expensive than other backpacker cities, the waves and chic atmosphere make it totally worth it. Make sure to pop your walking shoes on and explore the Coastal hiking trails, where you may be lucky enough to spot a dolphin or find the secret fairy pools! If you're feeling adventurous, you can even kayak the Everglades and camp overnight under the stars! 
Fraser Island
This huge sand island is best explored in a 4X4. Whilst dodging dingoes, spiders, snakes and sharks; you can swim in champagne pools and float down a natural lazy river. Take a scenic flight above the sand dunes and clear blue lakes to see the beauty from an aerial perspective. By night, you can cook with your fellow campers and sneak in a few drinks under the stars before using your trusty goon bag as a camping pillow!
Fraser Island is a true Must See on the East Coast of Australia. Not to be missed! 
Check out our deep dive on how to travel to Fraser Island and tours on offer here: Tours to Fraser Island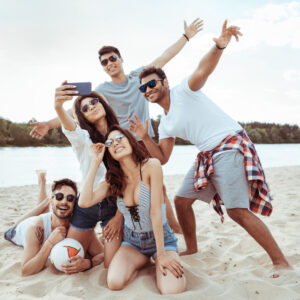 Agnes Water + 1770
So you're kayaking on the sea, watching the sunset draw to a close. When all of a sudden a pod of dolphins bob in and out of the water giving you and your fellow kayakers a private show! Sounds like a dream, right? Yeah, you guessed it… Agnes Water and the town of 1770 provides you with an idyllic Aussie setting and helps you become one with nature. But if that isn't your thing then fear no more! You could always surf the waves, skate down the clear sidewalk or lie horizontal all day in a hammock. 
Airlie Beach (Whitsundays)
The Whitsundays are a group of islands found on the fringe of the Great Barrier Reef and arguably the greatest treasure of Queensland. What better way to waste away three days than to sail around a set of islands on a liveaboard? When you arrive at Whitehaven beach, the magical white sand will leave you gobsmacked. Lie on the beach and soak in the rays or chase lemon sharks and stingrays through the shallow waters!
Another absolute must-see on the East Coast of Australia.
We have day tours from Airlie Beach to the Whitsundays. But we would highly recommend and overnight sailing adventure.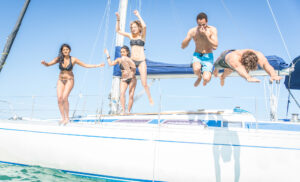 Magnetic Island
Ah the Island of the Barbie Convertibles. The car you always said you'd never hire if you were to do the East Coast, but then get roped into just for the pure hilarity of it… Just me then? Well, I can confirm that it is hilarious, and cliché, but mostly hilarious.
When you're in your bright pink convertible and you're feeling like a boss, then you may as well take it for a spin to all the corners of the island. Park up at the fort and take the 2 hike to the fort, the highest point of the Island! Stunning views reward your climb, not to mention the cute koalas you'll spot on the way!
If all of this sounds far too exciting and you need to let off a bit of steam, then head to Base Bar for an evening of alco-frolicking beach side.
Best places to stop on the East Coast of Australia in Tropical North Queensland
Mission Beach
The most popular spot on the East Coast to face your fears and jump out of a perfectly functioning plane. The only skydive in Australia where you can land right on the beach! An exhilarating big fat tick off your bucket-list! Reward your adventurous efforts with a beach BBQ on one of the prettiest stretches of sand the Coast has to offer.  
Cairns
Cairns is a fantastic gateway to some pretty epic marine life in Australia. Whether you're into diving, fishing or snorkelling, you'll be sure to see some big stuff on the Great Barrier Reef.
Make sure you also check out the small but beautiful Fitzroy Island. Spend your day snorkelling in the search for marine life or visiting the sick turtles at the turtle rehabilitation centre.  Paddleboards can be rented from a beachside kiosk and there's a huge water trampoline so there's no chance of getting bored!
Book your Great Barrier Reef day tour. 
Atherton Tablelands
Fancy standing in the same spot as Peter Andre flexed his abs? How about flicking your hair in front of a waterfall as if you were in the Mysterious Girl video? Well, the Atherton Tablelands is home to Mila Mila Falls, where that very music video was shot! Bathe in the beautiful refreshing water to cool you down – well if it's good enough for Peter Andre… 
If you have a set of wheels then you should take time to explore the rest of the Tablelands, especially for a spot of camping at Lake Tinaroo. See if you can catch yourself a fresh Bream for dinner!
Visit the Atherton Tablelands.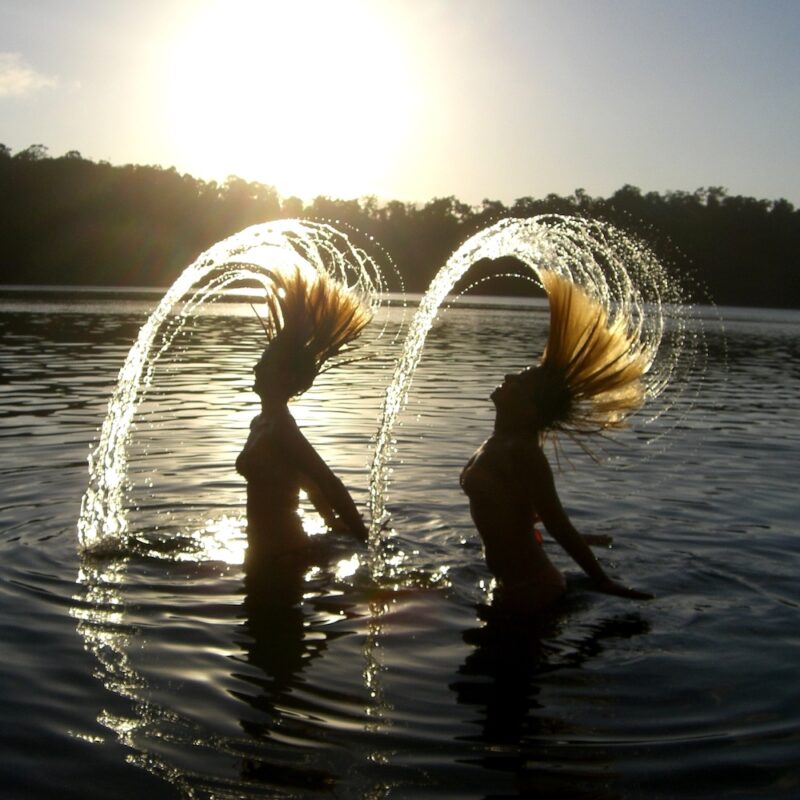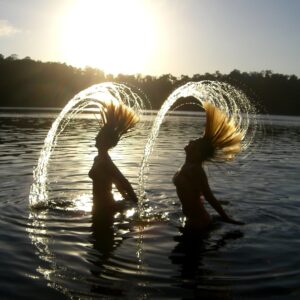 Cape Tribulation/Daintree Rainforest
Some don't make it this far as Cairns is often the finishing line for many travelers. If you have some spare time and want to immerse yourself in the dense beautiful rainforest that leads to a beautiful beach, then spend some time in Cape Trib. The Daintree Rainforest is a tropical haven and the oldest surviving rainforest in the world! Head down the Daintree River for some croc spotting – just make sure you don't get too close. .
Book your Cape Tribulation adventure.
East Coast Australia itinerary 2 weeks
Here's a sample itinerary for 2 weeks traveling from Sydney to Cairns:
Day 1-2: Arrive in Sydney and explore the city, taking in sights such as the Sydney Opera House, Harbour Bridge, and Bondi Beach.
Day 3: Take a day trip to the Blue Mountains, where you can hike, take a scenic railway ride, and see the famous Three Sisters rock formation.
Day 4: Take a train or flight to Brisbane, explore the city and its surroundings.
Day 5-6: Head to Fraser Island, the largest sand island in the world, where you can go 4WDing, swimming, and see the island's unique flora and fauna.
Day 7: Take a train or flight to Airlie Beach. Head to the Whitsundays and go sailing or take a boat tour to see the stunning white-sand beaches and crystal-clear waters.
Day 8-9: Go snorkeling or scuba diving to see the colorful marine life on the Great Barrier Reef.
Day 10-11: Take a tour to the Daintree Rainforest, where you can see unique flora and fauna, and possibly spot crocodiles.
Day 12-13: Cairns, a gateway to the Great Barrier Reef.
Day 14: Depart Cairns
Keep in mind that this itinerary is just a sample and can be adjusted depending on your preferences and interests.
You may also want to consider adding some extra days to explore Cairns and the surrounding areas.
Additionally, If you want to add more adventure activities like skydiving, bungy jumping, hot air balloon, or scenic flights, you can add them in the Easot Coast 2 week itinerary.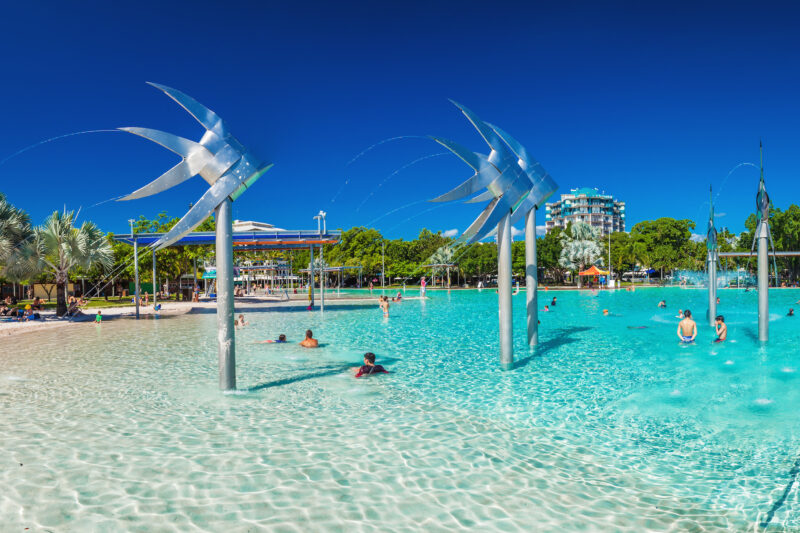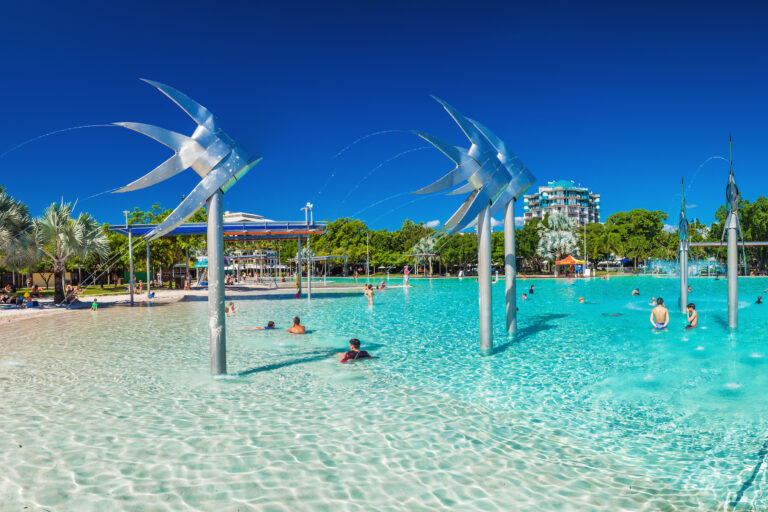 List of places to stop on the East Coast of Australia
The East Coast of Australia is known for its beautiful beaches, lush rainforests, and vibrant cities, making it a popular destination for travelers.
Here is a quick update on some of the best places to stop on the East Coast of Australia:
Sydney: Known for its iconic landmarks such as the Sydney Opera House and Harbour Bridge, as well as its bustling beaches, such as Bondi and Coogee.
The Blue Mountains: A natural wonderland of rugged cliffs, cascading waterfalls and eucalyptus forests, just a short drive from Sydney.
Cairns: A gateway to the Great Barrier Reef, where you can go snorkeling, diving, or take a boat tour to see the coral and marine life.
Fraser Island: The largest sand island in the world, where you can go 4WDing, swimming, and see the island's unique flora and fauna.
The Whitsundays: A group of 74 tropical islands, where you can go sailing, swimming, and relax on the white sandy beaches.
The Great Barrier Reef: One of the world's natural wonders, where you can see an abundance of marine life, such as colorful fish, coral, and sea turtles.
Daintree Rainforest: The oldest rainforest in the world, where you can see unique flora and fauna, such as the Kuranda tree frog and the Lumholtz's tree-kangaroo
Melbourne: Known for its diverse neighborhoods, such as Fitzroy, St. Kilda, and South Yarra, as well as its laneways filled with street art and trendy cafes.
The Great Ocean Road: A scenic coastal drive, where you can see spectacular coastal scenery, including the Twelve Apostles rock formation.
Byron Bay: A bohemian town known for its laid-back atmosphere, beaches, and alternative culture.
This list is not exhaustive, but it gives an idea of the different attractions that you can find on the East coast of Australia, depending on your interests you can add some other destinations like the Gold Coast, Noosa, or the Sunshine Coast.
Hidden gems on the East Coast
When it comes to exploring the East Coast of Australia, it's easy to get caught up in popular tourist destinations like Sydney and Cairns. But if you're willing to venture off the beaten path, you'll discover some truly spectacular hidden gems. Here are five of our favorite hidden places to explore:
The Blue Mountains – Just a short drive from Sydney, the Blue Mountains offer stunning views, hiking trails, and even rock climbing opportunities.
Jervis Bay – Known for its white sand beaches and crystal-clear waters, Jervis Bay is a hidden paradise that's perfect for swimming, snorkeling, and kayaking.
Yuraygir National Park – This stunning coastal park is home to pristine beaches, rugged headlands, and an abundance of wildlife.
Noosa Everglades – Located north of Brisbane, the Noosa Everglades are a hidden gem that's perfect for kayaking, hiking, and birdwatching.
Magnetic Island – Just off the coast of Townsville, Magnetic Island is a secluded paradise with secluded beaches, walking trails, and abundant wildlife.
So many must-see destinations on the East Coast of Australia.
I hope you liked our list of the best places to stop on the East Coast of Australia. Did we miss anywhere? Let us know your hot spots and must-visits.
One of our most popular tours to get you to all the best places on the East Coast is the 21-Day Sydney to Cairns Tour.
Or to travel more flexible over Melbourne to Cairns you can take the Greyhound Bus pass: Greyhound Bus Pass East Coast
Find out more about How to Use the Whimit Greyhound Pass. 
Check out our articles for more East Coast info:
Our Best East Cost Australia Tours
Best Backpacker East Coast Tours