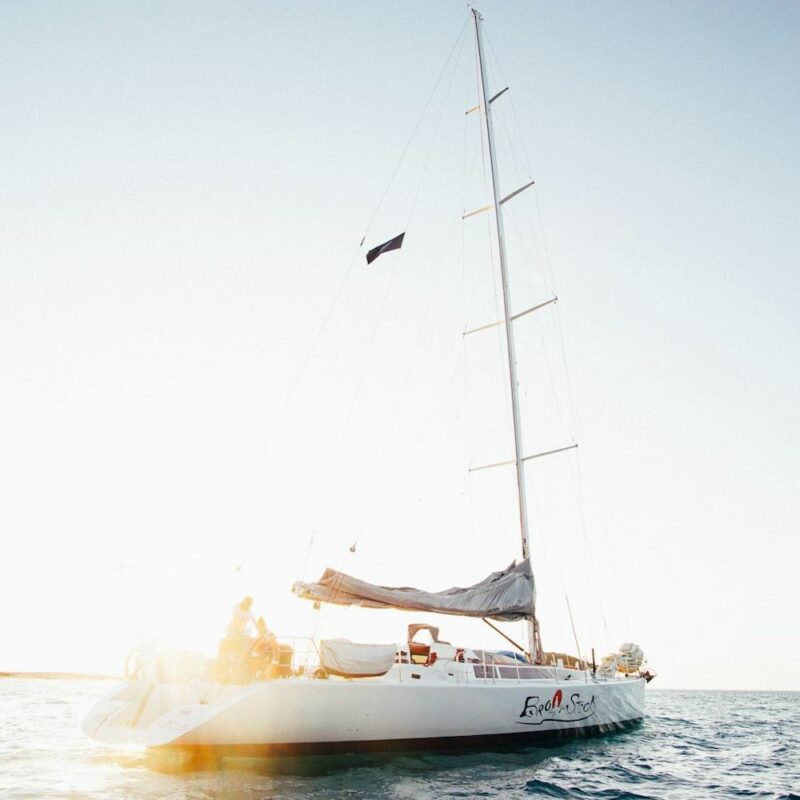 Real Aussie Says
Broomstick offers an exciting 4 day/3 night tour that is most popular among the thrill-seekers and avid sailors.
4 day / 3 night Maxi Sailing on Broomstick
The maxi yacht Broomstick only stopped racing in 2000 but now is fitted out for your passenger comfort. it's still a long and sleek boat with double cabins and single bunk accommodation on board.
Experience an impressive 4 day 3 night Maxi Sailing Adventure on the Whitsunday's perfect for the young at heart.
This boat tour offers you a social experience with a group of like-minded travelers. On this sailing tour, you will explore the amazing Whitehaven Beach and go snorkeling at two locations on the fringing coral reefs, plus go on guided bushwalks on the islands.
Yachts are 22 to 24 meters long and offer plenty of space to relax on the deck or below. We roll out large shade awnings when at anchor.
Hoist the sails or take the wheel with plenty of opportunities to get involved while seeing the best destinations in the Whitsundays. We will show you the beauty of the underwater world and some seriously fast fun.
'Broomstick' Whitsunday Maxi Sailing Adventure
We can't confirm real time availability on this tour. Please enquire about this trip and we will get immediately back to you!
Our travellers often combine this trip with some of these trips:
Itinerary
Experience real adventure sailing and match race with other Prosail boats
Spend a WHOLE DAY AT WHITEHAVEN Beach, visit Hill Inlet Lookout AND South Whitehaven lookout
Visit up to 6 snorkelling locations to check out the magnificent fringing reef around the Islands (all part of the Great Barrier Reef Marine Park)
Enjoy multiple bush-walks and hikes (with lookouts and stunning views)
Bathers/towel
Hat & sunscreen
Motion sickness tablets
Water bottle
Towel
Toiletries
Warm clothing
Waterproof jacket
Insect repellent
Camera
It is recommended that the double bunk fare is only booked by two people travelling together as otherwise pax will have to share the double bunk with another passenger.
Can I BYO on the boat?
Broomstick is a BYO vessel, this means you are able to bring your own alcohol onto the tour (no glass please). Filtered drinking water is included throughout your tour, you are welcome to bring a bottle and fill it as much as you like, however for your convenience soft drinks and bottled water are available for purchase on board. The crew will keep a tab and you can pay at the end of your tour.
Do I have to be a good Swimmer?
Don't worry, we supply swimming noodles and additional floatation as required. We will do a risk assessment on every guest before entering the water. While in the water the small tender will be relatively close by. We also have staff on look-out duty. In the Whitsundays, the reefs we visit are off the beaches, so it is pretty easy to make way to the beach.