Real Aussie Says
This 3 day Red Centre adventure tour offers a great value for money Ayers Rock tour to Uluru (Ayers Rock), Watarrka (Kings Canyon) and Kata Tjuata (the Olgas) staying in private campsites. Start from Ayers Rock Airport and finish in Alice Springs.
3 Day Uluru Tour (Yulara to Alice Springs)
Unlock a 10% Discount – Act Now
Have an Australian adventure to remember with our most popular 3 day Uluru, Kings Canyon and Kata Tjuta small group tour.
Hike and explore Uluru (Ayers Rock), Kata Tjuta and Kings Canyon on this Red Centre tour to remember – a truly unique way to travel Australia. Day one and you will road trip straight into the outback from Alice Springs or we can pick you up at Yulara airport (Ayers Rock Airport) Spend the day taking the base walk around Uluru, getting up close and personal to this geological and cultural wonder of Australia. The first night you will spend under the outback stars within viewing distance of Ayers Rock (Uluru). Your knowledgeable tour guide will take you through the outback and experience the famous sunset at Uluru (Ayers Rock).
The next morning it's up early for your sunrise selfie! Seeing the sunrise up over a sacred site like Uluru is a once-in-a-lifetime breathtaking moment. Today you will hike Kata Tjuta Valley of the Winds walk, before driving onwards to Kings Canyon. On day 3 you will hike and explore Kings Canyon (Watarrka National Park) Walk along the red rock cliffs and take in views of the forest of palms below.
The best 3 day Uluru tour is aimed at adventure travellers who want to visit Uluru, Kings Canyon and Kata Tjuta. Real Aussie Adventures is about adventure and getting involved. This 3 day Uluru trip is perfect for travellers from all over the world, people travelling by themselves, couples and groups.
This 3-day small-group tour is your chance to meet the outback on your own terms. No rushing around – just you, your small group, and a well-versed local leader exploring the Red Centre at your own pace. Get to all the big-name attractions – Uluru, Kata Tjuta, and Kings Canyon.
Book Now
1. How many are travelling?
2. Select a date
3. Looks awesome!!! Book it!
Uluru Adventure (Yulara to Alice Springs)
We can't confirm real time availability on this tour. Please enquire about this trip and we will get immediately back to you!
Our travellers often combine this trip with some of these trips:
Itinerary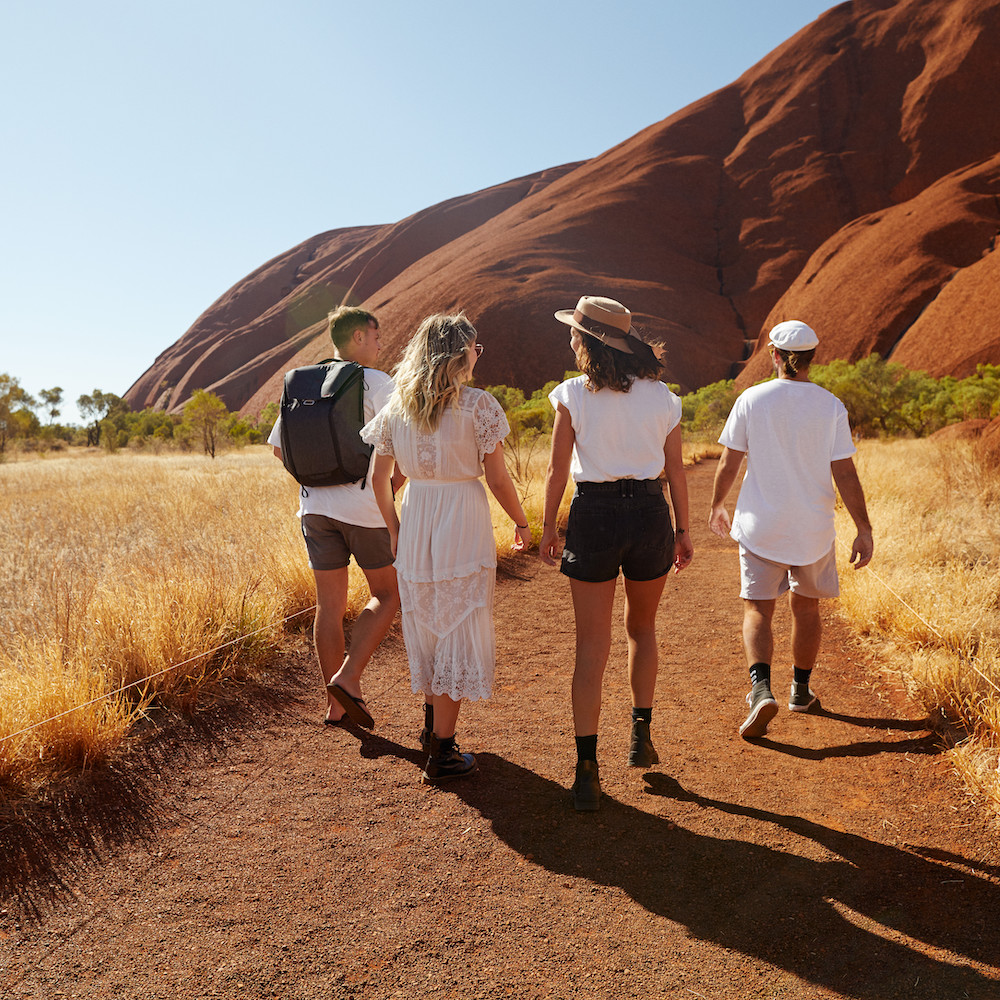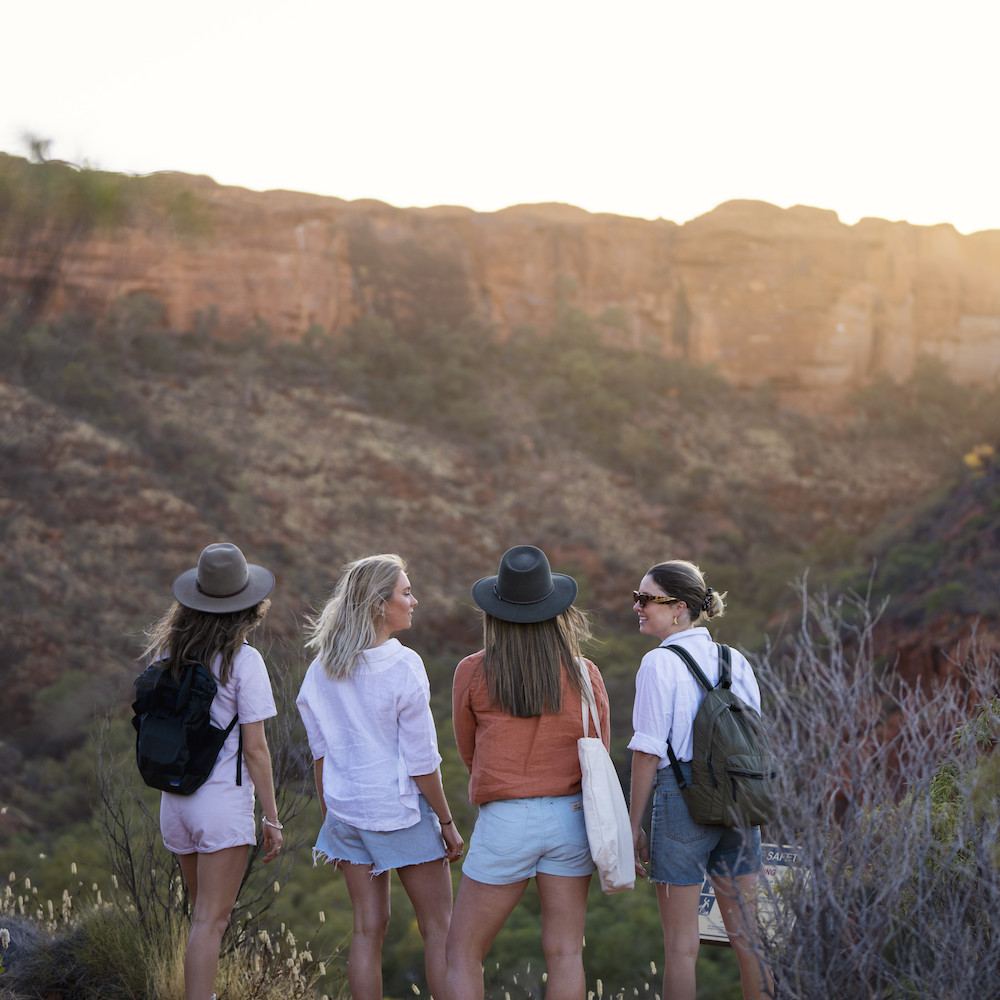 Guided walk around the base of Uluru
Wander through the iconic domes of Kata Tjuta, and gaze in awe at the sacred rock of Uluru
Hike through natural amphitheaters, rocky chasms, and lush oases in Kings Canyon
Discover the spiritual importance of the outback landscape to local First Nations communities on guided nature walks
Maruku Arts cultural experience
3L Refillable water bottle,
hat,
sunglasses & sunscreen,
towel & toiletries,
bathers or swimwear,
comfortable sturdy hiking shoes (closed shoes),
all-weather clothing (extreme conditions day/night),
15kg overnight bag & small day pack,
insect repellent,
mosquito or fly net (summer months),
flashlight,
headlamp or torch,
bring your own sleep bag (optional – if staying in a swag),
recharge power bank (limited access to power to charge phone or cameras),
money for snack and meals,
camera.
For the more adventurous traveler, we have the traditional outback camping experience. Guests will enjoy sleeping under the stars in a canvas-covered bedroll, known as an "Australian Swag"
The trip commences in Ayers Rock on day 1 and finishes in Alice Springs day 3 at approx 6 pm. Whilst we aim to be back in Alice Springs around 6 pm, due to the distances covered onward flights from Alice Springs must be booked for the day after the tour.
For the Kings Canyon Rim Walk, it is a requirement that you have a minimum of 3 liters of water with you. Please bring your own refillable water bottles.

Itineraries are updated regularly throughout the year to reflect the current situation in each destination. Contributing factors such as weather, local conditions, transport schedules, public holidays, or other factors may lead to the order and timing of included activities to vary, this will ensure the best possible experience for all travelers.

 

The tour is not suitable for children under 8 years of age.

Due to limited space on the vehicle please restrict luggage to one day pack and one soft overnight bag/backpack, with a maximum of 15kg. 

Travel Insurance and flexible flight tickets are highly recommended.

 

10% Off sale rates are applicable for new bookings only confirmed between 1 NOV 2023- 31 DEC 2023 for travel anytime. Not valid in conjunction with any other discount or promotion.
Where does the tour start?
This tour starts in Ayers Rock. Your pick up may be from the Yulara Airport or the Desert Gardens Hotel, this will depend on your time of travel.
Where does the tour finish?
This tour finishes on arrival in Alice Springs at around 6pm. Finishing times may be earlier during the summer months. Please take this into consideration when booking any onward travel out of Alice Springs. We cannot guarantee arriving in time to board the Ghan or any flight on this day. You will need to book an extra night of accommodation to extend your stay here, please contact our sales staff if you would like to arrange accommodation in Alice Springs after your tour.
Do you cater for dietary needs?
On most days, breakfast, lunch and dinner will be included.
Our tours are activity and participation based. During your travels with us you will have the opportunity to assist with daily activities such as setting up camp, helping prepare meals and clearing dishes. None of this is difficult however many hands make light work and any assistance provided to crew is always much appreciated. Most people agree that this type of activity helps you feel like less of a tourist and more of an explorer.
All food for this trip is purchased and packed prior to your group leaving on day one. After we've left town it can be very difficult to source special dietary requests.
Travellers with special dietary requirements or food allergies are required to advise us at the time of booking.
You may be asked to pay for any additional food if you have not advised us of any special dietary requirements. Due to the often remote nature of our trips, food is basic but plentiful and delicious.
The below dietary needs can be easily catered for.
Vegetarian
Gluten Free
Dairy Free (soy available )
Pork Free
Please bring your own staples (nuts, bars, snacks) if you require a diet differing from the above.
* Religious and more specific dietary requirements are generally unable to be catered for on these trips.
NOTE: For those passengers commencing their trip in Yulara, lunch will not be provided on day one.
How hot will it be at Uluru?
Central Australia, which includes Alice Springs and the Uluru/Kata-Tjuta region, has a semi-arid climate. The area experiences Australia's four typical seasons: summer, autumn, winter and spring, with large variations in temperature from season to season.
In summer (December–February), average temperatures range between 20C (68F) and 35C (95F). In winter (June–August), the average temperature range is 3–20C (37–68F). Spring and autumn in Central Australia see warm days and cool evenings.
Temperatures in Central Australia can be extreme and can drop below 0C (32F) overnight in winter, and rise above 40C (104F) in summer.
Please check the weather conditions in the days leading up to your trip.
ITINERARY CHANGES:
Please note that some of our planned activities are contingent on seasonal conditions. We will arrange alternative activities if this is the case. This is a flexible itinerary and may be altered to allow for better times to view certain inclusions depending on sunset/sunrise and weather conditions.
Where will I sleep on tour?
This isn't a basic camping experience, as you'll be treated to creature comforts such as proper beds, linen, electricity and cooling fans.
Permanent, furnished tented camp (with shared facilities) (2 nights)
What time will my pick up be at Ayers Rock?
If you want to join us in Ayers Rock at the airport let us know.
Pick-up will be at the airport or Desert Gardens or Outback Pioneer
WINTER SCHEDULE – No lunch included. Pick up between 1.45-2.15pm from Desert Gardens, Outback Pioneer and Airport. Please advise flight details at time of booking and we will advise the best pick-up location for you.
Please do not book any flights arriving after 2.00 pm as you will not be able to join the trip. It is essential you advise us of your flight times.
SUMMER SCHEDULE – Lunch included Pick up between 1-1.30pm from Desert Gardens, Outback Pioneer and Airport. Please advise flight details at time of booking and we will advise the best pick up location for you.
Please do not book any flights arriving after 1.15pm as you will not be able to join trip. It is essential you advise us of your flight times.
What luggage can i bring on tour?
We recommend you pack as lightly as possible and make sure that you are able to carry and lift your own luggage, and walk with it for short distances.
Most travellers carry their luggage in a backpack, although an overnight bag with a shoulder strap would suffice if you travel lightly.
Smaller bags or backpacks with wheels are convenient although we recommend your bag has carry straps.
You'll also need a day pack/bag to carry water, camera, and jacket etc. when you're exploring during the day.