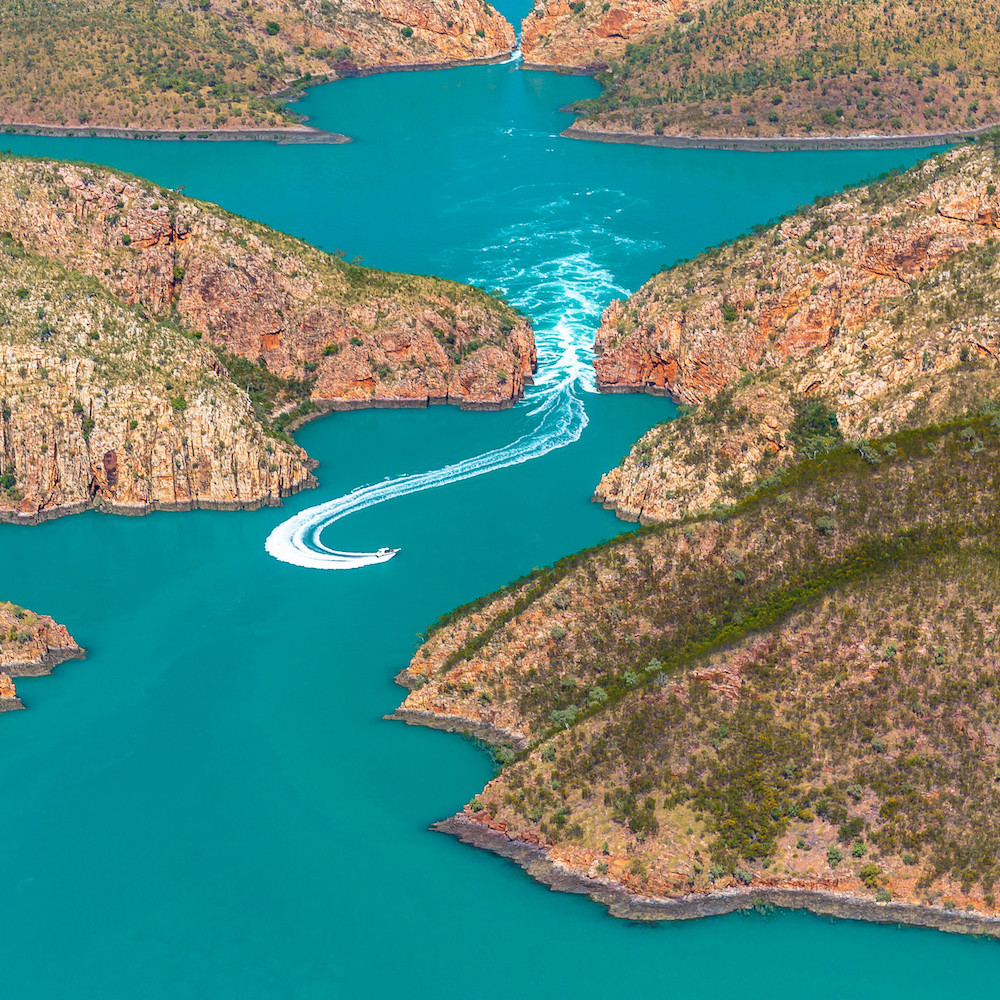 Horizontal Falls Half Day Tour from Broome
Scenic seaplane flights. Heart-pumping fast boat rides through the breathtaking Horizontal Falls. The views are jaw-dropping. The experience is priceless.
Our Broome to Horizontal Falls half-day tour with the choice of a morning or afternoon departure lets you experience the incredible Horizontal Falls and the pristine beauty of the Kimberley at a time that suits you.
Enjoy low-level flying over the amazing islands of the Buccaneer Archipelago and Cape Leveque before your seaplane lands safely in the calm waters of Talbot Bay right near the Horizontal Falls. Then enjoy a thrilling ride on the fastest boat in the Kimberley through the waterfalls, followed by a laid-back island cruise. Return to our luxury houseboat for a freshly prepared meal.
Return to Broome on the seaplane to complete your memorable Horizontal Falls seaplane adventure.
Book Now
We can't confirm real time availability on this tour. Please enquire about this trip and we will get immediately back to you!
Our travellers often combine this trip with some of these trips:
Itinerary
Ride a jet seaplane to Talbot Bay to experience one of Western Australia's most memorable thrills — a trip through the Horizontal Falls
Reach Horizontal Falls via turbo-prop jet seaplane
Ride through the waterfalls and rapids on a powerful boat
Glide through the most beautiful parts of Talbot Bay
Enjoy breakfast or seafood lunch cooked right onboard
Bathers
Towel
Sun protection
Camera
All guests must declare their weight at the time of booking. We cannot carry guests over 120kg. Guests will be weighed at the airport and if you are over your declared weight you may be refused boarding and no refund will be issued.
The boat ride through the Horizontal Falls may not be suitable for women who are more than 26 weeks pregnant. Any women joining our tour whilst in any stage of pregnancy should seek their doctor's approval prior to travel.
The Horizontal Falls are a natural phenomenon influenced by fluctuating tides that vary daily. As this is the case, operations only take place when the predicted tidal movements are not neap, to avoid taking guests out when there is the least difference between high and low tide.
We do not accept bookings for children under 4 years of age.
Do you offer transfers to and from our accommodation in Broome?
Yes, we do offer complimentary transfers from most major Broome hotels and motels, however, we are unable to pick up from residential or Airbnb properties.
Do your tours run all year round?
No. Horizontal Falls is a seasonal attraction, so Horizontal Falls Seaplane Adventures only operates tours seasonally, and the commencement and conclusion dates are subject to change each year.