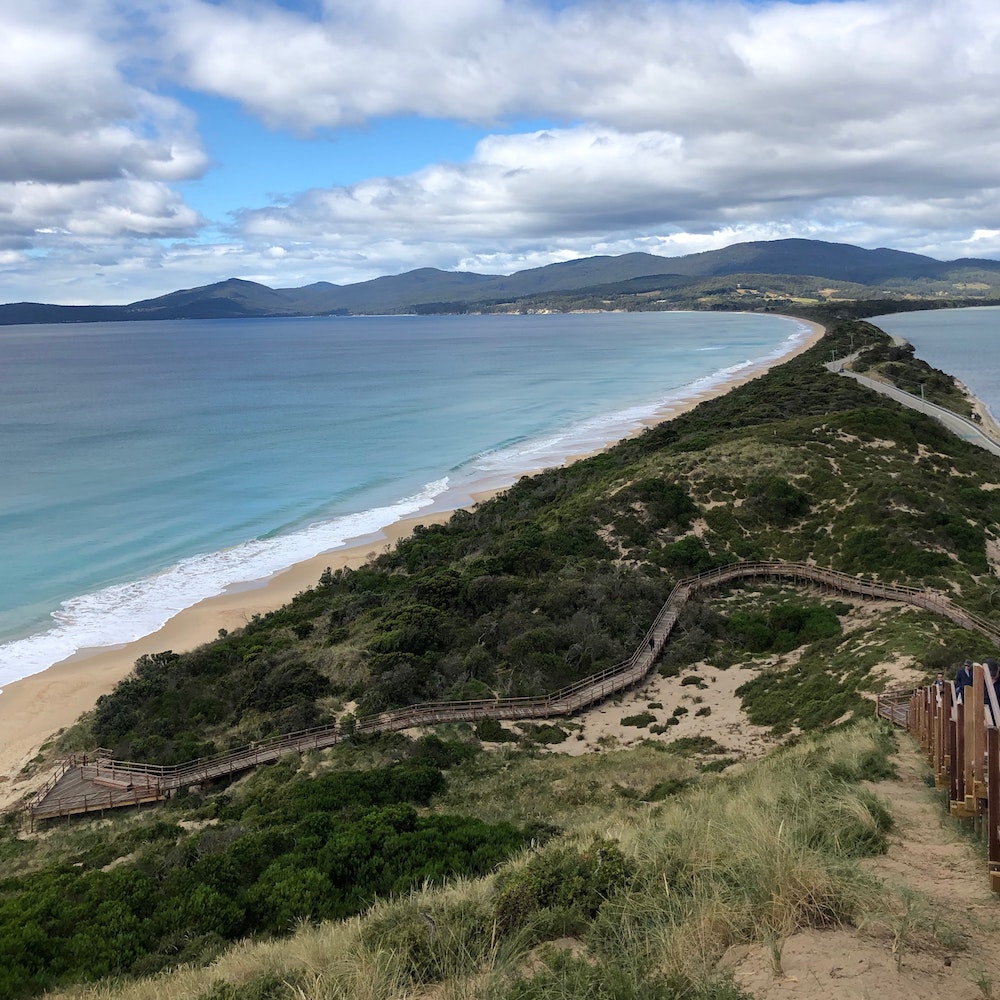 Real Aussie Says
Let us also introduce you to Bruny's renowned gourmet food and produce with tastings of local oysters, cheese, and honey. Enjoy the tremendous scenery and allow our knowledgeable guides to provide insights into Bruny's fascinating history along the way.
Bruny Island is one of Tasmania's best natural highlights, enjoy breathtaking scenery, unique wildlife and taste local produce.
Join our epic Bruny Island full-day tour. Discover the beauty of Bruny Island and its rugged coastlines, sandy beaches, rainforests, and rich local produce. You'll leave with a feeling that this is truly one of Australia's most special places.
Bruny Island is one of Tasmania's best natural highlights. So join our fantastic Bruny Island itinerary with breathtaking scenery, unique wildlife, a rich indigenous and maritime history, and delicious local produce. Our eco-certified day tour hits the major highlights of north and south Bruny Island. Bruny Island, a 362-square-kilometer island located off the southeast coast of Tasmania, is renowned for its wildlife and pristine natural environment.
Bruny Island is now clearly stamped on the "must-experience" list of Tasmania, with its pristine beaches, cozy bays, unique white wallabies, and the outstanding South Bruny National Park. Let us show you why Bruny is a paradise for any traveler far and wide.
Bruny island day trips from Hobart are great to add to your Tasmania tour plans as its a full day out to explore this wonderful island. How far is Bruny Island from Hobart? Just a 40-minute drive South of Hobart and a 20-minute ferry ride.
Bruny Island is also home to plenty of unique wildlife such as the White Wallaby, penguins, fur seals, dolphins, and whales off the coast. The beaches are gorgeous, the wildlife abundant and the people friendly. If you love seafood and cheese, come visit Bruny Island and enjoy great wine, delicious food and stunning views.
Pack your camera and jump aboard our eco-certified ferry to discover Bruny Island on our full-day tour. Your unforgettable day tour of Bruny Island is a magnificent experience you won't forget, with stunning scenery, wildlife, history, and delicious food. You don't want to miss this wonderful island!
Book Now
Bruny Island Day Tour
We can't confirm real time availability on this tour. Please enquire about this trip and we will get immediately back to you!
Our travellers often combine this trip with some of these trips:
Itinerary
Cape Bruny and Bruny Island Light House
Adventure Bay
Local wildlife
Truganini Lookout (The Neck)
Berry farm (seasonal)
Camera
Drink bottle
Comfortable trail walking shoes
Hat, sunglasses and sunscreen
Clothes to suit conditions (layers are a good idea)
Waterproof jacket (just in case)
In Tasmania, we wish to acknowledge the palawa and pakana as the Traditional custodians of the land and recognise their ongoing connection to land, waters, and culture. We pay our respects to Elders past, present and emerging.
This tour is Advanced eco-certified. Our tour aims for minimal impact, leave no trace principles. Accredited with Parks and Wildlife Tasmania and Accredited Tourism Business Australia, we hold Eco Certified Tourism Green Travel Leader and Advanced Ecotourism Accreditation Certification.
We are also ROC (Respect Our Culture) Certified.
All transport provided in our modern and economical turbo diesel vehicles.
What time does the tour start and end?
Pick up from Hobart CBD Hostels or Motels at approx 7:30AM. Drop off back in Hobart at approx 5:30PM.
Are any meals included during the day?
We include a local produce tasting in the afternoon, however please feel free to bring your own snacks or allow enough funds for anything else you wish to purchase throughout the day.