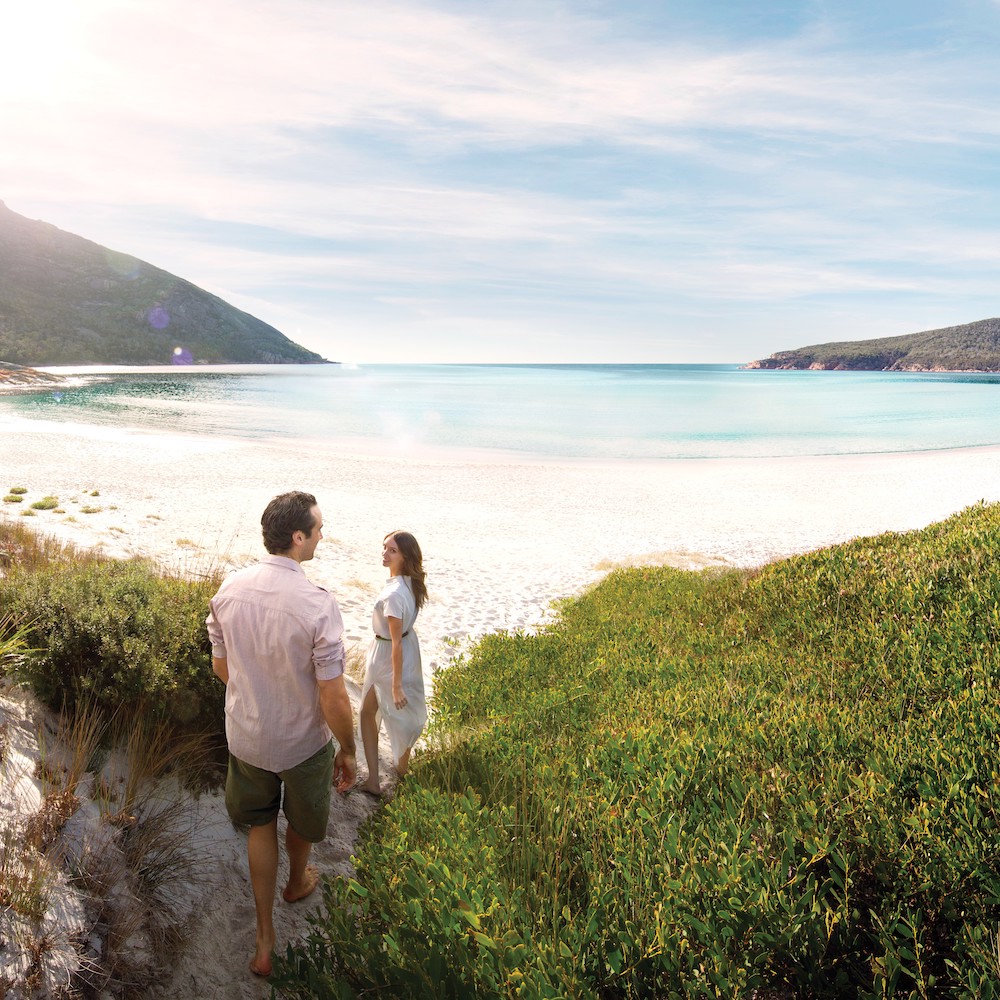 Real Aussie Says
This is a huge day out on the stunning Tasmanian east coast. Wineglass Bay has been voted many times amongst the top beaches of the world. From the car park, Wineglass Bay lookout is a moderate 45 minute (1.5km) hike, one way. If you are a keen walker you have time to head down from the Wineglass Bay look out to the beach itself, a 2 and a half hour hike, well worth it!
1 Day Wineglass Bay and Freycinet National Park Tour
Wineglass Bay is nestled in the Freycinet National Park on the East Coast of Tasmania. Walk to the Wineglass Bay lookout to see one of the "World's Top 10 beaches!" Join us for this action-packed huge day out exploring the very best of Tassie's East Coast!
Immerse yourself in Tasmania's breathtaking beauty with our renowned 1 Day Wineglass Bay and Freycinet National Park Tour. As one of our most sought-after day tours from Hobart to Wineglass Bay, this journey promises an unforgettable experience that embraces the essence of Freycinet's natural wonders.
Leaving Hobart, your scenic drive along the east coast unveils a tapestry of mesmerizing landscapes. Freycinet National Park emerges as a pinnacle of Tasmania's charm, featuring the iconic Pink Granite Mountains that frame secluded bays, pristine waters, and powder-soft beaches. Our meticulously crafted itinerary encapsulates the essence of this untouched paradise.
The highlight of your adventure awaits at the Wineglass Bay trail, a pathway to panoramic perfection. As you ascend to the lookout, a breathtaking vista unfolds before you, showcasing the stunning Wineglass Bay and its surrounding natural realm. It's a visual symphony of nature at its finest, a moment that lingers in your memory.
The journey continues with a descent to the jewel of the coast – Wineglass Bay beach. The exhilarating hike rewards you with an unspoiled haven of white sands and crystal-clear waters. The refreshing ocean breeze invites you to indulge in tranquility, casting away the hustle of everyday life. It's a serene retreat that redefines relaxation.
As you retrace your steps, the hike back to the lookout challenges your stamina but enriches your spirit. The satisfaction of conquering the trail mirrors the fulfillment of embracing Tasmania's unspoiled allure.
And there's more to this adventure. Your journey concludes with a stop at Devil's Corner Winery, a finale that caters to your palate. Enjoy a glass of fine wine, savor a fresh seafood platter, indulge in wood-fired pizza, or relish tea, coffee, and artisan gelato. It's a culinary delight that complements the day's experiences.
Our 1 Day Wineglass Bay and Freycinet National Park Tour epitomizes the fusion of adventure and tranquility, perfectly tailored for those who cherish both invigorating walks and soul-stirring vistas. If you're seeking day tours from Hobart to Wineglass Bay, look no further. Join us for an exploration that will etch Tasmania's beauty into your heart forever. Experience the journey, seize the moment, and discover the true essence of our captivating island.
Book Now
1. How many are travelling?
2. Select a date
3. Looks awesome!!! Book it!
Wineglass Bay & Freycinet Active Day Tour
We can't confirm real time availability on this tour. Please enquire about this trip and we will get immediately back to you!
Our travellers often combine this trip with some of these trips:
Wineglass Bay and Freycinet National Park Day Tour
Itinerary
Freycinet National Park
Wineglass Bay Lookout walk
Honeymoon Bay
Sleepy Bay lookout
Cape Tourville Lighthouse & walk
Sensible shoes for walking
A variety of warm & weatherproof clothing
Hat & Sunscreen
Large water bottle
Snacks, lunch (or buy it on the day)
Camera
Sense of adventure!
Suitable for children over 8 years old.
Our tours are designed as full active days of fast-paced travel, we are also at times exposed to the outdoor conditions of the day.
On all tours, we offer a central city hotel or backpacker hostel pick up.
We do not offer a pick up from residential addresses or from Air BnB accommodation.
We operate small group Active Day Tours using Toyota Commuter and Toyota Coaster vehicles.
We consider our tours to be active, visiting National Parks and wild areas focusing on the great short walks of Tasmania. Although most of the walks are classified as 'easy', a suitable level of general health and fitness and physical abilities is essential.
We educate all our guests on 'Minimal Impact Bushwalking' and the 'Leave No Trace' policy's before entering our National Parks. We provide accurate interpretation and keep wildlife disturbance to a minimum by viewing from appropriate distances and informing our guests about how to treat wildlife with patience and respect.
What time does the tour start?
All our tours are scheduled to depart the city at 7.30am. Our first pick up is normally at 7.00am. Your pick up time will be confirmed at the time of booking depending on your hotel or hostel location.
Are any meals included?
We do not supply lunch, snacks or beverages on our tours, but we do stop along the way for you to purchase food to suit your budget and taste. This is usually a Bakery style stop in a regional town along the way to the main destination for the day. You will then be able to enjoy a lunch break during the tour day, usually somewhere scenic and suitable for a rest stop. However, if you prefer to bring your own snacks, please feel free to do so.
How much luggage can I bring?
As we operate small group Active Day Tours, our tour vehicles are not equipped to handle excess luggage.  On our Active Day Tours we expect that each traveller will have a day pack only to store your daily essentials such as drinks, jackets and sunscreen while on tour for the day.  No other luggage is able to be carried on our day tours.  If you are moving hotels or have onwards travels you will need to ensure this is stored for the day at your hotel/accommodation prior to boarding the tour bus.  If you attend a tour with luggage without consultation with our Reservations Team prior to travel, you may be refused entry to the tour vehicle