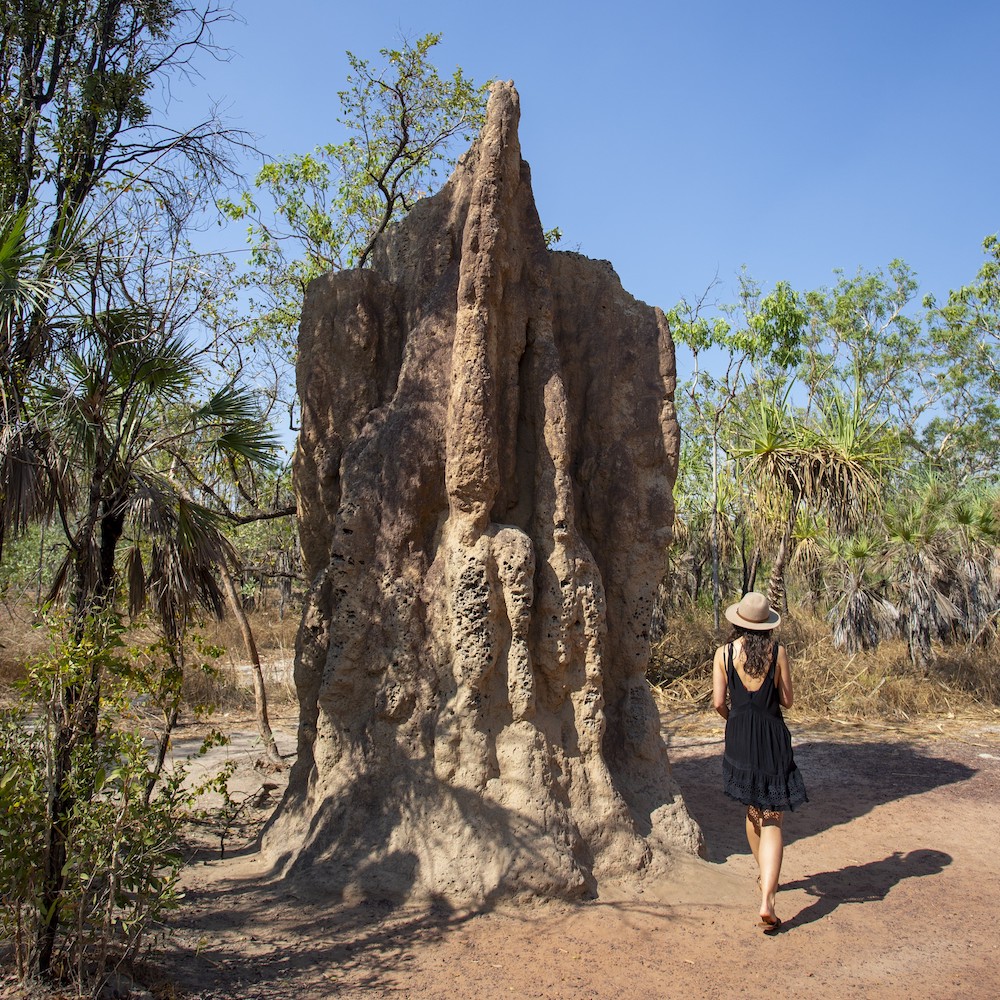 Real Aussie Says
Allow us to show you one of our favourite places on earth Litchfield National Park! Join us for our small group Litchfield National Park day trip from Darwin.
1 Day Litchfield National Park Tour
Journey with us on a one day tour to the Litchfield National Park, home to some of Australia's most spectacular and stunning waterfalls.
It's time to explore the breathtaking views of Litchfield on our most popular small group tours to Litchfield National Park. Home to iconic conical termite mounds, crystal clear pools, native wildlife, and epic thundering waterfalls.
If you're a keen bird-watcher then come immerse yourself in the wetlands of Fogg Dam Conservation Reserve.
On this Litchfield National Park Tour, you will have the opportunity to journey through some of Australia's most diverse landscapes, sandstone pillars, panoramic floodplain views, picturesque waterfalls, and bustling plant and animal life. There are several bushland walking tracks with the best lookout views that Litchfield has to offer.
A moderate to a good level of fitness is needed for your litchfield national park day tour. You will do some walking to see the wonderful waterfalls and get up close and personal with the tropics. A family-friendly day tour, suitable for all ages.
Litchfield National Park tour is a must-do travel destination when visiting the Northern Territory! The perfect small group Litchfield National Park day trip from Darwin.
Book Now
1. How many are travelling?
2. Select a date
3. Looks awesome!!! Book it!
Litchfield National Park Tour
We can't confirm real time availability on this tour. Please enquire about this trip and we will get immediately back to you!
Our travellers often combine this trip with some of these trips:
Itinerary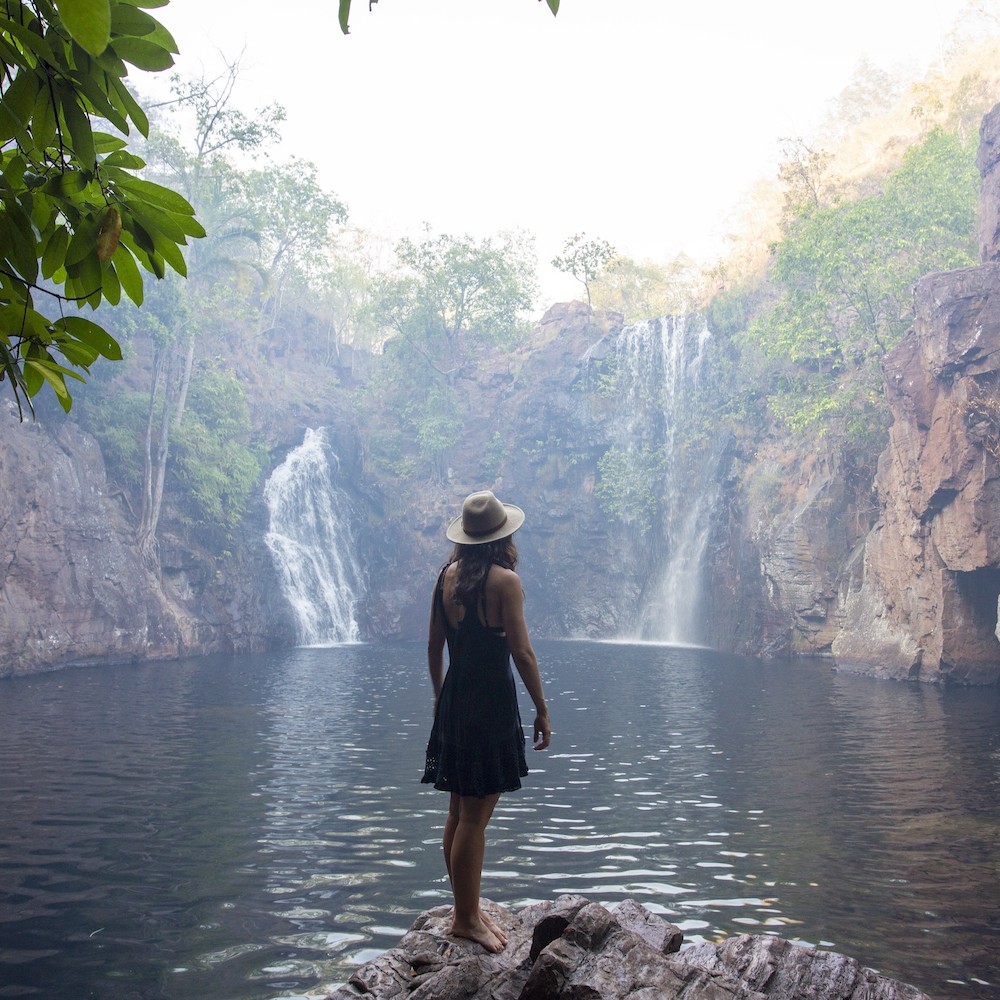 Uncover the spectacular hidden waterfalls of Litchfield National Park
Explore the famous cascading plunge pools of Florence Falls, nestled in monsoon forest
Cool off in shallow pristine pools of Buley Rockhole or Wangi Falls
Stroll the diverse wetlands boardwalk at Fogg Dam Conservation Centre, a bird-watchers paradise
Visit the impressive century-old Magnetic Termite Mounds located in the Litchfield National Park
1L refillable water bottle
Hat
Sunglasses & Sunscreen
Swimwear & towel
Change of clothes
Comfortable walking shoes
Tropical strength insect repellent
Money for snack and lunch alternatively you can BYO as we will have an eski onboard to keep items chilled
Small day bag
Camera to capture the scenic views.
Inner-city pick up & drop off service
We would like to pay our respects to the traditional owners of this country, with specific acknowledgment to the Wurundjeri people. Please be conscious and respectful of the sensitivities of indigenous culture and the spiritual connection they have with the land at all times.
We actively promote the protection of flora and fauna on our Darwin Top End Tours. It is our duty to ensure there is minimal disturbance to this World Heritage Listed region and the species that call it home. Cultural sensitivity and respect for the traditional owners should also be shown at all times.
What time does the tour start?
7:30am – Travelodge Resort Darwin – 64 Cavenagh St Darwin City (main meeting point)Please arrive 5-10 mins prior to your nominated pickup location, so as not to delay or miss your tour.
There are other pick up locations on request. Please see your tour details after confirmation.
Wildlife Encounters
The natural behaviours of wildlife are to be respected and not interfered with. When viewing wildlife, people should take care to avoid rapid or sudden movements, which could frighten the animal, and should keep noise to a minimum and refrain from touching, petting or feeding all wildlife including birds. Contact with people can introduce diseases to wildlife and can cause them to become aggressive.
Wildlife should not be handled or fed, unless by certified wildlife handlers. Feeding wildlife can alter their natural foraging behaviour and can lead to disease or illness through contact with people and the introduction of foods that are harmful to their digestive system. Feeding wildlife can also cause them to become aggressive toward people.
Wildlife that appears to be in distress, injured or in danger should be reported immediately to the appropriate authority, such as your Guide/Tour Leader, a National Park Ranger or Visitor Centre Staff.