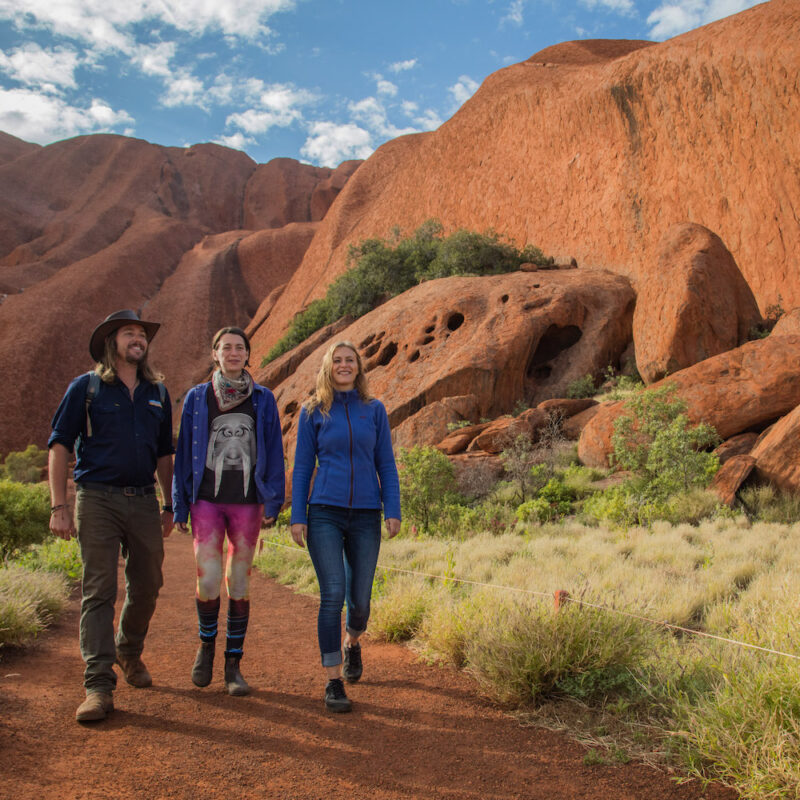 Real Aussie Says
Your outback adventure includes the wonderful Karrke Aboriginal Cultural Tour at Kings Canyon, a one-of-a-kind authentic aboriginal cultural experience.
5 Day 4WD Black Cockatoo Dreaming Red Centre Tour
Start your 5 day tour in either Alice Springs or from Uluru airport to immerse yourself in the outback. Not only will you tick off the famous highlights of the Red Centre region on this 5 day tour but you also get off the beaten track on red dirt roads. See some of the Red Centers lesser-known but most beautiful locations.
Sleep on tour at our remote private bush camps to avoid the crowds and really take in the endless stars after dark. Immerse yourself in culture with our Karrke Aboriginal Cultural experience to learn about our first nations people.
Connect with, hike and explore the 'Top 3' of Uluru (Ayers Rock), Kata Tjuta (The Olgas) and Watarrka (Kings Canyon) over 5 days on tour. Then head to a few secret spots that people might not have heard of before. Ancient and rich Ghost Gum walk-in Ormiston Gorge and Ellery Creek Big Hole a magic beach in the middle of the outback.
This is an emotive journey into the heart of the Red Centre.
We can't confirm real time availability on this tour. Please enquire about this trip and we will get immediately back to you!
Our travellers often combine this trip with some of these trips:
Itinerary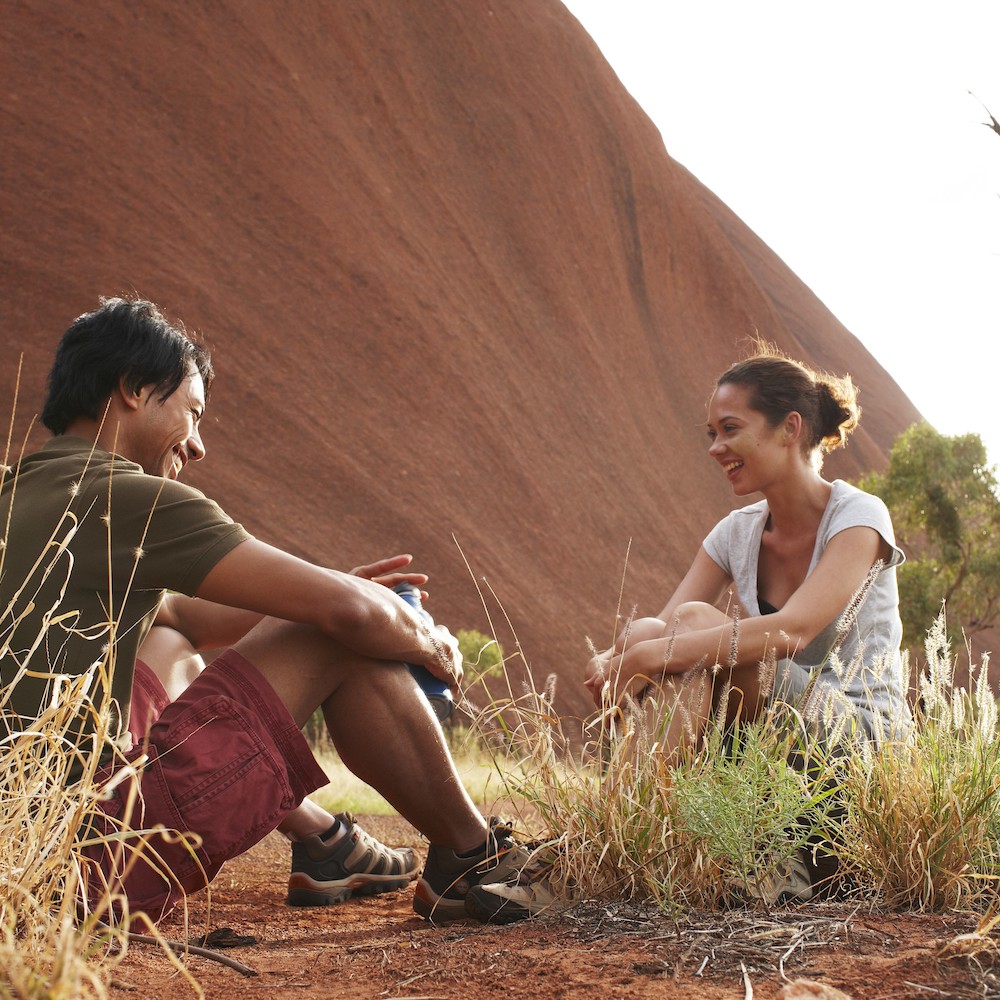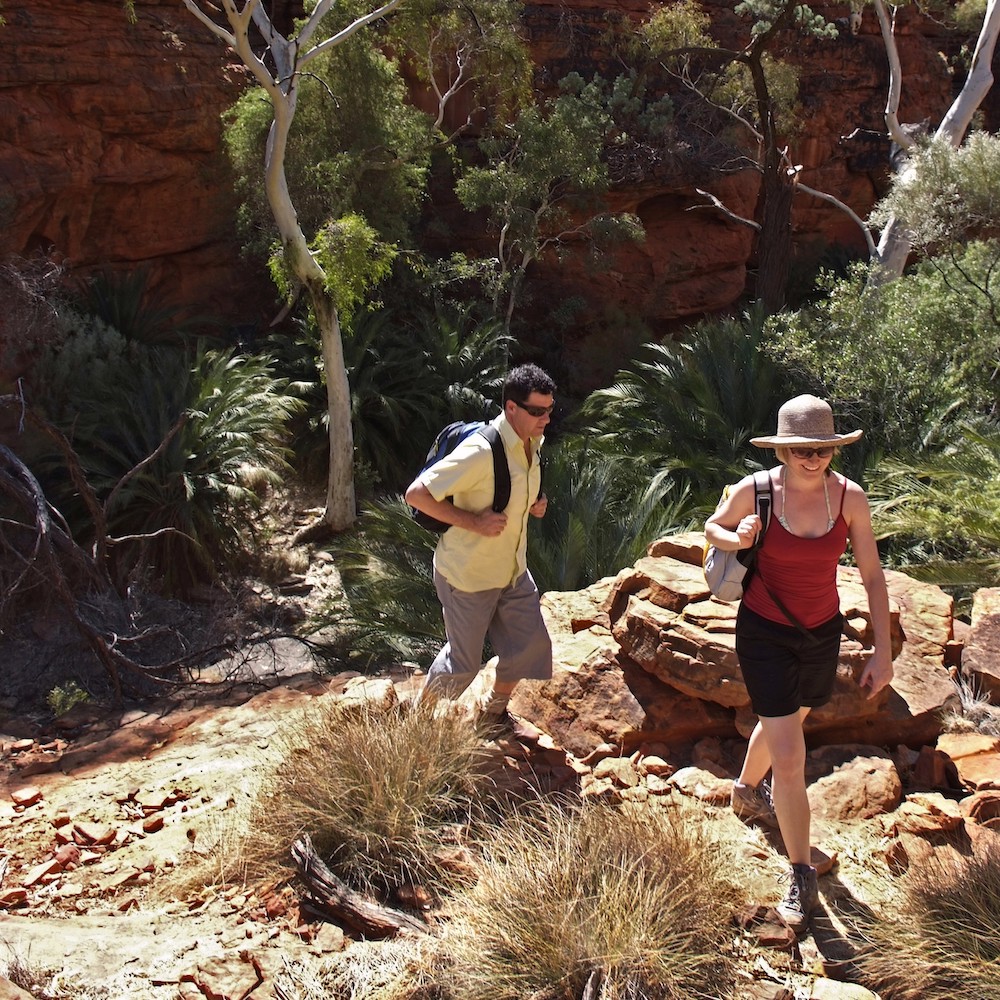 Sunset at Uluru (Ayers Rock)
Hike Kata Tjuta (the Olgas)
Explore Watarrka (Kings Canyon)
Ride a Camel (optional)
West MacDonnell Ranges including Mt Sonder Lookout, Ormiston Gorge and Ellery Creek Big Hole
Mereenie Loop Road
Tyler's Pass and Tnorala (Gosse Bluff) Conservation Reserve
See the Meteorite Crater
Torch
Wide brimmed hat
Sunscreen
Insect repellent
Water bottle (1.5 litres)
Walking shoes/boots
Sleeping bag (if you prefer to use your own)
Toiletries
Swim wear
Towel
Camera
Comfortable casual clothing for three days
We place great importance on the traditional owners of Uluru-Kata Tjuta and the surrounding land. the Anangu. You're invited by us on tour to form a connection with this land and learn about their culture, traditions, art, and language.
Safari is not suitable for children under 5 years of age.
Most tents at our camps are twin-share, however, some triple share tents are available for families with children under 18. These cannot be pre-booked and are allocated on a first-come-first-serve basis. In the event where a triple tent is unavailable and an odd-numbered family is traveling with children under 18, one parent/guardian will need to share a twin tent with the child and the other guardian share a tent with another passenger of the same sex. Single travelers choosing the camping fare will be paired in a tent with another customer of the same gender.
At Real Aussie Adventures, we are all about adventure and getting involved. We don't define by age but our trips are quite active. We get travellers from all over the world, people traveling by themselves, couples and groups. On this tour, you will travel in a small group on an air-conditioned 4WD bus with a maximum of 17 guests plus our knowledgeable and fun tour guide. We recommend that you can walk for 6km over slightly rough terrain comfortably to partake in this tour. Our guides are there to help you over more rocky terrain, but you are expected to do the walks unaided.
This tour is currently taking a break. For travel in 2022 please check out our alternative Uluru tours: 5 Day Red Centre Outback Camping Tour or our 3 Day Uluru (Ayers Rock) Tour.
How much luggage can I bring?
You can bring up to 15kg of luggage to be stored in our trailer while traveling, we advise you to bring a day pack for access to day-to-day items.
How physically fit do I have to be?
Our tours are active adventures that include a fair amount of walking, hiking and water based activities. Walks can extend to 4 hours duration in warm to hot conditions, so a reasonable level of fitness is required, We don't expressly set any age restrictions. Our tours are a mix of true outback adventure camping to soft camping. Less demanding treks/walks are available at most locations for those less active. Regardless, good health is important but ultimately, it is an open and positive attitude that matters. It is very important that any pre-existing medical conditions are discussed with our staff at time of booking.