Getting to Kakadu National Park is easy. How to get to Kakadu from Darwin on the best Kakadu National Park tours.
Why Visit Kakadu?
Kakadu is a huge area of protected land in the Northern Territory, about 3 hours drive from Darwin.
It's a popular destination for tourists, and there are plenty of things to do – hiking, swimming, wildlife spotting, aboriginal art and culture. The park is also home to big crocodiles!
Kakadu National Park is a vast national park in the Northern Territory of Australia, and is one of the country's most popular tourist destinations.
It was listed as a World Heritage Site in 1981 for its outstanding universal values. Kakadu covers an area of more than 19,800 square kilometers and is home to more than 2,000 plant species, including ancient cycads and rainforest trees, and around 250 bird species.
The park is also important for its cultural heritage, with evidence of human habitation. Kakadu National Park is a major tourist destination, with over 400,000 visitors each year. It is also home to a significant Aboriginal population. As mentioned there are so many things to see and do in Kakadu, including birdwatching, camping, fishing, and hiking.
In this blog we will answer a few of our most asked questions about Kakadu National Park. Including how to get to Kakadu from Darwin.
 Read on to find out more.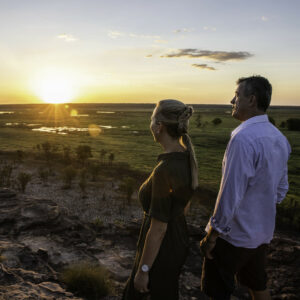 How to get to Kakadu from Darwin
There are a few different ways to get from Darwin to Kakadu.
Drive from Darwin
You could drive yourself on the Stuart Highway and then the Arnhem Highway. Or, if you don't have your own vehicle, you can hire a 2WD, 4WD, or motorhome in Darwin. The journey usually takes around three hours, and there are some great sights along the way in the Northern Territory.
Take a Tour
From Darwin to Kakadu on tour is more comfortable, sit back relax and let us guide you to Kakadu National Park. On tour you have the ability to see a lot in a short time frame, meet like-minded travelers, and have an expert itinerary planned for you so you don't miss any of the highlights. 
Check out our best tours from Darwin to Kakadu: 
For a day tour to Kakadu: 1 Day Kakadu National Park Tour
For longer tours, we have our popular overnight adventure tours to Kakadu National Park from Darwin.
5 Day Top End and Arnhem Land Tour
"Just three hours from Darwin you can explore the World Heritage-listed Kakadu National Park by coach tour, hire car or self driving."

Real Adventure Group
Why visit Kakadu National Park?
For more information on why visit Kakadu from Darwin check out our Kakadu tours. 
How many days do you need in Kakadu?
Ideally, three days are needed to explore Kakadu National Park. However, if you want a more complete experience, spend five or more days here.
Our recommended itineraries will help you create the perfect 'Kakadu Experience'.
Check out our 5 day Kakadu tours:
5 Day Top End and Arnhem Land Tour
5 Day Kakadu and Litchfield comfort Tour
Kakadu is one of the most famous national parks in Australia and is located about three hour drive east of Darwin. The park is world heritage-listed and covers nearly 20,000 square kilometers, making it one of the largest national parks in the world.
Kakadu is home to a wide range of landscapes and ecosystems, including wetlands, woodlands, and Arnhem Land – one of the last remaining Aboriginal homelands in Australia. The park is also famous for its many crocodiles, which can be seen swimming in the rivers and billabongs.
Is Kakadu a day trip from Darwin?
Yes, you can visit Kakadu National Park in a day from Darwin if you're willing to spend a lot of time on transport. Ideally, you need between 2 and 5 days to explore everything the park has to offer. Kakadu is a big park, so there's a lot to see.
This 1 Day Kakadu Tour from Darwin is one of the best day tours in Australia. Upon booking one of our Kakadu Day Tours you get to visit and experience the largest National Park in Australia.
Do you need a 4WD to get to Kakadu?
There are many popular attractions that can be accessed with just a car/ 2WD vehicle. To explore the best of Kakadu's attractions you will need a 4WD.
We recommend jumping on one of our tours if you do not have a 4WD vehicle.
4 Day Kakadu and Litchfield Tour
Do you need a 4WD to drive from Darwin to Kakadu?
No, you don't! Hiring a car can be expensive at the best of times, especially a 4WD. So just either take your 2WD vehicle and you should be able to see a lot of Kakadu National Park from Darwin.
Or join us on one of our tours to Darwin so you don't have to worry about driving at all.
Kakadu from Darwin
Kakadu National Park is one of the most beautiful places in Australia. It is located near Darwin and is home to some of the country's most amazing wildlife. If you want to see Kakadu for yourself, book a tour today.
Check out our popular tours in Kakadu.
Real Aussie Recommendations
Book your Kakadu tour early in the dry season as we fill fast. Especially June and July!