What is there to do on Fraser Island? We have many different Fraser Island tours (K'Gari) here at Real Aussie Adventures. But why visit K' Gari (Fraser Island)

Here we let you know the things to see on tour to Fraser Island.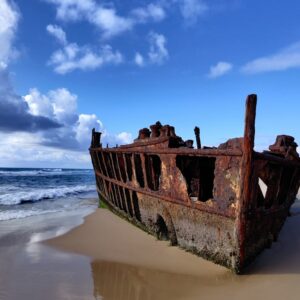 Fraser Island, also known by its traditional name K'Gari, is a natural wonder that should be on every traveler's bucket list. Located off the east coast of Australia, this stunning sand island is the largest of its kind in the world, boasting an incredible range of natural beauty and diverse wildlife. But with so many things to see and do, it can be overwhelming to plan your visit. That's why we've put together this guide to help you discover what there is to do on Fraser Island.
First and foremost, Fraser Island is known for its pristine beaches, which are some of the best in the world. The most popular beach on the island is 75 Mile Beach, which is a great place to drive a 4WD and is also home to some of the island's most famous attractions, such as the S.S. Maheno Shipwreck, Champagne Pools, and Indian Head. For a more secluded beach experience, visit Lake Wabby, which is located in the middle of a sand dune and is surrounded by lush rainforest.
But Fraser Island is more than just beaches. The island is home to over 100 freshwater lakes, including Lake McKenzie and Lake Birrabeen, which are popular spots for swimming and relaxing. Visitors can also hike through the rainforest to reach Central Station, a historic logging camp that now serves as an information center and picnic area.
For those seeking adventure, there are plenty of options on Fraser Island. Visitors can take a 4WD tour to explore the island's inland areas and see iconic sights like the Pinnacles, the Champagne Pools, and the Maheno Shipwreck. For a more unique experience, try a scenic flight over the island, which provides a breathtaking aerial view of the stunning landscape.
Whether you're looking for relaxation or adventure, Fraser Island has something to offer everyone. With so many incredible sights to see and activities to experience, it's easy to see why Fraser Island is a must-visit destination for anyone traveling to Australia.
K' Gari is Fraser Islands indigenous name
K'gari, pronounced "gurri" and means paradise. Fraser Island was officially renamed K'gari in 2021. Butchulla dancers and community representatives came together at Kingfisher Bay Resort to celebrate the renaming of Fraser Island to the K'gari (Fraser Island) World Heritage Area. 
K'gari is one of the many Australian destinations returning to the Indigenous name. One of the most famous examples is Uluru. 
Wondering what to do on Fraser Island when you visit?
Read on to find out more. 
"The ultimate adventures on the largest sand island in the world. "

Real Adventure Group
K' Gari Fraser Island is the largest sand island in the world.
120km in length, K'Gari has plenty to offer you when you visit.
Diverse landscapes, world heritage sites, and plenty of unique flora and fauna. 
Lakes on Fraser Island
Fraser Island is not only renowned for its incredible beaches but is also home to over 100 freshwater lakes. These perched lakes are a unique geological feature and are formed entirely by rainwater, with no water running in or out of the lake. In fact, Fraser Island is home to more than half of the world's perched lakes, making it an incredibly special destination for nature lovers.
One of the most popular lakes on Fraser Island is Lake McKenzie, which is renowned for its crystal-clear waters and white sand beaches. The lake is a must-visit attraction for those seeking a refreshing swim or to simply relax on the shores and soak up the stunning views. Lake McKenzie is surrounded by lush rainforest, making it a tranquil oasis in the midst of the island's natural beauty.
Another must-see lake on Fraser Island is Lake Birrabeen, which is equally stunning in its own right. This peaceful lake is tucked away in a secluded part of the island and is surrounded by dense forest and rolling sand dunes. The water here is also crystal clear and inviting, making it a perfect spot for a swim or picnic with family and friends.
Other popular lakes on Fraser Island include Lake Boomanjin, which is the largest perched lake in the world, and Lake Wabby, which is located in the middle of a sand dune and is home to a unique ecosystem of fish and turtles. Visitors can hike through the sand dunes to reach Lake Wabby, making it a memorable and adventurous experience.
In summary, Fraser Island's freshwater lakes are a unique and essential part of the island's ecosystem and are a popular destination for visitors seeking a refreshing swim, relaxation or adventure. With over 100 perched lakes to explore, each with their own distinct character, there's no shortage of incredible natural beauty to discover on this amazing island.
Book a 1 day tour to Fraser Island to explore the lakes.
Beaches on Fraser Island
Fraser Island is famous for its stunning beaches, and for good reason. With miles of pristine white sand and crystal-clear waters, the island's beaches are a paradise for beach lovers and outdoor enthusiasts.
One of the most iconic beaches on Fraser Island is 75 Mile Beach, which stretches along the eastern side of the island. This unique highway serves as one of the main roads for all traffic on the island, including 4WD vehicles and planes. Yes, you read that right – planes do land on the beach, so keep an eye out for aircraft as you drive!
Aside from its unique transportation, 75 Mile Beach is home to several popular attractions that are well worth a visit. These include the S.S. Maheno Shipwreck, a rusting vessel that ran aground on the beach in 1935 and has since become an iconic landmark on the island. You can also visit the Champagne Pools, a series of natural rock pools filled with crystal-clear water, or take a dip in the refreshing waters of Eli Creek, the largest freshwater creek on the eastern beach.
For those seeking a bit of adventure, Indian Head is a must-see attraction on 75 Mile Beach. This towering rocky outcrop provides stunning panoramic views of the surrounding ocean and is a great spot for whale watching during the migration season.
But 75 Mile Beach is just the beginning – Fraser Island has plenty of other stunning beaches to discover, each with its own unique charm. For example, Lake McKenzie is a freshwater lake surrounded by pristine white sand and crystal-clear water, while Lake Wabby is a green-colored lake nestled in the sand dunes. Both offer the perfect opportunity to relax and unwind in a truly idyllic setting.
In summary, the beaches on Fraser Island are some of the most beautiful and unique in the world, with something to offer for everyone. From the iconic 75 Mile Beach to the tranquil lakes and natural pools, there is no shortage of natural wonders to explore and enjoy on this incredible island.
Take a 3 day tour to explore all the beaches on the island. 
Fraser Island is a unique and stunning destination that offers something for everyone. Whether you're an adventure seeker looking to explore the island's rugged terrain, a nature lover hoping to catch a glimpse of some of the island's exotic flora and fauna, or simply seeking a relaxing beach vacation, Fraser Island has it all.
From the iconic 75 Mile Beach and its array of attractions, to the island's pristine freshwater lakes and lush rainforest, there is no shortage of things to see and do on Fraser Island. And with a variety of tour options available, there's no better time to start planning your dream vacation to this beautiful destination.
So pack your bags, grab your sunscreen and get ready to experience the magic of Fraser Island for yourself. Whether you're seeking adventure, relaxation or a bit of both, Fraser Island is sure to leave a lasting impression and provide memories that will last a lifetime.
Real Aussie Recommendations
The best Fraser Island tour is the one you take! So even if you are short on time book your Fraser Island tour today, you wont be disappointed.