Tasmania Travel Guide and Tips: Must do day tours Tasmania.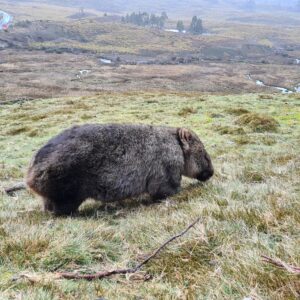 Tasmania is known for its beautiful nature, stunning scenery, famous wildlife, and amazing hikes. If you are looking for the best Tasmanian day tour experiences, this is definitely worth a read.
This travel guide of Tasmania day tours will introduce the reader to some 'must-do day tours' from the most popular destinations in Tasmania. Day tours Tasmania are best for visitors with limited time, as they allow you to experience some of Tasmania's most scenic parts in a short amount of time, and then continue your travels across the rest of this fascinating island state. Several day tours are recommended here.
We have plenty of different day tours across all destinations in Tasmania, each one visits our well-known Tasmanian hotspots. This enables you to get the best experience and make the most out of your holiday to Tasmania. These tours leave either from Hobert or Launceston, so you can start from either city.
Tasmania has a huge range of incredible day tours to offer, for all ages and interests. There are lots of things to do and see when you're here. We've put together a list of must-do day tours, from hiking to mountain biking, whale watching to kayaking!
Here's our must-do day tours in Tasmania:
Day Tours Tasmania
Wineglass Bay and Freycinet National Park Day Trip
On this popular day tour in Tasmania, you will experience the beautiful East Coast of Tasmania. Enjoy the spectacular scenery Tasmania has to offer from the Freycinet National Park and enjoy some small walks to get the best views possible.
There is also the opportunity to try the delicious local food of Tasmania, like some tasty hand-made chocolate or ice cream from the well-known Kate's Berry Farm! On this tour, you will have to change to view one of the "World's Top 10 beaches" from the famous Wineglass Bay lookout, see pink granite mountains and spot local wildlife. Join us for a fun and action-filled day out and get a taste of Tasmania's stunning coastline.
Book your 1 Day Tour to Wineglass Bay and Freycinet National Park from Hobart.
Book your: 1 Day Wineglass Bay Tour from Launceston to Hobart.
Book a 1 Day Wineglass Bay tour from Hobart to Launceston.
Mt Field, Mt Wellington and Bonorong Wildlife Park
Tasmania is known for its stunning nature and scenery. On this day tour in Tasmania you will hike several short walks to experience the beautiful surrounding for yourself.
Try to spot the local wildlife, eucalypts and Giant Swamp Gums. Explore the photogenic Russell falls and get a chance to view Lake Dobson who is normally covered with ice but is also surrounded with snow during the winter months, which causes beautiful views. You will also visit the Bonorong Wildlife Park, this wildlife park is home to many rescued and well-known Tasmanian wildlife, like the Wallabies who are hopping around freely and the famous Tassie Devil.
As the day continues, you will also visit the iconic Mt Wellington which is a fantastic way to end this tour day filled with Tasmania's most unique spots
Book your 1 Day Tour to Mt Field, Mt Wellington and Bonorong Wildlife Park from Hobart
Bruny Island
One of our most booked day tours in Tasmania is to Bruny Island. This premier destination home to fur seals, fairy penguins, albatross, wedge tailed eagles, white wallabies and many endemic species. Bruny Island is also a total foodies paradise.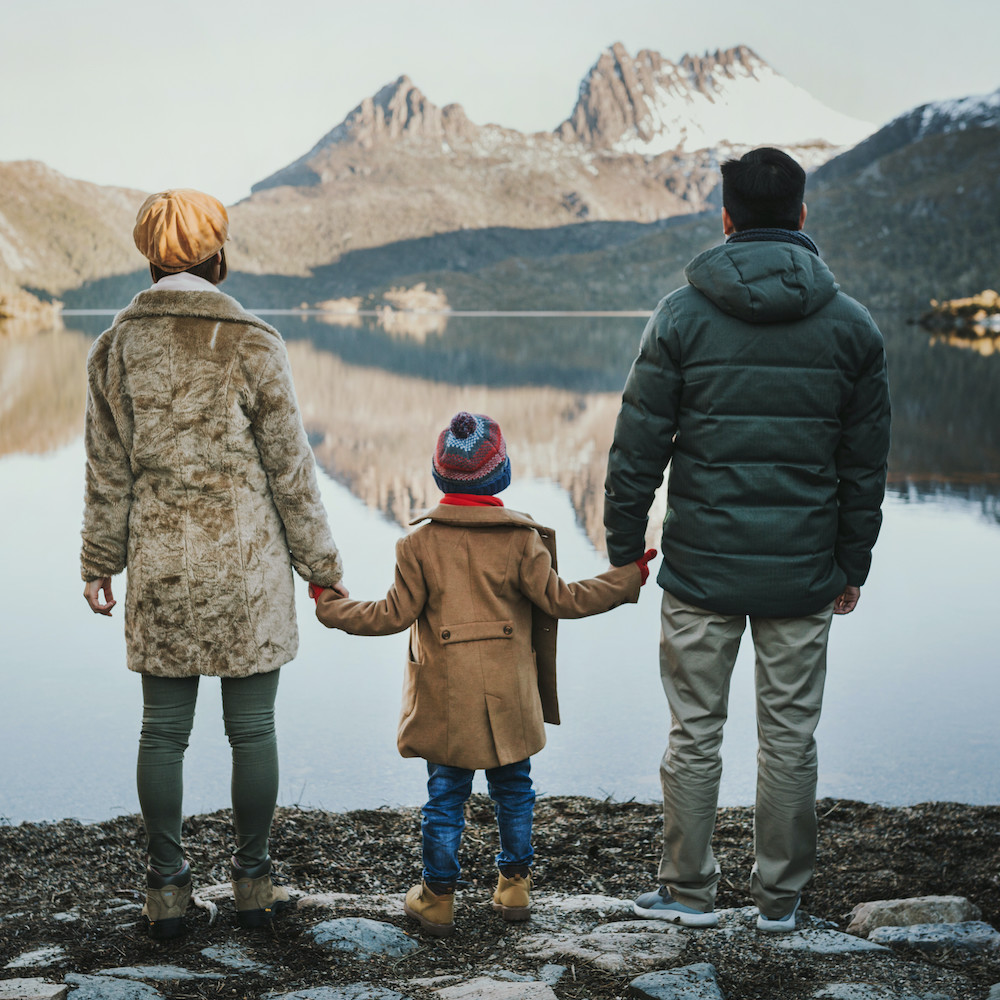 Port Arthur and Tasman Peninsula Day Tour
For fascinating history, interesting stories, amazing scenery, and Australia's highest cliffs Tasman Peninsula is the place to be!
This is also the place where this action-packed day tour starts. Enjoy the stunning Tasmanian nature with the Great Short Walks, visit the stunning rock formations of Tasman Arch and Devil's Kitchen and get a better insight into the Tasmanian culture at Port Arthur Historic Site.
The tour also includes a Harbour Cruise around the isle of Death, where you can get a taste of life as a convict in this inescapable prison. A visit to the delicious Federation Chocolate Factory is also a must. The small family-owned boutique chocolate shop offers you delicious chocolate flavors to sample. Richmond village is definitely worth a visit since it is home to the oldest bridge in Australia in use, and it is reported to be haunted.
An amazing day tour filled with some incredible highlights in Tasmania.
Book your 1 day trip to Port Arthur and Tasman Peninsula from Hobart.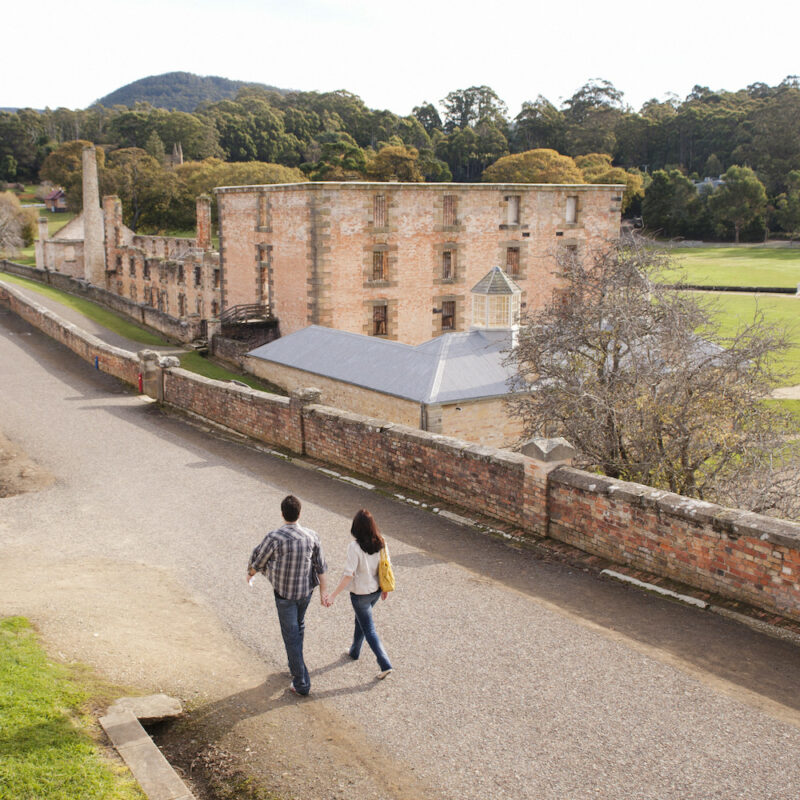 Cradle Mountain Day Trip

This great day trip starts at Sheffield. This is a small but interesting village to visit. The history of Cradle Mountain can be found through artworks across the building in the town, which is quite a unique and interesting way to learn about the history of the region.
Afterward, you will head into the Cradle Mountains with the opportunity to walk several tracks around the stunning Dove Lake, here you can truly enjoy the World Heritage Area. Not only can you enjoy the scenery but you can also spot the famous Cradle wombats, and there are amazing photograph opportunities throughout the tour. As you head back to Launceston, you will get the chance to try some delicious local cheese at the local cheese boutique. If you don't like cheese, their tasty ice cream is definitely is worth a try.
Book your 1 Day Tour to Cradle Mountain from Launceston
Wineglass Bay and Ross Village Day Trip
From Launceston, you can also head to Freycinet National Park. The drive will take you to the well-preserved Georgian Townships where you will make a short stop to collect some lunch. Here you will have the opportunity to explore the Convict Brick Trail, make a visit to the Red Bridge and view three sculptures who show you the history of the town.
After the second stop at the oyster farm where you will have the change to buy some fresh oysters, you will arrive at the Freycinet National park.
Here you will begin to start with a series of walks while exploring the area. You will begin with the famous walk trial to the Wineglass Bay Lookout point which offers an incredible view on one of the "World's Top 10 Beaches" and the area itself.
After you have seen and explored the stunning East Coast of Tasmania it is time to return back to Launceston, but no tour would be complete without some delicious local food. So as a final stop you will be able to try some hand-crafted ice cream or the delicious famous Tasmanian Scallop Pie.
Book your 1 Day Tour to Wineglass Bay and Ross Village from Launceston
How long are you spending in Tasmania?
It is a great way to experience all the must do day tours in Tasmania without having to drive everywhere. Small groups of travellers, locations and tours of a high standard will keep you coming back to this wonderful island.
So many day tours to choose from in Tasmania.
If you want to take a look at our longer tours in Tasmania check our:
Real Aussie Recommendations
There's a lot to see with so many day tours in Tasmania, so make sure you don't miss out on anything by booking in advance.
After a longer 5 day tour around Tasmania you should still add a day to Bruny Island or Port Arthur for some extra history and culture.