Which country is home to the Kangaroo and Koala? Where can you see Koalas in the wild in Australia? How to see Kangaroos in Australia? We have the answers!
Have you always wanted to get up close and personal with a koala or a kangaroo? We've got you covered.
You'll get the perfect opportunity to meet these iconic Australian animals on a number of our tours, and with over 60 species of kangaroos in Australia, you'll be sure to bump into one! 
Which country is home to the Kangaroo and Koala?
Australia, famous for its wonderful wildlife, and when people think of this amazing country they often picture kangaroos hopping around everywhere and koalas high up in every tree.
We will show you where you can see Koalas in the wild in Australia. Also, where you can spot Kangaroos in the wild on your next tour. Plus we let you know some wildlife parks where you can see Kangaroos and Koalas. 
Is Australia the only place with Kangaroos?
Kangaroos are only found naturally in Australia and Papua New Guinea. Tehy are native to Australia. But i am sure you will see them in zoos and wildlife parks all over the world. Some people ask does New Zealand have kangaroos and koala bears? No, they do not have them native to  New Zealand. But they have plenty of their own amazing animals. 
Check out our New Zealand tours if you are keen to head there for wildlife spotting. 
Kangaroos and Koalas
Check out our favourite wildlife destinations where you can see Koalas and Kangaroos and start planning your next adventure down under.
"Have you always wanted to get up close and personal with a Koala or a Kangaroo? "

Where to see Koalas in Victoria
Koalas in Otway National Park
The Otway Coast on the Great Ocean Road is one of the best places in Australia to see Koalas in the wild. Our 1-Day Great Ocean Road Tour will stop for a photo opportunity and a chance to see the wild Koalas in their natural habitat.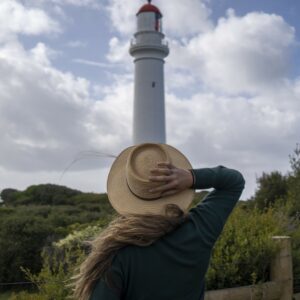 Koalas in Moonlit Sanctuary Wildlife Conservation Park
On our Phillip Island 1 Day Tour from Melbourne, you'll visit the Moonlit Sanctuary Wildlife Conservation Park. Here you will see both Koalas and Kangaroos. This eco certified sanctuary is full of native Australian animals for you to get up close and personal with. Hand feed Kangaroos and get a photo with a beautiful endangered Koala. 
Where to see Koalas and Kangaroos in South Australia
Kangaroos and Koalas on Kangaroo Island
Located southwest of Adelaide, the name speaks for itself!
This beautiful island is teeming with native Australian wildlife, and the star of the show is obviously the kangaroo!
How did Koalas get to Kangaroo Island? Koalas on Kangaroo Island are not native. they were introduced in the 1920's. Hanson Bay Wildlife Sanctuary is a great place to visit on Kangaroo Island to spot Koalas.
On our 2-Day Kangaroo Island Wildlife Tour you'll stay overnight at a farmhouse at Flinders Chase, surrounded by Koalas, Kangaroos, Possums and the occasional Echidna. 
Where to see Koalas in Sydney?
Visit the very famous Featherdale, Blue Mountains 
Our 1-Day Blue Mountains Tour features a visit to the Featherdale Wildlife Park. Featherdale is home to the Eastern Grey Kangaroo and you'll be allowed to feed these wonderful marsupials as they free roam the park! Then head over to the Koala sanctuary to meet the cuddly creatures and take some photo. Here you can see Kangaroos at the wildlife park and touch them. You can also see a Koala bear here on the tour from Sydney. 
To sum up, Featherdale is the perfect place to see Koalas and Kangaroos and easy to do on a day trip from Sydney.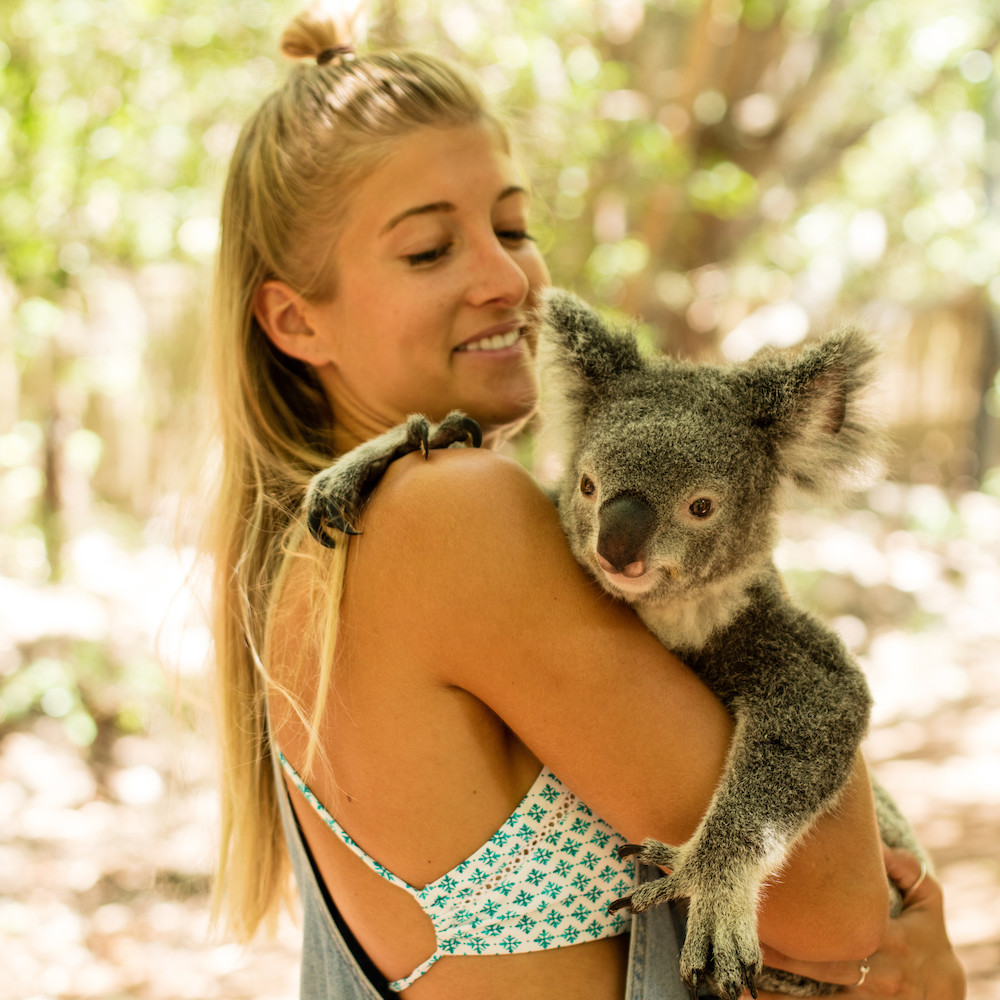 Kangaroos is Western Australia
Big Red Kangaroos in The Kimberley
Between Darwin and Broome you'll see the native red kangaroos – much larger than regular sized!
Take our 10 day Darwin to Broome tour to see not only Kangaroos and Koalas in Australia but also lots of other native wildlife.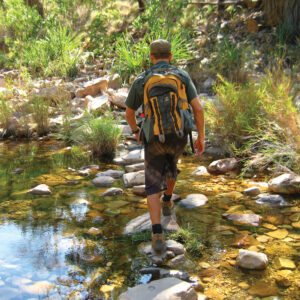 Are there Koalas in Tasmania?
There are no records of Koalas ever living in Tasmania. 
Are there Kangaroos in Tasmania?
We have one species of Kangaroo in Tasmania, called the Forester Kangaroo.
Real Aussie Recommendations
Keeping your eyes peeled in Byron Bay- we saw a Koala in a tree on the main street
Asking your tour guide- our guides know the best time and places to take you Kangaroo spotting in Australia!