Real Aussie sagt
Stay and explore Kangaroo Island at Sea Dragon Lodge the only fully serviced luxury property currently on the island. Our 250-acre coastal property with stunning beach and ocean views is the perfect place to relax.
3 Night Sea Dragon Kangaroo Island Experience
Holiday experience at Sea Dragon Lodge accommodation on Kangaroo Island
Sea Dragon Lodge and Villas is our luxury upscale Kangaroo Island holiday accommodation property, located at 30 minutes drive from Penneshaw ferry terminal. Offering unique and authentic wilderness escapes on Kangaroo Island. The stylish self-contained lodges have been created to offer comfortable accommodation whilst boasting glorious views.
A truly fantastic kangaroo island accommodation Sea Dragon is suitable for many guests who vary from young professionals and honeymooners, right through to older experiential travelers, retirees, and well-traveled families.
Single travelers are very welcome and have the ability to meet people on our scheduled small-group tours during the day while having privacy and solitude in their own room, suite, or villa.
We offer three types of rooms with stunning ocean views. Our Deluxe Rooms are beautifully appointed, with twin or king configuration, and can sleep two adults. The slightly larger Superior Suites include a larger lounge area and can sleep two adults and two children or three adults. Our Luxury Villas are our largest and most luxurious option, with an outdoor bath on the deck for soaking in the sounds of the sea. They can sleep two adults in the separate bedroom and two children or one adult on the lounge room sofa bed.
Our 4-day package at Sea Dragon Lodge includes 3 nights in the room type of your choice, 1 and a half days touring the highlights of Kangaroo Island, breakfast daily, and dinner nightly. Plus plenty of time to relax and soak up the views on our property. Or take some of our beautiful nature walks to see Cape Willoughby Lighthouse and the spectacular Devil's Kitchen. A Kangaroo Island retreat for you to come and relax and explore.
Come visit our Kangaroo Island luxury accommodation in South Australia.
Buchen Sie jetzt
We can't confirm real time availability on this tour. Please enquire about this trip and we will get immediately back to you!
Unsere Reisenden kombinieren diese Reise oft mit einigen dieser Reisen:
Route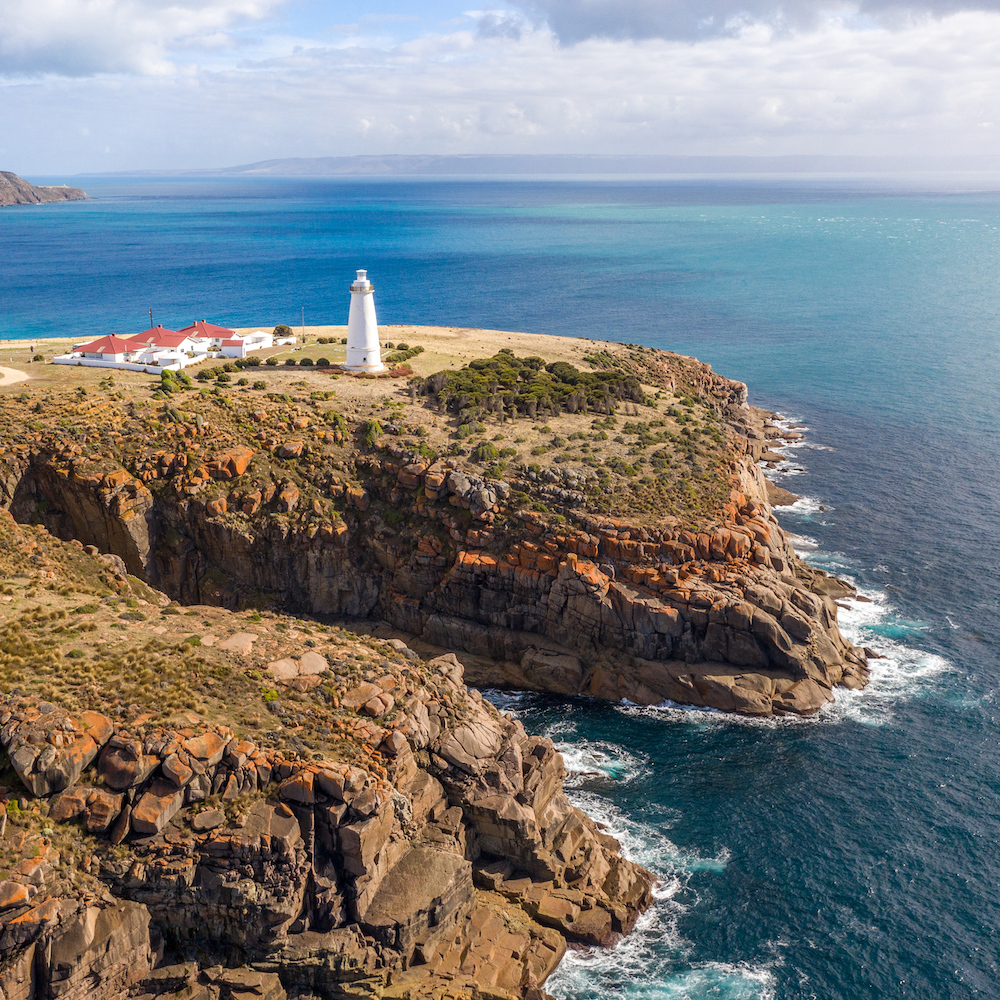 3 nights high quality accommodation at Sea Dragon Kangaroo Island.
Dramatic view of the ocean and Pink Bay on our property, over 600 meters of absolute beach frontage.
Full day nature-based tour visiting primarily the western end of the island including Seal Bay Conservation Park and all key attractions in Flinders Chase National Park; namely Remarkable Rocks, Cape de Couedic, Admirals Arch, and Weirs Cove
Half-day 'Taste of Kangaroo Island' tour focusing on the farm gate and beverage industry on the island.
Rates on request
Rates are AUD gross per person on a half-board basis including return shared scheduled transfers between Sea Dragon and Penneshaw Ferry Terminal or Kingscote Airport, daily premium continental breakfast and two-course dinner, arrival bottle of wine, freshly-baked bread, and 1.5 days deluxe small group tour. Valid March 1, 2022 – March 31, 2023* (*excluding holiday dates.)
All accommodations have stunning ocean views, private bathrooms and private ocean-facing decks. Deluxe Rooms are approx 30 sqm, Superior Suites (approx 45 sqm) have a combined bedroom and lounge area and Luxury Oceanview Villas are a free-standing approx 90 sqm private villa with separate bedroom, an expansive lounge/kitchen area and large deck with a two-person outdoor bath.
For maximum enjoyment of all guests and for the safety of young children, we do not allow guests under the age of 12 years.
Our eco-friendly footprint is important to us on Kangaroo Island. All accommodations are constructed to 6-star environmental ratings and have substantial eco-friendly features which include 85% of our total electricity is generated by solar power, 3 x Enviro Septic systems that convert sewage to freshwater for irrigation, and energy-saving appliances and lighting.
Sea Dragon has three Oceanview room types starting from Deluxe Rooms through to Superior Suites and Luxury Spa Villas.
Deluxe Rooms are beautifully appointed ensuite rooms. Suites are slightly bigger than Deluxe Rooms, also stunningly appointed, featuring a separate lounge area to the bedroom and ensuite bathroom. Villas, our most luxurious offerings, are private individual buildings featuring a separate bedroom, bathroom, an expansive lounge/ kitchen area, and a large deck with an outdoor spa.
When booking a scheduled transfer, clients will travel with other guests. If a private transfer is booked then clients will pay a supplement for this service and travel on their own private service.
The specific locations on tour will vary depending on the time of year, seasonal produce, operating hours, and other operational factors.
Do you have WiFi?
We offer complimentary, high-speed WiFi in all accommodation. Please note, that while the internet service is reliable, we cannot guarantee that the internet will be available 100% of the time due to our remote location.
What is the strength of the mobile signal?
The best mobile reception provider on Kangaroo Island is Telstra. Optus & Vodafone do work, but usually only in the main townships. While onsite, WhatsApp and similar apps can also be used to make calls via our WiFi.
What will I eat and drink at Sea Dragon Lodge?
Included in our Sea Dragon experiences is a daily premium continental breakfast and a two-course dinner prepared by our in-house chef. Breakfast will be served in-room each morning and depending on the room type booked, you may be served dinner in our main lodge or food will be provided late afternoon to be heated at your leisure and enjoyed privately in their own room. Sea Dragon provides a range of delicious "home-cooked style" meals with the majority of fresh produce being sourced from the island. Certain food types such as cheeses need to be brought across from the mainland because they are not produced locally. Vegetarians, vegans, lactose intolerant and other dietary requirements are catered for however must be advised at the time of booking.
Similarly, any allergies or food intolerances must be advised at the time of booking, including information about the severity of your allergy.
All of our menus are designed to be well-balanced for guests' enjoyment, however, our staff are not nutritionists so if allergies are severe, please be aware that in order to participate in these tours and accommodation you will need to have adequate travel insurance which covers emergency medical evacuation, and we will ask you to sign an allergy waiver.
Guests can choose from the menu upon arrival at the property, but for those wanting meal upgrades, we ask that they be requested at the time of booking.
What time shall I arrive and depart Kangaroo Island?
You can arrive on any ferry or flight on day 1. And leave anytime on day 4.