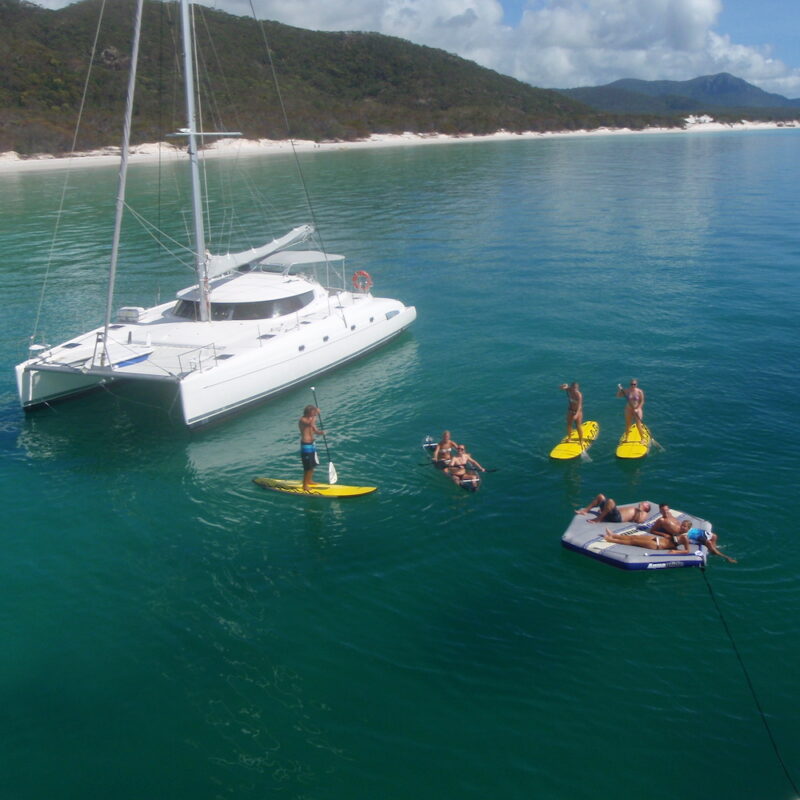 Real Aussie sagt
Entice is perfect for all types of travellers, including couples, families, solo travellers, and the young at heart, making it inclusive, fun and a great way to meet new people while enjoying small group sailing.
2 Day / 2 night Entice Catamaran Sailing
A true offshore sailing vessel, Entice, offers a unique combination of speed, comfort, and adventure! This tour is unique among other vessels in the Whitsundays, boasting all the latest water toys and water sports, which makes it a very popular choice for a variety of guests. Snorkel over the beautiful coral gardens of the Great Barrier Reef, kayak, paddleboard and swim in the clear azure waters of the Whitsundays, or simply wander the fantastic white sands of Whitehaven Beach for unforgettable moments and memories to last a lifetime.
Entice is a 14.2m deluxe sports catamaran. Bred from a racing heritage she was designed by sailors for sailors. Her huge foredeck is perfect for relaxing while the yacht is under sail. The aft deck is protected from the weather so guests can escape the elements without having to move indoors. The saloon features large panoramic windows allowing you to enjoy the views while feasting on the fabulous creations served up from. For easy access to the water, each hull has wide steps leading right down to the ocean.
Our small group numbers allow us to visit pristine locations within the marine park, seeing the best of the Whitsunday islands whilst avoiding the crowds. The Whitsundays provide many amazing snorkeling locations. The colorful corals and most abundant marine life are close to the surface, so all one needs to do is put on a mask and snorkel to be amazed by the underwater world. At night the boat will be safely anchored in a calm bay allowing you time to socialize or just relax under the stars of the southern sky.
Whitehaven bay is the jewel of the Whitsundays and it deserves much more than just a quick photograph and a walk around. We embark on an amazing and unique adventure that takes you the length of Whitehaven Beach. Ride the wind and tide over azure seas framed by pure silica sand. Walk on water with a paddleboard, kayak a little, enjoy a cool beverage as you drift along on an air lounge, try windsurfing or just read a book and enjoy the view from the boat. Action Packed or totally relaxed, experience more of this amazing beach.
Buchen Sie jetzt
1. Wie viele reisen?
2. Wählen Sie ein Datum aus
3. Sieht großartig aus!!! Buche es!
Sailing Catamaran 'Entice'
We can't confirm real time availability on this tour. Please enquire about this trip and we will get immediately back to you!
Unsere Reisenden kombinieren diese Reise oft mit einigen dieser Reisen:
Route
This relaxed sailing tour will take you to all the hot spots in the Whitsundays, including Whitehaven Beach, Hill Inlet Lookout and the fringing reefs of the Whitsunday Islands for amazing snorkelling and exploring.
Enjoy epic scenic sailing, an exciting itinerary and plenty of time to sit back and relax as you make your way around the islands for one unforgettable experience.
Please bring only a small soft bag with a change of clothes
Hat
Swim-wear
Beach towel
Sunscreen 30+
Warm pullover for the evenings (seasonal).
Flip flops or sandals.
Bring your own alcoholic beverages, available for purchase in town. No glass bottles, please.