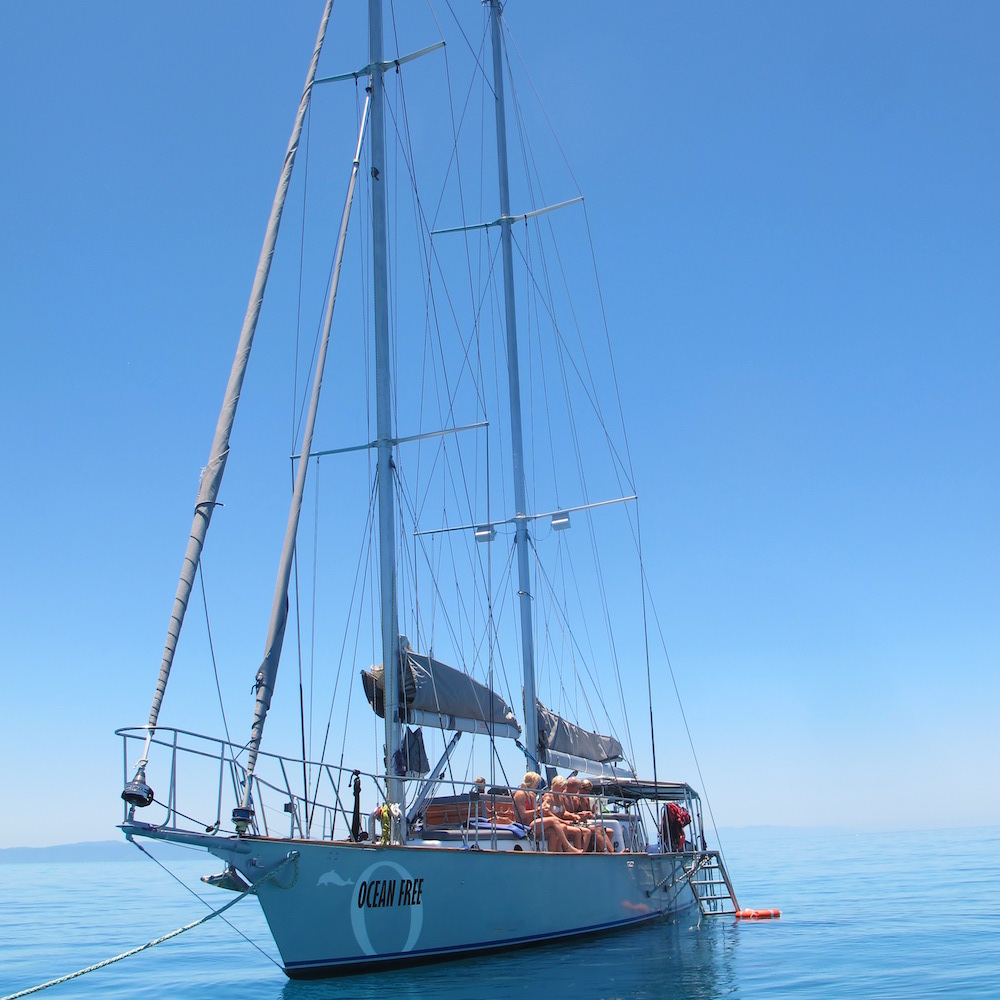 Real Aussie sagt
Heading out from Cairns with the wind in your hair on a sailing vessel. A great day out on the reef to see Nemo and all of his friends.
1 Day Green Island and Great Barrier Reef Tour
Ocean Free sails you leisurely to Pinnacle Reef, an exclusive mooring on the eastern lee of Green Island.
Our 1 day Green Island and Great Barrier Reef Day trip on Ocean Free is the only sailing boat going out to the Great Barrier Reef from Cairns. This is a real Sailing experience with the engines switched off for great sail home. You can help hoist the sails and even take the helm if want!
Ocean Free takes you out to Green Island and is the only Green Island Tour to have a private reef mooring on the Great Barrier Reef just 1 km off the island so snorkelling at any time just off the boat. With other Green Island Tours must wait for either an organised snorkel tour with guide / OR go with divers to an area on the reef but with no guide.
Shallow reef area with beautiful Coral Garden just off the boat – only 1M under surface for easy viewing!  Reef area is a highly protected area with no fishing permitted so lots of marine life! Great food all day! Danish pastries, fruit on boarding and large smorgasbord lunch with smoked salmon, prawns, chicken, mixed meat platter, 3 salads and assorted bread. Plus fruit, cheese and crackers and assorted cake platters on sail home.
Buchen Sie jetzt
1. Wie viele reisen?
2. Wählen Sie ein Datum aus
3. Sieht großartig aus!!! Buche es!
Ocean Free Sail to Green Island & The Great Barrier Reef
We can't confirm real time availability on this tour. Please enquire about this trip and we will get immediately back to you!
Unsere Reisenden kombinieren diese Reise oft mit einigen dieser Reisen:
Route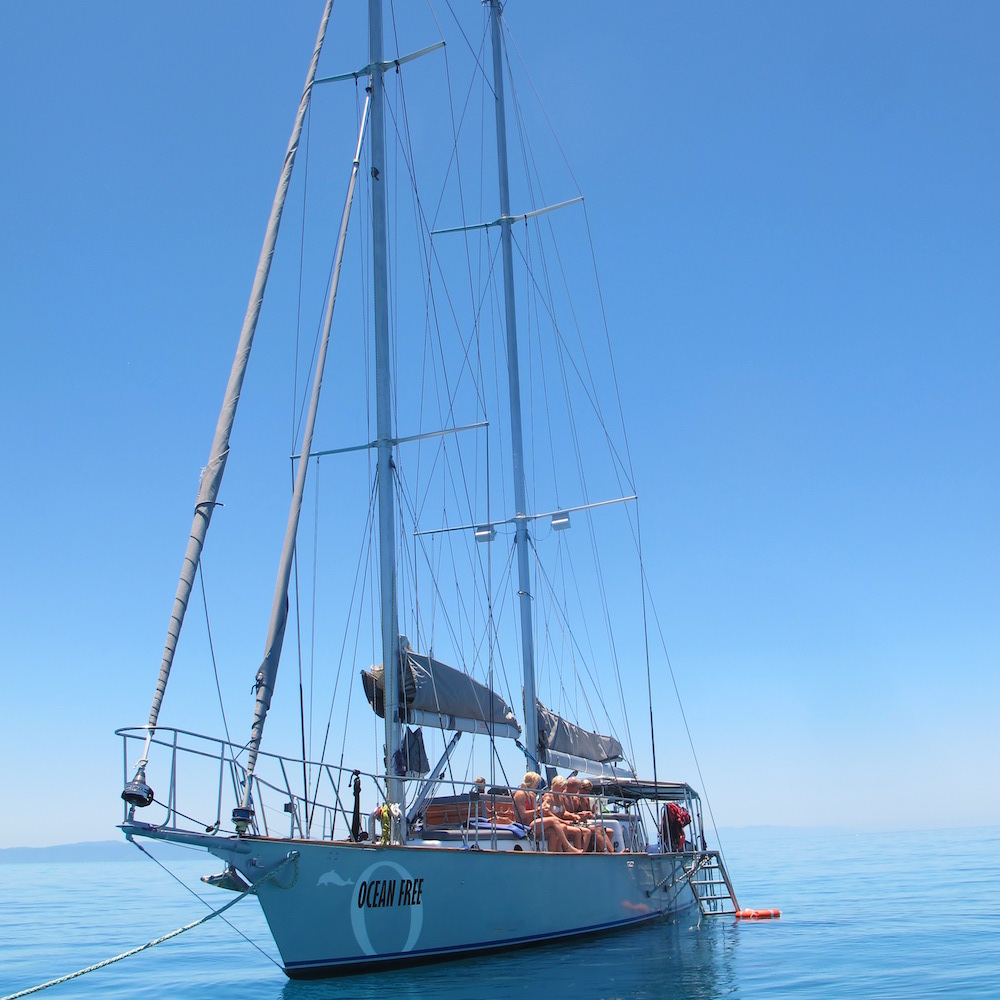 Visit Green Island for a day out on the Great Barrier Reef snorkelling and exploring.
Snorkel Pinnacle Reef by just stepping straight off the boat.
Swimwear
Towel
Towel
Sun hat
Sunscreen
Ocean Free is an Advanced Eco Certified product. Throughout our years of operating we have always and continue to have a strong commitment to protecting our beautiful Great Barrier Reef.
Ocean Free offer introductory diving (no experience needed) and certified diving. All dives are guided and the highest ratio of dive instructor to diver is offered. We take your safety seriously.
What sort of guests would be suitable for Ocean Free?
Ocean Free welcomes all guests. Youth, families, adventurous middle aged and fit mobile retirees willing to give it a go. However, guests are required to get in and out of a dinghy from the main vessel and on to the beach at Green Island, so they need to be mobile and steady on their feet. Anyone wanting an extremely personalised tour with very small numbers, unsurpassed service and awesome sailing should choose Ocean Free. We are the only reef and island tour catering for very small numbers
What sort of food and drinks do you serve?
We pride ourselves in serving top quality food. In the morning you are greeted with tea, coffee and Danish pastries. Cask water is available all day. For lunch you will be served a large smorgasbord of prawns, smoked salmon, mixed meat plate, chicken, 3 different salads and a selection of breads. During the afternoon, tropical fruit, cheese and crackers, a selection of cakes and a glass of wine will be served, all inclusive in tour price.
Do you cater for vegetarians?
Yes we do. We have three different types of salads and breads, but will order a vegetarian meal for you on request. Please let our reservations team aware of any dietary needs when you book, as it has to be pre-booked.
What sort of drinks do you serve?
We have the usual soft drinks (Coke / Diet Coke / Lemonade/ Fanta) and water. We also have wine and beer.
Can I dive on tour?
Yes, we offer extremely safe and fun diving for certified divers and first timers, who are wishing to try an introductory scuba dive. We specialise in first time divers, offering a very exclusive one instructor to 2 diver experience and even 1:1 for those requiring extra attention! Our certified divers are in small groups, with a complimentary guide to ensure maximum enjoyment.
Guests are able to do 2 dives at 2 different sites.
There are certain conditions that preclude one from diving, such as asthma, diabetes, heart conditions and epilepsy. All divers are required to fill out a diving medical questionnaire on board the boat to ensure that they have no medical condition (past or present) or taking any medication that could be detrimental to diving. It is absolutely imperative that you are honest when filling in this form as diving has some special requirements due to pressure changes. Some clients may need a diving medical from a diving doctor in order to dive. Should you have any questions regarding diving and dive medicals, please phone us on our booking number and we will gladly assist you. Top Tip: QLD has the highest safety standards in the world; you can be assured of the very highest standard of care.
In order to do an introductory dive you must be 12 yrs old. The upper age is only limited by the fitness and medical condition of the individual.
All of our certified divers are assessed for their ability and provided with a guide free of charge (dive master or instructor); therefore, you can feel confident that you will be looked after, even if you are a little "rusty". If the instructor assesses you to need more attention, they may suggest doing an intro dive as your first dive.