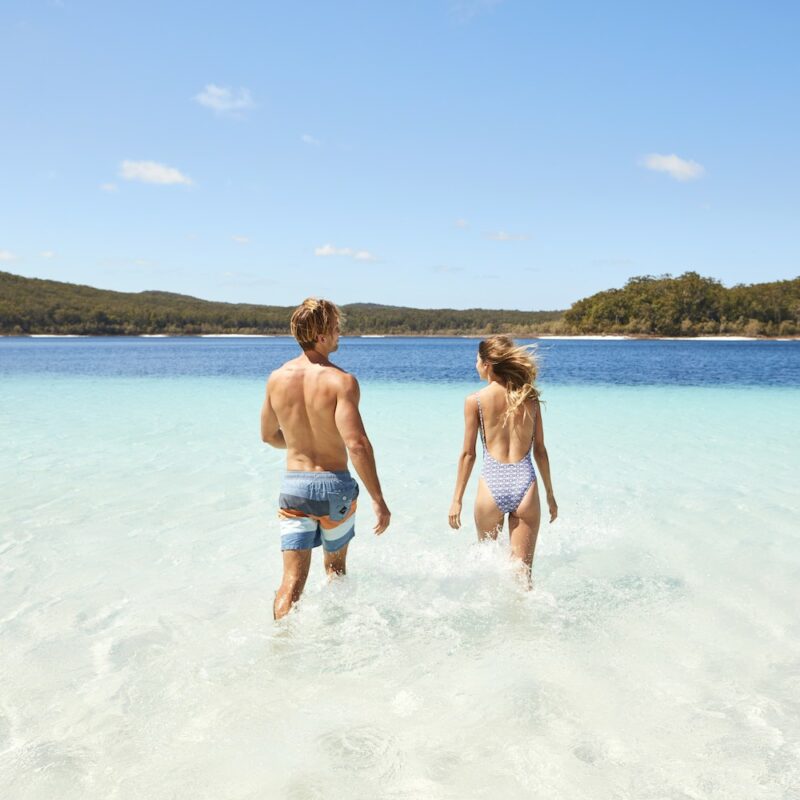 Real Aussie sagt
An actioned packed day tour to the famous K'gari (Fraser Island), the world's largest sand island.
1 Day Fraser Island Guided Tour
Enjoy a day over to Fraser Island from Hervey Bay. Visit the main highlights Maheno Shipwreck, Lake Mckensie, Eli Creek and the sandy highway of seventy-five-mile beach.
Looking for an unforgettable adventure in paradise? Look no further than our fully guided, all-inclusive, and great value Fraser Island day tour!
Experience the beauty of K'Gari, as the Aboriginal people call Fraser Island, with 75 miles of breathtaking sights to explore. From tranquil freshwater lakes filled with turtles to rocky outcrops with magnificent views, and even a natural jacuzzi perfect for relaxing or swimming, there's no shortage of natural wonders to behold. And the best part? You don't need your own 4WD for this tour – we'll do the driving for you! Our expert guides will traverse the island's tracks and tides, ensuring you have an easy and enjoyable experience on the world's largest sand island.
This one-day adventure is the perfect way to see all the top spots on Fraser Island. Visit iconic destinations such as Lake McKenzie, with its crystal-clear waters and pure white sand, and 75 Mile Beach, the island's main highway with stunning views of the Pacific Ocean. Take a refreshing dip in Eli Creek, one of the world's purest sources of water, and marvel at the rusting ruins of the Maheno Shipwreck.
This tour is suitable for all ages, so don't hesitate to bring your whole family along. Whether you're a solo traveler or part of a group, this Fraser Island day tour is sure to be an unforgettable experience. So why wait? Tick Fraser Island off your bucket list today and book our tour!
At our company, we pride ourselves on offering exceptional service and great value for your money. With our fully guided tour, all transport, meals, and national park fees are included in the price. Plus, our knowledgeable guides will provide you with fascinating insights into the island's rich history and unique ecology, ensuring you have a truly enriching experience. So what are you waiting for? Book your Fraser Island day tour today and experience the magic of K'Gari!
Buchen Sie jetzt
1. Wie viele reisen?
2. Wählen Sie ein Datum aus
3. Sieht großartig aus!!! Buche es!
K'gari Explorer Day Tour
We can't confirm real time availability on this tour. Please enquire about this trip and we will get immediately back to you!
Route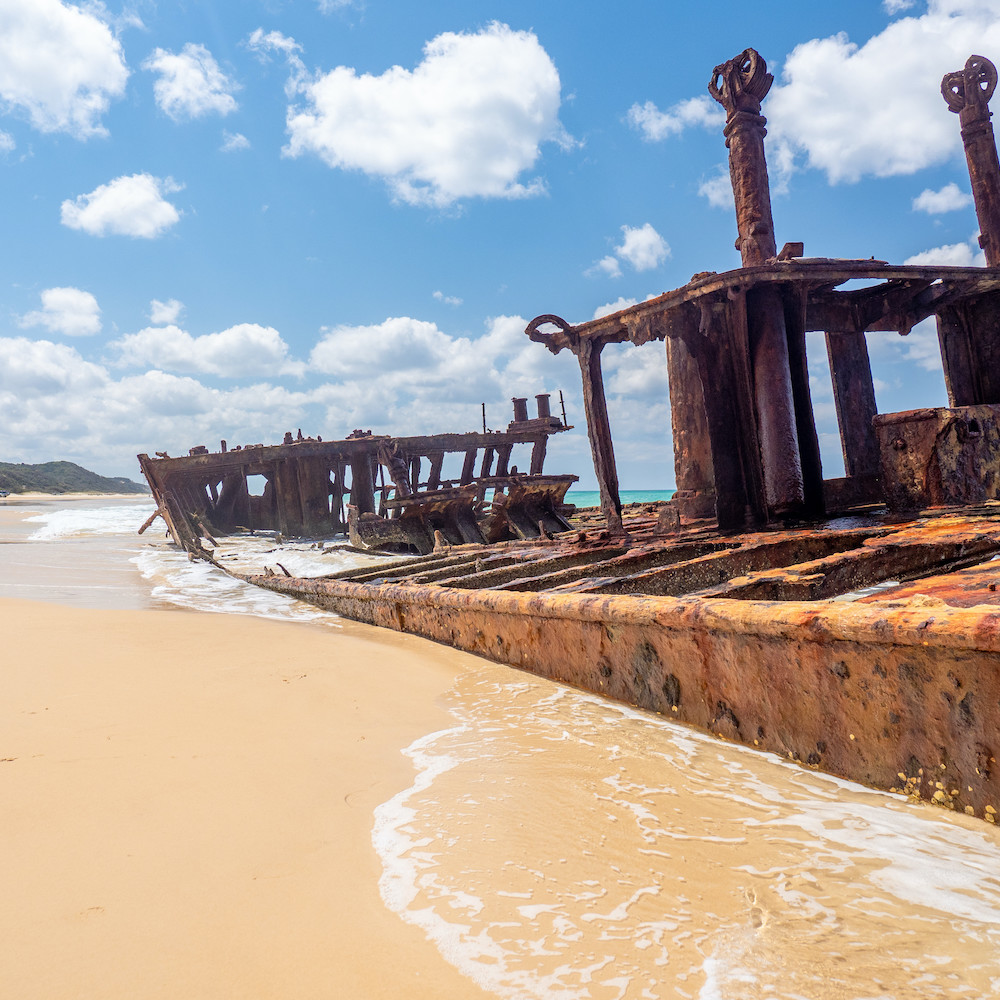 Lake McKenzie, enjoy a revitalising swim in the crystal blue waters and relax on the sandy white beaches… it's picture perfect!
Seventy-Five Mile Beach, as you drive along this sandy highway, you may spot birds of prey flying above or humpback whales as they migrate past (between July – November). You may wish to join the Air Fraser team for a scenic flight over the island – book with your guide on tour (optional extra).
Eli Creek , float down this fast-flowing freshwater creek pouring out 80 megalitres of water daily into the ocean.
Maheno Shipwreck, enjoy a photo stop at the rusting wreck of the Maheno washed ashore during an out-of-season cyclone in 1935 – it's one of Fraser Island's most recognisable sites.
The Pinnacles Coloured Sands, learn how these technicolor sand formations were created and the Butchulla legends surrounding them. We stop to take a picture as we drive along Seventy-Five Mile Beach.
Swimmers
Towel
Sunscreen
Hat
Sunglasses
Camera
Walking shoes or sandals
Insect repellent
Water bottle
If English is your second language, we have MP3 guides available in Spanish, Italian, German, Korean and Chinese.  These can be picked up from the Ticket Hut with a small, refundable deposit of $20 per device.
Itineraries are subject to change based on tides and weather conditions.
What type of vehicle will I be travelling in?
Our 4WD coaches have been specifically designed to navigate the sandy tracks and unique terrain found on K'gari. They are air-conditioned, have panoramic windows and are capable of carrying 40 passengers.
Are your tours child friendly?
Children over the age of one are welcome on all of our tours. If your child is under the age of eight, please provide them with a car seat.
Do you have any advice for pregnant travellers and people with medical conditions?
As this tour is off-road on sand tracks and conditions can be rough at times, we advise all pregnant travellers and people with medical conditions to seek medical advice before booking this tour.
Do you offer courtesy transfers?
Courtesy coach transfers are available from select locations in Hervey Bay. Let us know at the time of booking where you are staying and we can give you pick up time and best location.