The best tours in the Whitsunday Islands: How to Pick the Best Boat for Sailing the Whitsundays
Choosing the best boat for your tour of the Whitsunday Islands
How to find the best tours in the Whitsunday Islands for you.
It can be pretty overwhelming when trying to choose which boat you'd most like to sail on when you visit the Whitsunday Islands!
Whether you want to experience some adventure, spend a day or two on board, or simply do some sunbathing or swimming on one of our famous beaches – there really is something for everyone.
We help you Pick the Best Boat for Sailing the Whitsundays with our 10 best tours in the Whitsunday Islands.
Are you ready?
Read on to find out more. 
"We have so many boats on the Whitsundays. Let us help you choose the best one for you." Real Aussie Adventures
The Whitsundays is one of the highlights of the East Coast. 
So it makes sense that one of your biggest decisions will be choosing which boat tour to do of the Whitsunday Islands.
With so much information on the web about which Whitsunday Island sailing boat to choose it can all get a little confusing.
We break it all down for you here.
We have only the best quality boats with the most competitive prices.
However, not every boat out there suits every style of traveler. So before you book just because the boat departs on the day of the week you arrive in Airlie Beach or because of it's the cheapest, check out our helpful guide.
After all, you're only going to sail the Whitsunday Islands once in your lifetime (unless you're like us and just keep going back!) 
How do you tour the Whitsundays?
The best way to see the 74 islands of the Whitsundays is on an overnight boat trip. So get out on the water on a boat to see the Whitsundays. visit Whitehaven Beach the most famous beach in Australia. 
Things to consider when picking the Best Boat for Sailing the Whitsundays
There are many things to consider when choosing the right sailing trip to the Whitsunday Islands. These are notes on some of the attributes of the sailing trips.
The time of departure
Sailing trips are slightly different to many tours in that they often depart later in the day or in the evening and return at a similar time. This is important because it will allow you to meet a trip and maximise your holiday time.
Bedding configuration on the boat
Different yachts can accommodate different numbers of people. This is reflected in the type of beds and cabins available. Yachts have limited space and the beds are underneath the deck in the hull of the yacht.
A "dorm bed" is a bed in a room shared with other travelers.
An "open double" is a bed that is not private – there are not regular walls, although there will normally be curtains.
The other bedding types have self-explanatory names.
Is it suitable for you?
The price, yacht size, number of people and bedding configuration all contribute to whether the boat is perfect for you. The descriptions of who goes on the yachts does not exclusively define who might be on a particular yacht. They are a general guide as to who goes on the different yachts.
Keep reading for more on the specific boat details for your tour of the Whitsunday Islands below.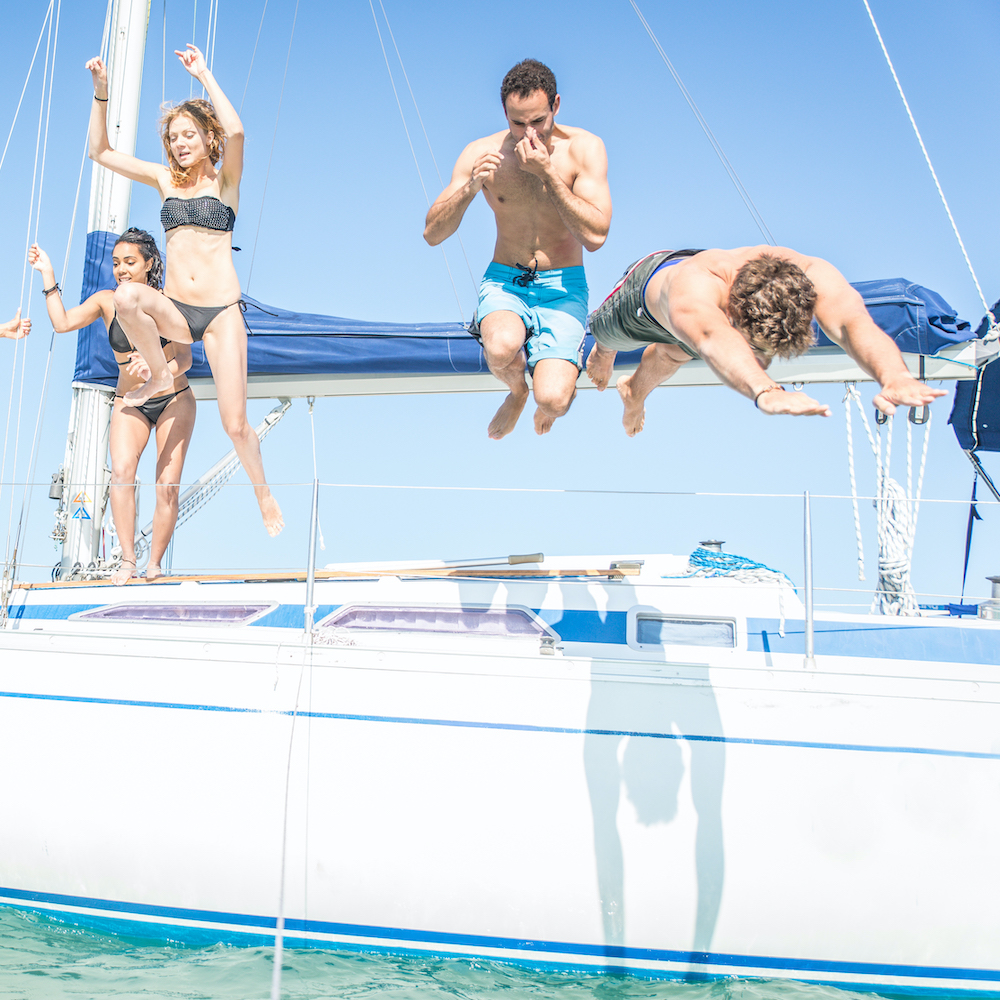 Best boat for your tour of the Whitsunday Islands
1. Sail for 2 day 2 night on a Catamaran on Adventurer
With only 12 people on board Adventurer is one of the best tours in the Whitsunday Islands. With a spa on board, the use of clear kayaks and paddle boards its a fun trip with plenty to do. We have private cabins and bunks with DVD players in cabins. 
A great sailing trip for couples. Lots of relaxing on board. Also, suitable for families.
2. Ocean Rafting One day Whitsundays tour
This awesome little day trip sees it all in just one day. 
They run two trips. Both go to hill inlet, both go to Whitehaven Beach and both go snorkelling. The difference between the two trips is that the Northern trip goes snorkelling twice and its snorkelling spots are at the slightly better spots off Hayman and Hook Island. The Southern trip goes snorkelling once of Border Island. . As a fast boat, it actually gets to destinations a lot quicker so you get the same if not more time at each location. 
It is one of the last trips to cancel because of weather, the wilder it is the bumpier the ride and the more extreme it is.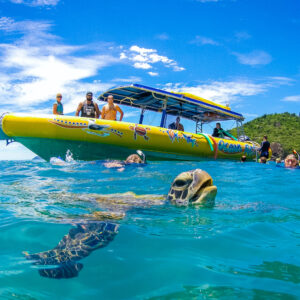 3. 3 Day cruise on Whitsunday Blue 
Our most luxury Whitsunday Sailing boat. The Best Boat for Sailing the Whitsundays if you are a couple on honeymoon or an anniversary trip to Airlie Beach. 
Only double cabins on board and with 8 passengers this tour is small and intimate.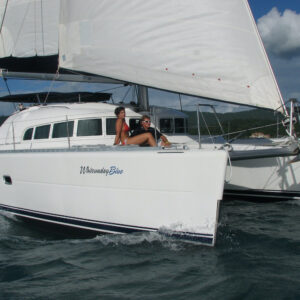 4. Hammer and Siska best Whitsunday Sailing tours for getting active
These two boats are sisters, meaning they are very similar.. So there will be a day to suit everyones travel plans. They are 2 day 1 night sailing boats. They have around 22 people on the boat. The boat is a Maxi sailing yacht, which means you are able to have a go at getting involved in the sailing. The boat can go fast…chasing around the Whitsundays Islands meaning you get to see a lot in a short space of time. It will tip up on its edge, it placed 5 times in the famous Sydney to Hobart race, so its a very experienced racing boat. 
On these whitsunday trips you get to snorkel on the coral reef, visit the famous Whitehaven beach and relax. The beds on board are dorm style accommodation, all tucked neatly under deck. This style of sleeping can be a little cosy, as its only for one night its worth it for great experience of sleeping on a maxi racing boat. The food is plentiful and tasty, which the excellent crew prepare for you, its well needed after its of beach time and fish spotting.
Siska offers 2 day 1 night sailing for those short on time..
Hammer is 3 days 2 nights to give you more time on the Whitsundays.
Find out more about Hammer and Siska.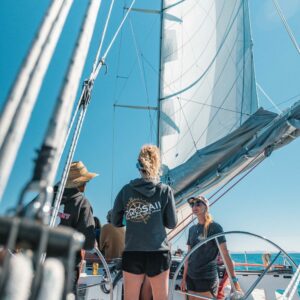 5. 1 Day Lady Enid Sailing
Lady Enid is an adult only. 
She's a luxury vessel who will take you out for a classy day around the Whitsunday Islands. Stopping at Whitehaven Beach, having a snorkel she includes everything on her one day journey out at sea. 
So which of these Whitsundays boats suit you?
You can always ask us any questions using live chat or over email.
We will help you Pick the Best Boat for Sailing the Whitsundays.
Real Aussie Recommendations
When planning your Whitsunday sailing Adventure think about if you want a more social or relaxing trip.
Whitsundays has something for everyone, so ask us for more details to make sure you are booking the perfect adventure.
Book in advance, our most popular Whitsunday sailing boats sell out fast. So get in quick.