Here we let you know the Best Australian tours. Our most popular tours that have to be on your Australian bucket list, including the most famous places in Australia.
Everyone's idea of an adventure is different.
It could be a leisurely holiday sipping cocktails on the beach, it could be a road trip across Australia, and it could be shark cage diving or even skydiving.
If your definition of an adventure is similar to any of these things, read on!
Real Aussie Adventures aim's to cater for as many different adventurers as we can, so the list below is sure to have something that will make your adventure one to remember.
Australia is the perfect destination to do a road trip. The country is blessed with a dedicated highway system, bid distances and much to see. A good road trip involves time taken, diversity of experiences and uncertainty of what just might happen on the road. It's a measure of expectation and spontaneity.
"Australia is perfect for the Adventure Traveller" Real Aussie Adventures
What are the best tours in Australia?
Great Barrier Reef
With all the activities in Cairns, it could very well be labeled the adventure capital of Australia! This to us is the ULTIMATE best thing to do in Australia. The Great Barrier Reef! 
The Great Barrier Reef adventures are just the beginning. There are so many different types of cruises, day trips, and snorkeling or scuba diving trips there will definitely be one to fit into your routine and definition of adventure. There are so many species of unique sea life to see at the Great Barrier Reef, turtles, tropical fish, rare coral and if you're lucky – whales and dolphins! Check out our 1 day Great Barrier Reef trips.
West Coast Perth to Exmouth tour
One of the Best road trips in Australia is a trip up from West Coast from Perth. Explore the wild west up to the Ningaloo Reef. Take in the Pinnacles, Kalbarri National Park, Monkey Mia, and Coral Bay as you make your way to Exmouth. Then it's time to snorkel in the pristine waters of the Ningaloo Reef. Such an Epic adventure!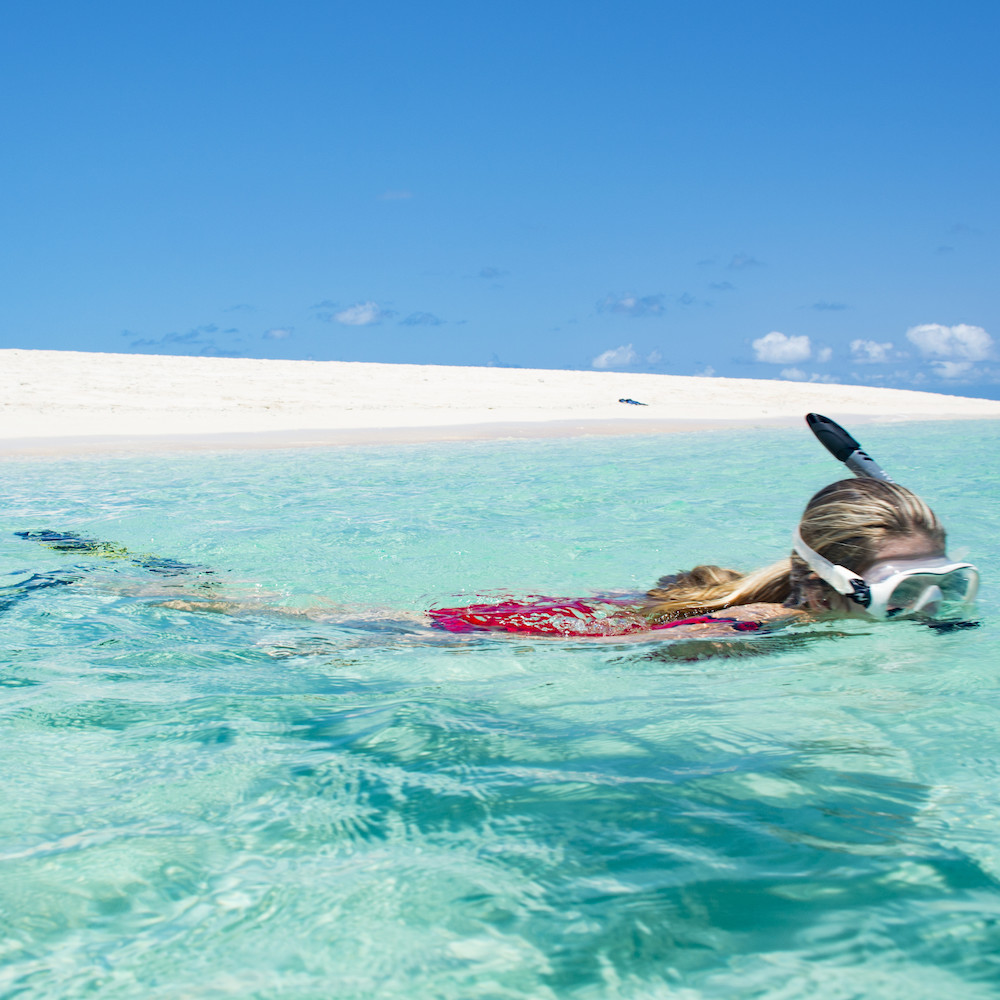 Swimming with Whale Sharks
Keeping with the theme of snorkelling and the West Coast, swimming with Whale Sharks off Ningaloo Reef is a must!
These incredible creatures can grow up to 12.5m and really are gentle giants. Whale Sharks are no threat to humans so you can swim freely with them in the water and still feel safe. Ningaloo Reef, Western Australia, is one of the best places in the world to view these creatures as they migrate north, so don't miss the opportunity between April and July. Also keep your eyes out for humpback whales, dugongs, manta rays and dolphins, which are common to see on these trips.
Check out our blog on Swimming with the Whale Sharks. Or are 1 day whale Shark swim tour.
Uluru
If you want the most unique way to see Uluru, here it is! A camel ride through the red sandy desert at sunset is sure to be your most interesting travel story to tell. Wander through the native flora and red sand dunes on your camel as the sun sets and the sky changes colour for a beautiful view. Don't forget your camera for these amazing photo opportunities, and to make all your Facebook friends jealous. The best part? Afterwards, you get to relax with some traditional food and freshly made damper. 
If you need any more convincing, here you go.
Our most popular Uluru tour is our 4 day. 4 Day 4WD Uluru Tour. 
If you have longer to spend in the Red Centre check out our 6 day Uluru tour. 
Unsure on what tour to take in Uluru check out our guide. Best Uluru tours. 
Sailing the Whitsunday Islands
This one may be for the more relaxed adventurers, but an amazing experience nonetheless. The views are second to none throughout this sailing getaway. White sandy beaches, crystal clear blue water, colourful sunsets, and a chance to meet like-minded travellers all make for a good holiday in my books! Don't forget your waterproof camera and snorkel; you will want to remember the views and this experience forever! 
Our Whitsunday Island sailing trips can be found here.
How to pick a sailing boat on the Whitsundays is our in-depth look at boats to sail the Whitsundays on and if they suit you. 
So there you have it, thrill-seeking, adventurous, exhilarating, heart-pumping reasons to travel all around Australia and start ticking the things off your bucket list you promised yourself you would do last year.
Get out there and make memories!
For more ideas on what to see on your visit to Australia check out of helpful articles.
Real Aussie Recommendations
Camel Ride at Uluru 
Dive on the Great Barrier Reef