Real Aussie sagt
We show you all the treasures of Melbourne and often we hear "wow – you wouldn't even now this was here!" Do this on your first day in Melbourne and you'll discover a whole lot more places to return to later in your stay
The Melbourne Experience Foodie Indulgence Walk
Make like a local and enjoy french sweet treats, great coffee and Laneway bars in Melbourne.
This 3 hour walking tour lets you experience the best of Melbourne, all hidden from the main streets in laneways and alleyways. Melbourne food tours are a way of connecting with the cafe culture of Melbourne.
With your expert guide, you'll stop for 6-8 tastings including coffee, dumplings some sweets treats, and finish with a drink at a hidden laneway bar.
Melbourne is a mecca for food with an eating culture bordering on the obsessive. But many of these best places are hidden from first sight in laneways and behind doors.
This 3 hour small group walking tour lets you experience the best examples of what Melbourne offers. This tour offers the best aspects of Melbourne with the insight of your local guide that you cannot get from a guidebook. Drink coffee, eat dumplings, sneak in a sweet treat and finish it off with a drink in a laneway bar in the beating heart of Melbourne – all included in your ticket price.
Join our Melbourne food tours to immerse yourself in this vibrant city. Live like a local!
Buchen Sie jetzt
1. Wie viele reisen?
2. Wählen Sie ein Datum aus
3. Sieht großartig aus!!! Buche es!
Melbourne Foodie Discovery Walking Tour
We can't confirm real time availability on this tour. Please enquire about this trip and we will get immediately back to you!
Unsere Reisenden kombinieren diese Reise oft mit einigen dieser Reisen:
Route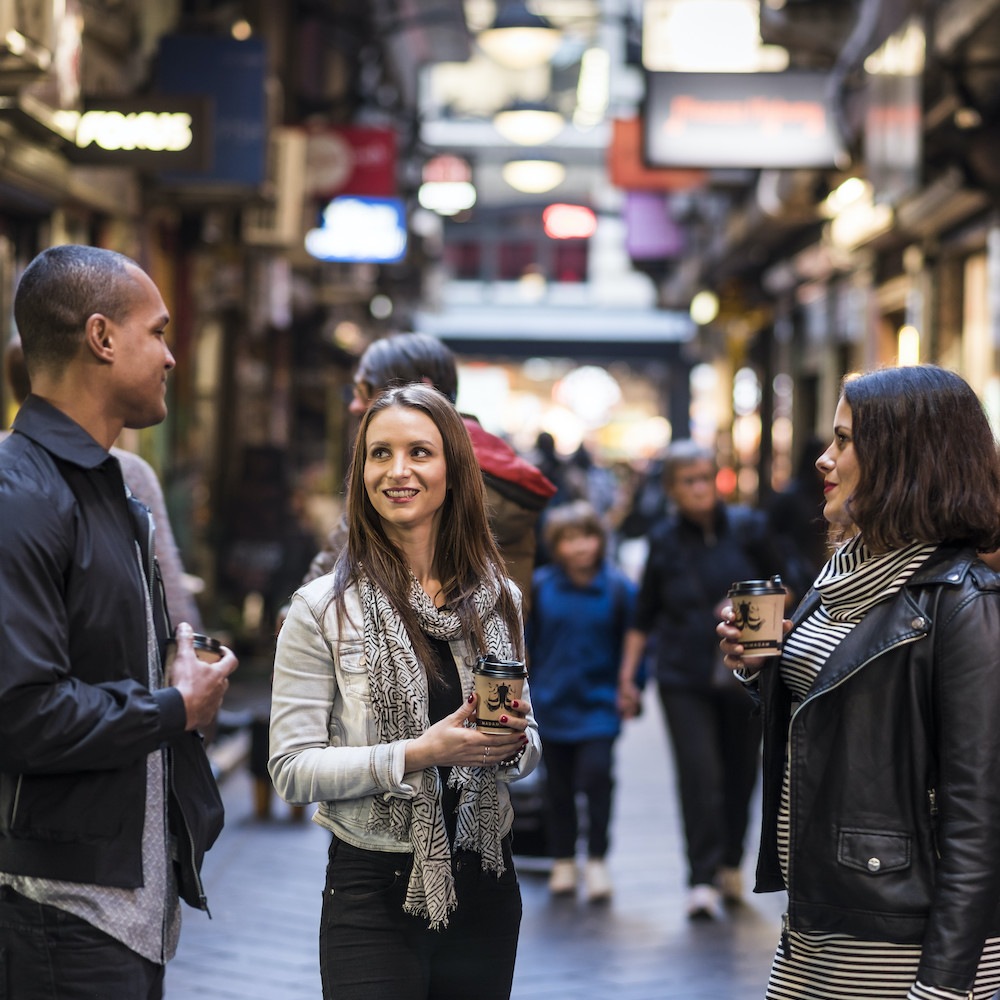 3 hours of walking through Melbourne's laneways and arcades
French style sweet treats
The best coffee in the world
Walking shoes
Money for treats
Single bookings are OK, but the group must be at least 2 people for the tour to commence. Max group of 10 per tour guide. For groups of more than 10, please call ahead to arrange mutiple tour giudes.