Best Fraser Island Tours for 2023. We have many different Fraser Island tours (K'Gari) on offer here at Real Aussie Adventures.

Here we detail on to choose the best Fraser Island tour for you.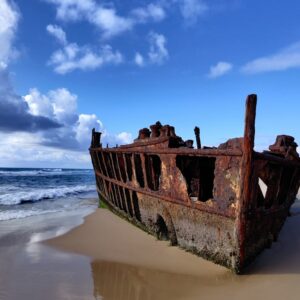 What is Fraser Islands indigenous name?
K'gari is pronounced "gurri" and means paradise. Fraser Island was officially renamed K'gari in 2021. Butchulla dancers and community representatives came together at Kingfisher Bay Resort to celebrate the renaming of Fraser Island to the K'gari (Fraser Island) World Heritage Area. K'gari is among many places around Australia that have returned to their Indigenous names. One of the most famous examples is Uluru.
Thinking of visiting Fraser Island soon?
Here we detail our Fraser Island tours operating in 2022 and which might be the best for you to join. Plus when is the best time to visit Fraser Island?
Read on to find out more.
"The ultimate adventures on the largest sand island in the world. "

Real Adventure Group
Difference between our Fraser Island tours.
First, let us explain the difference in styles of our Fraser Island tours here at Real Aussie Adventures. When you take a glance they can all look similar with 1 day, 2 day and 3-day offerings. However, on closer inspection we have fully guided, camping, self-drive and resort stay options.
Plus we have tours starting from Hervey Bay or Rainbow Bech. So deciding where to head over to the island from is also a consideration.
Best Fraser Island Tours in 2022
1 Day Fraser Island Guided Tour
Short on time? Then this one day trip is perfect for you. Enjoy a day over to Fraser Island from Hervey Bay. Visit the main highlights Maheno Shipwreck, Lake Mckensie, Eli Creek and the sandy highway of seventy-five-mile beach.
3 Day Fraser Island Self Drive Adventure
Join our fun three-day self-drive adventure from Hervey Bay, the perfect way to explore Fraser Island, with an included 4WD vehicle, return ferry transfers, personalized itinerary, and accommodation. Stay at comfortable Eurong Resort or if you are a group of 4 or 6 stay at Bringabeeralong Beach House. No big bus tour, just you driving around Fraser Island. 
2 Day K'Gari Fraser Island Tour from Hervey Bay
A great way to see the highlights of Fraser Island (K'Gari) from Hervey Bay staying at Eurong Beach Resort on Fraser Island in comfortable lodge accommodation. The perfect overnight getaway to the island with some of the highlights visited on your two days of touring the island. 
2 Day K'Gari Fraser Island Tour from Hervey Bay
3 Day K'Gari Fraser Island Tour from Hervey Bay
This is our newest tour offering to Fraser Island. Suitable for those who like a little comfort and have 3 days to spare. You will head over to the island on the first day and with no touring planned stay at Kingfisher Bay Resort for a pre-night. Here you relax by the pool or grab something yummy at the restaurant. Or go for a stroll on the beach and take in the sunset at the jetty. The next morning your picked up from Kingfisher Bay Resort for a fun day of touring Fraser Island. Night 2 you will stay at Eurong Resort and with the 3rd day full of touring you then take the ferry back over to Hervey Bay. 
How many days should I spend on Fraser Island?
Three days on Fraser Island is about the right amount of time to see all the highlights., If you are short on time a 2 day 1 night trip would be perfect. 
What is the best time of year to go to Fraser Island?
Spring or Autumn can be very moderate in temperature making it the best time to visit Fraser Island, While September to November will see temps higher up into 23c range. December through February offers more outdoor activities in the sun.
Can you explore Fraser Island on your own?
Yes. You can rent a 4WD to self drive the island. You can go to Fraser Island on a day tour, or tour the island for up to 3 days on different types of guided tours or tag-along tours. If you are going on your own, it is all dependent on how long you want to drive around the island and see its different attractions.
Real Aussie Recommendations
The best Fraser Island tour is the one you take! So even if you are short on time book your Fraser Island tour today, you wont be disappointed.