As our passion for travel grows, so does the urgency of the climate crisis. This makes one wonder: can travel and sustainability coexist, and how can we as travel agencies and travellers make a positive impact on the environment? The good news is, we can! By adopting simple yet impactful practices, you can reduce your carbon footprint while exploring fantastic destinations.
In this blog, we shed light on how, as a travel agency, we prioritize sustainable travel. Additionally, we explore ways in which you, as a consumer, can contribute to reducing your carbon footprint while enjoying incredible destinations. As travel enthusiasts, we understand the importance of making our journeys more environmentally friendly amid the growing climate crisis.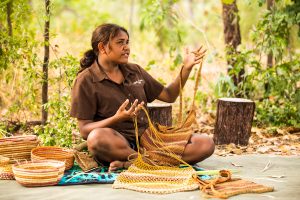 Embark on a journey of sustainable travel with our eco-tours, certified by Ecotourism Australia. Our commitment to environmental conservation and responsible travel practices aligns with the stringent standards set by the Eco Certification Program. As a certified eco-tour operator, we prioritize preserving natural ecosystems, supporting local communities, and minimizing our environmental impact.
Explore unique destinations with peace of mind, knowing that our eco-tours have undergone rigorous assessment and adhere to the highest sustainability standards. From breathtaking landscapes to immersive cultural experiences, our certified eco-tours promise an eco-conscious adventure that leaves a positive impact on the environment and local communities. Discover Australia's top sustainable travel destinations with us.
1. Port Douglas
Port Douglas is a tropical paradise where stunning landscapes meet sustainable living. Nestled between the World Heritage-listed Daintree Rainforest and the Great Barrier Reef, this coastal gem is a top destination for eco-conscious travellers with a commitment to preserving the environment. Port Douglas takes pride in its eco-accommodations, ranging from sustainable resorts to eco-friendly lodges nestled in the heart of nature. Experience the charm of eco-sensitive stays that prioritize environmental conservation without compromising on comfort and luxury. You also have the option to engage with the local Indigenous communities to gain insights into their rich cultural heritage and sustainable practices that have preserved the land for generations. Participate in guided walks led by Indigenous hosts, uncovering the stories behind the ancient landscapes and their ongoing commitment to environmental stewardship. Some major local eco-destinations are:
Immerse yourself in the wonders of the Great Barrier Reef, an unparalleled marine wonderland that captivates with its vibrant coral formations and diverse marine life. Explore the crystal-clear waters, snorkel amidst colorful coral gardens, and witness the extraordinary biodiversity that makes the Great Barrier Reef a must-visit destination for nature enthusiasts.
Step into the Daintree Rainforest, the oldest rainforest on Earth, and experience a pristine natural sanctuary brimming with biodiversity. Encounter ancient flora and fauna, traverse lush walking trails, and immerse yourself in the tranquility of this UNESCO-listed site. Discover the magic of a rainforest that has thrived for centuries.
See our Eco-Tours to Port Douglas here:
1 Day Quicksilver Outer Barrier Reef Tour
1 Day Cape Tribulation, Daintree Rainforest and Wildlife Tour
1 Day Go Wild Cape Tribulation Tour
2. Kangaroo Island
Kangaroo Island is a destination where natural wonders meet sustainable living! The island is a paradise for eco-conscious travellers committed to preserving the environment. Kangaroo Island boasts a variety of eco-accommodations, from sustainable resorts to eco-friendly lodges seamlessly integrated into nature's heart. Immerse yourself in the allure of eco-sensitive stays that prioritize environmental conservation without compromising on comfort and luxury.Furthermore, the island is also known for its sustainable culinary delights! Immerse yourself in the thriving culture of eco-friendly food production, featuring pure Ligurian honey and sustainably farmed oysters.
Explore the wonders of Kangaroo Island, where pristine landscapes and diverse wildlife create an unforgettable experience. Witness the remarkable beauty of Flinders Chase National Park, home to iconic landmarks like Remarkable Rocks and Admirals Arch. Encounter native wildlife in an ethical and non-invasive manner, from kangaroos and koalas to sea lions and diverse bird species, as you immerse yourself in the island's natural wonders.
Whether strolling along pristine beaches or hiking through untouched wilderness, Kangaroo Island invites you to connect with nature and make lasting memories in an eco-conscious paradise.
See our Eco-Tours to Kangaroo Island here:
21 Day Darwin to Adelaide Tour with Kangaroo Island
3 Night Sea Dragon Kangaroo Island Experience
6 Day Adelaide, Kangaroo Island and Barossa Valley Package
1 Day Kangaroo Island Highlights Tour
3. Tasmania
Tasmania offers a unique blend of pristine wilderness and a commitment to eco-friendly practices. In Tasmania, you can easily find eco-friendly tourist attractions. From Hobart, you can reach the unforgettable Freycinet Peninsula in just two and a half hours. The region is renowned for its sustainable oyster farming industry. From the iconic Cradle Mountain to the pristine beaches of Freycinet National Park, Tasmania is home to diverse landscapes. Explore the UNESCO-listed Tasmanian Wilderness, a sanctuary for unique flora and fauna, and witness the extraordinary biodiversity that defines this island state. Savor Tasmania's renowned culinary offerings, featuring locally sourced and responsibly harvested delicacies. From the world-famous Tasmanian salmon to exquisite cheeses, discover the island's commitment to sustainable food production.
Discover the magic of Tasmania, where stunning landscapes meet a dedication to eco-conscious living and sustainable travel. Experience the island's natural beauty, engage with local communities, and indulge in sustainable practices that make Tasmania a must-visit destination for those who appreciate the harmony between nature and responsible tourism.
See our Eco-Tours to Tasmania here:
5 Day Hobart to Hobart Tasmania Tour
1 Day Hobart to Launceston Tour via Wineglass Bay
3 Day Tour Pass Launceston to Hobart
Embarking on a journey towards sustainable travel is not just the responsibility of travel agencies; consumers play a pivotal role too. In this blog, we'll explore how you, as a conscious traveller, can contribute to reducing your carbon footprint and making your trips more environmentally friendly. From adopting eco-friendly practices to making mindful choices, discover simple yet impactful ways to make a positive impact on the places you explore.
1. Reusable water bottles
Did you know that globally, humans purchase a million plastic bottles every minute? Shockingly, only 23% of these bottles are recycled in the U.S., meaning just 1 in 5 bottles gets recycled, while the other 4 contribute to a landfill, taking a staggering 430 years to decompose. Given the immense scale and the persistent nature of single-use plastic, it poses a significant threat to the environment. The good news is, there are practical ways to cut down on single-use plastic during your travels.
One highly efficient approach is to invest in a reusable water bottle. Many hotels are now providing water stations for guests, offering easy access to water. Apart from the environmental benefits, a reusable bottle also keeps your water cool, unlike plastic bottles that quickly heat up. A reusable water bottle is convenient to carry, enduring, and helps you steer clear of purchasing a plastic bottle every time you need water, ultimately reducing your carbon footprint and minimizing single-use plastic.
2. Say no to single-use plastic
Every day, half a million straws are used worldwide, contributing to an estimated 437 million to 8.3 billion straws scattered along shorelines globally. To address this issue, it's crucial to cut down on our plastic straw consumption. A practical and eco-friendly alternative to plastic straws is the use of paper, bamboo, or metal straws. With an increasing number of businesses and companies adopting sustainable straws, it has become a significant trend.
The tourism industry is also embracing the shift toward sustainable straws, marking a substantial improvement. Unlike plastic straws, which take 200 years to decompose, bamboo straws decompose in just 4-6 months. As a conscientious tourist, you can easily reduce your plastic straw usage by either refusing straws or carrying your own sustainable straw, making a positive impact on the environment, and engaging in sustainable travel.
3. Carbon Offsetting
A significant 8% of the world's carbon emissions stem from tourism, contributed by factors such as air travel, transportation, accommodations, and waste generation. Despite adopting sustainable travel practices, some level of carbon emissions is inevitable. Therefore, carbon offsetting can offer a possible solution as it allows us to mitigate these emissions.
Here's how it works: You can purchase offset credits equivalent to your total emissions. These credits fund certified projects committed to reducing carbon. These initiatives either capture and store existing CO2 or prevent new emissions. Examples include constructing wind parks or planting trees. Beyond lessening your carbon footprint, carbon offsetting benefits the environment, promoting biodiversity and contributing to community well-being. This makes it a perfect tool for sustainable travel.
4. Help local communities
Beyond minimizing the adverse effects of tourism, it's crucial to create a long-lasting and sustainable impact. Achieving this involves safeguarding the environment and wildlife, promoting biodiversity, educating visitors, and supporting local communities during our sustainable travel.
Making deliberate choices about your expenditures is key. Opting for local guides, hotels, and restaurants will have a substantial positive influence on the community. The funds you contribute locally largely circulate within the community, aiding in the creation of a stronger society, enhanced tourism experiences, and a better environment for current and future generations.
Wrapping up our exploration of sustainable travel, let's consider the combined effect we can achieve. Travel is not merely about discovering new landscapes; it involves a shared commitment to safeguard our planet's beauty. Through deliberate decisions, both as a travel agency and as individual wanderers, we can reshape our environment. Together, let's foster a culture of sustainable travel that values the Earth and its wonders. Safe and eco-friendly travels ahead!