Day trips from Hobart. There are so many unique places to visit in just a day from Hobart, Tasmania. Here we let you know the Best day trips from Hobart.
Holidaying in Tasmania soon? Are you landing in Hobart for a few days break and fancy a day trip to see the wonders and wilds of Tasmania?
We have the perfect day trips from Hobart for you. Get out of the city and into nature from Hobart. 
Plenty of variety on our tours to see exactly what Tasmania has to offer. You can base yourself in the quaint city of Hobart and explore from there.  Hobart is surrounded by mountains and beaches, meaning plenty of breathtaking locations to explore. With so much to see, it would be a shame to stay in the city for your whole vacation! We've made a list of the best day trips from Hobart for you to choose from!
If you've just landed in Hobart and are looking for some day trip ideas, we've got plenty of suggestions for the best things to do in Tasmania. Here's a list of some of the best day trips from Hobart and nearby.
Hobart is a great base from which to explore Tasmania, with plenty of attractions within easy day-trip distance. If you're based in Hobart, there are also plenty of things to do in the city itself — from arts and culture to history and adventure.
Hobart is the southernmost capital city in Australia and also the 2nd oldest. Founded in 1803, Hobart is now a busy seaport city and a fantastic place to visit for some history. Popular attractions in Hobart are Salamanca Markets, the Cadbury chocolate factory, and the Cascade Brewery. We also always recommend a visit to Mona, the Museum of old and new Art. A wacky wonderful world inside the most interesting building, it has to be seen to be believed.
Tasmania's capital city is the perfect base for discovering this wild and wonderful island state. You'll find a good range of accommodation options in Hobart, many within walking distance of the waterfront and Salamanca Place, which offers everything you need for exploring beyond the city limits. If you're looking for a few days respite from city life and you want to get in touch with nature, Tasmania has a lot to offer.
From Hobart, we have an abundance of active day trips for you. From the must-do visit to Freycinet National Park and Wineglass Bay to the more historical Port Arthur Penal colony. We also have a few less well-known offerings to Maria Island or Bruny Island that we will tell you more about in this best day trips from Hobart article. So many diverse day tours in only short driving distances from Hobart. 
Take a look at our list of the best day trips from Hobart and enjoy your adventure. So read more to find out!
"Hobart is the perfect base to explore Tasmania with extraordinary day experiences."

Real Adventure Group
Best day trips from Hobart
So you've landed in Hobart, Tasmania and want to see what it has to offer. What do you do? 
This post will discuss some of the best day trips from Hobart, Tasmania..
1. Wineglass Bay
The best day tour from Hobart is a trip to Wineglass Bay. Located in Freycinet National Park, a park known for pristine beaches and the Hazards. They are rugged red and pink rock formations. The pink is created by pink feldspar. the mineral found in the granite of the mountains.
Best day tour from Hobart to Wineglass Bay: 1 Day Wineglass Bay and Freycinet National Park Tour
2. Bruny Island
So many people ask What island is accessible only by ferry and is a popular day trip from Hobart? The answer is the outstanding Bruny Island. One of the most popular day trips from Hobart among both locals and visitors. To get to Bruny Island you need to take a trip on the ferry. The car ferry departs Kettering regularly and only takes 20 minutes to reach Bruny Island. Once on the island, this rugged nature provides you with the chance to spot so much native Australian wildlife. the highlights of your day tour to Bruny Island are The neck and the lighthouse.
A must-do day tour from Hobart for its pristine beaches, cosy bays, unique white wallabies, and outstanding South Bruny National Park.
Our best day trip from Hobart to Bruny Island: 1 Day Bruny Island Tour
3. Maria Island National Park Tour
Historic ruins, sweeping bays, rugged cliffs and mountains Maria Island is a nature lovers paradise. Called Tasmania's Noahs ark it's full of native Australian wildlife. If you are a keen bird spotter Maria Island is for you. If you are not sure on birds you certainly will be by the end of your day on this fantastic island.
Best Day Tour From Hobart to get you there: 1 Day Maria Island tour
4. Port Arthur
A day trip from Hobart to Port Arthur is perfect for those who love history and natural wonders. On this day tour will visit the UNESCO world heritage listed Port Arthur Historic Site and some beautiful sites of the Tasman Peninsula. A short drive from Tasman Peninsular will take you to Port Arthur Historic Site where you'll see remnants of a convict-era penal colony that operated until 1877. A trip to Port Arthur is an amazing way to learn about the Tasmanian history and pay your respects to the convicts who were sent here by Britain.
At Port Arthur Historic Site there are plenty of buildings, ruins, homes, and gardens to be explored. Your visit includes a 40-minute walking tour as well as a 25-minute harbor cruise. There is plenty to explore on this day tour from the museum to the courthouses. We would rate it as the best day trip from Hobart if you want culture, history, and nature.
Our best day tour from Hobart to Port Arthur: 1 Day Port Arthur Tour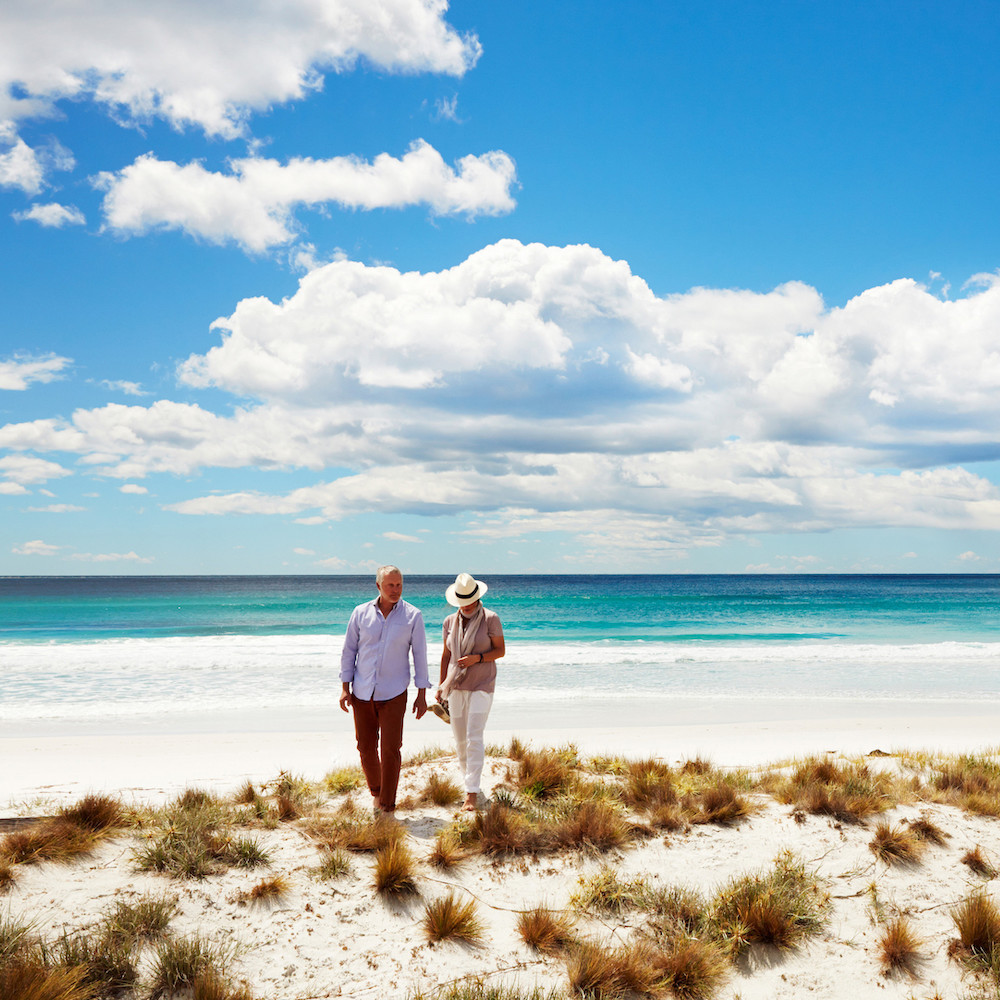 Day Trips from Hobart 
As you can see fun, adventurous, and relaxing day trips are the perfect way to get off the beaten track in Tasmania. A day trip excursion is a great way to experience something different when you're on holiday in Tasmania without having to travel too far. So what are the best places to visit in Tasmania for a day trip?
Tasmania's capital city is Hobart. We've picked some of our favorite day trips from Hobart that you can enjoy whether you're traveling alone, with friends, or with family.
Check out all our trips in Tasmania from longer overland adventures to our one-day tours from Hobart and Launceston here Tasmania tours. 
Our other helpful travel blogs you may be interested in.
Why you should visit Tasmania this year 
Child and Family Friendly tours– including some day trips from Hobart.
We have plenty of the best day trips from Hobart on offer here. 
Now you just have to make a decision… that's the hardest part. If you are on a tight time schedule for your trip to Hobart then we can help you put together a fantastic itinerary to help you see the most in the shortest amount of time. Just get in touch and we can advise the right trips for you.
Have fun exploring Tasmania. 
Real Aussie Recommendations
Try the Oysters on Bruny Island – even if you don't like Oysters we think these will change your point of view forever
Find the Tasmania Devil – spot the Tassie Devil on your day tour from Hobart.