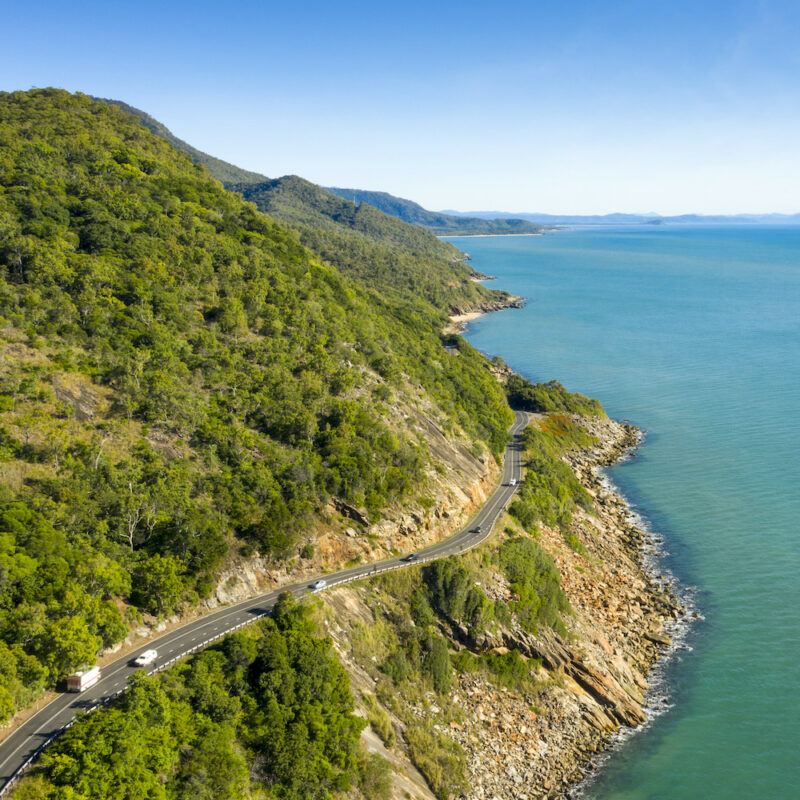 Real Aussie Says
Cape Tribulation and the Daintree rainforest is a wildlife dream, with guided walks, lunch and guaranteed wildlife spotting at our immersion exhibit, Wildlife Habitat.
2 Day Cape Tribulation Overnight Tour
Transport and tour to Cape Tribulation and accommodation included staying overnight in the jungle!
Visit the Daintree Rainforest and the tropics on our Cape Tribulation 2 day tour. Daintree is nature's kingdom: a gem in Australia's crown of natural icons.
Where the rainforest meets the sea. The remote natural magnificence of Cape Tribulation and Daintree Wet Tropics is far from the glitz of civilization and it brings both awe and peace – a true solace to the soul.
Experience the best of Cape Tribulation and the Daintree, with guided walks, lunch, a river cruise and entry into the Rainforest Habitat. Stay overnight in the Daintree and return the next day.
You will stay overnight in Cape Tribulation right in the heart of the jungle at Ferntree Lodge. Just a 3-minute walk from the stunning beaches of Cape Tribulation.
Join us for the best Cape Tribulation 2 day tour from Cairns.
Book Now
We can't confirm real time availability on this tour. Please enquire about this trip and we will get immediately back to you!
Our travellers often combine this trip with some of these trips:
Itinerary
Visit Wildlife Habitat in Port Douglas to learn about Australian Wildlife and have lunch.
Enjoy a cultural experience with an Indigenous Guide at Mossman Gorge National Park.
Cross the Daintree, check in to Ferntree Rainforest Lodge. Gaze at the stars on a guided night walk.
Enjoy the sunrise then choose between a reef adventure on Ocean Safari (additional cost) or explore the Rainforest on guided walks.
Search for wildlife on a Daintree River cruise. Enjoy the views at Wulu-Wugirriga (Alexandra) and Rex Lookouts.
Hat
Sunscreen
Walking shoes
Insect repellent
Water bottle
Bathers/towel.
Money for meals and a small bag for clothes and toiletries.
Solo passengers who book this twin-share option will be paired in a room with another traveller of the same gender. Children must be accompanied by an adult at all times.
Please select a pickup location at time of booking.
Swimming at Cape Tribulation beach is subject to seasonal conditions.
Where will I sleep on this overnight tour?
Solo passengers who book this twin-share option will be paired in a room with another traveler of the same gender.
We do have options for solo use rooms so get in touch for more details.
Is this tour suitable for families?
We take children from 4 years on this tour.
Prices for children are available upon application only.
Children must share a room with a parent.