Journey to the Heart of Australia's Outback
Discover the Best of the Northern Territory – From Uluru to Kakadu, We've Got You Covered with up to 10% off our NT tours!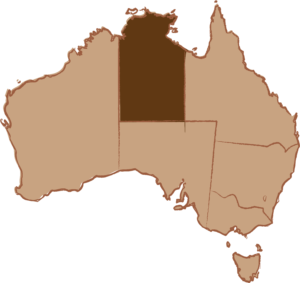 Unlock Your Next NT Adventure
Welcome to the Northern Territory
Working and living in the Northern Territory is the quintessential backpacking experience. Work doesn't really even feel like work in the NT.
Adventure waits around every corner and there are endless sights to be seen. The laidback locals will embrace you and with so much to see, you'll never run out of things to do.
Must-see attractions and experiences in the Northern Territory
Uluru: Also known as Ayers Rock, this iconic sandstone monolith is one of Australia's most recognizable landmarks and a sacred site for the local Anangu people.
Kakadu National Park: This UNESCO World Heritage Site is home to a diverse array of wildlife, stunning waterfalls, ancient rock art, and cultural experiences.
Litchfield National Park: Gorgeous waterfalls, natural swimming holes, and impressive termite mounds.
Mindil Beach Sunset Markets: Held every Thursday and Sunday evening in Darwin, this lively market features food stalls, arts and crafts, and live entertainment against a stunning backdrop of the sunset.
Kings Canyon: This natural wonder features towering sandstone walls, a lush Garden of Eden oasis,
Our Northern Territory Tours are now on sale. Book between 1 APRIL – 31 JULY 2023.
Get Insider Access to Northern Territory's Best-Kept Secrets: Sign up for free Top Tips to Unleash Your Ultimate Adventure!
Top things to see & do in the NT
Exciting News for Young Adventurers: Expanded Working Holiday Opportunities for Australia and the UK!
We have thrilling news that will fuel your wanderlust and open doors to incredible working holiday experiences. Australia and the United Kingdom have expanded their agreements on working holiday visas, making it easier than ever for you to explore and work abroad.
Under the Australia-United Kingdom Free Trade Agreement (A-UKFTA), the age limits for working holiday visas have undergone a significant change.
Starting from 1 July 2023, UK citizens aged 18-35 can now apply for Australia's Working Holiday visa program, extending the age range from 18-30 to 18-35 years old.
This puts the UK among the select few countries allowing individuals up to 35 to embark on working holidays, offering you an extra five years to fulfill your Australian adventure dreams..
The process is simple. Visit the official government websites to apply for these incredible opportunities. UK citizens can apply for the Australian Working Holiday visa program at a cost of £259 ($495).
It's your chance to chase adventure, create unforgettable memories, and broaden your horizons.
So, are you ready to embark on a life-changing working holiday experience? The world awaits your exploration!
Note: The information provided is based on the Australia-United Kingdom Free Trade Agreement and associated announcements by the respective governments. Please refer to the official government sources and websites for the most up-to-date and accurate information.