Australia's Most Epic Walks and Hikes the Great Walks of Australia What is the best walk in Australia? Let's look at some of our best hikes.
Our walking adventures Australia tours have a unique focus on engaging with the natural environment. We have plenty of walking trips in Australia. We love to promote walking and hiking in Australia on our adventure tours.
On our tours you will experience the environment; not just look at it from a moving vehicle. Our trips can be very adventurous but we also try to make them inclusive for everyone. We do say that in order to be fit, active, and able to do our tours you should be able to walk around 6km on rough uneven ground. If you are looking for walking adventures in Australia you have come to the right place. 
On these wals, you will carry some food and water. Some are harder than others, but all are accessible for someone steady on their feet over uneven terrain with a willing mind. There might be the chance for a swim in some regions, like Kakadu National Park. 
These are the best walks you can do on our trips in Australia. Australia's Most Epic Walks and Hikes. W alking adventures Australia are not ranked. One walk isn't better or worse than another. They are all individual experiences. All the regions and tours are very different
"Our trips can be very adventurous ,we also try to make them inclusive for everyone" Real AussIe Adventures
Best walking adventures in Australia
Walking at Cradle Mountain, Tasmania
Deep in the heart of Tasmania is Cradle Mountain. At the base of the mountain near the carpark is Dove Lake. You can take a leisurely walk around Dove Lake and look up to the peak. This is in itself an enjoyable walk. Otherwise, you can walk around the lake and then up the slopes on the trails to gain an elevation on the slopes of Cradle Mountain.
See all the tours that go to Cradle Mountain here.
Check out our helpful articles about Tasmania: for more info:
Why you should visit Tasmania this year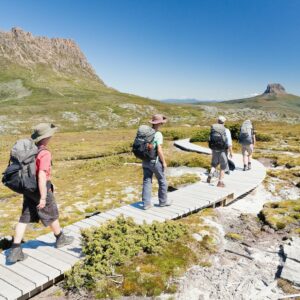 Watarrka Kings Canyon rim walk, Red Centre, Northern Territory
In the heat of the Red centre of Australia, the 500-step walk up the canyon rim can be a bit of a slog. But the effort is worth it. Many people find Kings Canyon more engaging because of the varied terrain and micro-habitats than other destinations in the Red Centre. The walk is 6km long and will take around 3.5 hours. 
See all the tours that go to Watarrka (Kings Canyon) here.
Jim Jim Falls, Top End, Northern Territory
When access allows, normally in late June through to October, in Kakadu National Park, you can walk up the rocky track along Jim Jim Creek to the cliff faces and plunge pool of Jim Jim Falls. The falls may not be flowing when you arrive but you can cool off in the cool pool. The walk in showcases the animal and plant life that thrives around the water source and in the shade. The water flows off the escarpment and pools here after the wet season. It's a diverse and interesting walk with a great reward at the end.
Check out our Jim Jim Falls tours.
MacKenzie Falls, Grampians National Park, Victoria
The Grampians National Park is visited by all tours travelling between Melbourne and Adelaide in both directions. The Mackenzie Falls lie at the bottom of a steep walk down steps to the base of the falls. It's a great place to reflect and enjoy the cool feeling of the water before the exertion of the walk back up the stairs.
Alligator Gorge, Flinders Ranges, South Australia
Step back in time as you walk through this normally dry gorge. The layers of sedimentary rock tell the stories of the ages here in the Flinders Ranges. A great place to walk in the shade created by the gorge walls on a hot day, a real micro-climate.
Karijini National Park gorges, Western Australia
The metallic iron-rich rock that you find in abundance in this special place literally pings when you hit it in Karijini National Park. More interesting though is to walk deep into the gorges that have been carved by water.
Real Aussie Recommendations
Shoes- Make sure you have comfy supportive footwear on tour. Closed shoes are best.
Small daypack- please bring a daypack to carry your water bottle and a jumper or raincoat in.