Wet Season or dry? When is the best time to visit Kakadu National park?
We let you know the best time to head to the Northern Territory to adventure into Kakadu National Park.
The climate of the Top End of Australia in the Northern Territory can be unfamiliar to visitors from overseas. Its unlike other areas of Australia as we have distinct wet and dry seasons.
Kakadu's Aboriginal owners recognise six seasons, they see these in nature by noticing subtle changes in weather, which plants are in flower, and which bush foods are abundant. 
When you google 'perfect time to take a Kakadu Tour' there can be very vague information like 'July and August has no rain'. This can be misleading.
WE THINK ANY TIME OF THE YEAR KAKADU NATIONAL PARK HAS A LOT TO OFFER, READ ON TO FIND OUT WHY. 
Is the wet season the best time to visit Kakadu National Park?
The wet season in Kakadu National Park, which typically occurs from November to April, presents both unique opportunities and challenges for visitors. Whether it's the best time to visit depends on your preferences and what you're seeking from your Kakadu experience.
Advantages of Visiting Kakadu During the Wet Season:
Lush Landscapes: The wet season brings a burst of life to the park, with vibrant vegetation, blooming flowers, and flowing waterfalls creating a picturesque and lush environment.
Fewer Crowds: The wet season sees fewer tourists compared to the dry season, offering a more tranquil and less crowded experience at popular attractions.
Abundant Wildlife: The increased rainfall can attract various wildlife species, making it an excellent time for birdwatching and animal spotting.
Cultural Experiences: The wet season aligns with Aboriginal cultural events and ceremonies, providing an opportunity to learn more about the rich indigenous heritage of the region.
Challenges of Visiting During the Wet Season:
Weather Uncertainty: Heavy rainfall and occasional thunderstorms can lead to flooding and road closures, limiting access to certain areas of the park.
Limited Accessibility: Some sites and tours may be unavailable or restricted due to weather conditions, impacting your ability to explore the park fully.
Heat and Humidity: While temperatures might be slightly lower than in the dry season, high humidity levels can make outdoor activities more challenging.
Insects: The wet season can bring an increase in insects and mosquitoes, which might be bothersome to some visitors.
Ultimately, whether the wet season is the best time to visit Kakadu National Park depends on your interests and your willingness to adapt to varying weather conditions and potential challenges. If you're drawn to lush landscapes, a more serene atmosphere, and unique wildlife opportunities, the wet season could offer a remarkable experience. However, if you prefer more predictable weather and easier access to all areas of the park, the dry season (May to October) might be more suitable for your visit.
Can you visit Kakadu in the wet season?
The tropical summer from November to April is when the Top End truly comes alive. It's when the waterfalls are at their fullest and most majestic, the wetlands transform in a blaze of colour, and millions of migratory birds return to nest in its national parks As you can see the wet season is not so bad after all!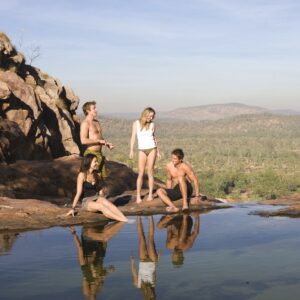 "The tropical summer from November to April is when the Top End truly comes alive.." Real Adventure Group
When is the wet season in Kakadu National Park?
Kakadu's wet season is from November to March. We really enjoy the Top End at this time as it brings epic thunderstorms, bright green landscapes and the flooding of the Yellow Water Billabong. We also like that there are less visitors in Kakadu, so it makes you feel like you are an explorer!
Check out our article: Can you visit Kakadu and Litchfield in the Wet Season? Our 3 day Kakadu Tour tour is our most popular for that time, we have a modified wet season itinerary.
As some of the attractions of the park become flooded during the wet season, other areas become lush waterfalls. So, we have a lot of options to take you to the most spectacular places for swimming and hiking. We are very lucky Kakadu National park is so large at 20,000 Kilometres squared. There is always somewhere to explore!
Mosquitos can be more prevalent during the wet season in Kakadu, which is why we refrain from sleeping outside in swags and use our permanent tents on all trips. You will also be protected from any nightly rainfall in our waterproof tents. We find that the wildlife is more abundant during the wet season as they flock to the areas of water…so great chances for bird spotting at this time of year.
Is the dry season the best time to visit Kakadu National Park
The dry season, which typically spans from May to October, is widely regarded as the optimal time to visit Kakadu National Park for most travelers. Here's why the dry season is often considered the best time:
Advantages of Visiting During the Dry Season:
Ideal Weather: The dry season offers pleasant weather with lower humidity, cooler temperatures, and minimal rainfall. This makes outdoor activities more comfortable and enjoyable.
Full Accessibility: During the dry season, most roads and attractions in Kakadu National Park are fully accessible, as flooding and road closures are rare.
Wildlife Spotting: As water sources become scarce, wildlife tends to gather around permanent waterholes, making it easier to spot animals such as crocodiles, birds, and other unique species.
Abundant Activities: The dry season allows for a wide range of activities, including hiking, camping, swimming, and exploring cultural sites, without the concern of weather-related disruptions.
Cultural Events: Many cultural events, festivals, and guided tours are organized during the dry season, providing visitors with a deeper understanding of the indigenous heritage of the area.
Stunning Landscapes: While the lushness of the wet season has its charm, the dry season showcases iconic landscapes, such as impressive escarpments and stunning rock formations, in their full glory.
Challenges of Visiting During the Dry Season:
Crowds: The popularity of the dry season means that Kakadu National Park can be more crowded, especially at popular sites and attractions.
Higher Prices: Accommodation and tour prices may be higher during the dry season due to increased demand.
Overall, if you're looking for a well-rounded and comfortable experience in Kakadu National Park, the dry season is generally considered the best time to visit. However, keep in mind that personal preferences and travel goals play a significant role in determining the best time for your visit.
Visiting Kakadu in the Dry Season
June, July and August are the 'coolest' months in Kakadu National Park. When we say cool, temperatures are still 86F or 30c everyday. However, it drops a little at night and doesnt have such high levels of humidity. They are also our busiest months in Darwin. We have the Australian school holidays which means lots of Australian families travel to the Top End and take a Kakadu tour. So if you are coming from overseas then please book 3 or 4 months in advance. This is a good idea anyway as you will be able to take advantage of our EARLY BIRD DISCOUNTS!
Crocodiles tend to be more visible in colder weather, as they warm themselves up in the sun. So travelling during the dry season you have more of a chance to spot these awe-inspiring creatures!
We are currently filling fast for all our Kakadu National Park tours July and August. If you would like to travel from Darwin then please let us know ASAP.
When do Jim Jim Falls and Twin Falls open?
Jim Jim and Twin Falls are the most well-known waterfalls in Kakadu National Park. They are only open during the Dry Season. This again can determine when the 'best time' to travel to Kakadu is, as many visitors want to experience these natural wonders. It is estimated for 2022 Kakadu season that will open around mid-June. We follow
Parks Australia
for this information.
Book onto our 5 day tour for a visit to Jim Jim Falls:
The Best time to visit Kakadu on tour
Optimal Timing for Kakadu Tours: Unlocking Your Top End Adventure
Planning a journey to Kakadu National Park from Darwin during the dry season offers a plethora of remarkable touring opportunities. Our array of tour options caters to diverse preferences, ensuring a memorable experience. Ranging from our immersive 3-day Kakadu and Litchfield tour to our comprehensive 5-day expedition covering Kakadu National Park, Litchfield National Park, and Katherine Gorge (Nitmiluk), we've got you covered.
These exclusive tours are available for departure between the months of April and October, with a special highlight on the high-demand months of June and July. Given the immense popularity of these prime months, it's crucial to secure your spot early for the anticipated year of 2024. Don't miss out on this chance to immerse yourself in the beauty of the Top End's most iconic national parks.
For travel in the dry season from Darwin we have plenty of touring options. From our 3 day Kakadu and Litchfield tour to our 5 day tour that takes in the Top 3 National Parks in the Top End, Kakadu National Park, Litchfield National Park and Katherine Gorge (Nitmiluk) These tours depart from April to October, June and July fill super fast so get in quick for 2024. 
Check out more about the 3 day trip Kakadu and Litchfield.
Got more time? Try our 5 Day 4WD Top End Tour
Adventure further off the beaten track and visit ArnhemLand. 
Real Aussie Recommendations
Whenever you are planning on visiting Australia please include Kakadu National Park in your schedule!
One tip: Make sure your camera has a full battery because Kakadu National park has endless lush scenery waiting for you.