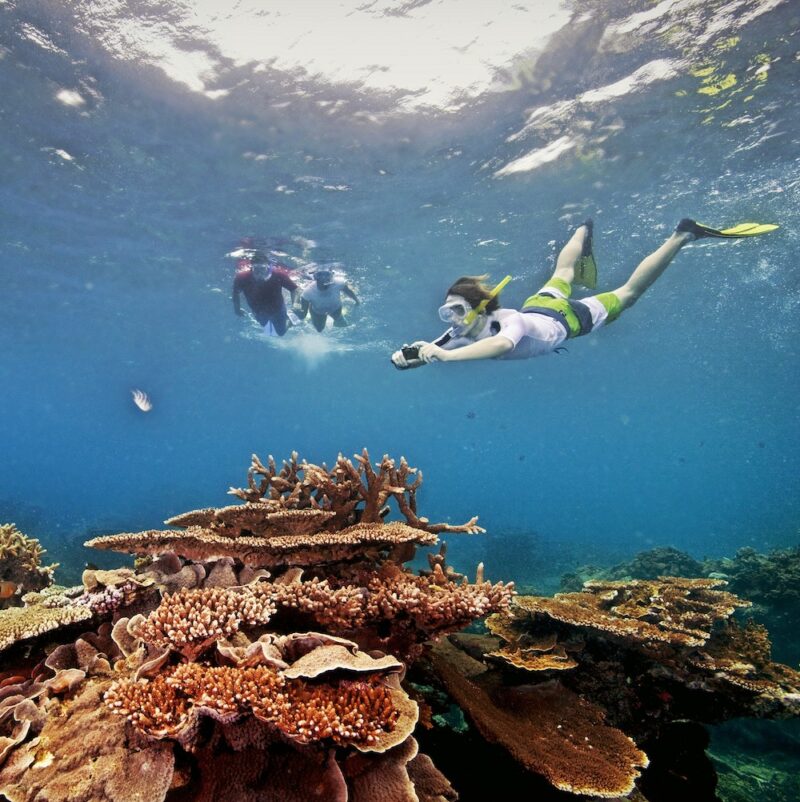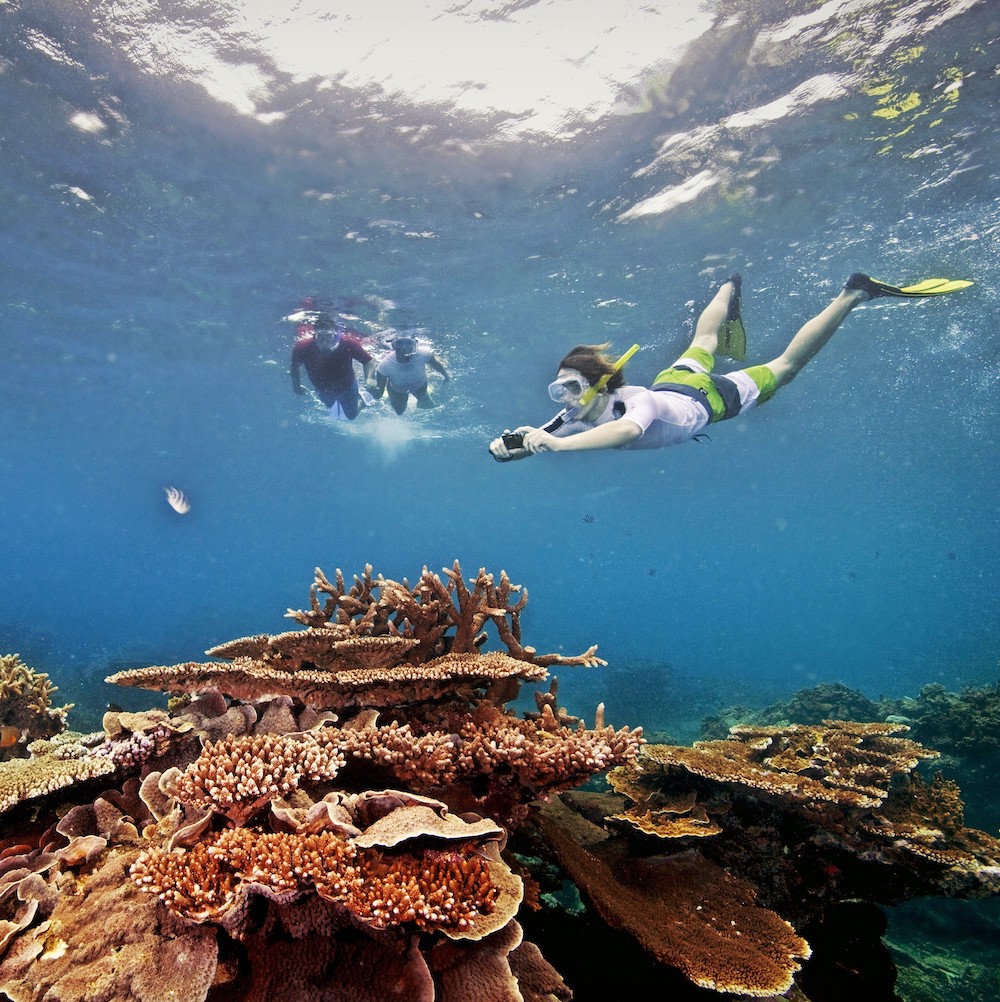 Real Aussie sagt
The Great Barrier Reef is one of the world's most amazing and unique natural spectacles. Visible from outer space, this 348,000 km2 Natural Wonder of the World is a must for everyone to experience.
1 Day Quicksilver Outer Barrier Reef Tour
Take a trip out to the Great Barrier Reef from Port Douglas to Agincourt Reef, a renowned underwater wonderland, on a wave piercing catamaran vessel for a great day trip to snorkel or dive which you won't easily forget.
For your experience of a lifetime, Quicksilver will take you to the renowned Agincourt Reef on the edge of Australia's Continental Shelf, a jewel-like ribbon reef of spectacular coral formations, colourful marine life and exceptional underwater visibility.
Travel on a wave-piercing catamaran with a friendly crew to a reef at the very edge of Australia's Continental Shelf, to an underwater world that is a dazzling kaleidoscope of colour and brilliance. Agincourt Reef is a magnificent ribbon reef where you can experience first hand the magic that is the Great Barrier Reef.
Choose to dive, snorkel, or stay dry and explore the stunning reef from the comfort of a Quicksilver semi-sub, just one metre underwater.
Watch the fish feeding from Quicksilver's unique underwater viewing platform and underwater observatory, or fly in a helicopter over the reef.
Whichever way you choose, you'll bring home a lifetime of memories from this living natural wonder.
Buchen Sie jetzt
We can't confirm real time availability on this tour. Please enquire about this trip and we will get immediately back to you!
Unsere Reisenden kombinieren diese Reise oft mit einigen dieser Reisen:
Route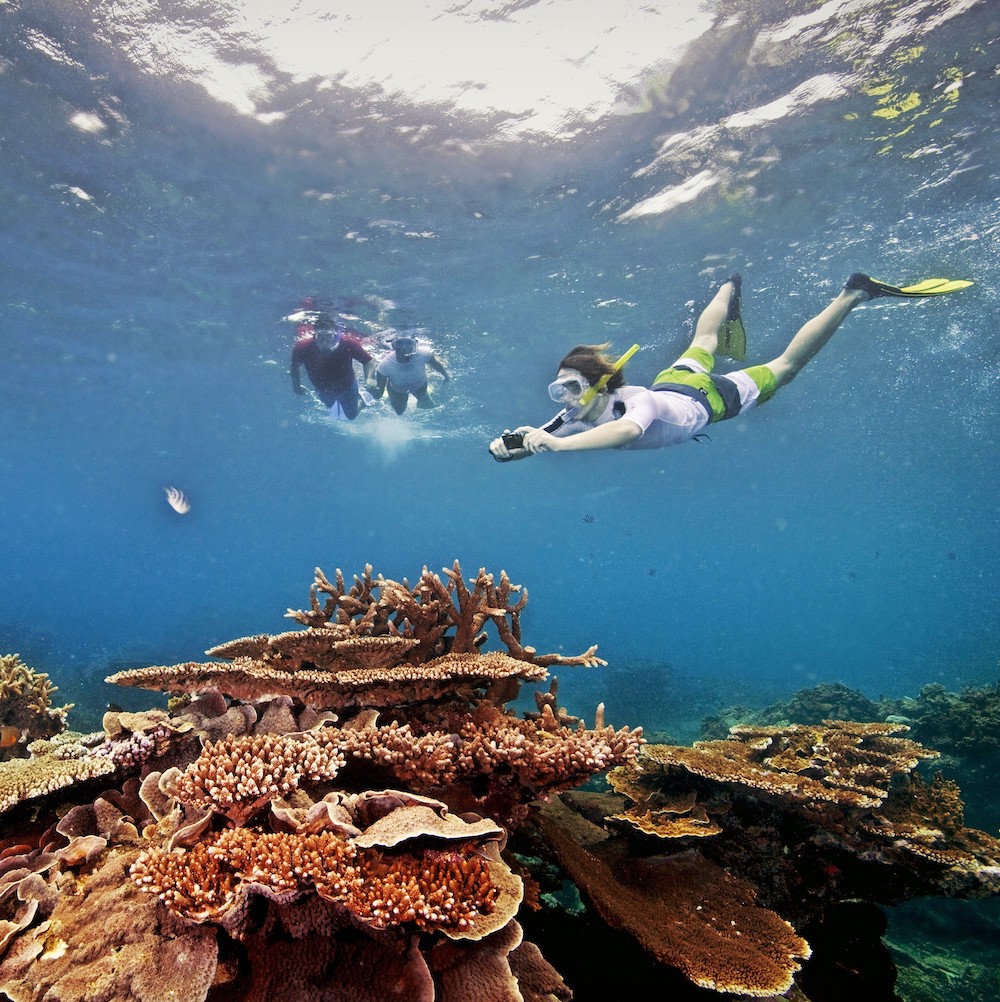 Agincourt Reef, a magnificent ribbon reef where you can experience firsthand the magic that is the Great Barrier Reef.
Watch the fish feeding from Quicksilver's unique underwater viewing platform
Your camera.
Swimming costume and beach towel.
Hat, sunscreen and shirt for sun protection.
Cash for drinks at the bar.
Credit cards for shopping and optional tours.
Underwater cameras available for purchase.
Family Friendly- infants and children are welcome however we recommend they are supervised and are accompanied by a responsible adult at all times. We suggest buoyancy vests are worn and these are available free of charge. Noodles/flotation devices are also available. There are many activities for children and families to enjoy together at the Outer Reef.
Are there toilets and change rooms on the boat or at the reef?
Yes, toilets are found at the rear of the boat. Freshwater showers and change rooms are found on the platform.
Will I get seasick?
Hopefully not. Our wavepiercer catamaran cruise to the Outer Reef provides the smoothest possible ride in all sea conditions. Where there is motion whether in a car, bus, plane or boat, some people will suffer from motion sickness. Motion sickness medication is available onboard for purchase. Ginger tablets are available as a natural alternative motion sickness medication on a complimentary basis. To be effective, motion sickness medications should be taken immediately on boarding prior to travel.
What is the temperature of the water?
The warm waters of Tropical North Queensland range in temperature from 22-29 Celsius (75-85 Fahrenheit) and make for year round comfort for water activities
Does lunch cater for vegetarians?
Yes our daily buffet lunch provides food options for vegetarians. Our meals are prepared daily by our Catering Department utilising local produce wherever possible. All menu options are labelled with ingredients lists. Please contact us directly if you have specific dietary needs.
How far out is the Outer Barrier Reef (Agincourt Reef) and how long does it take to get there?
Agincourt Reef is 72km NE of Port Douglas. Traveling time aboard our state-of-the-art wave piercer catamaran from Port Douglas to Agincourt Reef is 90 minutes.
Do you have prescription masks?
Standard masks magnify objects underwater by 25%. However, prescription masks are also available ranging from -4 to -7 in strength. Prescription masks are available at no extra charge. To obtain one of these masks, see our safety supervisors on the snorkeling platform.