Is Sydney or Melbourne better? Where should I start my Australian Adventure?
Are you starting your working holiday visa in Melbourne or Sydney? Start your gap year down under in either Sydney or Melbourne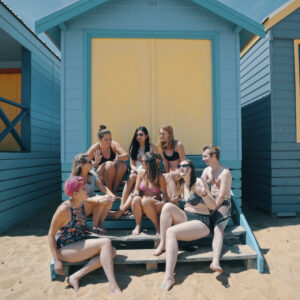 Start your Australia adventure in Sydney
Arriving in Sydney
Sydney is the most famous of all Australia's cities and the largest. Sydney is a beautiful city set on a harbour with amazing beaches and plenty to do. How to get around such a big city? It's super easy with plenty of public transport. the train and bus network are both simple and affordable. We also just love to explore on foot, get some comfy shoes on and get walking.
If your staying in the city centre one of our favourite areas to check out on foot is Hyde Park with its museums and galleries.
Walk a bit further up George Street and you will arrive at the world-famous China Town and Paddy's Markets. From here you can walk around to Darling Harbour, this area is home of the Crown Casino, Hard Rock Café, Madam Tussauds and the amazing Sea Life Aquarium. Then wander through the Rocks, the oldest part of Sydney which has a distinctly old English colonial feel.
A short walk from Central Station is Surrey Hills and beyond that is Paddington, home to some great bars and restaurants. Or you could jump on a train to Newtown and soak up the hipster side of Sydney.
On the iconic waterfront grab, that famous picture of the Harbour Bridge and Opera House, Mrs Macquarie's chair by the Botanic Gardens is one of our favourite spots. Another great way to get that famous photo is from a ferry. Jump on a ferry from Circular Quay and head to Taronga Zoo, Sydney's famous island zoo or head to picturesque Manly. The ferry pulls in to a small harbour with a little beach but just a short walk through the water fountain lined streets of the town and you are on possibly one of the favourite beaches in Australia.
"Heading North, Port Stephens is a mecca for dolphins, go sandboarding or even ride a camel and down South Jervis Bay is home to the whitest sand as well as resident dolphins and the Grand Pacific Drive." Real Adventure Group
However, Sydney has another more iconic and famous beach…a train or a bus will take you to Bondi Junction, from there you can jump on the 333 bus…to Bondi Beach! Home of Bondi Rescue, soak up the rays and grab an after beach drink at Bucket List as you watch the sunset over the sea. If sunbathing isn't your thing take the amazing 2-hour walk along the beautiful coastline through various bays and beaches until you reach Coogee. Grab a drink in the Coogee Bay Hotel and listen to live music.
Just outside of the city there is plenty to do in Sydney. If you are a Home and Away fan grab a bus up to the Northern Beaches and check out Palm Beach. The Blue Mountains, so named because of the Eucalypt that tinges them blue, are World Heritage-listed and the iconic three sisters is one of the most photographed places in Australia. The World's steepest railway and its awesome cable cars are well worth a visit. Take a day trip to the Blue Mountains or if you are going alone on the train make sure you take a trolley tour to get around as the attractions are mainly spread out.
Hunter Valley, Sydney's famous wine region has an abundance of wineries not to mention breweries, cheese and chocolate factories.
Check out our wine tours from Sydney. 1 Day Hunter Valley tour
Heading North, Port Stephens is a mecca for dolphins, go sandboarding or even ride a camel and down South Jervis Bay is home to the whitest sand as well as resident dolphins and the Grand Pacific Drive.
Any visit to Australia isn't complete without a visit to Sydney. Check out accommodation options here.
If your heading up the East Coast after Sydney check out our info on how best to travel the East Coast.
Arriving in Melbourne
We think Melbourne is THE city to visit on your trip down under in Australia. You might choose to start your working holiday adventure in Melbourne and that's a great idea.
The capital of cool, Melbourne is Australia's most cultural, European-like city. It is filled with art (both in the galleries and on the streets) and there is always something interesting going on in terms of music, culture, and food. Since 2011 it has been voted the world's most liveable city and is famous for having the best coffee in Australia.
Why Melbourne is better than Sydney?
The city centre is set on a river and highlights to include Federation Square, quirky laneways and a whole host of diverse architecture, including museums and galleries. Trams are the transport of choice in Melbourne and one of the best ways to explore is with the free tram that does the city loop throughout the day.
St Kilda is the famous beach close to Melbourne city center and about a 20-minute tram ride from the CBD. The beach has a theme park, Luna Park and a backpacker party strip with cheap bars and meal deals as well as the more upmarket trendy cafes and restaurants. Brunswick Street in Fitzroy is the hipster area, check out the op-shops, numerous cafes bars, and restaurants and join them. The arty, fashion capital of Chapel Street has a whole host of shopping options as well as eateries, bars, and nightclubs. There are plenty of parks and gardens, and strolling through the botanical gardens is a lovely way to spend some time.
The famous laneways are worth some time exploring, Hosier Lane for its ever-changing graffiti and Degraves St for the cafes and restaurants. Eureka Skydeck is Melbourne's highest residential building and has a viewing deck on the 88th Floor and even a glass-bottomed floor viewing ledge Crown Casino Complex and is a great place to explore and get lost. They also put on a fire show every night on the hour after dark. Brighton Beach huts are a short journey from the city and great for the Touristy Shots. The city is full of hidden bars down laneways and alleyways that you will go to once and never find again. Best way to find them is to ask a local or wander around and get lost.
"Phillip Island is another popular spot for incredible surf beaches and the tiny little penguins that make the nightly migration from the sea to their burrows with their babies calling them home – too cute!" Real Adventure Group
Places to explore from Melbourne
From Melbourne, you can visit some of Australia's most famous landmarks. The Great Ocean Road is one of the world's greatest drives – joining some of the most scenic spots in Australia. Highlights include the famous Twelve Apostles, Loch Ard Gorge, London Bridge, and the Grotto as well as stunning surf beaches, seaside resorts and stunning. The Great Ocean Road was built by returning servicemen after the war and there is a memorial to them at the start of the road. Although there are no longer Twelve Apostles as some have eroded.
The Great Ocean Road is split into 3 sections:
Surf coast – including the world-famous Bells Beach where the annual Rip curl pro surf comp is held.
Rainforest coast -where there are carnivores snails and koalas to spot
Shipwreck coast- Stunning rock formations and the Twelve Apostles are located.
Helicopter rides are available on the Great Ocean Road and can be added to trips or booked locally. See the Twelve Apostles from the air! Learning to surf on the famous Great Ocean Road is a MUST!
Exploring a little further head to Philip Island. 
Phillip Island joined to the mainland by a bridge is another popular spot for incredible surf beaches and the tiny little penguins that make the nightly migration from the sea to their burrows with their babies calling them home – too cute! The Yarra Valley is Victoria's famous wine region, enjoy a day trip with some cheeky wine-tasting The Mornington Peninsula is worth a visit for its remote beaches and wineries. Wilsons Promontory National Park contains some of the most stunning beaches in Australia, an abundance of wildlife and incredible scenery. The Grampians National Park is full of stunning waterfalls, heaps of kangaroos, and amazing hikes. In wintertime, it's easy to access the snow with daily trips to Mount Buller Ski field. Plus trips to Lake Mountain and Hotham.
From Melbourne, you can take our most popular tour Melbourne up to Darwin to see Uluru, Kata Tjuta, and Kings Canyon plus Kakadu National Park and Litchfield.
How far is Sydney from Melbourne?
You can take the coastal drive from Sydney to Melbourne overnight. So two days driving with one overnight stop. It's around 1032km. 
The inland route will take around 10 hours. 
So if you arrive in Melbourne and want to leave the city for Sydney, you can hire a car and get out of there! 
 A flight is only 1 and a half hours from Sydney to Melbourne. 
Dod did you decide Sydney to Melbourne or Melbourne or Sydney? I hope you are less confused now and have more of an idea of which city you would like to start your Australian adventure in.
If you are arriving on a Working Holiday Visa our arrival packages would be perfect for you. We have one in each city. The perfect arrival package if you are coming to Australia on a Working holiday visa. 
Take a tour when you arrive in Australia to explore the region.