Experience the best of Melbourne with our Ultimate list of things to do in Melbourne.
If you are visiting Melbourne alone you don't want to spend the day in your hotel or sitting in the hostel.

Here we give you a few top tips on places to go and things to see. All of these things can be done as a solo traveller to Melbourne. So pop some good walking shoes on and get outside and explore Melbourne.
Ultimate Things to do in Melbourne
Take a free tram ride
If there's one thing you ought to do in Melbourne; it's take a tram ride. Take the free City Circuit Route and enjoy a tour of Melbourne's major tourist attractions in the comfort of an iconic and traditional Melbourne tram. Maps and tourist information leaflets are available for free on every tram, so there's no excuse not to hop on a tram and travel through the city! 
See the graffiti on the laneways
Melbourne's inner city laneways bring boring brick to life! Their walls act as a canvas to amature and world renowned artists alike. We suggest taking a turn down Hosier Lane, Croft Alley and Flinders court to experience laneways that are covered top to tail in graffiti artworks, vibrant creations and murals. Best of all: the laneways are an ever changing gallery of street art that's completely free of charge! 
Take a day trip to the Great Ocean Road
Cruise the coast and drive Melbourne's Great Ocean Road. This 243 km stretch of road winds past iconic Bells Beach, rainforests and national parks. Keep your eyes peeled for shipwrecks, humpback whales and dolphins as you follow the twists and turns of this world famous touring route. Be sure to stop off and be amazed by the 12 Apostles; a natural wonder that presents the perfect photo opportunity. 
"From chic fashion stores to buzzing laneway cafes, eye-catching museums to award-winning zoos and aquariums, Melbourne has it all"

Real Adventure Group
Visit Penguins at Phillip Island
If you're a lover of animals great and small, Phillip Island is for you. This island is home to the smallest penguin species in the world! What they lack in size, they pack in cuteness. In an unmissable Melbourne experience, watch the Penguins parade the beach at night as they emerge from feeding in the water. Phillip Island has plenty more on offer too- with scenic tours, cruises, and packages to make Melbourne memorable for anyone! 
Eureka tower
Standing at 286m above ground, the Eureka tower offers breathtaking panoramic views of the Melbourne city skyline. If you thought that was something to brag about, you'll also ride the fastest elevator in the Southern Hemisphere to get there! See all of Melbourne's attractions by bird's eye view and even enjoy a sky-high meal or coffee! Eureka tower is a cheap family favourite or tourists dream. 
Museums
The Melbourne Museum showcases all things science, environment and history. Entry is free for concession holders and children and the Museum is open all year round. Learn and discover more about Australia's rich history or book yourself into one of many exciting exhibitions. The Melbourne Museum has something for everyone! 
Queen Elizabeth markets
Make the most of Melbourne's Market life by visiting the Queen Elizabeth Markets. These markets are packed full of stalls selling fresh produce, divine foods and quirky trinkets and clothes. All stalls offer cheap, affordable items that make perfect souvenirs or gifts. The market is the largest of its kind in the Southern Hemisphere and is situated in the heart of Melbourne. 
MCG
The Melbourne Cricket Ground is Australia's premier sporting stadium, playing host to both international and national sporting events. Fans of cricket, soccer, and AFL flock to the stadium to cheer on their favorite team in the MCG'S world-class facilities. The stadium is encircled by monuments of Australia's sporting history, but visitors also have the opportunity to enjoy a private tour of the stadium at a cheap cost! 
Werribee open range zoo
Melbourne is home to one of the world's leading animal conservation centres; Werribee open range zoo. This facility houses animals from all over the globe in plentiful spaces that mimic their natural habitat. There are no tiny cages but instead spacious reserves for the animals to roam. The Zoo offers a  unique range of guided tours and interactive experiences and is free for kids during Melbourne's school holidays! 
St Kilda
If you're after a laid-back beach vibe, vibrant cafe culture, and a taste of local life; St Kilda is a must-do! Located just outside of Melbourne's CBD, St Kilda combines the best of city and coastal living. Choose to sit back and enjoy a coffee, listen to a local act live by the beach or hire a bike and enjoy a scenic ride by the bay. St Kilda is also home to Luna Park, a fun theme park for kids of all ages (yes that means adults too!). St Kilda gets two thumbs up from us!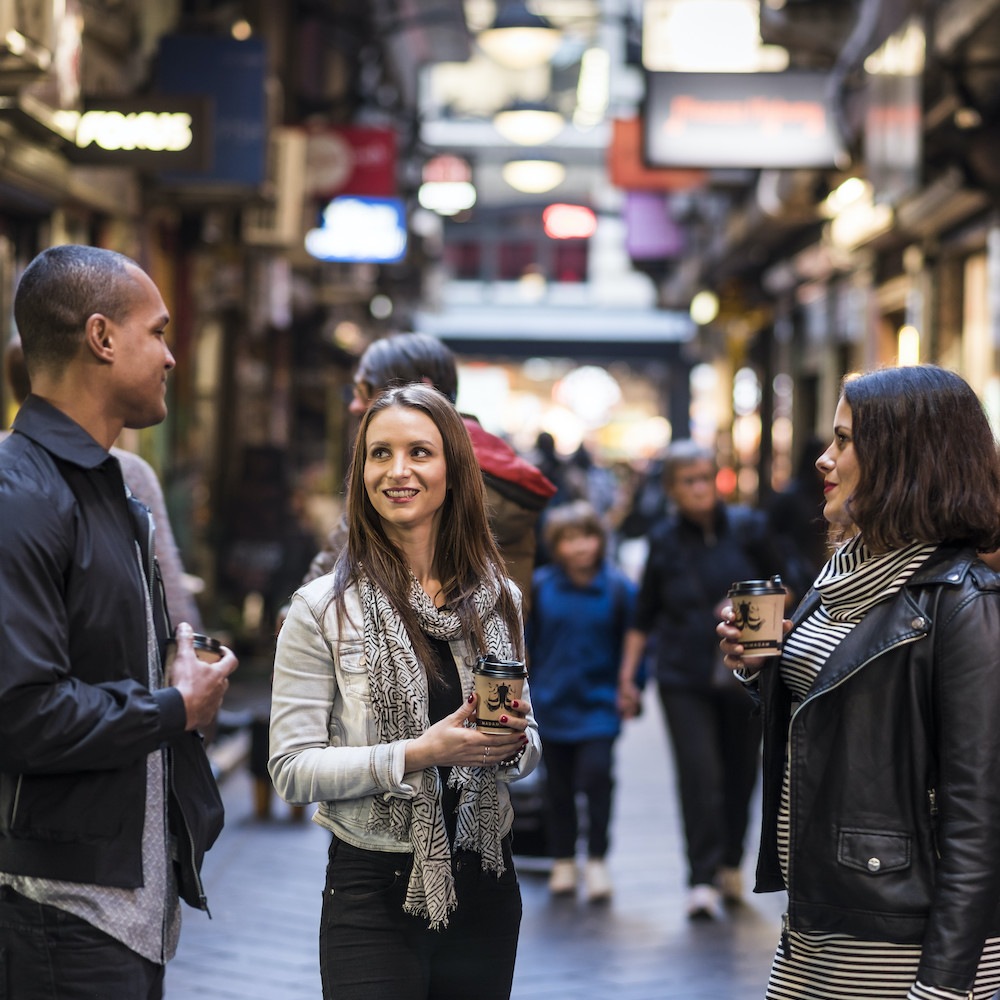 Take a tour from Melbourne to explore more of Victoria.
Real Aussie Recommendations
Drink a coffee – even if you don't like coffee we think these will change your point of view forever when you have a Latte in Melbourne 
 Walk- explore of foot to check out hidden laneways and find funky bars and cafes.