Real Aussie sagt
Escape the hustle and bustle of city life and join us on the Larapinta Trail. Experience the peace and tranquility of the Australian outback on our guided tour,
5 Day / 4 Night Larapinta Trail Trek
Trek the Larapinta Trail: a stunning 223km trek through the heart of the Australian outback, with breathtaking views and ancient landscapes.
Experience the stunning beauty of the Australian outback with our guided Larapinta Trail Tours. Hike through breathtaking landscapes, camp under the stars, and immerse yourself in the rich culture and history of the region. Book your adventure today!
Prepare for an unforgettable adventure on the Larapinta Trail, one of Australia's most popular wilderness walks that covers up to 14 km of graded trail daily, allowing plenty of time to relax and savor the rugged beauty of the West MacDonnell Ranges. The ancient environment is steeped in Dreamtime, revealing magic and mysteries that are waiting to be explored. Contrary to popular belief, this region is not a featureless plain of winding red sand hills with sparse grasses and bushes. In fact, Central Australia boasts the tallest peaks in the Northern Territory, the oldest dramatic landscape in Australia, and a plethora of ravines, escarpments, sensational waterholes, and diverse life forms that will pique your curiosity.
Stay in our beautiful private and permanent campsites on indigenous land complete with permanent safari tents.
You're in for a truly excellent wilderness experience, immersed in the peace and tranquility of the landscape. As we prepare for your upcoming Larapinta trek on the stunning Arrernte country in the heart of Central Australia, Walking Country Pty Ltd acknowledges the many Traditional Owners of the lands on which we operate and pays our respects to their Elders past, present, and emerging as the custodians of the oldest cultures on the planet. Get ready for an adventure of a lifetime on our Larapinta trail tours, and we look forward to having you join us!
Buchen Sie jetzt
We can't confirm real time availability on this tour. Please enquire about this trip and we will get immediately back to you!
Unsere Reisenden kombinieren diese Reise oft mit einigen dieser Reisen:
Route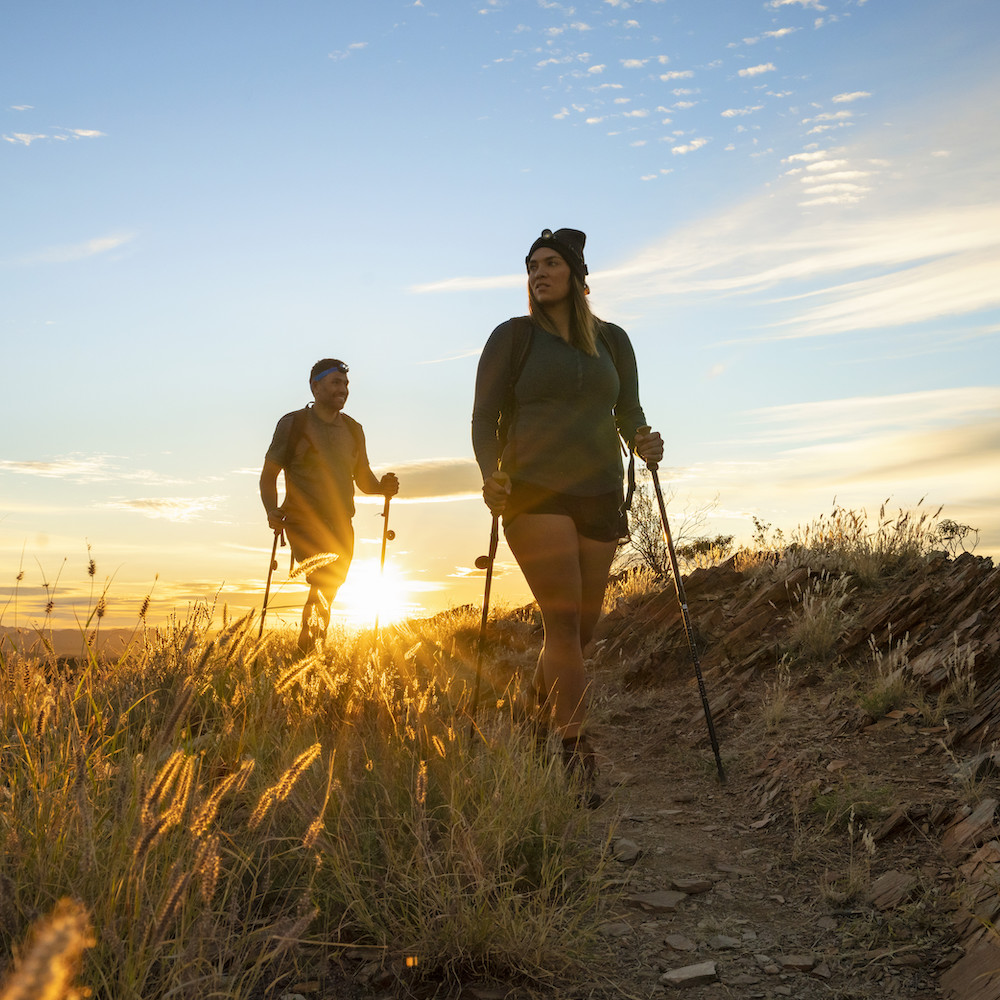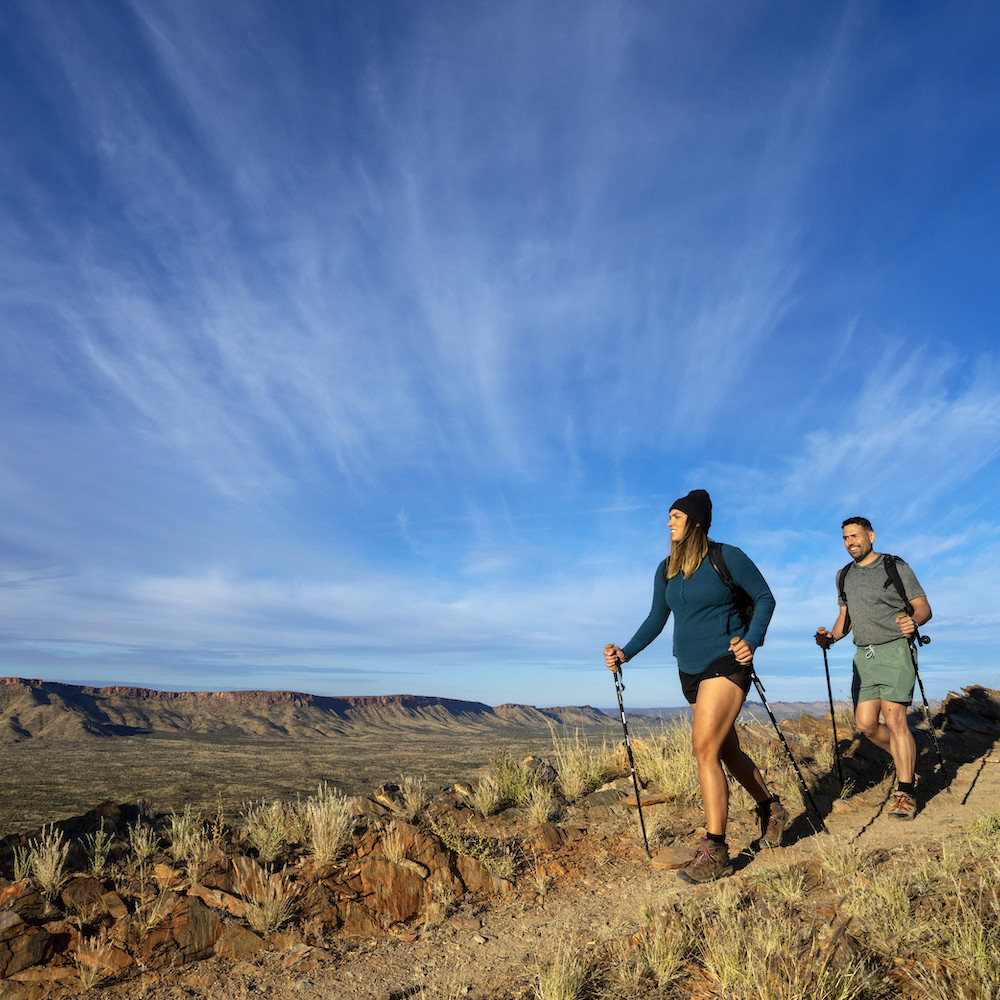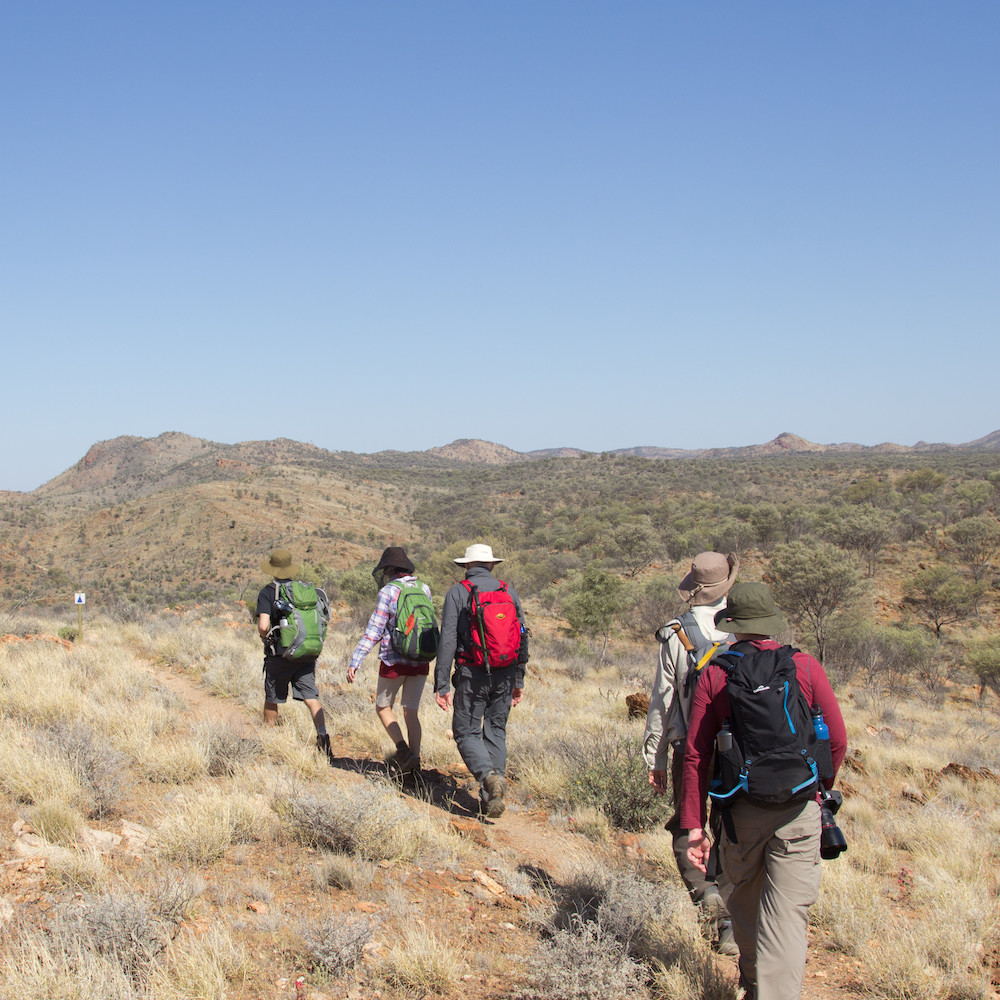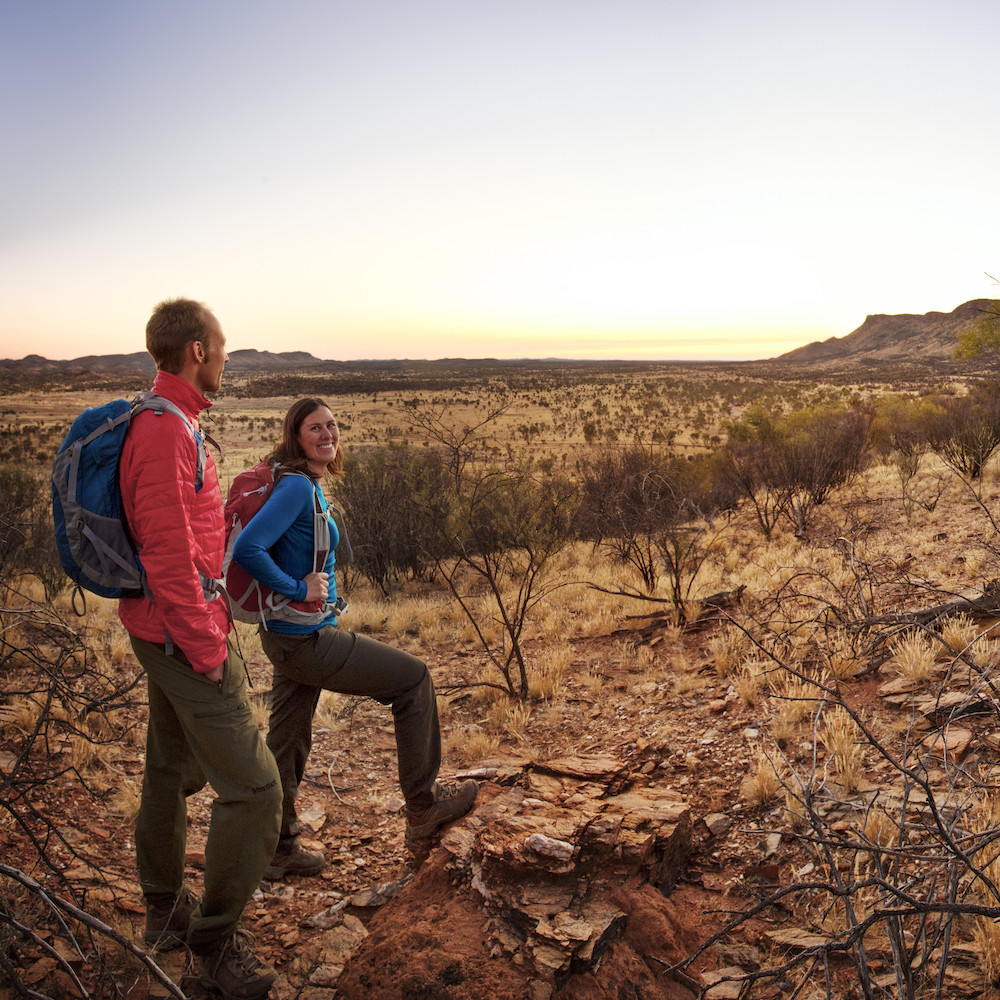 Discover the Red Centre's Larapinta Trail, a top Australian wilderness trail
Immerse yourself in the rugged beauty of West MacDonnell National Park (Tjoritja) on Arrernte country
Enjoy dramatic views from Euro Ridge (Section one) and Counts Point Lookout (Section 8, 1140 m altitude)
Take a dip in impressive waterholes like Ormiston Gorge and Ellery Creek
Relax in our private campsite on traditional land, in permanent safari tents or Aussie Swags
Savor the taste of organic bush foods straight from the Central Desert around the campfire
Explore ravines and escarpments and witness diverse life forms
Watch the sunrise from Mount Sonder, one of the Territory's highest mountains
Passengers should note that adventure travel and the Larapinta Trail, in particular, involves a higher-than- normal risk; we highly recommend taking out appropriate travel insurance. Please consider the following emergency evacuation procedures when purchasing your travel insurance and ensure appropriate
cover.
The Larapinta Trail is a wilderness experience defined by remoteness, mountain ranges and extreme temperatures. In case of injury, evacuations can take anywhere from a couple of hours to more than twelve hours, depending on location and whether the rescue attempt extends into the night.
All passengers participating in our tours do so at their own risk, and no responsibility can be accepted for any loss, injury or accident. Passengers are responsible for any additional costs involved should such instances occur.
All passengers will be required to sign a liability waiver before departure. All passengers must wear shoes at all times, use sunblock and wear hats.
Is there electricity in the campsites/ tents?
Due to the remote nature of our permanent campsites, we do not have reliable electricity and charging facilities in our campsites/ tents. Therefore, we recommend bringing power banks to charge your electronic items.
I require a CPAP machine for sleep apnoea, can I still participate in this adventure?
Yes, you can. However, you will be required to bring batteries/ power banks to charge your machine as we cannot guarantee access to reliable electricity sources.
Is there phone reception at the campsite/ on the trail?
It's unlikely that you will be able to get phone reception at the campsite. There is a sporadic and limited Telstra signal on some high points of the trail and an Optus signal at Ormiston Gorge, which we will visit most days after trekking. However, it is best to prepare for no reception and advise your loved ones accordingly – enjoy switching off and returning to nature!
Do I need to bring a sleeping bag?
Walking Country supplies all bedding, including linen, sleeping bags, pillows, and blankets. However, if you prefer to use your own, you can, of course, bring it. Alternatively, consider a sleeping bag liner, a smaller option to carry with you on the plane.
What is the walking terrain like?
The daily treks are a combination of sandy trails with small to medium rocks, steep ascents and descents of ridgelines, hills, gorges, and some water crossings
Are alcoholic and soft drinks provided?
Alcoholic and soft drinks will not be supplied as part of your package. You are welcome to bring your own beverages and let our guide know to store them for you. It is important to note that excessive drinking is not permitted on this tour due to the physical nature of our adventure and the risk of dehydration. We provide drinking water, hydrolytes, some juices, tea, coffee, and milk.
Do I need trekking poles?
It is optional to have trekking poles. If you usually hike with trekking poles or prefer them for extra support/ mild injuries such as bad knees, bringing a pair along is an excellent idea. Ensure the trekking poles have rubber on the points so that no damage is done to the bricks on the wall. You will need to pack these in your checked luggage for the flight.
Do I need to bring a head torch?
It is compulsory to bring one as you will be trekking early in the morning (Mt Sonder sunrise trek starts at approx. 3 am) and for navigation around the campsite at night as there is only limited solar lighting.
What should I wear while trekking?
It is important to make sure you are comfortable. Check the weather forecast before departure, as temperatures can be variable. The best tip for trekking clothing is to wear layers. You will need to bring warm clothes, including long pants, a good jumper, a windbreaker, a beanie, a scarf, gloves, and good woollen socks for summit day (Mt Sonder). You will be entirely exposed during the day, so a good hat and sunscreen are vital. Depending on the season, there can be many flies in the outback, so please consider taking a fly head net with you.
Do I need to carry a full backpack on each trek?
No, you will only be required to carry your day pack with items necessary for each section of the trail. Your main luggage will be kept in your tent at our permanent campsite.