Ocean Safari Half Day Great Barrier Reef Tour
Ocean Safari offers an exhilarating ride to snorkel the pristine untouched Great Barrier Reef off the Daintree Coast at Cape Tribulation.
Are you ready for an unforgettable adventure? Get ready to embark on Ocean Safari Cape Tribulation, an exhilarating tour that will take you on an extraordinary journey to explore the pristine and untouched wonders of the Great Barrier Reef off the breathtaking Daintree Coast at Cape Tribulation. This half-day eco tour is a snorkeler's paradise, with two incredible snorkeling destinations, each boasting a dazzling variety of marine life and coral species.
Experience the wonders of the Great Barrier Reef with our exhilarating Morning Trip. Dive into the crystal-clear waters off the untouched Daintree Coast and embark on an adventure of swimming with turtles and snorkeling in two remarkable snorkel destinations.
Book now to start your morning with an unforgettable exploration of this pristine marine paradise.
Buchen Sie jetzt
1. Wie viele reisen?
2. Wählen Sie ein Datum aus
3. Sieht großartig aus!!! Buche es!
Great Barrier Reef Snorkel Tour AM
We can't confirm real time availability on this tour. Please enquire about this trip and we will get immediately back to you!
Unsere Reisenden kombinieren diese Reise oft mit einigen dieser Reisen:
Route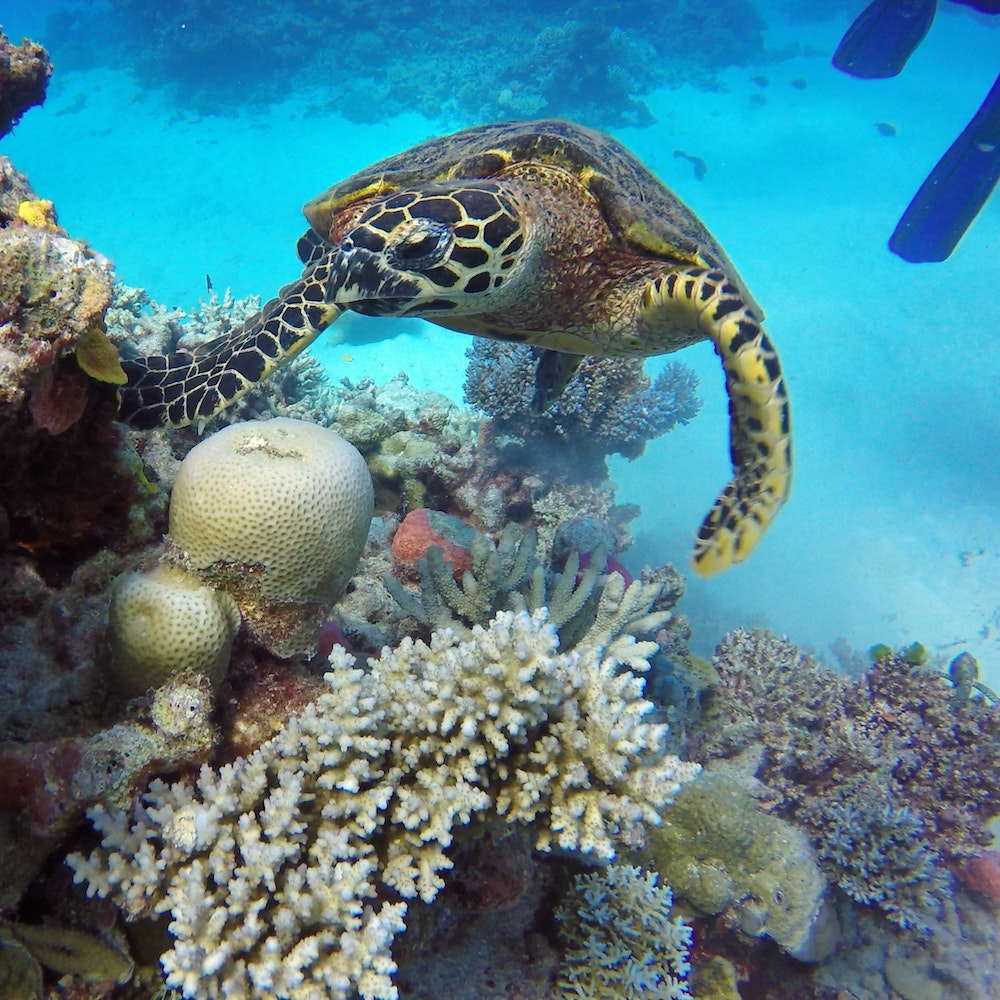 Swimmers
A bag including a towel and hat
A jacket during winter to protect you from wind and for warmth after snorkelling
Cameras in a waterproof case or Tupperware
A sense of humour is always welcome!
The tour itinerary is a guideline only and is subject to change depending on tide, wind and other weather conditions.
What time are the tours and when can I check-in?
MORNING TOUR: 8:30am to 12:30pm. Check in time for the morning tour begins at 7.40am. We suggest that any guests making their own way to arrive no later than 8.00am.
Do you offer an accommodation pick- up and drop-off transfer service?
Yes we can offer a courtesy pick up and drop off from within the local Cape Tribulation area. Any guests travelling from outside of this area including Cairns, Port Douglas and Daintree Village will need to self-drive.
Do you provide snorkel equipment?
Yes, we provide snorkels, masks and fins, and stinger suits through the stinger season. Wetsuits are also available for hire. You are welcome to bring your own if you have them.