Discover the Beauty of the Australian Outback on the Larapinta Trail
"Australia is home to some of the worlds most stunning landscapes"

Real Adventure Group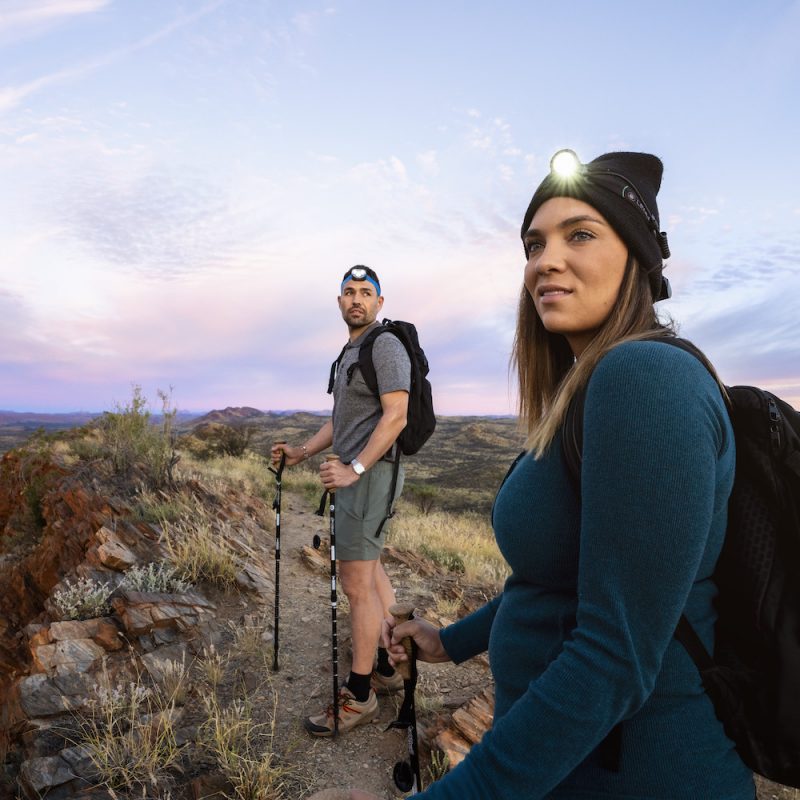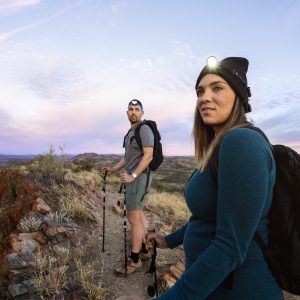 Are you looking for an unforgettable adventure that takes you through some of the most breathtaking landscapes in the Australian outback? Look no further than the Larapinta Trail, a 223-kilometer hiking trail that winds through the rugged West MacDonnell Ranges in the Northern Territory. Real Aussie Adventures is proud to offer a new tour that takes you on a journey along this iconic trail, where you can experience the beauty of the Australian wilderness and learn about its rich cultural heritage.
In this blog, we'll answer some of the most common questions about the Larapinta Trail, including where it is, how long it is, how hard it is, how long it takes to walk, how far it is from Alice Springs, what type of hiking shoes to wear, and who offers guided walks. We'll also give you a taste of what you can expect on our Larapinta Trail tour, and why it's a must-do for any adventurer.
Where is the Larapinta Trail?
The Larapinta Trail is located in the Northern Territory of Australia, running through the West MacDonnell Ranges. The trail starts at the old Alice Springs Telegraph Station and ends at the summit of Mount Sonder, passing through some of the most stunning landscapes in the Australian outback along the way.
How Long is the Larapinta Trail?
The Larapinta Trail is 223 kilometers long, and it typically takes between 12 and 14 days to complete the entire trail. However, it's possible to hike sections of the trail that range from one to six days, depending on your fitness level and time constraints.
How Hard is the Larapinta Trail?
The Larapinta Trail is considered to be a challenging hiking trail, with steep ascents and descents, rocky terrain, and unpredictable weather conditions. Hikers need to be in good physical condition and have some previous hiking experience to tackle this trail.
How Long Does it Take to Walk the Larapinta Trail?
As mentioned earlier, it typically takes between 12 and 14 days to complete the entire Larapinta Trail. However, it's possible to break up the trail into smaller sections and take anywhere from one to six days to complete each section.
How Far is Larapinta Trail from Alice Springs?
The Larapinta Trail starts at the old Alice Springs Telegraph Station, which is located about 4 kilometers north of the town center. It's easy to get to the trailhead by car or shuttle bus, and the journey takes around 20-30 minutes.
What Type of Hiking Shoes for Larapinta Trail?
When hiking the Larapinta Trail, it's important to wear sturdy hiking boots that provide good ankle support and grip. The trail can be rocky and uneven, and good shoes will help prevent slips, falls, and other injuries. It's also a good idea to bring along a pair of lightweight, breathable shoes for when you're not hiking, as well as plenty of socks to keep your feet dry and comfortable.
Who Does Guided Walks of the Larapinta Trail?
Real Aussie Adventures offers guided walks of the Larapinta Trail, led by experienced and knowledgeable guides who are passionate about the Australian wilderness and its cultural heritage. Our tours include all accommodation, meals, transportation, and equipment, so all you need to bring is a sense of adventure and a willingness to explore.
5 Day / 4 Night Larapinta Trail Trek
Larapinta Trail Tours
Our Larapinta Trail tour is the perfect way to experience the beauty of the Australian outback, with all the comforts and conveniences of a guided tour. On our tour, you'll hike through some
of the most stunning landscapes in the country, including ancient gorges, rugged mountains, and expansive vistas. You'll also have the opportunity to learn about the cultural heritage of the area, including the stories and traditions of the Indigenous people who have lived in the region for thousands of years.
Our Larapinta Trail tour is designed to provide you with a comfortable and enjoyable hiking experience, with all the necessary equipment and provisions provided. We use high-quality camping equipment, including spacious tents and comfortable sleeping mats, and our guides prepare delicious meals using fresh, locally sourced ingredients.
During the tour, you'll also have the chance to take part in a range of additional activities, including swimming in natural waterholes, exploring ancient rock art sites, and stargazing in the clear night sky. You can even take a scenic helicopter flight over the West MacDonnell Ranges, giving you a bird's eye view of the stunning landscape below.
In conclusion, the Larapinta Trail is a truly unforgettable hiking experience that offers the chance to explore some of the most stunning landscapes in the Australian outback. Whether you're a seasoned hiker or a first-time adventurer, our Larapinta Trail tour offers the perfect combination of adventure, culture, and comfort. So why not join us on this incredible journey, and discover the beauty of the Australian wilderness for yourself? 
Book your tour with Real Aussie Adventures today, and experience the trip of a lifetime.
More information on our Larapinta Trail Trek Tour
If you're an avid hiker looking for a challenge, the Larapinta Trail in Australia might be the perfect adventure for you. With its stunning landscapes and unique terrain, this trail offers a range of difficulty levels that will push your physical and mental limits.
The Larapinta Trail is divided into 12 sections, ranging from Grade 3 to Grade 5 on the Australian Walking Track Grading System. On average, you will be trekking for 6-9 hours daily, covering between 11-16km of graded trail per day. The terrain is a combination of sandy trails, small to medium rocks, steep ascents and descents of ridgelines, hills, gorges, and some water crossings. This means you need to be in good hiking fitness to ensure the best possible experience on your adventure. You'll need to carry a small daypack weighing around 7-10 kg, including all your trekking requirements like water, sunscreen, snacks, camera/phone, and any other personal items.
The daily trekking distances and grading levels vary across the 12 sections, with some days being more difficult than others. For example, the Mount Sonder Climb on Day 4 is a Grade 5 – difficult trail, while Day 3's trek from Ormiston Gorge to Glen Helen Gorge is a Grade 3 – moderate trail. The itinerary may be swapped on the ground due to operational reasons, so be sure to stay flexible and prepared for any changes.
The Larapinta Trail is very exposed to sun and extreme weather conditions, with temperatures ranging from close to 0 degrees Celsius in the early hours of the day to a maximum of 30 degrees Celsius during the day. Most trek departures are during the winter months, providing ideal trekking conditions with clear blue skies, low-mid 20°C, and cool breezes during the day. However, you should always be prepared for any weather changes, and pack a combination of lightweight, breathable clothing that protects from the sun and heat, in addition to thermal layers and windbreakers that protect from cold temperatures and strong winds.
When temperatures are forecast to be above 36 degrees, the operations team may alter the timing and itinerary of a tour to ensure the safety of guests and drivers/guides. In case of forecasted increases in temperatures, guides have the authority to alter the tours itinerary to provide safer alternatives or timings to avoid walks in extreme heat.
Overall, the Larapinta Trail is a challenging adventure that will reward you with stunning scenery and a sense of accomplishment. The daily schedule guideline includes leisure time for campfire, star talks, and socializing with fellow passengers, so you can unwind and connect with nature after a long day of trekking. With the right fitness level, gear, and mindset, you can enjoy this adventure of a lifetime.
Packing List for Larapinta Trail Tour
Hiking Gear:
Daypack for walking
Sturdy, lace-up trekking boots with adequate ankle support and tread (worn in with spare laces)
Trekking poles (optional
3-5 Liters water bladders or bottles (bottles not recommended)
Head torch with spare batteries (essential for the Mt Sonder hike and around camp at night)
Insect repellent/fly net or sunscreen with fly repellent
Electrolyte tablets
Additional snacks such as energy bars or similar (we provide dry fruit and nuts, fresh fruit, some muesli bars, lollies and some cakes)
Re-usable zip lock bag for snacks (we try to protect our beautiful environment wherever possible, please think sustainable)
Towel
Clothes:
Soft duffle bag (max 15kg)
Lightweight, quick-drying clothes suitable for longer hikes/walks
Thermal/fleece warm clothes for night/sleeping/early treks (Mt Sonder)
Windbreaker/waterproof jacket for rain
Gloves and a beanie for very cold days
A pair of hiking socks, ideally one per day
A pair of lightweight shoes that can be worn with warm socks for around camp
Extra warm clothes for the campsite
Swimmers and towel for showers/swimming
Pair of thongs/flip-flops or similar (good for bathroom visits)
Main bag: soft sports bag or large backpack that will be packed and transported on the bus
Sun Protection:
Wide-brimmed sun hat
Sunglasses & sunscreen
Long sleeve shirts for sun protection
Other:
Blister bandages and tape
Anti-bacterial gel/wet-wipes and/or toilet paper for the treks/plastic bag for rubbish collection to dispose waste according to national park rules in designated containers
Personal items such as toiletries and medications
Wet wipes or similar for personal hygiene
Power bank to charge devices as there is no electricity at camp
Camera/phone
Lock for bags
Instant heat packs for Mt Sonder
Summit/hot water bottle for the campsite (optional)
Day Pack List:
18-30L day pack with load-bearing waist harness
3-5 liter water bladder and spare water bottle
Small personal first aid kit with blister bandages and tape
Sunscreen, sunglasses, and sun hat
Waterproof lightweight jacket
Toilet paper, rubbish bag, wet wipes, and hand sanitizer
Snacks and electrolytes
Phone/camera
Small quick-drying towel for water crossings
Any other personal items you might like to take
Tip: Wear trekking boots on flight and pack trekking clothes in carry-on in case of lost luggage.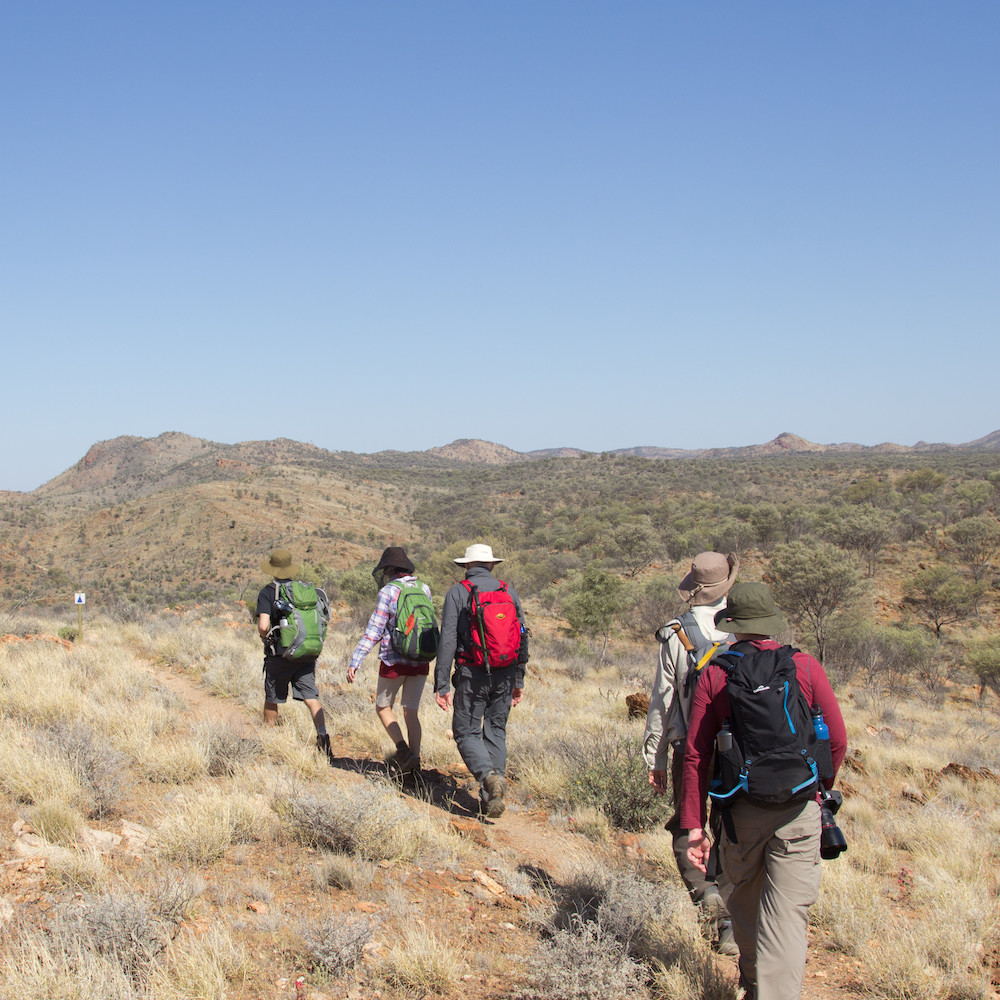 Real Aussie Recommendations