How Byron Bay Is More Than Just a Town ?
Golden sands entrapped by cascading waves falling perfectly, emanating a gorgeous white colour at the break, dolphins playing, whales jumping, surfers dancing across the rolling water with ease to a backdrop of sunshine and wanderlust Byron Bay stands unique in Australia.
The lighthouse looks approvingly across the free spirited community like a proud parent hiding the naughty, forgotten Tallows beach behind the cape waiting to be discovered by a fortunate traveller.
As the sun rises on another stunning day in the bay, people awake with their hearts full of content of being able to call this tiny town home. You can be forgiven for stumbling down to Tallows beach early in the morning and watch as an orange bulb teases up over the horizon to bathe the sky in a stunning array of red, yellow, orange, purple and blue, providing the perfect oil painting backdrop for a before work surf. Trudge through the fine sand, feeling it between your toes and fumble your way off the beach and meander into the sleepy town awakening to capture the day.
Cars slowly pass through the main streets,pedestrians and families drop kids off at schools and pass by a local cafe to pick up a gorgeously made, irresistibly addictive organic cup of liquid gold, accompanied by a locally produced cake, brownie or something more heart smart.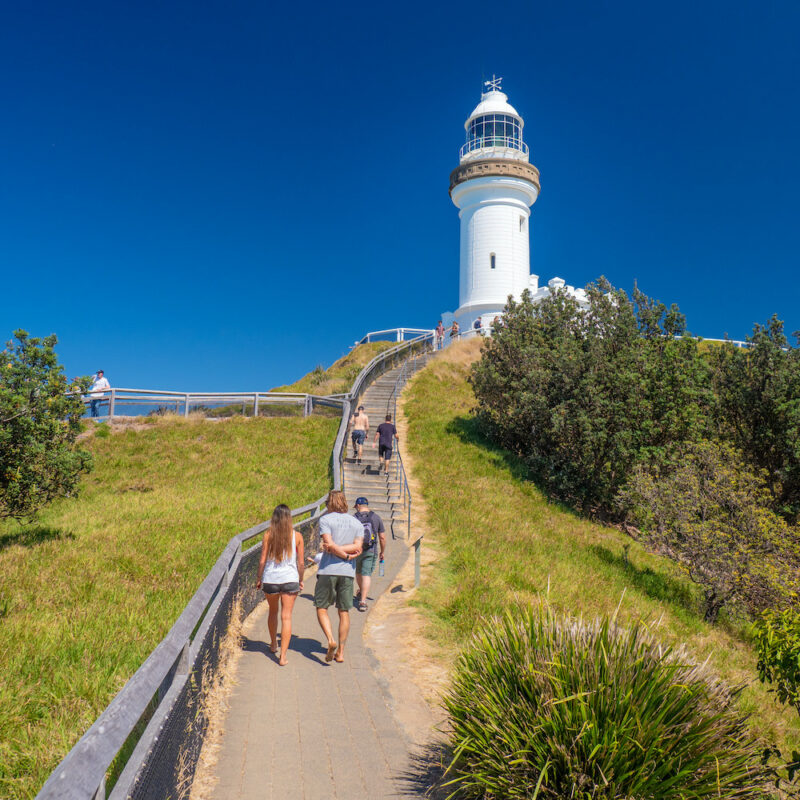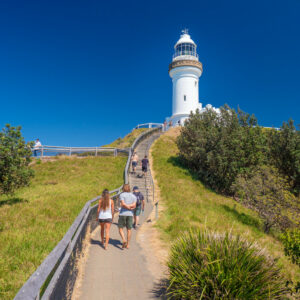 Its difficult to be blue in this unique town, locals walk around with an infectious upbeat attitude. Even the stroll into work is wondrously quiet as birds and people converse in happy chatter with the only sound breaking it is the soft roll of a skateboard or ding of a push bike gliding by. The motivation to try new things, find what you've been looking for, meet unique and interesting people, converse with multi-lingual and religious people can be achieved here with aplomb. Here you can find Christians, Atheists, Buddhists, Hindus, Muslims and Hari Krishna all absorbing the Byron spirit and getting caught up in its bubble, you don't need to follow their beliefs, just that you are you and you should accept and be happy with that.
Buskers line the street invading your ears with beautifully crafted tunes accompanied with signs of self belief and aid. Only here can you find people on the street displaying signs to remind you that "you are perfect the way you are" and dish out free hugs. Odd characters are welcomed here and are not displayed as different, but unique and happy with themselves, even the loneliest traveller is not lost when wandering into Byron Bay. "Cheer up, Slow down, Chill out" even the town's infamous sign amazingly reminds you after long stretches on the pacific highway to "Relax…you're home now". Peaceful protests against too much government control, markets that display local talents and products, naked bike rides to support a greener community or hostels and host families welcoming all types or people from different corners of the globe with those that stay adding their own culture in one way or another, sets this place apart.
Shorts, singlets, thongs, rags, riches, alcohol, tobacco, weed whatever your vice, join the town in painting it red any night of the week, Byron Bay doesn't need a weekend the residents already feel like they're on holiday. Bars teem with punters sipping on locally crafted, nationally recognised schooners and enjoying the taste of hand picked live acts which grace the town every single night. House, Country, Rock, Pop, Acoustic, Australian, Hip Hop, whatever your taste, it can be found and enjoyed a plenty with other notable enthusiasts.
Find a room in a pumping hostel or pitch a tent in the dense foliage with the eccentric in the Arts Factory, dance the night away at a private beach party, and shower yourself in body paint, fire breathers, raves and light sand see the night fade away with the sounds of the waves falling off into the dark expanse of the ocean, tinged with the soft glow of the moon and a sky full of stars to get lost in as the day comes to an end and another exciting day emerges tantalisingly from the horizon.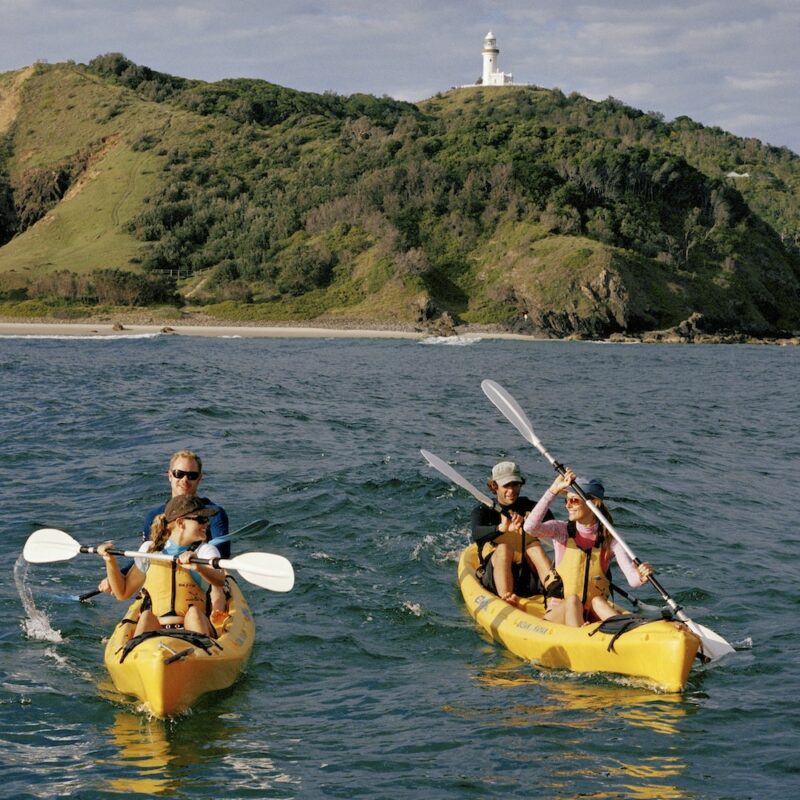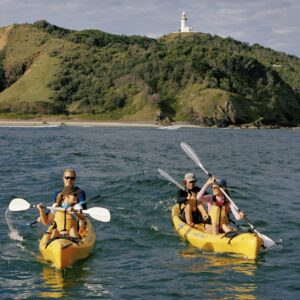 Jump out of a plane, hang glide from the most easterly point of Australia, scuba dive with Turtles and Manta Rays, kayak with Dolphins and Whales, mountain bike the hinterland and hidden waterfalls, surf, fire breathe, hula hoop, kitesurf, wakeboard, learn the didgeridoo, run, walk, spot sharks, fly in a gyrocopter, visit the distinctly unfamiliar Nimbin or cruise along the stunning coastal road and picnic atone of the many lookouts.
"Its difficult to be blue in this unique town, locals walk around with an infectious upbeat attitude" Real Aussie Adventures
Festival season arrives at a canter with Musicians, Magicians, Sid, Molly and Mary – Jane, inspiring a beautiful eclectic mix of personalities presented with an array of colours, sounds and ideas rivalled only by internationally recognised stages. People display their creative sides through the mediums of dance, art and music whilst the rest of the town hears stories overflowing into their heads like cartoon semi quavers pulsating the ears of musicians.
Byron Bay isn't a town, it's a community, moulded and enjoyed for generations and for generations to come, its beautiful, natural and healthy for the mind, body and soul and a place I was lucky enough to once call home.
Real Aussie Recommendations
Spend a few days in Byron Bay – On your hop on and hop off pass take a few days to stop and relax in Byron Bay.
Skydive in Byron Bay – see this stunning coastline from the air with a Skydive in Byron Bay.