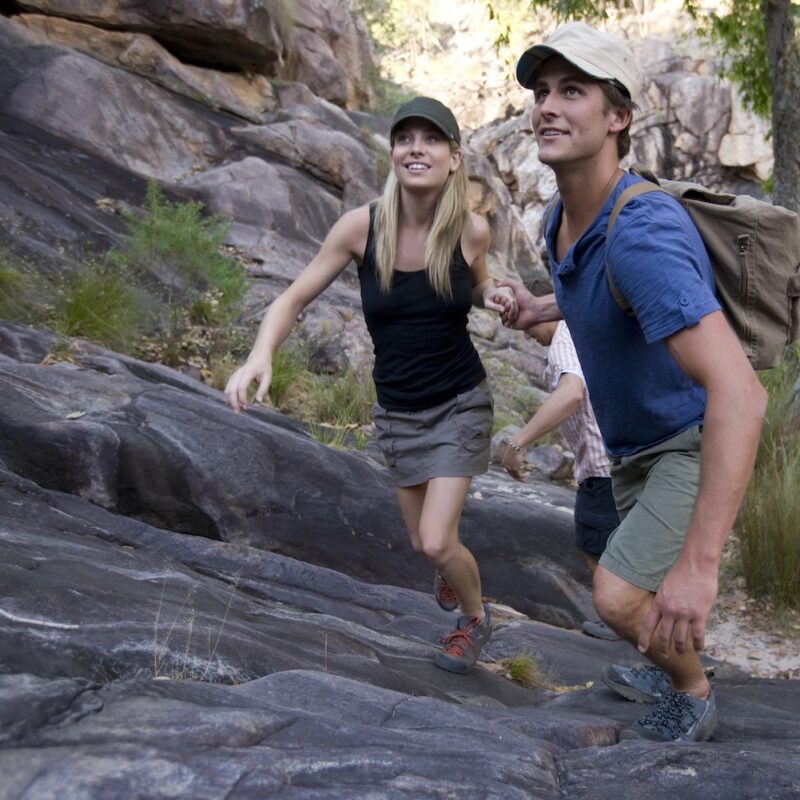 Real Aussie Says
Join us on an exclusive 4wd safari adventure of a lifetime showcasing the very best Kakadu & Litchfield National Park has to offer.
3 Day 4WD Kakadu and Litchfield Tour
Visit Kakadu and Litchfield National Park over 3 days of adventure, hiking, culture, and outback swag camping.
Experience Kakadu and Litchfield on our 3 day Kakadu and Litchfield tour.
Explore Waterfalls, 4WD on rocky tracks, swim in rock pools and search for crocodiles on a wildlife cruise. Mary River Wetlands wildlife cruise offers you the opportunity to spot some of the bird Kakadu is famous for.
In Kakadu National Park witness 20,000-year-old indigenous art at the two main sights of Nourlangie and Ubirr. Marvel at the pristine waterholes of Litchfield National Park and take a dip to cool off. Plus discover why the termites build their mounds so large in this region of the Northern Territory.
Venture into Australia's Top End with our 3 day Kakadu and Litchfield Tour. This is your Top End adventure Kakadu and Litchfield National Park Safari. Swim in plunge pools under waterfalls in Litchfield National Park, learn about Aboriginal Culture from your guide at the Aboriginal art sites of Nourlangie and Ubirr and explore the landscape and waterfalls of Kakadu National Park (World Heritage-listed for both its cultural and natural values), travel along rocky 4-wheel drive tracks as you explore Kakadu.
Travel in a purpose-built four-wheel drive. If you would like to try camping in Kakadu national park you can sleep outdoors under the stars in a swag. Or you can comfort camp in Kakadu in our Twin Share Safari Tents.
This tour operates in the dry season from May to October.
Explore the 'Top End' on this camping 3 day Kakadu and Litchfield National Park tour.
Book Now
Kakadu to Litchfield 4WD Camping (Basic Swag)
We can't confirm real time availability on this tour. Please enquire about this trip and we will get immediately back to you!
Our travellers often combine this trip with some of these trips:
Itinerary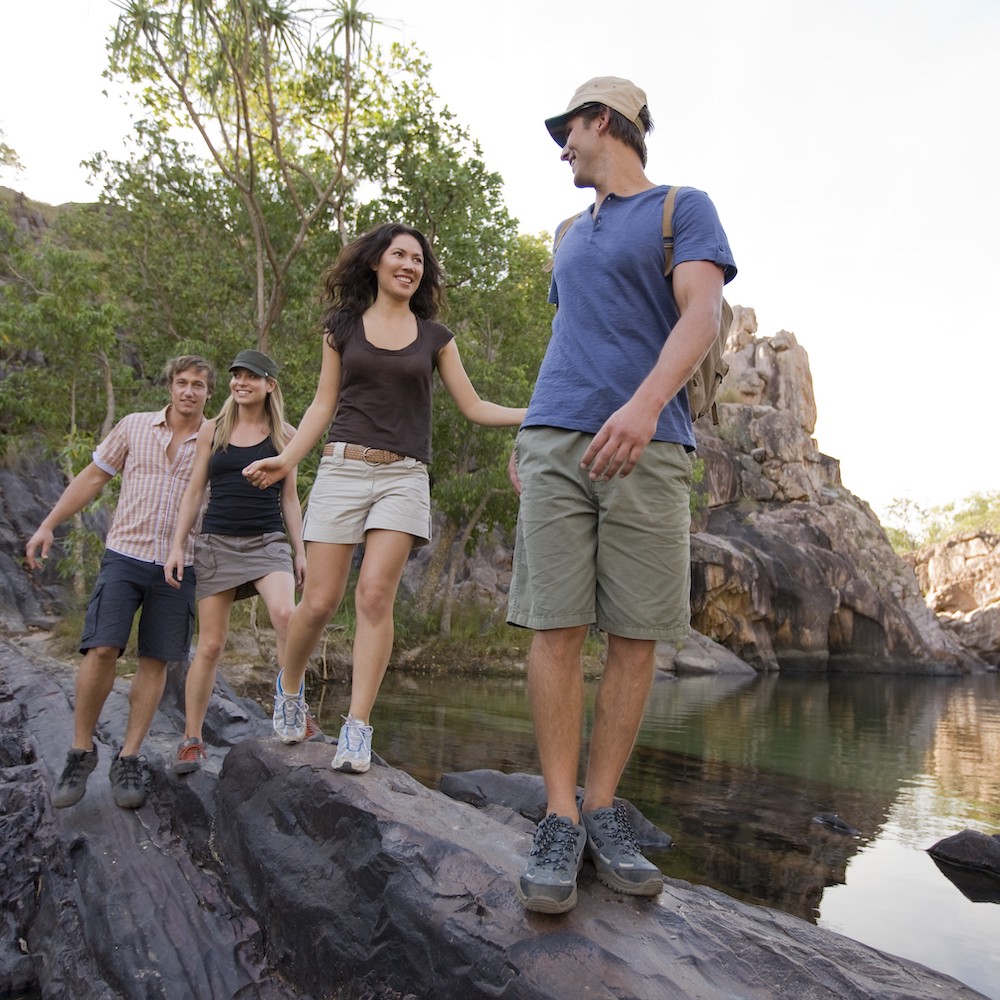 Visit the World Heritage-listed Kakadu National Park
Explore Kakadu Aboriginal Cultural Centre
Take a Wildlife Cruise on the Mary River Wetlands
Watch for Crocs and Barramundi at *Cahills Crossing
Breathtaking Aboriginal rock art and sunset views at Ubirr Rock
Be guided through world-class Aboriginal rock art site Burrungkuy (Nourlangie) or Ubirr walk (conditions/seasonality permitting)
Adventure to Kakadu's most impressive waterfalls and plunge pools Maguk, or Jim Jim Falls
Relax and cool off at Barramundi Gorge (Maguk) waterfall and serene plunge pool
Be impressed by century-old magnetic termite mounds
Uncover the wonder of Litchfield National Park's roaring waterfalls and hidden waterholes
Take a dip in the pool
3L Refillable water bottle
Hat, sunglasses & sunscreen
Beach towel & toiletries
Bathers or swimwear
Comfortable sturdy hiking shoes (closed shoes)
All-weather clothing (extreme conditions day/night)
15kg overnight bag & small day pack
Tropical strength insect repellent
Mosquito or fly net (summer months)
Flashlight, headlamp or torch
Recharge power bank limited access
Money for snack and meals
Camera
Safari is not suitable for children under 8 years of age.
We will try to cater for most dietary needs and/or food allergies – passengers MUST notify the tour operator of any special dietary requirements, or medical conditions at the time of booking.
A minimum moderate level of fitness is required to complete the walks. The length of walks will be between 2km to 4km each day, often over steep rocky sections and in direct sunlight and high humidity. An approximate 9.5km walk is included in this tour. Embarking on walks will be at the guide's discretion to ensure the safety of guests. Therefore, a medium/high level of fitness is required and a doctor's certificate is required for people over 70 years (30-days prior to travel).
Limited storage space on our vehicle, baggage kept to 1 x 15kg travel bag, 1 x 5kg day bag. Not suitable for mobility-impaired travellers, wheelchairs, walkers or strollers.
Basic Swag booking guaranteed live availability. Ask us for more details on the Twin Safari Tent option.
Where will I sleep on tour?
Your accommodation is sleeping in a swag. The only stars are in the sky. this is linked live for booking here on the tour page.
Or you can upgrade to our Twin Share Safari Tents. Ask Us for more details and we get you booked in over email.
How physically fit do I have to be?
Our tours are active adventures that include a fair amount of walking, hiking and water-based activities. Walks can extend to 4 hours duration in warm to hot conditions, so a reasonable level of fitness is required, We don't expressly set any age restrictions. Our tours are true outback adventure camping. Good health is important but ultimately, it is an open and positive attitude that matters. It is very important that any pre-existing medical conditions are discussed before booking.
Our tours are focused on adventure. This includes 4WD vehicles on rough and rugged dirt tracks, longer hikes and swims. You will get dirty and be challenged. This is not a luxury bus tour.
How much luggage can I bring?
You can bring up to 15kg of luggage to be stored in our trailer while traveling, we advise you to bring a day pack for access to day-to-day items.
What vehicle will we travel in?
You will be in a 4 x 4 off-road 21-seater vehicle on tour. This is a 4WD vechile.