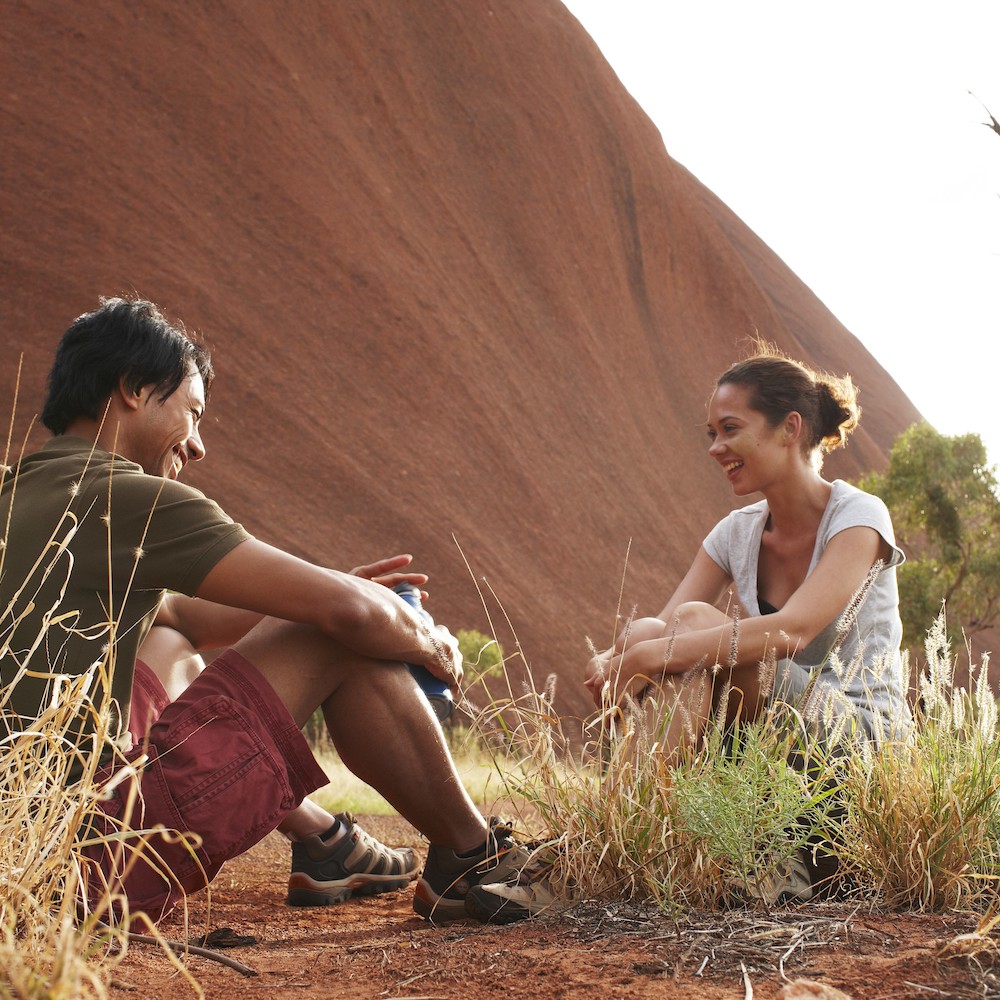 Real Aussie Says
Start this tour in Alice Springs or from Ayers Rock airport. Finish on day 4 at Ayers Rock airport around 11.15am to meet your flight out. This Uluru tour is great for families, as we have guides specially trained for guiding groups with children. We provide private permanent tents for you and your child to sleep comfortably in. We take children from age 5 upwards. Show your child the magic of Uluru at sunset on this tour. Also, this 3 day Uluru tour is perfect for those new to camping, as you will be sleeping on comfortable beds and have access to hot showers and toilets at the campsite. This Uluru tour is also perfect for those 35 and above. If you are over 50 and are looking for an adventurous tour that isn't just a coach tour for seniors, then this 3-day comfort tour will be ideal.
This tour offers an authentic outback adventure with a touch of style and quality.
Travel with a small group in a purpose-built four-wheel-drive vehicle. As well as experiencing the wonders of Uluru (Ayers Rock), Kata Tjuta (The Olgas) and Watarrka (Kings Canyon), we'll give you the opportunity to really experience the desert – driving on dirt roads, avoiding the crowds, and sleeping at our remote private bush camps. Participate in an indigenous cultural exchange at Uluru including an Aboriginal Guided walk. Choose to sleep under the clearest southern stars you can imagine with your choice of a traditional swag or comfortable permanent safari tent complete with beds, pillows and all linen. Enjoy our Endless star dining at Uluru, with quality food cooked over the campfire. This is an emotive journey into the heart of the Red Centre.
Start this tour in Alice Springs or Ayers Rock and finish in Ayers Rock.
Real Aussie Adventures is about adventure and getting involved. We don't define by age but our trips are quite active. We get travelers from all over the world, people traveling by themselves, couples and groups. This tour is ideal for family groups, with children over 5 years old.
On this tour walking and hiking in Uluru, Kata Tjuta and Kings Canyon need a good level of fitness.
Uluru: Moderate level of fitness required. The base walk is on flat ground.
Kata Tjuta: Good level of fitness required. Walking on an uneven surface required to complete the Valley of the Winds walk
Kings Canyon: Good level of fitness is required for a four-hour walk around the canyon's rim.
We can't confirm real time availability on this tour. Please enquire about this trip and we will get immediately back to you!
Our travellers often combine this trip with some of these trips:
Hat
Sunscreen
Walking shoes/boots
Torch
Insect repellent
Water bottle
Bathers
Camera
Sleeping bag (if you prefer to use your own