Real Aussie sagt
The waters surrounding the Muiron Islands are alive with marine life, with a mixture of hard and soft corals, and swim throughs making it a scuba diver or snorkeler's paradise.
1 Day Muiron Islands Tour
Spend the whole day on the water exploring the Muiron Islands in this World Heritage area famed for their gorgeous colourful soft corals.
Spend the whole day on the water exploring the Muiron islands from Exmouth.
The Muiron Islands are part of a 28,000-hectare marine management area located approximately 15kms north of the North West Cape. The west of the islands have an abundance of beautiful soft corals whereas the east of the islands possesses pristine hard corals.
Your day will include 2 dives or snorkels, and an afternoon snorkel, morning & afternoon tea, and lunch.
Our full day Island adventure tours visit areas populated by friendly Potato Cod, turtles, sharks, thousands of fish, anemones and clownfish, batfish, stingrays and much more. Manta rays, orcas, humpback whales and dolphins are seen at different times of the year, too.
Buchen Sie jetzt
We can't confirm real time availability on this tour. Please enquire about this trip and we will get immediately back to you!
Unsere Reisenden kombinieren diese Reise oft mit einigen dieser Reisen:
Route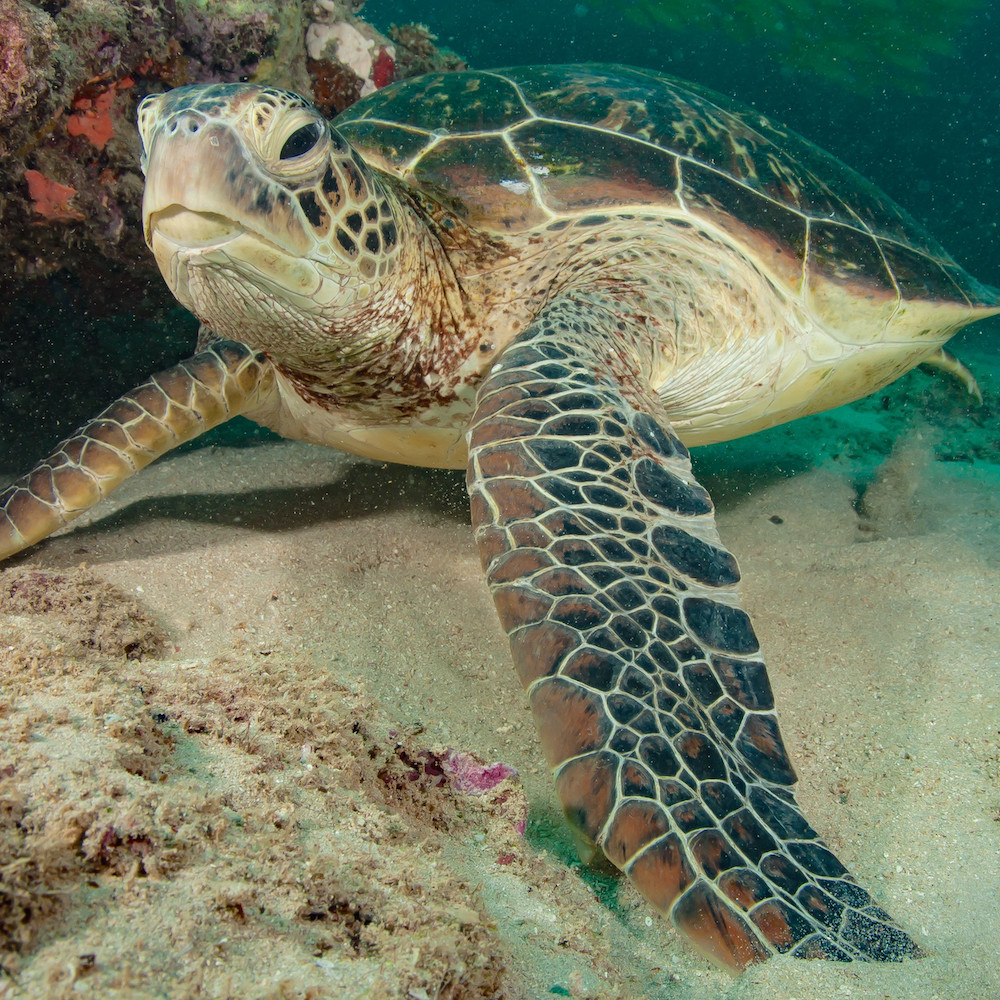 A full day on the water exploring this world heritage listed area.
Dive the Muiron Islands from Exmouth
Bathers
Towel
Camera
C-card and logbook
Suitable for all levels of diver and snorkellers. Must present an Open Water or higher dive certification card and have dived in the past 12 months.
What is the water temperature?
Our water temperatures stay pleasant all year round. At the start of the season in March, we dive in 3mm suits in temperatures ranging from 28C – 24C by July. In winter (July – November) we dive in 3mm suits or 5mm suits in water from 23C
When is the best time of year to visit Exmouth?
March thru to the End of October!! Exmouth has great Turtles, Dolphins, Sharks, Rays, Dugongs & 100's of species of Reef & Pelagic Fishes. The diving is excellent throughout this Season. The calmest afternoons are in the Autumn; in the winter months we can get some wind and swell, but it rarely means missing a day's diving! Below is a partial list of our more seasonal visitors in each area:
Exmouth:
Whale Sharks – Early March through to early August
Manta Rays – mid/late May to November
Humpbacks – late May to November
Turtles – mating late September to December; laying October to January; seen on dive sites all year round