Real Aussie sagt
There is no better place to Learn to Dive than Australia's Great Barrier Reef. If you are thinking about taking the plunge our 4 day PADI "Open Water" dive course is by far the most popular way to do it. The adventure of learning to dive as well as staying out on the reef for 2 days and 2 nights on one of our premium live aboard vessels is quite unique.
4 Day PADI Open Water Dive Course
Start your new life today, let SCUBA introduce you to all that is beautiful, its in our backyard! 4 days to learn to dive in Cairns including 2 days of classroom and pool training and 2 days on a live aboard boat doing training dives. If you are thinking about taking the plunge our 5 day PADI "Open Water" dive course is by far the most popular way to do it.
Top of everyone's bucket list; Learning to dive on the Great Barrier Reef! Take our 4 day PADI course from Cairns.
Two days of theory and pool sessions plus the  2 days / 1 night Ocean Quest liveaboard Outer Reef trip. Cairns accommodation is required for nights one and two. Join us for 4 days to get your Open Water Certificate. 2 days of poolsand theory at our custom-built dive center and 2 days out on the stunning Great Barrier Reef.
We partner with Divers Den who has been conducting PADI courses for over 40 years and have established itself as Cairns premier dive school. They have cairns only fully covered purpose-built dive pool that is heated to 32 degrees all year round as well as 6 modern air-conditioned classrooms with state of the art teaching facilities.
All our day trip dive and snorkel sites are on The Great Barrier Reef's Outer Reefs. These reefs (Norman, Saxon, and Hastings), all part of the larger Great Barrier Reef Marine Park, but also benefit from healthier waters, no freshwater runoff, strict access, and more of the typical tropical reef critters we all have come to love!
Buchen Sie jetzt
We can't confirm real time availability on this tour. Please enquire about this trip and we will get immediately back to you!
Unsere Reisenden kombinieren diese Reise oft mit einigen dieser Reisen:
Route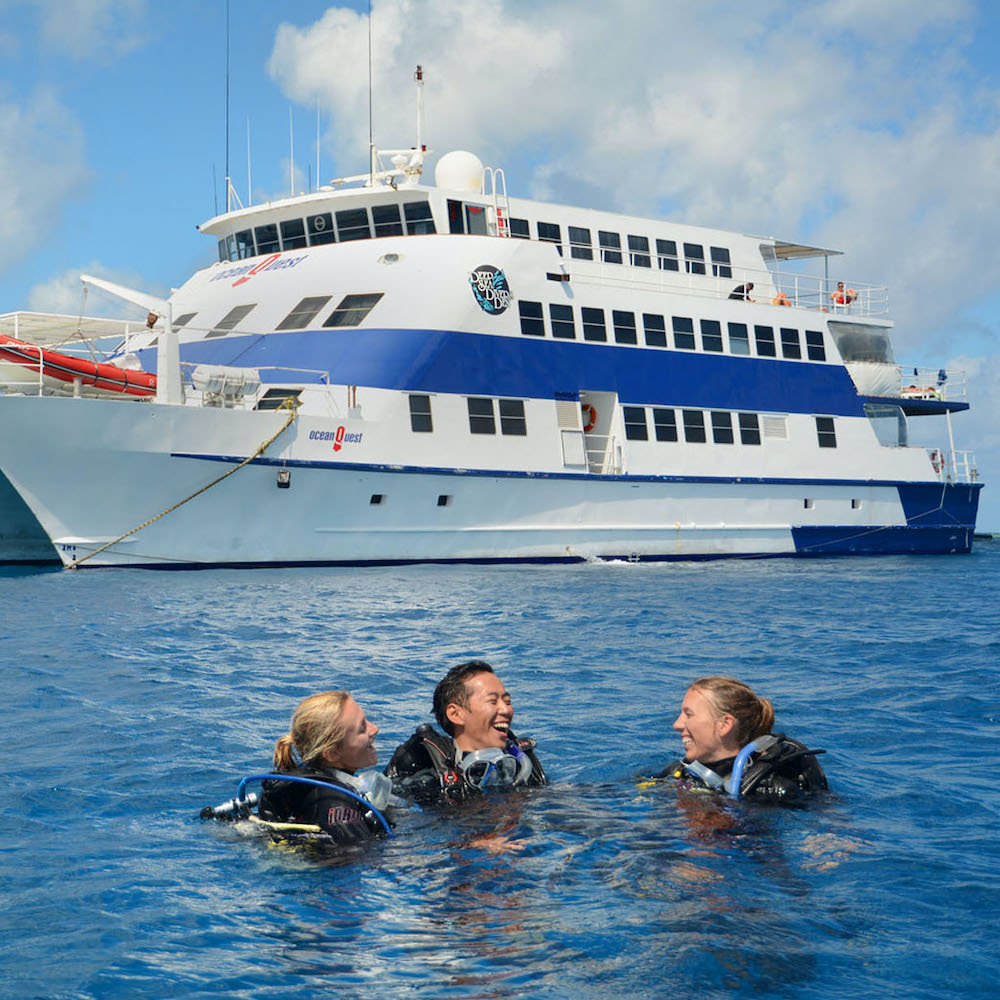 Learn to dive at our purpose-built, five-star dive training centre in Cairns
Spending the night at the Great Barrier Reef, wake to sunrise on the water
Dive at Saxon, Norman and Hastings reefs on the Great Barrier Reef
Become a PADI certified diver
Hat, sunglasses and sunscreen
Swimsuit and towel
Overnight bag with changes of clothing, including warm clothing and socks for overnight wear
Toiletries
Bedding and bath towels are supplied on board.
Excess baggage can be stored at our Draper Street office at check in.
Minimum age 10 (if diver is under 12, we must be notified at time of booking)
Completed Self Assessed Medical Declaration- Medical certificate if required
Ability to pass a 200m swim and 10 minute treading water test
Can I fly after diving?
Currently the rules state that for a single no decompression dive, you should not fly/go to altitude for at least 12 hours, or 18 hours after multiple dives. Divers Den recommends waiting a minimum 24 hours whenever possible. These are guidelines only, there is no guarantee that these recommendations will prevent decompression sickness. There are no current guidelines regarding diving after flying.
Altitude is defined as 300m/1000ft above sea level. Certain other tourist attractions around Cairns and Tropical North Queensland involve travelling to altitude. These include the Atherton Tablelands and the Skyrail Rainforest Cableway, so we recommend a gap between booking these experiences and any dive course or trip. Under normal circumstances, you should be out of the water on your last dive by 12pm (midday).