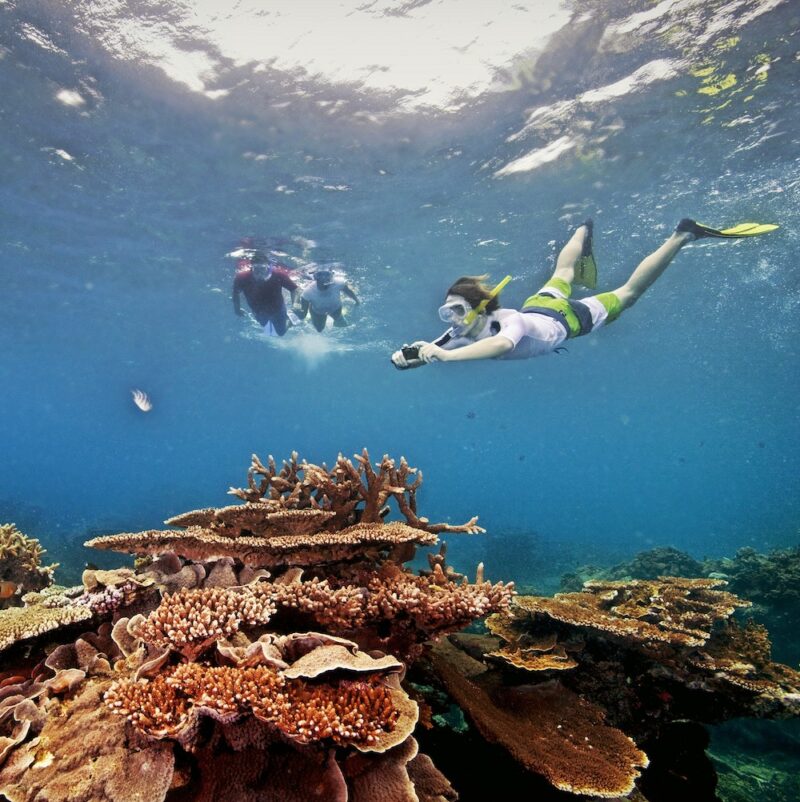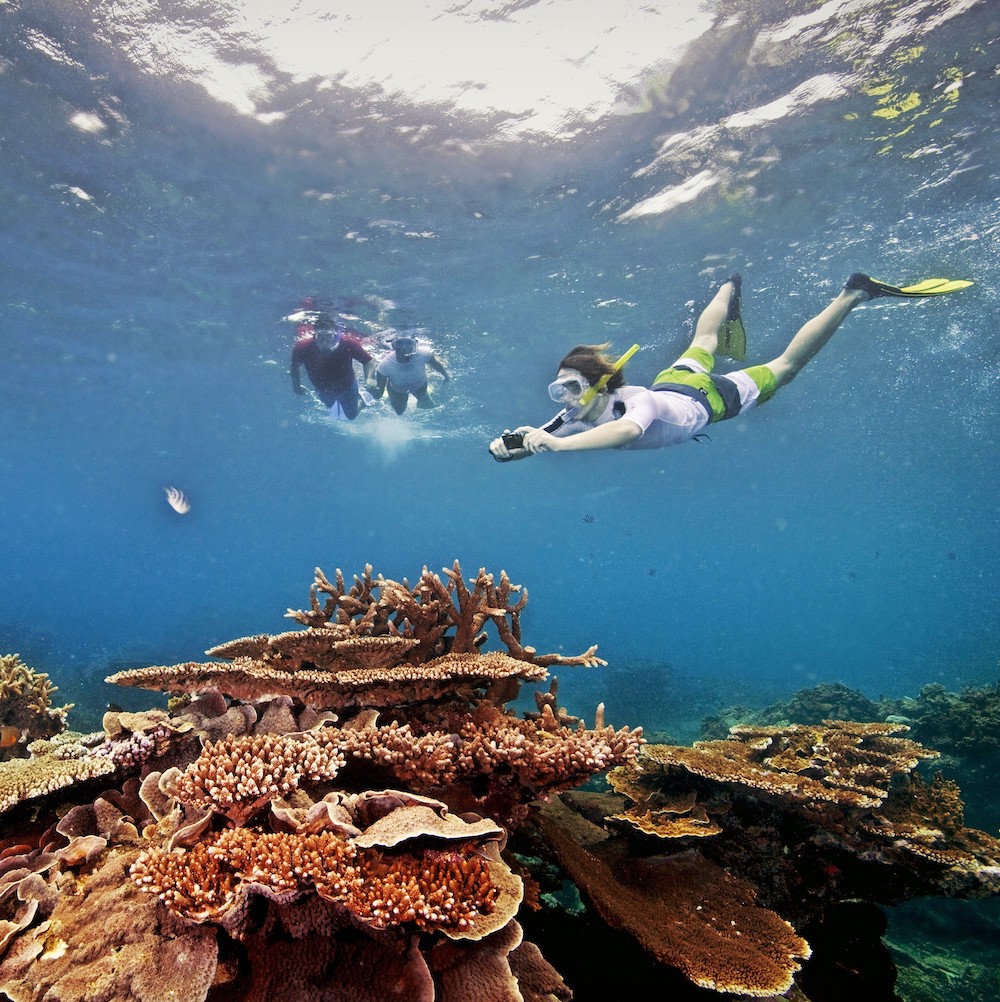 Real Aussie sagt
Discover the wonders of the Great Barrier Reef with our 2 day tours. Exclusive access to 30 moorings on 9 different reefs.
2 Day, 1 Night Dive and Snorkel Adventure
Snorkel or Dive on the reef onboard our overnight adventure. See the Stunning Great Barrier Reef for yourself.
Take our 2 day 1-night adventure to the Great Barrier Reef. The Great Barrier Reef is a unique and unbelievably beautiful destination. A visit to the reef is absolutely worth it and is somewhere you cannot miss out on when traveling to Australia. Staying out on the great barrier reef tour overnight is a must-do experience.
Be delighted with exclusive access to 30 moorings on 9 different reefs including the famous; Three Sisters, The Whale, Little Tracey, Point Break, 5-Ways and two new moorings at Michaelmas Cay and Upolu Reef showcasing untouched coral gardens.
Our small group numbers on this 2 day Great Barrier Reef tours provide a flexible schedule and our onboard compressor allows for unlimited tank refills so you can really maximize your in-water time.
This 2 day Great Barrier Reef tour is ideal for those who are short on time but still want to experience the best of the Great Barrier Reef. Staying at sea for one night, you will still get to experience the best of the marine park, snorkeling and scuba diving and still having that overnight experience.
Join our 2 day 1-night Cairns liveaboard tour and immerse yourself in the wonders of the Great Barrier Reef/ Spend the night on board and maximize your time in the water with unlimited tank refills, making this tour a must-do experience for anyone visiting Australia.
Buchen Sie jetzt
1. Wie viele reisen?
2. Wählen Sie ein Datum aus
3. Sieht großartig aus!!! Buche es!
Dive & Snorkel Overnight Adventure
We can't confirm real time availability on this tour. Please enquire about this trip and we will get immediately back to you!
Unsere Reisenden kombinieren diese Reise oft mit einigen dieser Reisen:
Route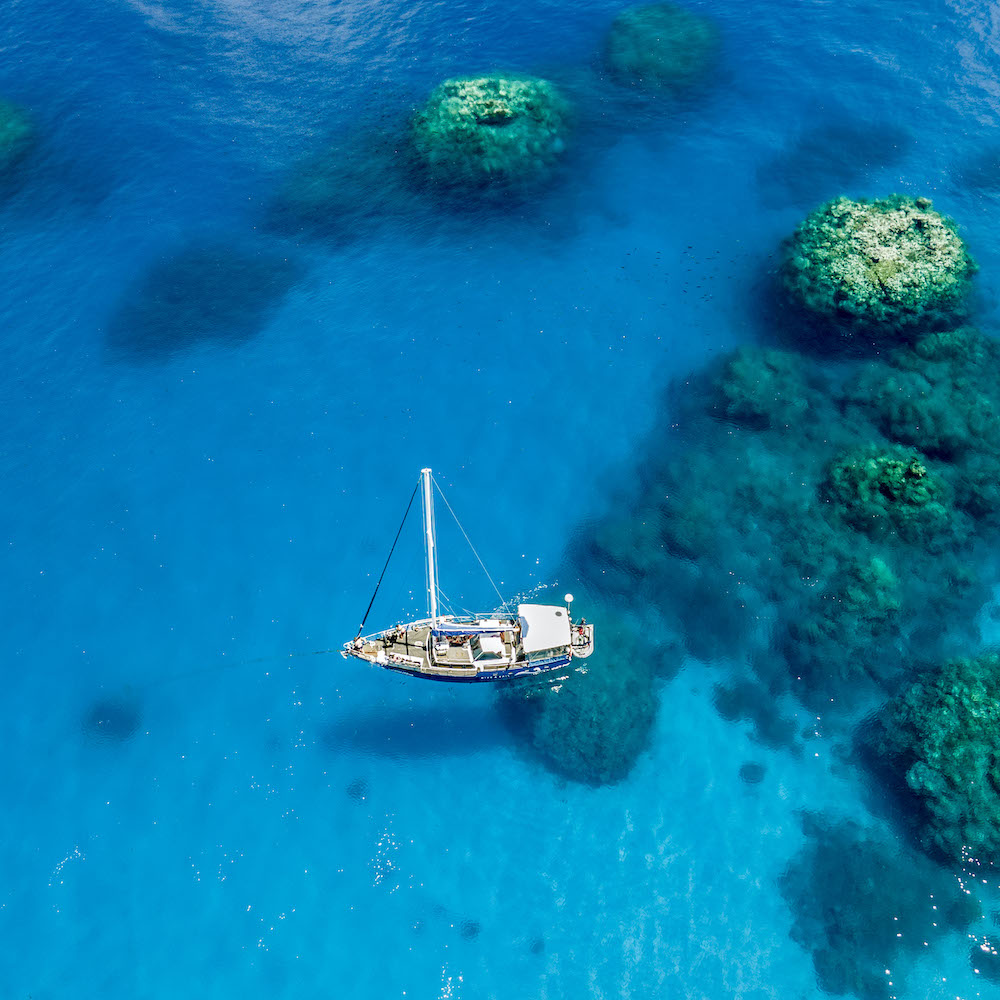 Exclusive access to 30 moorings on 9 different reefs, including new moorings at Michaelmas Cay and Upolu Reef.
Overnight stay on board the vessel, allowing for maximum time in the water.
Ideal for those who are short on time but still want to experience sleeping overnight on the Great Barrier Reef.
Sunglasses, hat
Sunscreen
Camera
Swimwear & Beach Towel (bath towel supplied)
Long pants & jumper during cool months
Small overnight bag (additional luggage can be stored)
Cert card/logbook for certified divers
The general itinerary allows for 4 days certified and 1-night dives, and 3-day intro dives with an optional night intro (conditions apply) or 4th-day intro.
Snorkelling is available at all times except at night.
While we always try to do some sailing, due to the prevailing South Easterly winds, this usually occurs on the return part of the trip. We like to think that a small sailboat is always a more intimate experience than a motorboat but it is important to note, there are no activities on the boat that will suit the non-swimmer or very young children.
Certain medical conditions (asthma, heart disease, epilepsy) may preclude a person from diving.
Guests may need to complete a recreational dive medical before boarding if they answer yes to any questions and wish to partake in diving activities.
This tour is not suitable for children under the age of 4 years, non- swimmers and persons with mobility issues.
Certified Dives: $60 per dive paid locally.
Night diving $80 per dive (paid locally).
Dietary Requirement: $10pp now applies upon request for Vegan, Gluten Free and Dairy Intolerance which is to be paid on-board.
Can I Snorkel?
This tour is perfect for snorkelers who are confident swimmers. The ketch visits several outer Great Barrier Reef sites and moors very close to the reef, meaning it's only a small swim to the reef and its amazing coral gardens. That being said, it is open water swimming and water depth varies from a few metres (when you over the corals) to up to 36m. Snorkel site briefings are provided and flotation vests are also provided if you would prefer.
All snorkelling equipment (mask, fins and snorkel) are included as are wetsuits / lycra suits. Prescription masks are available with 24 hours notice. There is also the option to try introductory diving (no experience necessary) while on board. Added bonus: get to see the sun set and rise over the Coral Sea and Great Barrier Reef, it's simply stunning!
Can I dive?
This tour offers a choice of certified diving and introductory diving. Certified divers can choose between guided and unguided dives. Divers have the chance to take up to four (4) day dives and one (1) night dive during this 2 day / 1 night trip, which visits several reef locations and dive sites. All equipment and dive briefings are included in the dive price.
INTRODUCTORY DIVING: This is a great opportunity to try scuba diving for the first time (no experience necessary). To try an introductory dive you will need to be at least 12 years old and pass a dive medical on board the boat. All equipment and briefings are provided and included in the cost, as is a dive guide. Coral Sea Dreaming is also one of the very few boats to be licensed by Scuba Schools International to offer introductory night dives! To participate in one of these, you will have to have done an introductory day dive first (on board Coral Sea Dreaming).
CERTIFIED DIVING: This trip is suitable for certified divers of all experience levels. Coral Sea Dreaming is licensed to visit 21 exclusive moorings at 9 different reef systems. You have the chance to do up to four (4) day dives and one (1) night dive. Choose between guided or unguided diving, but there is no solo diving. If you are not travelling with a dive buddy, this is no problem; you will be paired up with another diver on board. Equipment and dive site briefings (and guides if you choose) are all included in the dive price.
Dive site depth varies anywhere from 6 – 36m. Certified divers can dive to the maximum depth of their experience and certification and will be required to show evidence of their certification: through current dive licenses and log book.