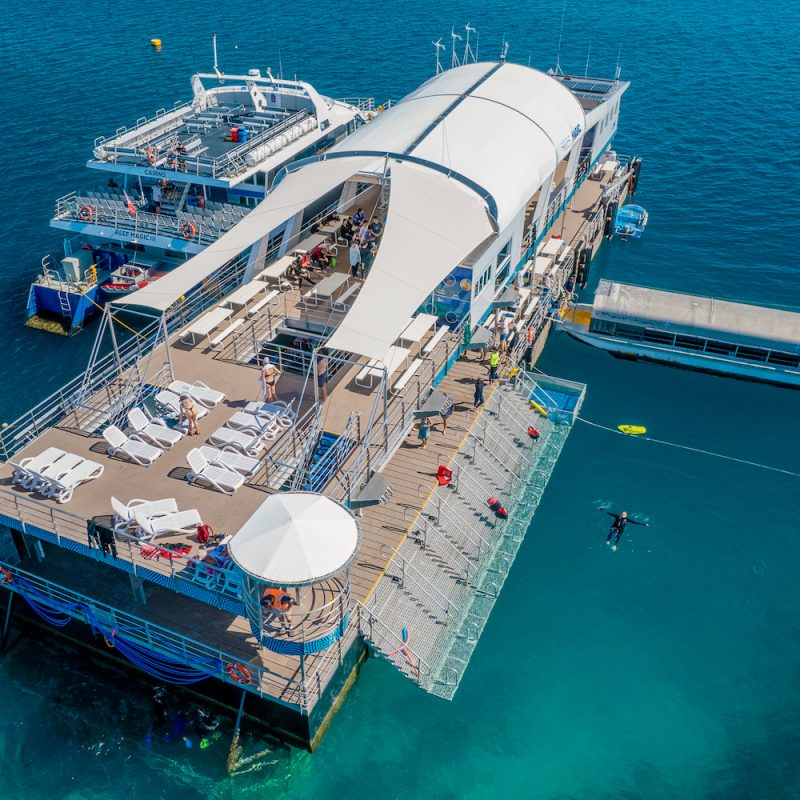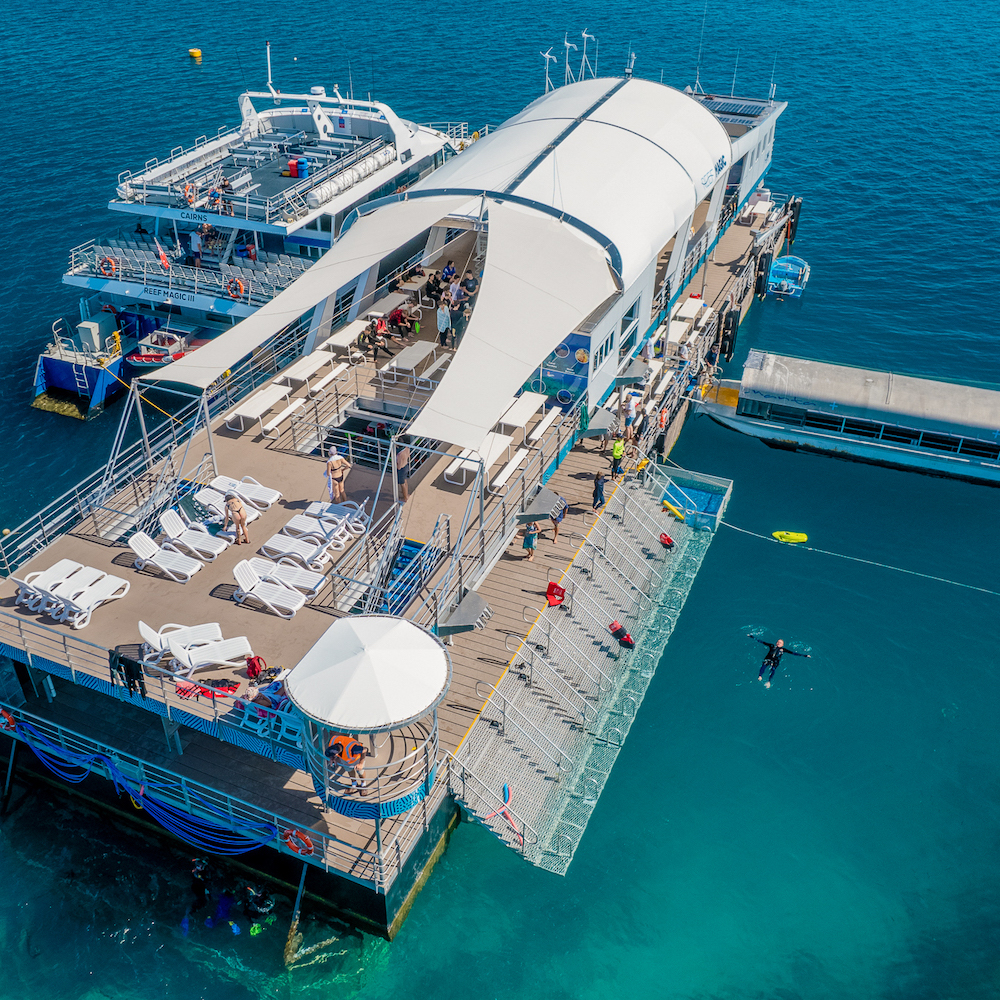 Real Aussie sagt
Join us on a thrilling adventure to the Great Barrier Reef aboard the Reef Magic pontoon.
1 Day Great Barrier Reef Pontoon Tour
If you're looking for an unforgettable experience exploring the Great Barrier Reef, look no further than the Reef Magic pontoon tour departing from Cairns. This tour offers an outer reef pontoon experience that is not to be missed.
Board a safe and secure catamaran and set sail to Reef Magic Cruises' exclusive all-weather platform. Once you arrive, dive into a stunning coral reef location and discover the many wonders and colours of the Great Barrier Reef.
The Cairns Reef Tour offers a variety of activities suitable for all fitness and experience levels. You can enjoy snorkelling in the sheltered coral lagoon, scuba diving, or take a guided Snorkel Safari led by a knowledgeable Marine Biologist. All snorkelling equipment is provided, so you can relax and enjoy the stunning surroundings stress-free.
Take a break and enjoy a full hot and cold buffet lunch, while basking in the warm sunshine on the top deck. Alternatively, spend some time in the underwater observatory, where you can get up close and personal with the vibrant marine life that calls the Great Barrier Reef home.
The Great Barrier Reef is one of Australia's most prized natural possessions, and the Reef Magic pontoon tour provides a once-in-a-lifetime experience to discover this incredible natural wonder. With breathtaking scenery and an array of activities to choose from, this tour guarantees that you will make the most of your time out at sea.
Don't miss out on this opportunity to experience the beauty of the Great Barrier Reef with the Reef Magic pontoon tour. Book now to create memories that you will cherish for a lifetime. Remember, this outer reef pontoon experience from Cairns is truly a must-do adventure for all travel enthusiasts.
Buchen Sie jetzt
1. Wie viele reisen?
2. Wählen Sie ein Datum aus
3. Sieht großartig aus!!! Buche es!
Reef Magic Pontoon + Snorkel
We can't confirm real time availability on this tour. Please enquire about this trip and we will get immediately back to you!
Unsere Reisenden kombinieren diese Reise oft mit einigen dieser Reisen:
Route
5 hours snorkelling or diving on the Outer Great Barrier Reef
Reef Magic Pontoon – a spacious, floating activity platform providing the best experience for swimmers and non-swimmers
All snorkelling equipment provided
Marine biologist presentation on the way out to the reef
Exclusive access to stunning coral reef location
Fast, stable catamaran providing a smoother ride and reduced travel time
Extras that are not available within the booking cart will be available for purchase on the day of travel
Whats included in my day?
All snorkelling equipment including personal flotation devices in adult/child sizes
On board Marine Biology presentation/talk en-route to the reef
Semi-Submersible tours with interactive commentary
Glass Bottom Boat tours with interactive commentary
Fish feeding and identification session with our Marine Biologist
Underwater Observatory
Use of Sundeck, Fresh Water Showers and Changing Rooms
Morning/Afternoon Tea plus a full hot/cold buffet lunch with vegetarian options
Tea/Coffee and drinking water is available free of charge throughout the day
Access to reference materials on the reef
German & French speaking crew are available to assist international visitors