Tasmania is known to be the most remote and clean World Heritage listed areas in Australia


Tasmania is an island off the south coast of Australia's mainland. The food and wine are outstanding and the cities are small and easy to explore. Tasmania is perfect for a week long getaway.

Across the Tasman sea from Melbourne, you can access Tasmania by ferry from Melbourne or by direct flight. A flight to Tassie is usually the cheaper option. There are two airports on the island at Hobart and Launceston.

Hobart is the capital and most tours start and finish here. Be aware of this if you are flying into Launceston or getting the ferry which arrives in Devonport. The ferry is an 8 hour journey from Port Melbourne to Devonport. You can take cars or campers, go as a walk on passenger and have an air plane style seat or a cabin. Find out more about the Spirit of Tasmania ferry here.
"There's No Such Thing as Bad Weather only inappropriate clothing"

Real Aussie Adventures
Hobart is a really pretty city, set on a harbour with quaint buildings, cobbled streets, a fantastic street market and is famous for it's fresh produce – it's a foodie paradise! A highlight would be catching the ferry across to the world class and thought provoking Mona Museum.
Getting to Hobart from Launceston or Devonport can be a bit tricky, there is however a local bus, but it's fairly infrequent. The most cost effective way to see Tassie is a fully guided tour.
It is possible to base yourself in Hobart and access may of the highlights on day trips. For example visiting Port Arthur Historic site. This is the best preserved convict site in Australia.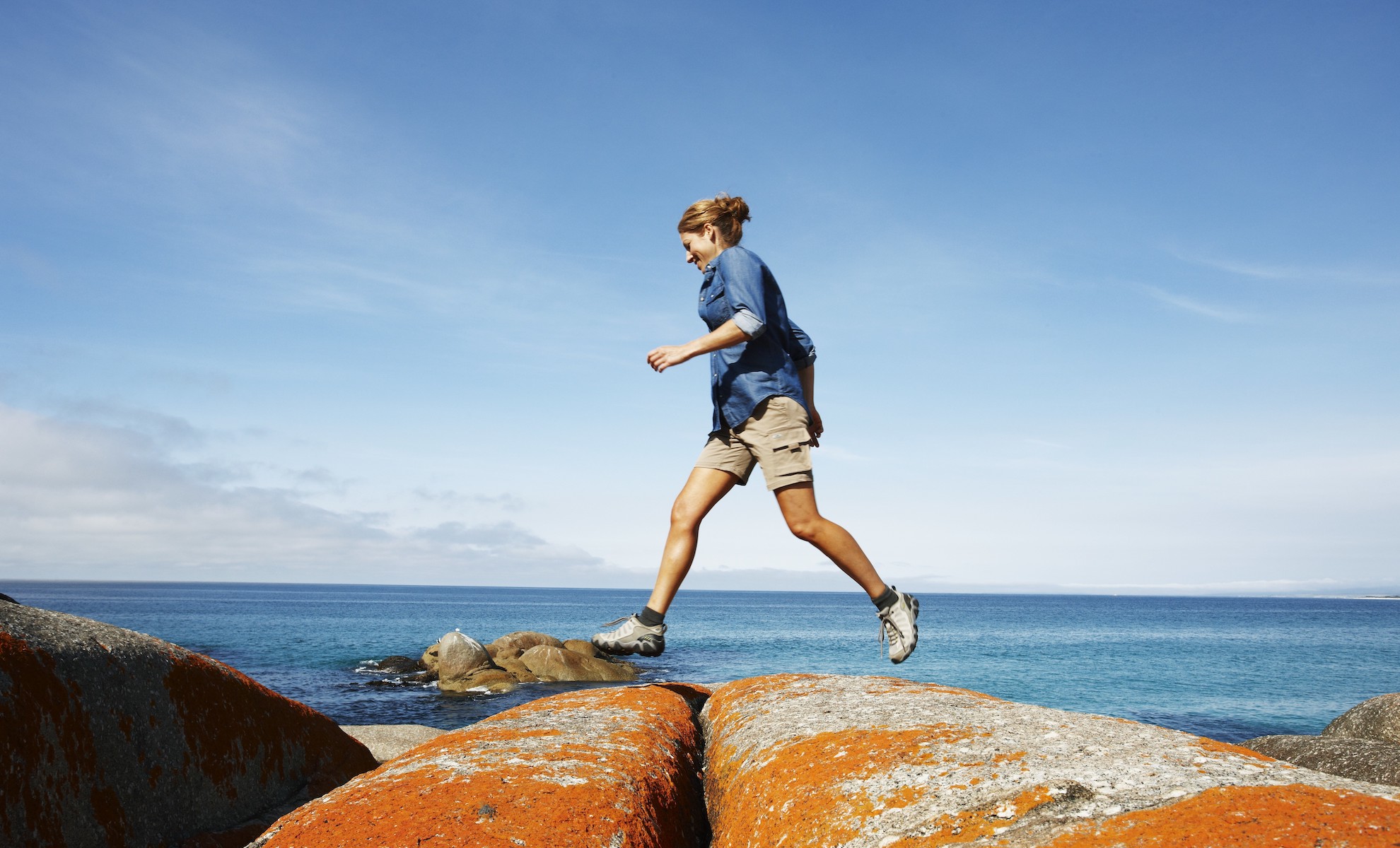 Tasmania National Parks
Tasmania is made up of stunning National Park after National Park and runs at a chilled out pace. Whilst driving a car or camper around the island is easy enough with short distances, just be aware that there are not many hostels on the island and car and campervan hire is limited. Whilst visiting I found there to be so much roadkill on the side of the road. It was rather off putting to see so much of the Native Wildlife destroyed by careless drivers who are going too fast at night. So warning if you do choose to self drive Tasmania, please drive during daylight hours. You can essentially divide Tasmania in two and you need five or six days to see it all.
East coast tends to be nice and sunny, where as West a little wetter. Snow falls on the higher parts of the west coast such as Cradle Mountain.
Cradle Mountain Huts Overland Track Walk Mount Oakleigh Summit Cradle Mountain Lake St Clair National Park, By the Tasmanian Walking Company Great Walks of Australia.
On the East Coast of the island the highlights are based on beach national parks. Highlights are the Bay of Fires and Bicheno blow holes, Freycinet National Park – namely Wineglass Bay and of course the aforementioned Port Arthur, the former convict settlement.
Wineglass Bay from Mt Amos on the Wineglass Bay Track, Freycinet National Park, Robburnettimages. Tourism Tasmania & Rob Burnett
On the West Coast the scenery is more mountainous, with glorious waterfalls in national park. Highlights here are Cradle Mountain, with some of the best hiking in Australia, Russell Falls and Lake St Clair in Mt Field National Park.
With the cleanest air in the world, amazing seafood and fresh produce, an abundance of wildlife and plenty of natural beauty, Tasmania is well worth a visit. It's close proximity to the south means it Is cooler than the rest of Australia.
Book a tour to Tasmania today