Travel guide and Tips: Why you should visit West-Australia.
Adorable Quokka's, spectacular reefs, awesome marine life, breathtaking scenery, amazing sunsets, ancient landscapes, and beautiful cities, Western Australia has it all.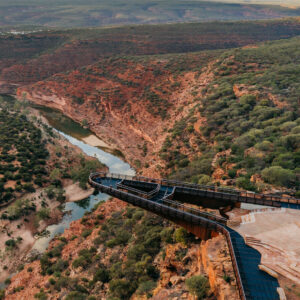 The West-Coast took my interest due to the amazing stories I heard from travelers, yet I noticed that not many people choose to go West over East. This made me curious to explore the West-Coast and find out for myself if it actually lives up the stories that are being told, or that tourist avoid the West-Coast for a reason. That is when I decided to book a 7-day tour from Perth to Exmouth, and after 7 days of exploring and traveling to the North of Western Australia, I have to admit that it is actually better than I had ever imagined.
Besides the fact that the west side of Australia offers an amazing variety of highlights, it is also filled with surprises. I understand that most tourists visit the East-Coast for the highlights such as The Great Barrier Reef and the Whitsundays but the West-Coast has definitely its own spots that match these places like Ningaloo Reef, Turquoise Bay, and Shell Beach but without the crowd. I haven't been to the East-Coast myself but there were several people on my group who were pleasantly surprised by this part of Australia and said that that it easily matched up or is even better than the East. I traveled to Sydney, Melbourne, South Australia, Kangaroo Island, Down Under and Western Australia and the west coast was by far the best trip I have ever done in Australia.
I saw so many amazing things and did a lot of bucket-list-worthy activities during my 7-day tour from Perth to Exmouth. To give you a taste of what the west coast has to offer I will describe this incredible journey day by day and hope it will convince you to consider traveling to the west coast of Australia.
Perth to Kalbarri National Park
The first day of the tour. We had to meet in the centrum of Perth to wait for our tour guide who would pick us up in a van that would take us from Perth all the way to Exmouth in 7 days. I was excited to travel across the West-Coast but my expectations were low because I didn't know what to expect from the tour and the Western part of Australia. Together with 20 people we started off our tour and drove to our first stop: The Pinnacles. When we arrived at the location the tour guide started explaining some general information about this natural miracle. After the guide had shared some interesting facts we were allowed to scroll through the pinnacles dessert and make those Instagram worthy pictures. Our next stop was a beautiful Pink Lake. The lake was quite large and had a stunning pink color, it is also possible to spot Flamingo's in this area but unfortunately for us, we didn't saw any although our tour guide tried his best to find them for us. We drove further and stopped at a cute location to make our lunch which existed of wraps.
After crossing through some scenic landscapes we finally arrived in Kalbarri and saw some incredible views on the dramatic cliffs during the Indian Ocean Drive which caused breathtaking sights. We drove to our hostel, settled in and started preparing our dinner! Stir-fried chicken, how good does that sound? In the evening we started socialising a bit with each other and the abseiling guide stopped by to play a fun introduction game with us and gives us a bit more information on the adventurous activity you could choose to do the next day. Looking back it was a good first day and we saw some popular highlights already, it promised to be a good few days.
Kalbarri National Park to Monkey Mia, Shark Bay
We started the day early. We had to wake up at 04:30 am to catch the sunset at Nature's Window in Kalbarri National Park, and it was totally worth it! I got to witness some amazing views while the sun slowly started to rise. This is such a unique landscape to visit and the beauty of it really surprised me. The water has carved its way through the sandstones which creates beautiful sights and a fun path to walk through and makes it also incredible picturesque ( and everything for the gram right?). The walk gave us the opportunity to enjoy the beautiful nature but we also had the option to try out abseiling. This is an optional activity, but if you never tried abseiling before definitely worth it. You will slide from a 25-meter high rock down while you are being photographed/videoed by the group members sitting on the paparazzi rock. It is such an awesome experience and a bucket-list-worthy experience.
During the drive through Kalbarri National Park, you might spot some native Australian wildlife! We saw some adorable baby kangaroos during our drive back which really Kalbarri experience complete. We continued our trip to the Hamelin Pool Conservation Reserve which provides a home for the most abundant and diverse stromatolites in the world, which was quite cool to see since there are only a few places where you can actually witness them. After that, we headed to the famous Monkey Mia where we would stay in a hostel on the beach. But before we settled down in the hostel we could choose to join a Catamaran Sunset Cruise, which was such a lovely experience. We could just sit back, enjoy a drink, relax and watch the sun slowly disappear and if your lucky you might spot some dolphins too. In the evening we cooked a delicious barbecue and prepared ourselves for a new day.
Monkey Mia, Shark Bay to Coral Bay
Monkey Mia is famous for its Dolphin feeding. So at 07:45 am we gathered around the boardwalk while a ranger explained some more information bout the dolphins we could already witness jumping out of the water and swimming close to shore. We were directed to the water and several volunteers were chosen to feed these incredible dolphins ( small tip: wear white or a bright color to increase your chance of getting picked). It was amazing to see and I don't think I could imagine a better start of the day. After that, we had to prepare our lunch and we could enjoy a lovely coffee on the beach before we were hitting the road again to our next adventure. We drove to Shark Bay and visited an incredible view where you could spot sharks. This was also a surprising factor for me. Western Australia is filled with wildlife and it doesn't matter where you go, but you will most likely spot some incredible animals that are hard to find in more crowded locations.
After Shark Bay, we drove to Shell Beach. This beach is completely made out of tiny white shells and has some incredible blue warm water. The view is amazing and it really surprised me to experience the beaches on the West-Coast. I would have never imagined that we would end on little pieces of paradise every beach stop. This is also an incredible location to snap some jealous making pictures and just enjoy the diversity of West Australia. After some impressive stops and lunch, we arrived in Coral Bay where we were staying in a comfortable hostel right on the famous Ningaloo reef. Someone was already busy grilling our burgers which were amazing and it gave us an opportunity to reflect on the day.
"We entered the water and after a 10 minutes swim we saw like 25 sharks. This was such an awesome and unique experience and yet again I was impressed by the diversity and the colors of the Ningaloo Reef" Real Aussie
Coral Bay and Ningaloo Reef
Today is a free day! You can snorkel, check out a shark nursery or you can join an optional activity to join the snorkeling tour at the Ningaloo reef, which I highly recommend. We had to depart the boat at 08:00 am and after a short sailing trip, the crew started to tell some general information about our first snorkeling spot. We saw 6 turtles, an eel, stingrays, a lot of fish while an underwater photographer made incredible pictures of the marine-life and us. On the boat, we got some hot drinks a bread while we were sailing to the next snorkeling spot which is a famous spot for sharks! We entered the water and after a 10 minutes swim we saw like 25 sharks. This was such an awesome and unique experience and yet again I was impressed by the diversity and the colors of the Ningaloo Reef and the chance of actually seeing the marine life which is quite high. After those two spots, we went to the most existing snorkel spot (Yes, it is possible to see more exciting spots after swimming with 25 sharks). The Manta Ray spot! Once we had arrived and the crew started explaining their briefing a dolphin started to interrupt it and hang around the boat which was so cool. After 20 min we jumped into the water and saw three incredible Manta's of three meters wide.
Once we were on the boat again the crew provided of lunch and took us to a turtle sanctuary where we spotted an incredible amount of green sea turtles before we headed back to Coral bay and were accompanied by two dolphins. This was certainly my favorite activity of the whole tour and something I will remember a lifetime. We reconnected with the other part of the group who don't join the tour and started making our way to Exmouth. Before heading into town we made a stop at Learmonth. Which used to be part of the sea bottom but now caused incredible views and amazing spots for pictures.
Exmouth and Cape Range National Park
Day 5 was mostly just exploring Exmouth or you can choose to do another boat tour to spot whale sharks (Seasonal). Our first stop was a huge wreck you could spot from shore before we drove into head into Cape Range National Park to visit Turquoise Bay. At the information center, we could hire a snorkel set and buy some snacks before spending the morning at the beach. We saw several turtles, stingrays, harmless sharks, a lot of fish and as I was taking a stroll alongside the beach I could enjoy the presence of two dolphins who were swimming 5 meters off-shore. When we drove back we spotted a Dingo and Emu's which was really cool since I never saw a wild Dingo before.
Back at the hostel we made some lunch and had some time to relax before we headed off to lighthouse to enjoy a beautiful sunset and hear interesting historic stories from our tour guide. When the sun had set we drove to the beach to spot resting turtles or if really lucky see eggs hatching. We didn't see a turtle unfortunately but the beach walk was refreshing and really chill. We do saw a snake on our way back to the hostel and the guide stopped at a safe place where we could enjoy the incredible night sky which was filled with stars and a perfect way to end the night.
Exmouth to Northampton
On day 6 it was time to slowly head back to the big city Perth. But before we arrived in the city and had to face reality we had one night left in a farm stay in Northampton. We stopped at a fruit shop that sells delicious chocolate bananas during the drive. Once we arrived at the farm stay we got to pet the local camel the family had rescued and seen the many cows, horses, and donkey the owned. To see all these different animals in the same place caused a funny scene. The two kids at the farm showed us how to crack a whip properly and made us try it. And I have to admit it is was harder than it looks, so I have huge respect for them. The family cooked a delicious chicken curry for us and while we were eating we could spot some kangaroos hopping through the grass looking for food.
Exmouth to Perth
The last day suddenly arrived and everybody was a bit sad that our incredible journey through deserted landscapes was over and that we had to integrate into the normal world again which I don't think anybody was ready for yet. But before the tour officially ends we had some fun activities ahead of us. Our first stop was the Greenough were we made a stop to capture the leaning Tree which grows sideways because of the constant wind the city faces every day.
After that, we visited the Greenough Wildlife & Bird Park which is a rescue center for animals. We were allowed to feed the adorable kangaroos, emus, and Ostrich. There were several birds, a crocodile, goats, pigs and Dingo's which you could photograph and we had the opportunity to hold a snake which was an awesome experience. Lunchtime was coming up and as we drove to our lunch spot we were yet again surprised by an incredible beach where you could see stingrays. The time arrived for our final activity: Sandboarding. I had never done anything like this so I was really excited to try this out. We arrived at incredible white-sand dunes and started climbing up to board our way down. I have to admit I was quite nervous the first time I tried it but it was nothing but fun and I absolutely enjoyed it. After this last fun day, it was time to head back to the city again and say goodbye to everyone on the tour and continue our own travels and create new memories.
Although we were quite sad to say goodbye we had experienced an incredible week filled with adventurous and fun activities, wildlife, deserted landscapes, good music, jokes, a lot of laughter, amazing new memories and friendships for a lifetime. I look back on this week as one of the best weeks I experienced in Australia and I am so happy I joined this tour to get a better insight into West Australia and being able to share my experience. The hours in the van are definitely worth it and we made enough stops to re-stock your food/drink supplies or even get some ice cream. Not only has this tour provided me new insights of completely different sides of Australia but it has also given me more appreciation and a lot of pictures.
BOOK YOUR 5-DAY PERTH TO EXMOUTH TOUR NOW